Have you been suffering from dry and flaky skin? Check out SANA Namerakahonpo Cream, an impressive moisturizer that nourishes the skin marvelously and healed my dry patches within days.
As much as I love this rich cream, there's one potential weakness that you should take note of. 
Although SANA Cream may not be entirely safe on my pimple-prone skin, I find myself willing to suffer from the occasional zits in exchange for a soft and well-moisturized skin.
Read on and find out more about this Japan-made moisturizer, and why this is not an easy skincare to review. Yeah, I took a record-breaking 11 months to conclude my thoughts on SANA Namerakahonpo Cream.
---
What is SANA Namerakahonpo Cream?
SANA is a brand from Japan that is popularly-known for its use of soymilk isoflavones in its skincare products. This soy-based ingredient is known to be effective in brightening skin tone and improving elasticity and fine lines.
Shopping for a SANA moisturizer in Japan wasn't a straightforward affair as there were at least 8 types of moisturizers under the brand. It certainly didn't help that their packaging looked pretty similar – a simple plastic pot. And not to forget that everything was in Japanese.
As such, I couldn't figure out which of the SANA moisturizers to get. 
Luckily, the one I've chosen – SANA Namerakahonpo Cream was suitable for my skin type, although I might have considered the anti-aging range too if I'd WiFi access in Japan.
TIP: Ensure you have WIFI in Japan as it would be extremely useful when navigating around or doing live translation (using Google Translate). I tried to save money by not having one in Okinawa, only to end up wasting more time and money, e.g. buying wrong products.

In my subsequent Osaka trip, I subscribed to Japan WIFI and benefited massively – from live travel research to communicating with the locals. 
Benefits of SANA Namerakahonpo Cream
How did I end up choosing SANA Namerakahonpo Cream among the 8 available variants? That's because I could understand one of the characters printed on the packaging.
'濃' means thick or rich and that's what I need for my dry and aging skin. 
Did you know: Some Chinese characters were adopted in the Japan's writing system. Although they may be pronounced differently, the meaning remains somewhat similar.

While I understood probably 10% of the characters on the packaging, it would still be a challenge trying to guess the meaning of the entire sentence or phrase. 
Using Google translate, here's what SANA Namerakahonpo Cream promises:
SANA cream will penetrate deep into the skin to boost skin's elasticity and moisture level
The skin will feel soft and moisturized 
Sounds like a wonderfully-nourishing cream? Let's see if SANA Cream deserves a spot on our Japan Beauty Must-Buy List. We'll begin with the pros. 
---
What's Great about SANA Namerakahonpo Cream?
1. A Rich Cream that's doesn't Overwhelm the Skin
SANA Namerakahonpo Cream has a thick consistency and may feel heavy and greasy when first applied. However, give it 5 to 10 minutes and it'll get absorbed quickly.
The skin will feel comfortably-moisturized without the initial stickiness. That explains why I was able to use this rich cream even during the day. 
TIP: You can apply SANA Cream first, then get dressed or have a quick cup of coffee. Once you are done, the face will be ready for you to layer on with more products, such as sunscreen and makeup. 
2. Deep & Lasting Moisture
SANA Namerakahonpo Cream lives up to its claim of being a deeply-moisturizing cream. I was impressed when I saw my dry and flaky skin recovered within days after using this cream.
Each application would leave my skin feeling soft and well-protected from the elements for hours. This has been my go-to moisturizer whenever I needed something quick to restore my skin to a balanced and healthy state.
3. Free of Undesired Ingredients
Those with sensitive skin would be happy to know that SANA Namerakahonpo Cream is free of fragrance, color and mineral oil.
Here's the full ingredient I've gathered using Google Translate.
Ingredients of Namerakahonpo Cream: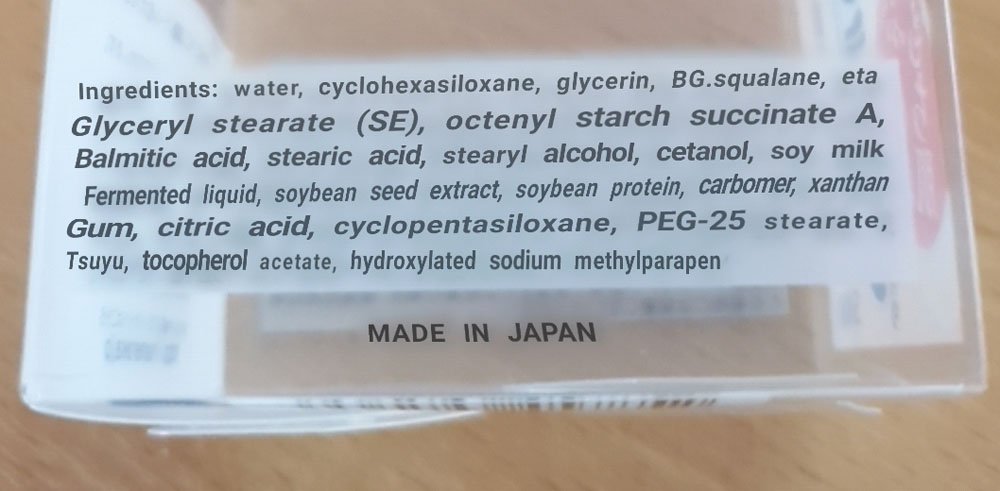 4. An Affordable Moisturizer
How much would you expect to pay for 50ml of rich moisturizer? I know I wouldn't mind paying upwards of S$30 for a drugstore cream that works. 
In Japan, SANA Namerakahonpo Cream costs only 950 yen (tax-free) which works out to just S$12. Check out the current online price HERE.
5. No-Frill & Bulk-Free Packaging
Though the white container appears small, it contains a good quantity of soymilk goodness. You'll get 50ml of rich cream in the pot. 
If you place this 50ml moisturizer side-by-side with a random brand, you'll see how SANA skips unnecessary bulk and weight with its no-frill packaging.
I wouldn't mind bringing the lightweight tub for a week-long overseas trip without transferring them to travel containers.
---
What's not Good?
1. Does SANA Cream cause pimples? 
"Is SANA Namerakahonpo Cream suitable for those with pimple-prone skin?"
This was the question I was trying to answer for the past 11 months. After going through multiple trials that are spaced at least a month apart, I've formed a more crystallized thought on SANA cream.
Out of the five separate trials, I've gotten pimples in four of them. These pimples normally surfaced on the second day, but would disappear with continued use, and then reemerge again on random occasions. I couldn't quite figure out a pattern on when or why they would emerge.
The consolation is that these pimples, while painful to the touch are really tiny. You'll get at most two or three at any given moment and they are not visible enough to cause embarrassment. As such, I have continued to use the cream and would have no problem emptying the 50g pot.  
> RELATED: Check out beauty products I've emptied (Psst, they are mostly great stuff)
Update (Jan 2020): I've just depleted the bottle. SANA Moisturizer is one of the fastest skincare products I've managed to empty as I enjoy using it. I find that the pimples problem hardly resurface upon continuous usage. 
---
How to Apply SANA Namerakahonpo Cream?
Apply a large pearl-size of SANA Namerakahonpo Cream twice daily – in the morning and evening. For the very dry-spots, you can build up extra layers to give them added nourishment. 
As with all moisturizers, you would typically use them at the final stage of your skincare routine, just before sunscreen. 
---
Recommendation
Are you suffering from dry and flaky skin? Do you long for a richly-nourishing cream that doesn't feel heavy on the skin and is affordable? If the answers are 'yes', SANA Namerakahonpo Cream is a godsend to you, provided you are not prone to pimples.
Well, even though I've gotten a few tiny zits, I have continued using SANA cream as the breakout was short-lived and minor. In fact, I've been using it religiously day and night, and am now half-way through the tub. I would likely repurchase this! :) Rating: 4.5/5
To find out the latest price on Amazon, click HERE. 
---
Did you enjoy this honest review? Click the button below and you'll get notified on newly-published honest reviews. All subscribers will also enjoy free and exclusive stuff. See you there!
SUBSCRIBE
(This post was first published in Sep 2019 and updated in Jan 2020 when the bottle was emptied).
This post may contain affiliate links, meaning I earn a commission if you make a purchase, at no cost to you. Read my full disclosure for more info.
Pin This!
(Visited 1,338 time, 2 visit today)