Curious to know how a beauty blogger would approach a technical review? Well, here's your chance! :) Today, I'll be doing my first tech review and it'll be on Seagate Backup Plus Hub.
Do you find yourself needing extra storage space for your growing files and photos? Have you wondered how you can backup your data automatically? If your answers are "yes", read on as I'll share the pros and cons of Seagate Backup Plus Hub, and indicate who I think would love this external storage device.
---
My Old External Hard Disk Died and I Lost My Data
A month ago, my external hard drive – WD My Passport (1TB) – died suddenly and I lost some of my newer data. That drive contains my archived files and I never thought that one day, it would fail. And hence, I did not make any backup copies except for an old copy in my laptop.
The malfunctioning could have been due to my oversight as I forgot to switch off my PC one night. 
After the lesson, I've been researching on how best to backup my data. My key criterion is that I want the backup to be done automatically. Coincidentally, I received an invitation from Seagate to review some of their products. And I took it up with great interest.
The first that I'll be reviewing is Seagate Backup Plus Hub. Let's find out more about this external storage device.
---
What is Seagate Backup Plus Hub?
1. Not Designed to be Portable
Unlike the common portable storage device, Seagate Backup Plus Hub is meant to be placed stationary on your desk. As such, it's not designed to be light and small.
When I received the large and heavy package, I was worried about how much space it would occupy my desk.
Luckily, after unboxing, the product was just a fraction of the size of the box, measuring only 4.65 × 1.61 × 7.8 inches and weigh 722g (for a 4TB model).
You probably wouldn't want to carry it out though, but the device sure looks compact enough when placed on my desk.
> RELATED: Seagate Fast SSD – A fast, small and sleek hard drive you'll love at first sight
Can you spot Seagate Backup Plus Hub in the photo above? It's on the left. This is a temporary arrangement for me to review this storage device quickly. Notice the messiness caused by my multi-port USB hubs?
Well, with the Seagate Backup Plus Hub, I would likely get rid of one of my 5-port USB hubs and make my desk a little neater (refer point 4). :)
2. Needs Power Supply to Work
Another difference as compared to a portable hard drive is how the Seagate Backup Plus Hub requires power supply to function. Therefore, you'll have to connect two cables, one (USB 3.0) that connects to a PC's USB slot and another cable to connect to the power supply.
The box comes with five types of power adapter. You'll probably need just one of them, depending on your country's power connector type.
3. High Storage Capacity
Many would choose Seagate Backup Plus Hub over other external drives if they require high storage capacity. This hub comes in storage options from 4TB to 10TB.
For info, the one I'm reviewing is a 4TB version. If I was to buy it, I would likely choose one with a higher capacity (6GB and above). Anything lower than that can be better met by the more compact drives, such as Seagate Backup Plus (5TB).
4. Comes with Two Useful USB 3.0 Charging Ports 
What I love about the Seagate Backup Plus Hub are the two USB 3.0 port located at the front of the device. I didn't know how useful it was until I realize how I could charge my phone, fitbit, power bank etc even when my computer is off.
Therefore, if you need extra charging ports for your USB devices, you could kill two birds with one stone with this Seagate Backup Plus Hub.
5. Faster Data Transfer Speed
The maximum transfer speed of Seagate Backup Plus Hub is 160MB/s which is 30% faster than the smaller portable hard drives (120MB/s). Therefore, if you are into speed, then this backup plus hub may interest you.
And if budget is not of major concern, you may even want to consider an SSD external hard drive, which I would be reviewing next. The Seagate SSD hard drive boasts a speed of 540MB/s, a steep step-up from the non-SSD drives. But it is significantly pricier too! :)
6. Backup Data Automatically
When I first installed the device, I was prompted with an easy one-click backup of my existing data using the Seagate Toolkit software. I can choose the types of files to backup, such as photos, documents and videos.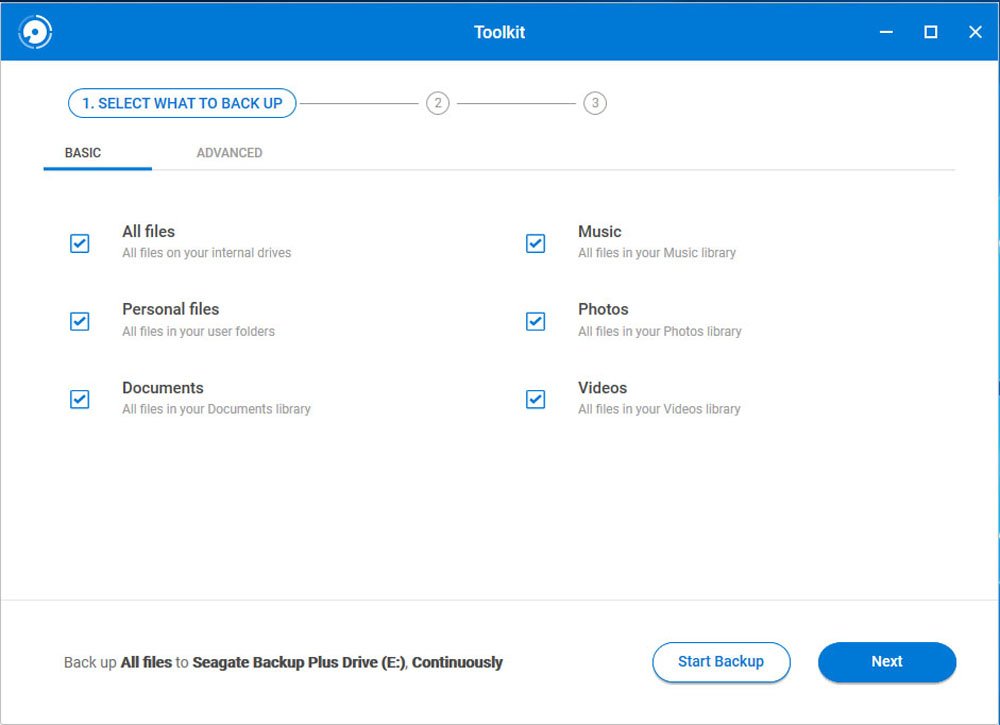 Alternatively, I can also choose to backup a specific folder in a specific drive using the "Advanced" tab.
Similarly, the "Advanced" tab gave me the option to choose how frequent I like my data to be auto-backed-up, e.g. continuously, hourly or daily. This is exactly what I was looking for – a backup process that doesn't require any manual intervention.
Things to Note about Seagate Backup Option
There are some things to note about Seagate's backup software. Firstly, only non-system files can be backed up (e.g. images, documents, videos). System files such as program files, application data, temporary files are excluded. This is not an issue to me because I've never felt the need to back up systems files.
Secondly, the backup option is not the same as synchronization. When you add a new file to your PC, your Seagate drive will pick up those new files. But if you delete a file from your PC, the same files will remain on your backup drive.
Thirdly, the backup transfer is one-way – from PC to Seagate drive – which seems logical. If you add or delete a file from your Seagate drive, there won't be any changes made to the files in your PC drive.
I've yet to test out other backup softwares, and therefore, I'm not sure if this is the standard backup arrangement for most external drives. Maybe you can share with me if you have more experience and insights.
7. Synchronization through "Mirroring" Feature
Although the backup option doesn't provide 100% synchronization, Seagate's Toolkit Software does come with a second function, called Mirroring.
This works the same way as a cloud storage such as dropbox. You'll be prompted to create a "Mirror" folder in your PC. Similarly, there'll also be a "Mirror" folder in your Seagate drive. Whatever files that you add or delete from one mirror folder would be synchronized with the other one. It works like its name suggests, a  perfect mirror.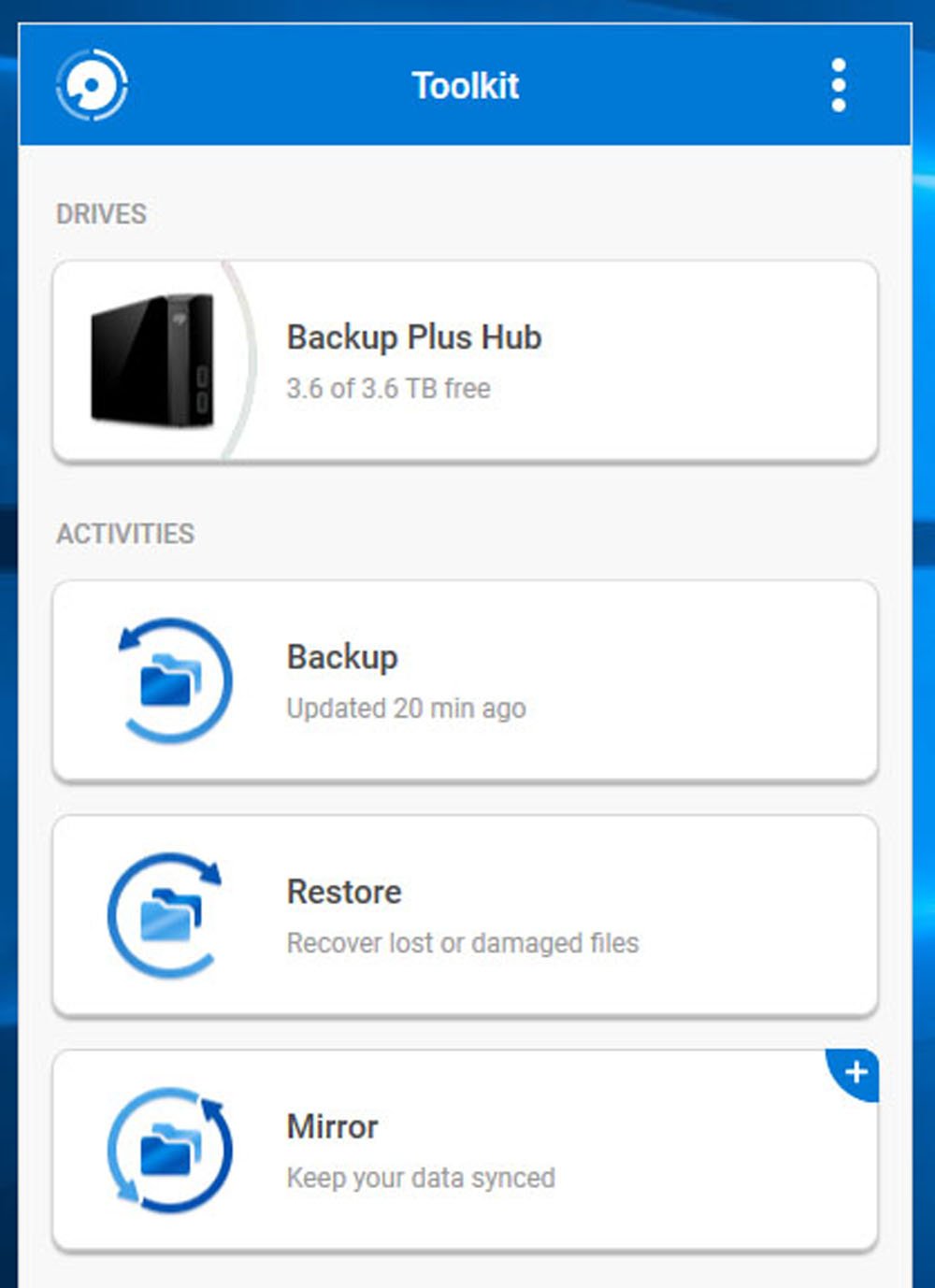 8. Seagate Backup Hub Plus is a Quiet & "Cool" Device
I was impressed at how quiet Seagate Backup Plus Hub was. There's no spinning sound, unlike those created by my old external hard drive.
In addition, the hub doesn't heat up much even after hours of usage.
9. No Security Feature
Since this hub is not likely to be taken out of the home (and get misplaced or stolen), it doesn't come with encryption or password security feature. If you like such a feature, you can look at Seagate Backup Plus Ultra Touch instead.
10. Warranty & Free Software
As at time of writing, Seagate Backup Plus Hub comes with 3 years of warranty and 2 months complimentary access to Adobe Creative Cloud Photography Plan.
---
How to Set Up Seagate Backup Plus Hub?
Setting up Seagate Backup Plus Hub is intuitive. Connect the power cable to your power supply and the USB cable to your desktop, and a window will pop-up automatically. You'll be prompted to register your device; and install the Toolkit software.
Once installed, the Toolkit will give you very clear step-by-step guide on how to backup and mirror your files. To access your backed-up files, go to file explorer and look for the new "Seagate Backup Plus Drive".
Here's more information on how to set up your Seagate Backup Plus Hub.
---
Recommendation: Who would love a Seagate Backup Plus Hub?
Are you looking for a high-capacity external storage that transfers data fast? Do you love having extra USB 3.0 ports that can connect and charge your devices even when the PC is off? Would you love for your data to be auto backed-up?
If the answers are yes, then Seagate Backup Plus Hub would be perfect for your needs, provided you are not looking for a portable and encrypted drive. Rating: 4/5
To find out the latest price on Amazon, click HERE. 
That's all for today's review. Hope you've found it useful. If you love more of such honest review, feel free to connect by clicking the button below. You'll also get access to all my exclusive contents. Chat soon!
---
This content is brought to you in partnership with Seagate Technology. 
Pin This!
(Visited 789 time, 1 visit today)