Finally, I've found a portable storage drive that is so lightweight I wouldn't mind carrying it everywhere I go. Let me share with you a review of Seagate Fast SSD – an external hard drive that I fell in love with at first sight.
If you appreciate things that are compact and efficient, you would love this storage device. To remain objective, I'll run through both its pros and cons before ending with a recommendation on who I think can benefit the most from Seagate Fast SSD.
---
What's Special about Seagate Fast SSD?
With so many brands in the market, those looking for an external storage device would be spoilt for choice. Even within the same brand such as Seagate, we get close to 10 types of external drive to choose from. 
So which storage drive should you get? I'll list down the striking features of Seagate Fast SSD to help you decide. For clarity, the one I'm reviewing today is the smallest-available storage capacity, at 500GB. You can get up to 2TB for this model.
1. Fast Data Transfer Speed
SSD stands for solid state drive. Those who crave for fast transfer data speed would choose an SSD over a normal hard drive.
Seagate Fast SSD, as its name suggests is a SSD drive that can transfer data up to 5 times faster than a normal drive. With read/write speeds of up to 540/500MB/s, it has the fastest transfer speed as compared to other storage devices under the brand. 
2. Ultra-Lightweight & Small
Speed was not what made me fall in love with Seagate Fast SSD. As a petite lady who already has a lot to carry (e.g. laptop, mouse), I deliberately avoid heavy stuff. For instance, I always opted for fabric instead of leather bags. I even chose a low capacity power bank than what I would love to have so as to reduce the burden on my shoulder.
When I received Seagate Fast SSD, I was super happy because I knew I could carry it with me anywhere I go without feeling a thing.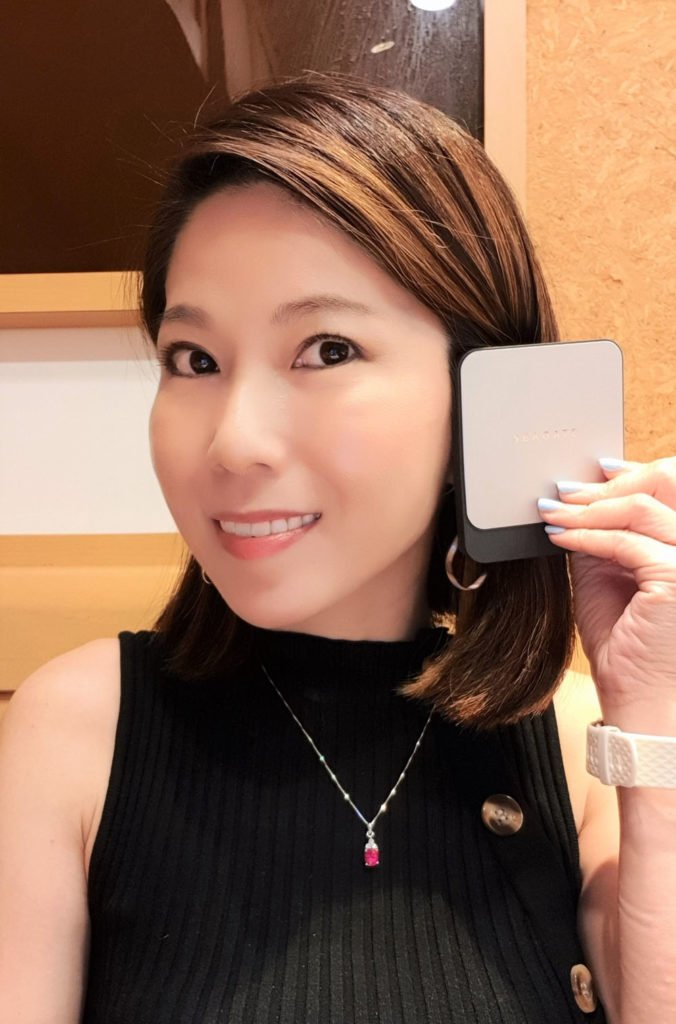 At just 80g, this portable drive is less than half the weight of my phone and as thin as a cookie. To be specific, this drive measures 9.4cm x 7.9cm x 0.9cm.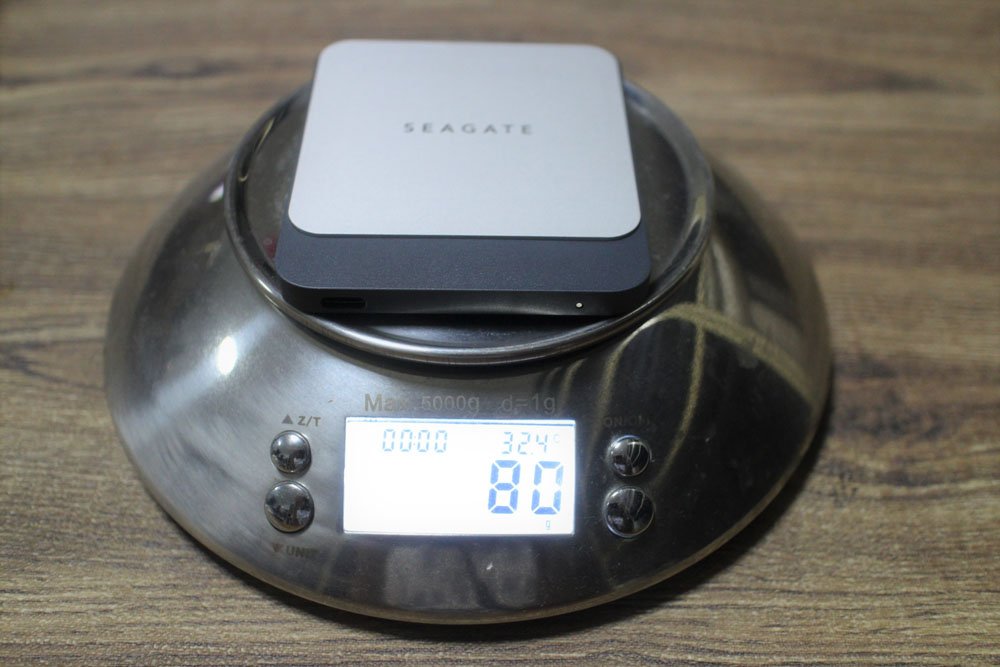 Now, you may ask, isn't a flash drive smaller? Well, of course it is, but a flash drive is generally not used as a backup device, given its smaller storage and slower transfer speed.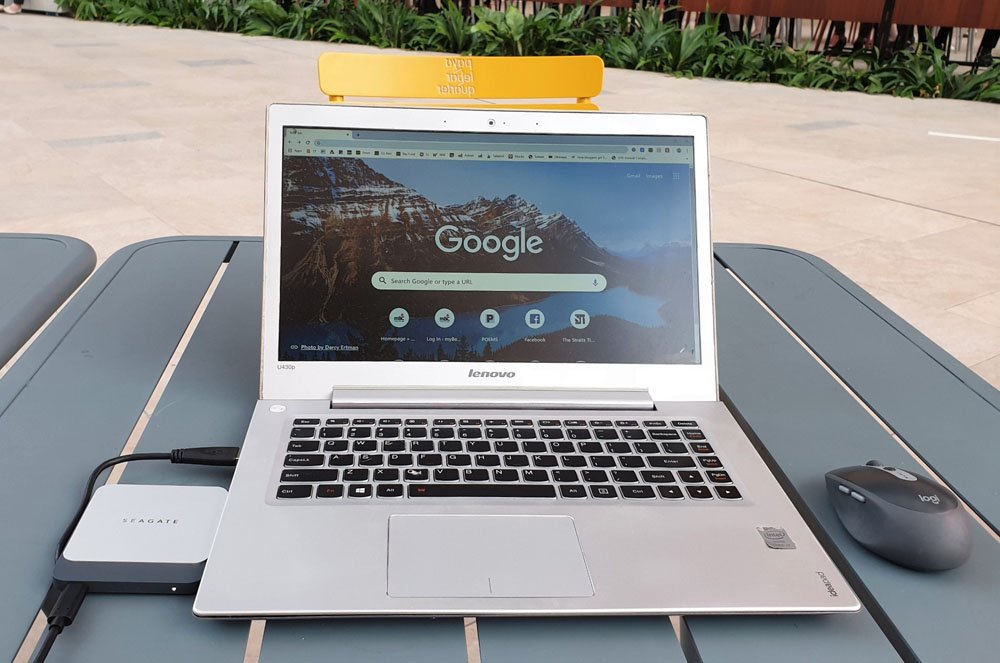 3. Sleek, Stylish and Professional Design
Another thing that won me over is Seagate Fast SSD's sleek and stylish design. I love the cool and sturdy feel of the aluminum casing and I think the silver and dark gray colour combination exudes a classy and professional image. 
4. Seagate Fast SSD is a Silent Worker
Unlike a hard disk drive (HDD) that spins non-stop to read/write data, Seagate Fast SSD has no moving parts and is a silent worker. For the same reason, it is also said to be shock-resistant. 
5 . Connects to Your Type-C Devices
As more and more laptops, phones and gadgets come with Type C port, you'll be happy to note that Seagate Fast SSD offers Type-C connectivity.
I have tried connecting Seagate Fast SSD to my phone (Samsung Note 9) using a Type C to Type C cable, and it worked efficiently in moving files between the devices. 
Seagate Fast SSD also comes with a Type C to Type A (USB) cable to allow you to connect to devices that are still using USB ports, such as most desktops.
6. Backup Automatically with Mirroring Feature
Backing up data manually is a hassle and an unreliable way of ensuring a constant copy of the latest data. When my old external drive died a few months ago, my most updated copy was 2 years old.
Yes, I lost quite a bit of data, sigh. Now that I've learnt my lesson, I only go for storage drives that come with auto-backup feature.
My first experience with Seagate's backup software "Toolkit" came when I was reviewing the less portable but higher storage Seagate's Backup Plus Hub. It's good to know that Seagate Fast SSD utilizes the same backup software. For more info on how the backup software works, refer to this earlier review. 
In short, the Toolkit software allows you to choose the frequency and the kind of data you like to backup. And then you can just forget about it as it does the work for you automatically. 
Note: The backup software works with PC and laptop but I don't think it's designed to work with mobile devices such as my android phone. 
7. Warranty & Free Software
Seagate Fast SSD comes with 3 years of warranty and 2 months complimentary access to Adobe Creative Cloud Photography Plan (as at time of writing).
You may be happy to know that the Adobe complimentary bonus is stack-able, meaning to say that if you have two Seagate devices that come with the same bonus, you would get 4 months of Adobe access. That's what I'm enjoying! :) 
8. Optional Top Up for Seagate Rescue Service
Need insurance for your data? Seagate offers a 2- and 3-year Rescue Service Plan which safeguards your data in the event of a data crash, virus, accidental deletions or failure.
In Singapore, you can get the Seagate Rescue Plan from Popular bookstores (see store locations) at the following rates:
Standalone Purchase
2-year – $29.90
3-year – $39.90
Purchase with Purchase of Seagate Drive(s)
2-year – $11.90
3-year – $19.90
This Rescue Service is not limited to just Seagate devices. It covers all brands and types of digital storage devices. 
---
What you may not like about Seagate Fast SSD
1. The Price
Speed ain't cheap. If you want a solid state drive, you've got to pay for it. 
A 500GB Seagate Fast SSD retails at about S$169 in Singapore (view latest price). At this price, you can get a 4TB normal hard drive from the same brand.
Though more pricey than a traditional drive, Seagate Fast SSD is reasonably-priced when compared with SSDs from other brands.
2. Smaller Storage 
Depending on your preference and budget, you can choose between a 250GB to 2TB model when you buy Seagate Fast SSD.
Those who are looking for higher storage would have to check out Seagate's traditional drives, such as Backup Plus Portable Drive (up to 5TB) and Backup Plus Hub (up to 10TB). 
3. No Hardware Encryption
Seagate Fast SSD doesn't come with password protection and hardware encryption. If you need a portable drive to store sensitive information, check out other models such as Seagate Backup Plus Ultra Touch.
---
Recommendation: Who would love Seagate Fast SSD?
Seagate Fast SSD would appeal to someone who places priority over five key features, namely fast transfer speed, lightweight, bulk-free, Type-C connectivity and auto-backup feature.  
For the record, this is the first and only hard drive that I carry around with me all the time. Since I already have a Backup Plus Hub at home to backup my desktop data, this Seagate Fast SSD is mainly for things I need on-the-go. Rating: 4.5/5
To find out the latest price on Amazon, click HERE. 
That's all for today's review. Hope you've found it useful. If you love more of such honest review, feel free to connect by clicking the button below. You'll also get access to all my exclusive contents. Chat soon!
(This post was first published in Oct 2019 and last updated in Sep 2020.)
---
Press sample was provided in exchange for an honest review. 
---
Pin This!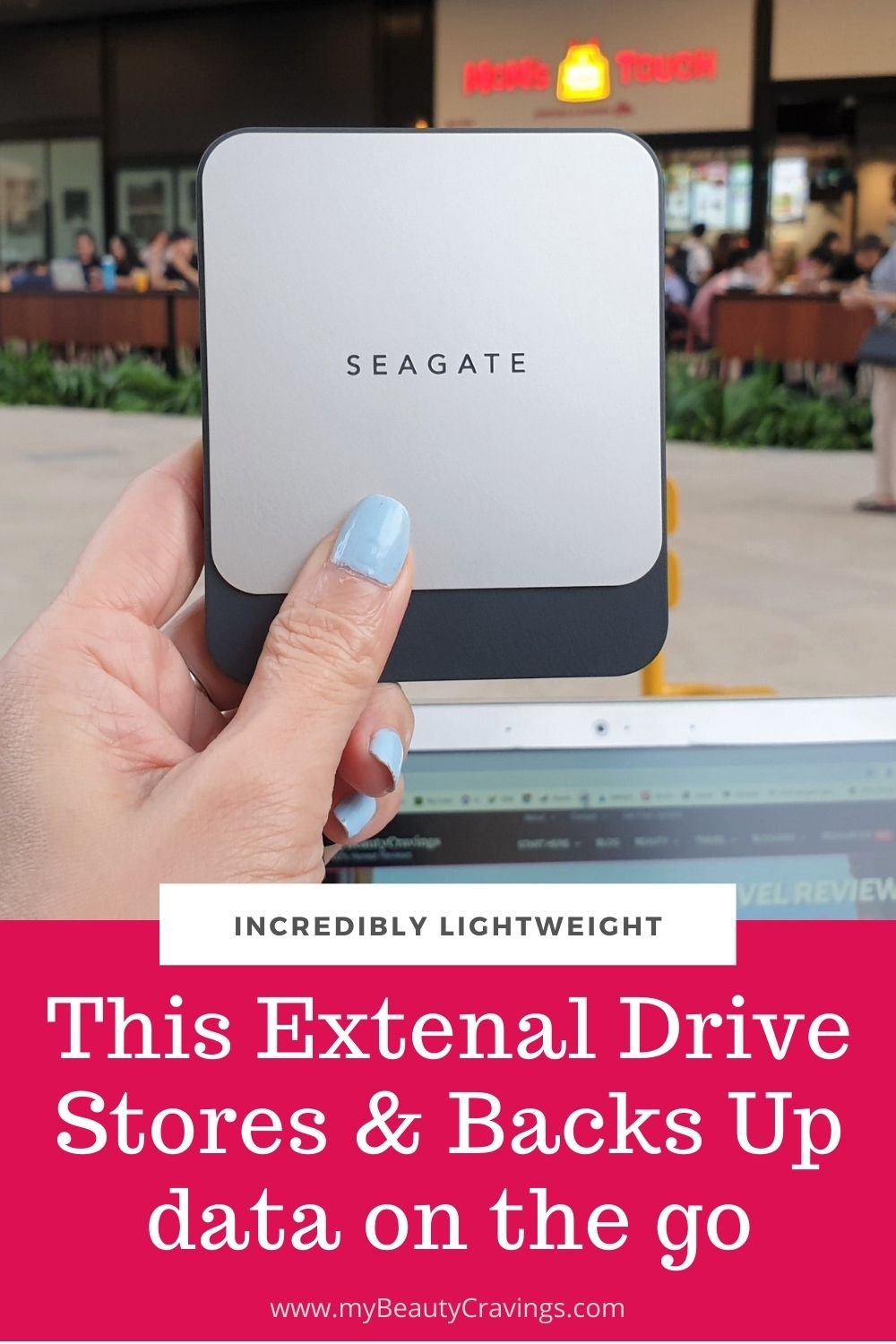 (Visited 1,076 time, 1 visit today)