Planning a relaxing getaway? Here's my 8 Days Langkawi Itinerary where you'll see me cover most corners of the northern Malaysian island. You'll see me exploring beaches, mountains, and waterfalls. I'll also join some island hopping tours and visit popular tourist attractions.
If you think 8 days are too long to spend on the island, you'll be surprised to see how much Langkawi has to offer. Take it easy, relax a bit, use a cheap rental car and have a great getaway. There are so much to be seen and done if you venture a little further away from Cenang Beach. Read on and you'll know what I mean. :) 
This post is dedicated to one of my readers, Miss A. She saw my Langkawi photos on Instagram and asked me if I have anything written on the blog yet. I'm really happy when I receive messages like this because it means someone out there enjoys and trust my contents and recommendations. Miss A, this is for you. :)
---
8 Days Langkawi Itinerary: Our Travelling Profile
We chose to visit Langkawi during the start of the dry season, in mid-November. As a couple, we covered the island on free and easy using a combination of public transport, rental scooter, rental car and day tours. If you are new here, you can read more about my travelling style and my travelling philosophy.
Also, please take this as a summary post because I'll be churning out day-by-day accounts to provide extra tips, info and logistics details. Do revisit often to check out the added links to this post or subscribe to get notification whenever a new blog post is published.
---
DAY 1: ARRIVE IN LANGKAWI & EXPLORE CENANG AREA
Good afternoon, Langkawi! Our budget Scoot flight took less than 1.5 hours to reach the northern Malaysian Island. 
From the small airport, we took a fixed-rate taxi (rm25) to Cenang Beach. The timing was perfect as we could check in straightaway at Cenang Plaza Beach Hotel. This hotel – our base for the next 3 nights – is conveniently located between Cenang Beach and Cenang Mall.
TIP: You can pick up a pre-booked 4G SIM Card when you arrive at Langkawi Airport. It's highly recommended by users.
As usual, we dropped off our luggage in the hotel room and ventured out. The first thing we did was to search for food. We strolled along the streets and walked past numerous small and touristy shops. What was unusual was how quiet the streets were at 4pm.
"Where are the tourists?" we wondered.
The Point When We Stopped Believing in Online Reviews
Getting hungry, we entered the highly-raved Red Tomato Restaurant only to be disappointed by the very mediocre and pricey pizza. The anchovies topping that we have chosen was so salty we couldn't consume it until we scooped off the toppings (that we have paid extra for).
That's the point when we stopped believing in online reviews from trusted giant portals. Or perhaps to give this restaurant the benefit of the doubt, maybe the other dishes taste better? 
After lunch, we shopped around and booked ourselves an island-hopping tour from a random street travel kiosk (for tomorrow's consumption). We also passed by Langkawi Underwater World.
TIP: Langkawi Underwater World is one of the kid-friendly attractions on the island. You can get cheaper admission tickets online. 
And soon after, I was back at the hotel to chill and relax at the balcony with my lovely cup of hot tea.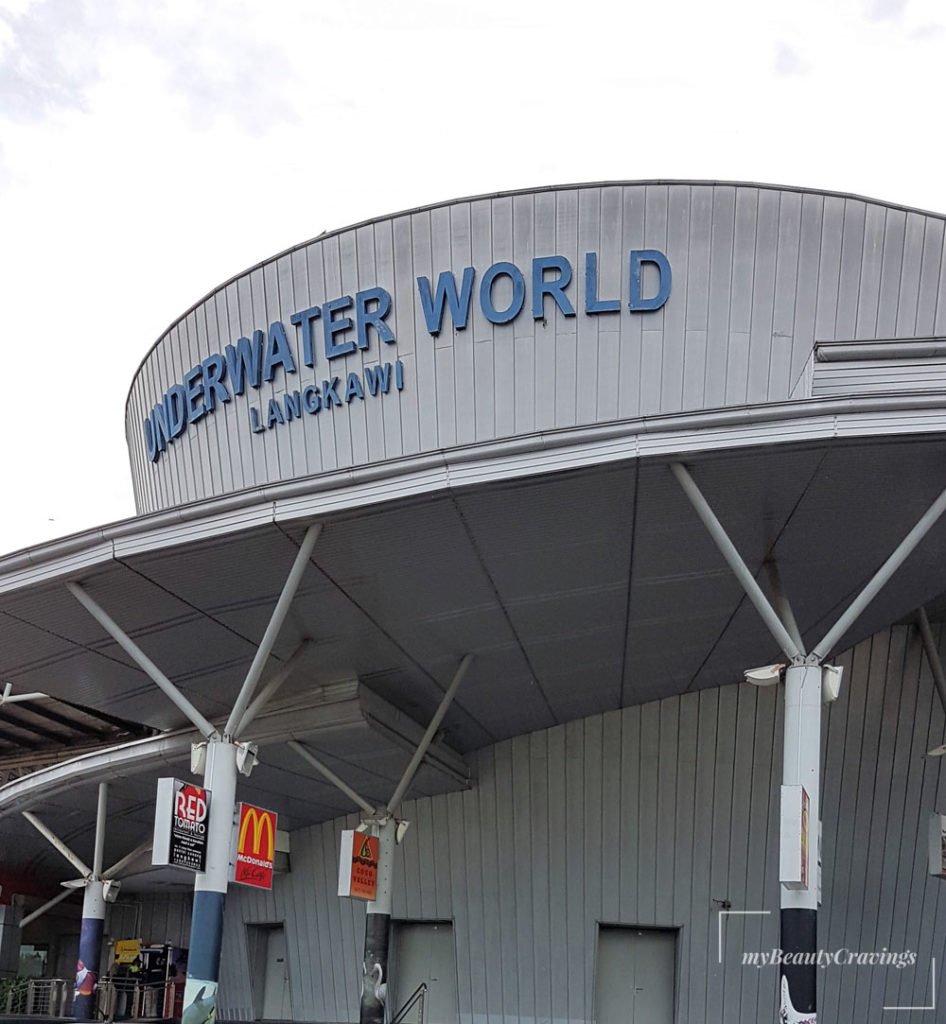 Evening Shopping –  Langkawi Itinerary for Day 1
In the evening, we strolled to the various shopping areas in Cenang, namely the Coco Valley, The Zon Duty Free Zone and Cenang Mall. These are the places to get cheap alcohol and chocolates.
The Cenang Mall was a tiny mall by international standard, occupied by mostly unknown retail brands. Actually, I was surprised that I managed to buy something there – some cute beach shorts – and I regretted not getting more. :)
Since we had nothing much to do or shop in Cenang, we started sourcing for places where we could have our breakfast tomorrow. To our dismay, most eating places around Cenang Beach opens at 11am which was too late for breakfast. What a sleepy town, huh? 
TIP: We'd all along thought the touristy area was at Cenang Beach (or south of it). After a few days of exploration, we found the street north of Cenang Beach to be more vibrant and comes with more early-breakfast options.
Map Location for Day 1 Langkawi Itinerary
Langkawi Airport >> Check in Cenang Plaza Beach Hotel >> Red Tomato Restaurant >> Tourist Street Shopping >> Passed by Underwater World >> Coco Valley >> The Zon Duty Free Zone >> Cenang Mall
---
DAY 2: LANGKAWI ISLAND HOPPING TOUR & SCOOTER RENTAL
Without much breakfast options near Cenang Beach, we settled for KFC which was located at Cenang Mall. It opens 24hrs. :)
Did you know you can order fried eggs from KFC in Langkawi? We didn't know either until we asked. So glad, we did as we love protein! :)
Stomach satisfied, we made our way back to our hotel to be picked up by the island-hopping tour operator.
Half Day Langkawi Island Hopping Tour – Langkawi Day 2 Itinerary
The super fast and bumpy speedboat ride stopped in the middle of the water to allow us to take in the view of the "Pregnant Maiden". Unfortunately, the guide aka the boat captain spoke only Malay. We have to thank our fellow Malaysian tourists who volunteered to translate everything that was said by the Captain into Chinese. So happy to have bumped into such friendly neighbors! :)
INFO: You can book the Island-Hopping Tour online at a very good rate of S$10. FYI, we'd booked ours at a travel kiosk for RM30 after some negotiation.
The boat then reached Pulau Dayang Bunting, the second largest island in Langkawi. Here, my partner swam in the Lake of Pregnant Maiden while I enjoyed a one-of-a-kind catfish spa. The experience was pretty amazing – imagine lots of slippery catfish that were so eager to swim over your feet, treating your feet like their personal bridge (I forced them to when I raised my feet). Heh heh!
Next, we left for Pulau Singa Besar (Big Lions Island). From the boat, numerous eagles soared from above.
The final activity of the tour was to relax at the beach on Pulau Beras Basah (Wet Rice Island). Unfortunately, it was too hot at noon and the water had too many people and boats in it for complete relaxation. 
The tour concluded when we were dropped off at Cenang Beach. We took a short stroll at the clean and sandy shore before making our way back to the hotel. 
In the evening, we did some more shopping further south of Cenang Beach. There's a small DFS shop (Loyal Maxim) at Cenang View Hotel that sold chocolates and alcohol at attractive prices.
How to Rent a Scooter in Langkawi
We faced some difficulty in renting a scooter. So, hopefully, you'll have it easy after reading this section.
What happened was that we were supposed to collect our rental scooter off a street near Cenang Beach. Why on the street? Well, we'd booked the scooter online and was given the instruction by the person whom we were liaising with through whatsapp. Then, a thunderstorm came and the scooter never turned up. 
We were left stranded on the street wondering if we should continue to wait. Langkawi did not have connected sheltered walkways which means that we were stuck at wherever we were when the thunderstorm had started.
Oh no, without the scooter, our plans for tomorrow would be dashed! 
Our Hotel Gave Us Info on Scooter Rental
An hour later, the thunderstorm mellowed into a drizzle and we managed to return to our hotel without getting totally drenched.
Feeling rather desperate, we approached our hotel for assistance on how to get a scooter for tomorrow. After speaking with a few staff, we finally received some guidance on where we could still rent a scooter this late at night (8.30pm). We walked to T-Shoppe and managed to rent a scooter at just RM30 per day. Phew!
On the way back, we had our dinner at Putumayo. The food was nice, but came in small portion and was pricey by local standard. By Singapore's standard, it's cheap though, all thanks to our strong currency. Really have to thank our pioneers for making some wise decisions in the past, e.g. to set English as a first language which opened many international doors.
INFO: If weather is good and you like to be pampered, there's a Luxury Sunset Dinner Cruise with free flow of F&B (alcohol included). You can also take a dip in the open sea and view the Eagle Statue located at the southern part of the island.
Map Location for Day 2 in Langkawi
Island Hopping Tour (Pulau Dayang Bunting >> Pulau Singa Besar >> Pulau Beras Basah Beach) >> Cenang Beach >> DFS Shopping (Royal Maxim) >> Stuck in the Rain >> Rent a Scooter >> Putumayo Restaurant
---
Day 3: CHASING WATERFALLS & CENANG NIGHT MARKET
Can't believe we had KFC as breakfast again. LOL! But this time round, we had it while admiring Seven Wells Waterfall. 
After a dipping session, we rode our scooter to another nearby waterfall – the Temuran Waterfall.
We also did a brief stop at Skull beach which seemed like a small and family-friendly beach.
On our way to get lunch, it started pouring (again?!?!). Wasn't this a dry season? OMG! It seemed like my bad luck with rain persisted on (sadly, even till 2019…ha ha…will share more in my Central Taiwan travelogue).
I remember sitting on the fast-moving scooter, shivering and chattering because the cold wind was blasting against my drenched body. When the rain became too heavy and was coupled with thunders, we were forced to take shelter at a non-operating petrol kiosk.
After a long wait, we rode off and stopped by a road near the airport. There were food stalls located by the beach and we thought it's a good place to grab a local lunch. Well, the food was just okay. A little disappointed as we've always thought highly of local street food.
Back to the hotel, we dried ourselves and chilled a little before making our way to the Temonyong (Thursday) Night Market. This night market is only opened on Thursday and is bigger than what I'd expected, but still considered relatively small if matched against the Thai counterparts.
What's great was that the things there were really cheap and obviously priced for the locals.
TIP: Langkawi has various night markets scattered around the island, and it seems like each one only operates on a specific day of a week. Plan your days and location well so that you get to visit as many of them as possible.
With nothing much to do at night in Langkawi, we retreated back to our hotel by 8pm. Thankfully we did so as another thunderstorm hit Langkawi soon after. This time around, it was so bad the hotel alarm went off and the WiFi stopped working (till next morning). Ha Ha Ha!
Okay, really nothing to do already. Let's sleep. :)
Map Location for Day 3 Langkawi Itinerary
Seven Wells Waterfall >> Temuran Waterfall >> Skull Beach >> Stuck in the Rain >> Food Stalls Near Airport >> Temonyong (Thursday) Night Market
---
Day 4: SHIFT BASE TO NORTH LANGKAWI (TANGJUNG RHU)
Today, we would change our base and move to Tangjung Rhu, located in Langkawi's northern end. Before moving to the less touristy area, we made sure we secured booking for a UNESCO Geopark Mangrove Cruise (for tomorrow's consumption). This is a fantastic tour by the way and I highly recommend it! 
After booking the tour at a random kiosk, we passed by D Khas Cafe and was happy to see that it was opened for breakfast as early as 8am. Yay! No more KFC. Ha Ha!  
At noon, our pre-booked rental car was delivered to us at our hotel. This car would protect us from the rain and serve us for the next 4 days. We then checked out of Cenang Plaza Beach Hotel and drove an hour to Sunset Bay Cottage located near Tanjung Rhu Beach. It seemed like a family-run "chalet" that is located by a quiet beach.
TIP: I highly recommend renting a car and exploring the island, especially if you are into waterfalls, mountains and nature. A rental car can shelter you from the rain and sun and save you on taxi fares and airport transfers. You can also choose to stay off-central places and save on accommodations. Those travelling as a family or in large group would find it even more useful and value for money.
Very soon, we were out and about again. The first destination was to visit Mount Gunung Raya. You can either hike up the mountain or drive up.
Luckily we chose the latter as it was hot as hell. And I'm glad I didn't dress according to what I'd read online because someone said Mount Gunung Raya's climate was like Genting Highland. :)
The weather must have changed so much over the years because I was dripping perspiration in sports singlet and shorts. Can you see the sunscreen stuck into my back pocket? Yes, it was so hot I carried it around. Thankfully, we were compensated by awesome views from one unmarked viewpoint. 
The next destination was at Durian Perangin Waterfall. Sorry, guys. No durians here. :)
We've visited quite a few waterfalls in Langkawi and found each of them distinct from the rest. Durian Perangin Waterfall is a cool and shady waterfall that made me feel like I was in the middle of the Amazon jungle (even though I've never been there. LOL!).
There were many locals there. But too bad, many of the young boys were smoking at the waterfall area (and even in the water). It was so bad I was choking in a place where I was supposed to breath in fresh jungle air. How unfortunate!
But these young boys were really sweet because they rescued us when an incident happened at the waterfall. Yeah, one of us got injured. I'll share more about it in the detailed day-by-day travelogue.

As a precaution, please do not wonder off the track when hiking as the rocks can be as slippery as butter due to algae.
In the evening, we made our way to Ayer Hangat (Friday) Night Market. See, we planned our days well – I chose to stay at this part of the island on a Friday. :) 
This Friday Night Market was larger and more happening than the Thursday Night Market. We bought so many stuff to try, including Bihun Goreng, Fried Chicken, Ondeh Ondeh and Steamed Chickpeas and more. 
Map Location for Day 4 in Langkawi
Book UNESCO Geopark Mangrove Cruise >> D Khas Cafe >> Pick up Rental Car >> Check in Sunset Bay Cottage >> Mount Gunung Raya >> Durian Perangin Waterfall >> Ayer Hangat (Friday) Night Market
How about we take a break here? :) I'll come back with Day 5 to Day 8 Langkawi Itinerary soon. Stay tuned and have a wonderful day ahead!
If you like to get notified of newly-published beauty reviews and travel stories, just click the button below to subscribe. You'll also get access to all my exclusive stuff. See you there!
SUBSCRIBE
This post may contain affiliate links, meaning I earn a commission if you make a purchase, at no cost to you. Read my full disclosure for more info.
---
Related Post:
Pin This!
(Visited 575 time, 1 visit today)