What happens when you visit Taroko Gorge during typhoon months? We were there at the tail-end of typhoon season in late October, and thought we had escaped all typhoons that struck Taiwan that year.
However, we weren't prepared to be greatly inconvenienced by a typhoon that hit another country – Philippines. The rippling effect gave us a hard time when we were trying to explore the huge and rugged Taroko National Park. 
Check out how Taroko Gorge was like during a persistent rainy condition as I share what we did on Day 2 of our Eastern Taiwan trip. Here's our story!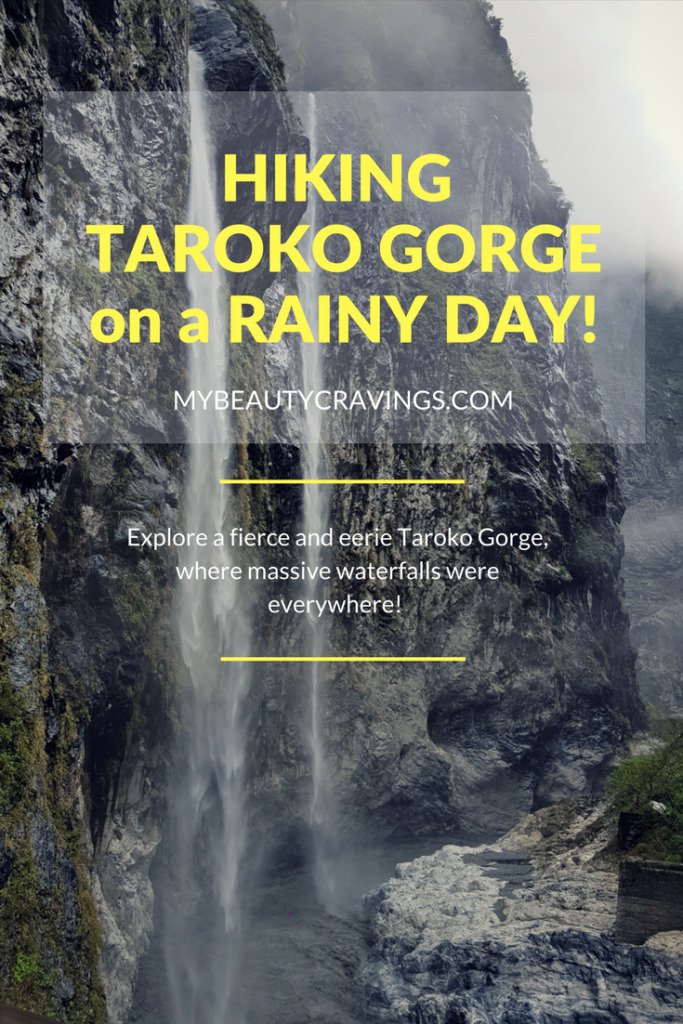 ---
Don't miss this Taiwanese Breakfast in Hualien!
(7am)
Remember the rain that welcomed us on Day 1? Well, the tap was still on at 5am on Day 2 and it was a heavy downpour.
That left us with no choice but to delay our journey to Taroko Gorge. We prayed hard that the rain would stop in time for our hike at Zhuilu Old Trail, because the last entry was at 10am. 
The rain eventually stopped at 7am and we quickly set off for our first breakfast in Hualien. Based on our Airbnb host's recommendation, we walked to 山東豆漿大王 (pronounced as Shandong Doujiang Dawang), a place that opened as early as 6am.
> TRAVEL & SAVE: Enjoy S$62 off your first Airbnb stay & experience
Hualien Breakfast at Shandong Soy Milk King (山東豆漿大王)
We ordered fried eggs, chives dumplings, hot biscuit with squid filling and meat biscuit. Of course, we had to try the soya bean milk as the name of this shop is loosely translated as "Shandong Soy Milk King". The cup size is really small as compared to what we get in Singapore. You may want to order a large cup if you are a soy milk lover.
Before we left, we packed some yam biscuits for takeaway in case we couldn't find any decent food in Taroko Gorge. The total bill came up to just NT169 for all that we've ordered at 山東豆漿大王.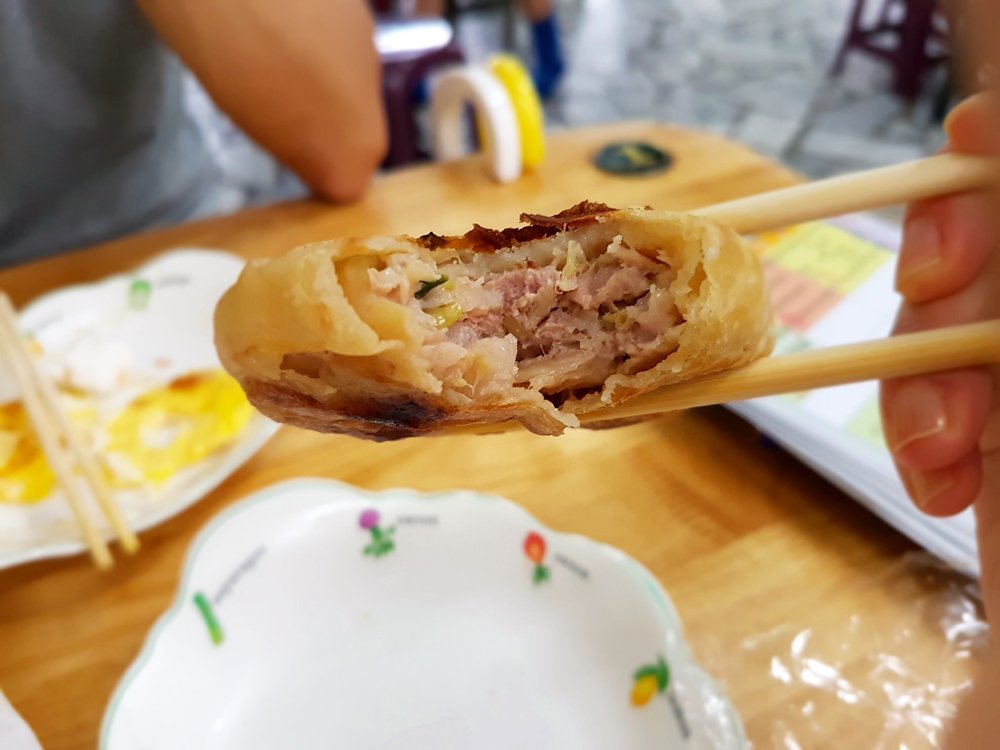 Location of 山東豆漿大王
Shandong Doujiang Dawang (山東豆漿大王) was within walking distance to our centrally-located Airbnb unit in Hualien.
Here's the location of the breakfast store (see map).
---
What a Scooter Ride to Taroko Gorge!
(8am)
That was not how I'd envisioned the journey to be.
15 minutes into our ride to Taroko Gorge, someone turned on the tap again and the pounding rain felt like tiny pins when they hit my skin. The raincoat that I had on couldn't keep us dry as it was a poor quality disposable raincoat that came with lots of holes, courtesy from our scooter rental shop!
The ride under harsh element lasted one hour and was mainly traveled on the highway. This, being my first scooter experience was pretty unnerving. At that moment, I didn't know there was more to come.
> ALSO SEE: 9 Days Taiwan Itinerary Around Taichung
Scooter vs Car when travelling 
Riding a scooter made us realize its limitations as compared to a car, especially on a rainy day.
It was impossible to take photos on the road unless we stopped our scooter, take out our phone, unlock it, tap on camera and click 'shoot'. It was equally inconvenient to check for navigation (google map) or confirm our GPS location unless we parked at the highway shoulder.
Note: On a rainy day, we had to keep our phones in our pocket, deep within our water-resistant jacket.
The above photo was snapped hurriedly when we stopped by the road to put on our raincoats. You can see part of my orange raincoat. ;)
TIP: If you prefer a comfortable coach transportation to and from Taroko Gorge, here's a Taroko Gorge Day Trip. It may appeal to those who can speak Mandarin and prefer a quick overview of Taroko Gorge. 

Comfortable driving when overseas? Check out our cheap and fuss-free Taiwan Car Rental Experience in our 2019 Taiwan trip.
---
Getting Hiking Permits to Taroko National Park
(9.15am)
Most of the hiking trails in Taroko National Park do not require hiking permits. Zhuilu Old Trail, being a more challenging and risky trail, is an exception.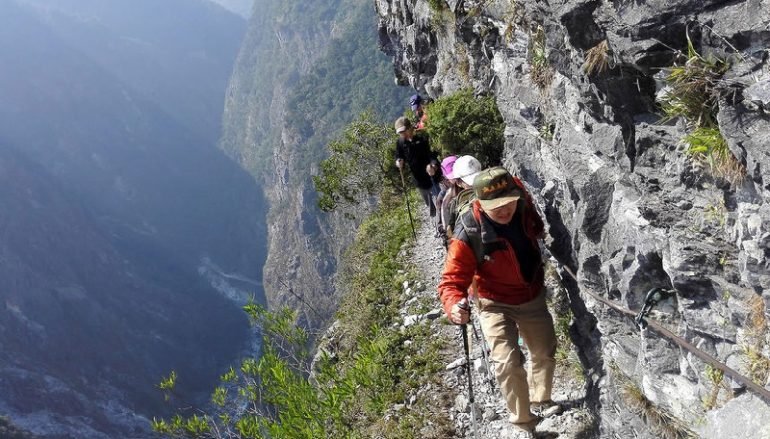 Taunting Task Applying for Hiking Permit to Taroko National Park
To hike Zhuilu Old Trail, we had to apply for hiking permit a week in advance when we were still in Singapore. It wasn't an easy process.
First of all, the online form required so much information there were five tabs to complete. What's more, some of those fields weren't intuitively-easy to understand. For instance, we had to select the schedule/route to be taken in exact sequence.
TIP: You can visit this application portal if you like to apply hiking permit on your own. Remember to switch to "English" version.

If you find this too much of a hassle and don't mind paying, there are online agencies who can provide such a service. Similarly, all application would be taken care of if you join a tour to hike Zhuilu Old Trail.
To make things even more difficult for tourists, the application required a local Taiwanese's ID, phone number and private details such as birth date and passport number. We might have slightly annoyed our Airbnb host when we requested him for such sensitive information although he had earlier agreed to help.
Guess he didn't expect the extent of information/assistance needed. Neither did we.
> RELATED: Hiking Teapot Mountain in Taiwan
And last but not least, there was a daily limit to the number of people who were allowed to hike Zhuilu Old Trail. I remember how we failed to get a timely approval from Taroko National Park despite having applied it way in advance. We were later told that the administrators were reluctant to approve further permits due to the developing situation of Typhoon Haima in the Philippines.
Step 2:  Get Permit from Local Police Station
(9.30am)
If the above application steps didn't sound difficult enough, we had to visit a Police Station on actual day to get another permit.
Considering that entry of Zhuilu Old Trail was allowed only till 10am, we started to panic and made a dash to Taroko Gorge police station, which was located near Taroko Information Centre.
The police officer was quite fierce and unfriendly. It was like we'd just disturbed his peace and made him work on a lazy morning. He started asking us a lot of questions and warned us against proceeding given the weather condition.
On hind sight, the police officer had a reason to be stern. 
For some reasons, this police officer treated us a little better after seeing our passport and knowing where we were from.
"Where did he initially think we were from?", I could only wonder.
Location of Taroko Police Station
See google map location. 
---
Was Taroko Gorge Supposed to be this Dangerous? 
It was an eye-opener for us. Riding a scooter in Taroko National Park made us feel so tiny and vulnerable especially on a rainy day. It involved risks that we weren't prepared for.
Waterfalls Everywhere in Taroko National Park
There were waterfalls EVERYWHERE – down the cliff and down the road "ceiling". I recalled a dangerous moment when a wide and powerful waterfall on the left side of the road overflowed such that water actually swept across the road we were on and flowed down the other side of the road, into the deep gorge.
This means that we could have been swept down the gorge and into the muddy rapids hundreds of meters beneath the road.
No photos were taken of course as we were fearing for our lives. Everything felt so dangerous like we were not supposed to be there.
> RELATED: How a Typhoon in Japan Disrupted my Travel Plan (And Lessons Learnt)
On other parts of the road, curtains of rain came down on us to make sure we were 100% drenched. Was that our punishment for entering Taroko Gorge on her moody day?
Fallen Boulders & Rocks at Taroko Gorge
Along the road, we saw fallen boulders and rocks in our path. There were many "What-ifs" on our minds. Like would we end up like a squashed ant?
Before reaching our first destination, we were already thoroughly soaked and feeling rather miserable. It didn't help that Taroko Gorge was cold and shrouded in mist.
---
Most Trails at Taroko Gorge were suddenly closed!
After all the hard work and research, we realized to our dismay that most of the trails were closed, from the more dangerous Zhuilu Old Trail to touristy ones such as Swallow Grotto. This morning before we set off, they were still indicated on their website as being opened.
TIP: Visit this page to find out the status of hiking trails in Taroko National Park, i.e. whether they are opened or closed.
Okay. We really ran out of places to go in Taroko National Park. Riding our little scooter, we passed by Cimu Bridge and Yue Wong Pavilion, places we had earlier crossed out from our itinerary. Seems like we would have to make do?
I took a quick photo of Cimu Bridge before continuing our journey. Now, the priority was to find a decent shelter in big big Taroko Gorge.
By the way, all photos taken today were ugly. I either looked like a hunched-back camel or a stout and figure-less woman. Other times, I looked like a mushroom head or chin-less girl.
Location of Cimu Bridge
See google map location. 
---
Hooray! A Shelter at Taroko Gorge (Heliu Campground)
(10.45am)
The joy of seeing a proper shelter was indescribable! After being pounded by heavy rain and soaked to the bones, seeing Heliu Campground was like spotting water in a desert.
Finally, we could take a break from the danger of riding on roads peppered with boulders and rocks and avoid the curtains of water that came down on us like we were their enemies.
I was cold and wet even though I had a layer of waterproof raincoat over another layer of water-resistant jacket. Both didn't work under this rough weather condition. Waters were seeping in through collars, sleeves or other unknown places through osmosis.
My wet ponytail could be one culprit, serving as a conduit for water to travel to places.
We took off our jackets and tried to air ourselves dry. The temperature at Taroko Gorge was 23-degree Celsius when it was supposed to be 28 during this time of the year. Being wet and riding a scooter through the wind made us super duper cold!
My pinkie felt numb and whenever that happens, it means the coldness experienced was overwhelming. The last time I experienced this was during my hike up Tongariro National Park in New Zealand. It was also raining that day!
Guess that's my life? LOL. 
Location of Heliu Campground
See google map location. 
---
Wandering Around Heliu Campground
When the rain subsided a little, we decided to explore the areas around Heliu Campground. Theoretically, Heliu Campground was not a tourist attraction. On a rainy day, this place turned out to be quite a sight!
Massive Waterfalls in Taroko Gorge
Unmarked waterfalls that came down the cliffs were full of energy to the extent they became noisy. Turn down the volume to view the video below.
These falls flowed into muddy rivers that now seemed more like a rapid.
Suspension Bridge at Heliu Campground, Taroko Gorge
There was a suspension bridge around Heliu Campground. You can get a perfect 360 degrees view of the river because you are standing above it. 
This bridge leads to the start of a hiking trail to Nantou, Taiwan, and requires a hiking permit.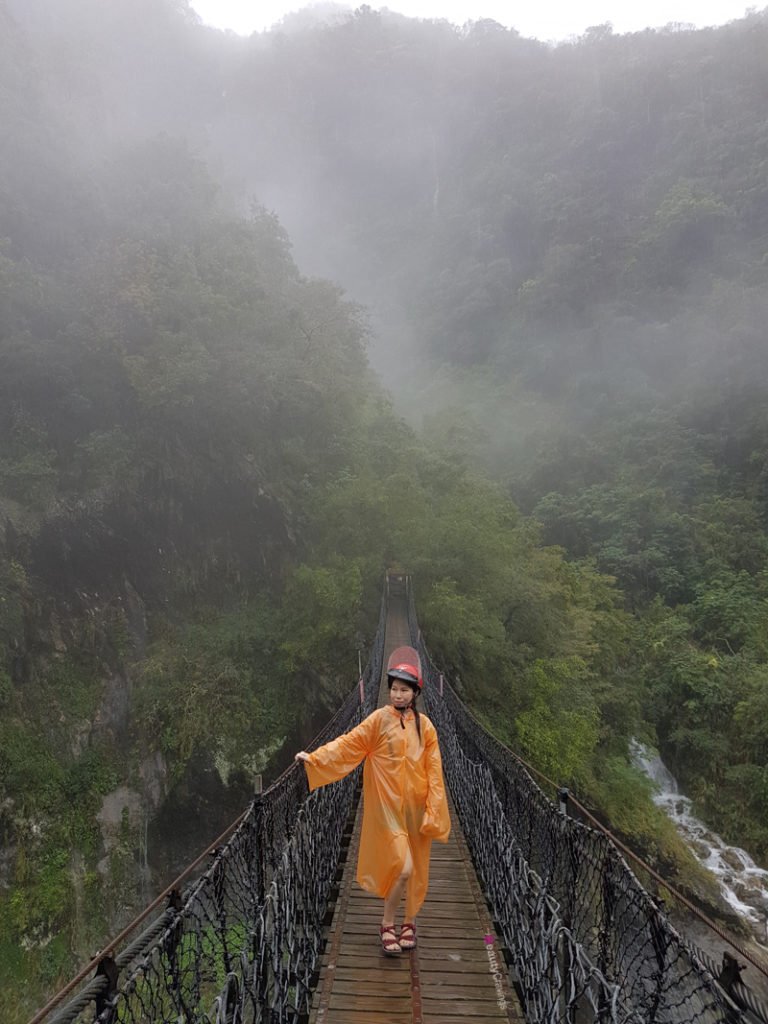 Yue Wang Pavilion at Taroko Gorge (岳王亭)
We were so desperate finding places to explore we even took photos of a pavilion – Yuewangting (岳王亭). 
Location of Yue Wang Ting
See google map location.
---
Let's Conquer Lushui Trail
Another hiking trail that was indicated as being opened this morning was Lushui Trail. So, we made our way there when the rain stopped.
> MUST-READ: Best hike of Taroko Gorge was at Lushui Trail
Soon, we realized that Lushui Trail was also closed. Not another one! 
Guess we would have to accept our fate? That we were not fated to hike Taroko Gorge today. :(
Essential Info:
Accommodation: Airbnb Unit in Hualien
Month of Travel: October
Itinerary for the Day: Shandong Soy Milk King (山東豆漿大王) >> Cimu Bridge >> Heliu Campground >> Yue Wang Pavilion (岳王亭) >> Day 2 (Part 2)
Transport: Rental Scooter (Alternative: Rental car)
WiFi: Pocket WiFi / SIM Card 
Free Taiwan 'Must-Buy' Checklist: Download
Let's take a break from this typhoon rain. I'll be back with Day 2 (Part 2) where we'll cover Shakatang Trail, Chishing Tan Beach and sample food at Gongzheng Baozi. Stay tuned!
Do you want to hear about the fun things I do as a budget-savvy free and easy traveler? Just click the button below to subscribe. I'll even give you some free and exclusive stuff. See you there!
SUBSCRIBE
(This post was first published on 10 Jan 2018 and last updated in Oct 2019)
This post may contain affiliate links, meaning I earn a commission if you make a purchase, at no cost to you. Read my full disclosure for more info.
---
Related Posts:
(Visited 2,414 time, 2 visit today)