I've just repurchased another tub of Clinique Smart Night Custom Repair Moisturizer and find it timely to update this post that I first published in Nov 2018. I had then proclaimed it as my favorite night cream of the year.
So, who would potentially like this night cream? Well, if you have dry or dehydrated skin, be it due to colder climate or ageing, this nourishing night cream should interest you.
---
More about Clinique Smart Night Custom Repair Moisturizer
Clinique Smart Night Custom Repair Moisturizer comes in three variations to suit different skin types, namely:
Very Dry to Dry
Dry Combination
Combination Oily
As I'd gotten my first tub as part of a Christmas Holiday Set, I didn't get to choose the skin type variation. But it's all good. The "Dry Combination" version that came with the bundle suited me perfectly.
One thing to note though, my Clinique Smart Night Moisturizer came in a smaller 30ml jar as compared to the normal retail size of 50ml. When you look at the product photos in this review, do take note that the retail version is much bigger. 
Marketing Promises of Clinique Smart Night Moisturizer
Clinique Smart Night is an oil-free night cream that targets all major signs of aging. It is said to be able to firm, brighten and smooth fine lines and wrinkles.
Clinique Smart™ hydration technology helps skin attract and retain moisture so you wake up to skin that's fresh, firm and alive with youth.
Sounds like a super skincare product, doesn't it? Let's see if Clinique Smart Night Moisturizer is able to meet these anti-aging promises. 
---
What's Good about Clinique Smart Night Moisturizer? 
1. Highly Nourishing
I stay in a hot and humid country and rightfully shouldn't be affected by the "wintry-dry" season. So what'd caused my Combination-Oily skin to become flaky and dry? Well, sad to admit, it's due to ageing. Once we reach a certain age (I would say mid-thirties or 40s), sebum production starts to slow down significantly. That's when we start moving from "refreshing moisturizer" to rich and creamy ones.
Another possible cause for skin dryness could be my daily use of Vitamin C serum. It isn't a secret that the formulation can be rather harsh on the skin, especially if it contains Ascorbic Acid. Unfortunately, I do rely on Vitamin C serum (20%) to reverse other signs of ageing, such as dullness and pigmentation and can't live without it.
> RELATED: One thing that kept Timeless Vitamin C Serum from Becoming Holy Grail
Here's how Clinique Smart Night Custom Repair Moisturizer came to the rescue. After using it for a few weeks, I could tell that my skin was sufficiently nourished as it no longer felt tight. The result was the most visible during the initial weeks. Here's what I've written in my beauty diary, "My skin felt soft and supple and my patchy dry skin was healed. I'm surprised at how Clinique Smart Night Moisturizer was able to plump up my face and make it look firmer."
2. A Subtle and Yet Noticeable Brightening Effect
I didn't buy Clinique Smart Night Custom Repair Moisturizer to deal with skin dullness since I already have my Vitamin C serum to do the job. So, I was really pleased when I woke up noticing a brighter skin tone. It was subtle, but noticeable especially during the initial weeks of usage. Do however note that I was also using Clinique Smart Broad Spectrum SPF 15, i.e. the day cream version within the same range. So the brightening result could be due to the combined effect of both products. 
Why are improvements noticeable only during the initial weeks? After using a product for an extended period, it's harder for the senses to detect a difference due to desensitization.
I'm not sure which ingredient contributed to the "brightening effect". Clinique's website didn't explain much in layman's term. Here's part of its ingredients in case you are interested in deciphering the code:
Water\Aqua\Eau , Caprylic/Capric/Myristic/Stearic Triglyceride , Petrolatum , Glycerin , Hexyldecyl Stearate , Butylene Glycol , Dimethicone , Glycereth-26 , Glyceryl Stearate , Peg-100 Stearate , Cetearyl Alcohol , Tamarindus Indica Seed Extract , Centaurium Erythraea (Centaury) Extract , Algae Extract , Micrococcus Lysate , Glycine Soja (Soybean) Protein , Hydrolyzed Soy Protein , Yeast Extract\Faex\Extrait De Levure , Camellia Sinensis Leaf Extract…
3. Rich but Without Any Greasy Discomfort
Many moisturizers that target aging or dry skin include a lot of "oil" in their products, making the after-feel somewhat uncomfortable. Think about greasiness, stickiness and even a "hot" skin sensation. I could almost feel my skin suffocating from the lack of "breath-ability".
> RELATED: Can Innisfree Olive real Power Cream Cure Dehydrated and Flaky Skin? 
Clinique Smart Night stood out because it is oil-free and yet able to provide sufficient nourishment. The night cream did take some time to be fully absorbed. Give it a few minutes and you'll notice the cream reducing to a non-sticky and refreshing layer that feels no different from a day cream.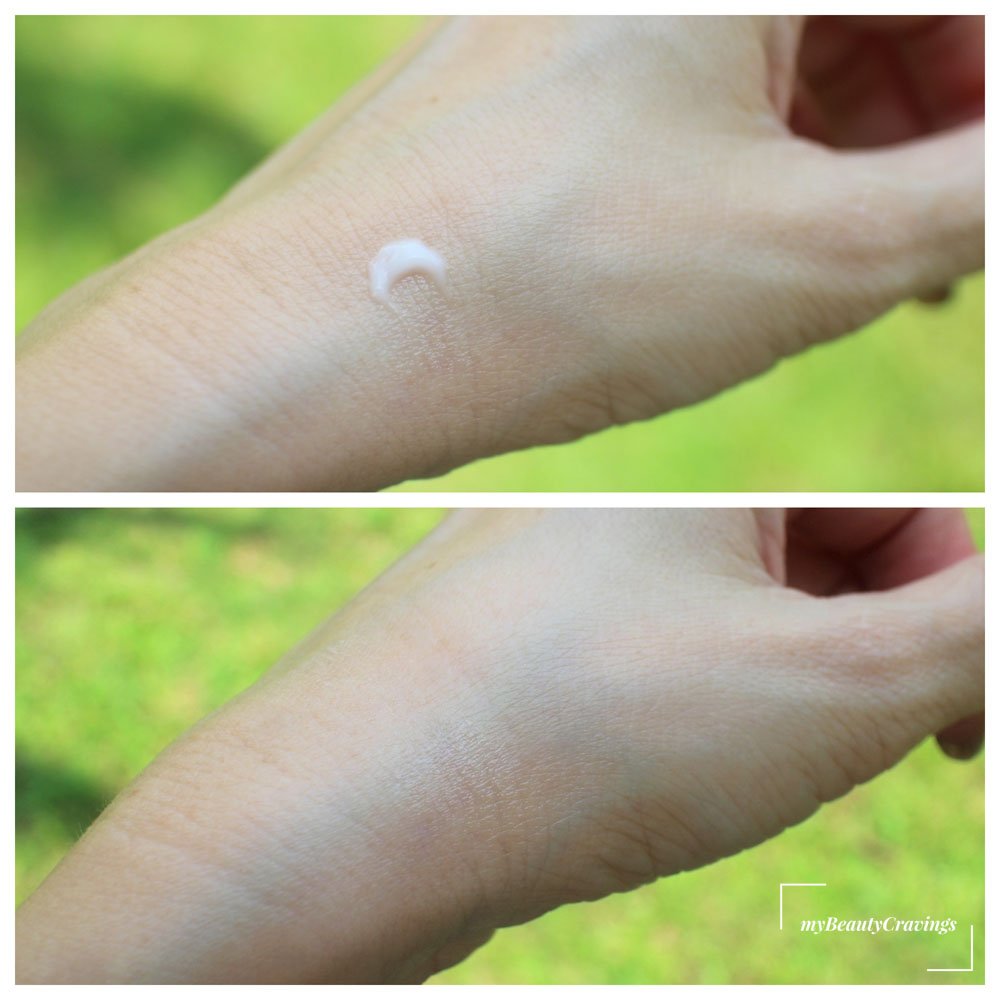 4. Lasting Hydration
A single application of Clinique Smart Night Custom Repair Moisturizer lasts for hours. The skin was sufficiently hydrated and skin tightness was banished. As a night cream, I do believe that this moisturizer lasts through the night. Unfortunately, I can't ascertain that as by the time I wake up, I can no longer differentiate between natural skin sebum and Clinique's moisturizing cream. :) 
5.  Elegant Packaging
In a reflective silver jar, this nighttime moisturizer feels luxurious and looks elegant. Sometimes, packaging does play a part in elevating one's state of pleasure and happiness? I can't deny that I felt pampered whenever I scoop out a dab of cream from this beautiful jar. I definitely felt more 'bliss' as compared to using cream that came out of plastic containers.
Superficial? Yeah, that's real life. ;)
6. Free from Controversial Ingredients 
Clinique Smart Night doesn't contain parabens, phthalates and fragrance. For info, Parabens is a form of preservatives and some researches have linked it to breast cancer.
Parabens are commonly listed as methylparaben, propylparaben, ethylparaben and butylparaben on ingredient labels.
Phthalates isn't that great too as it is a plasticizing chemical found to cause reproductive birth defects in laboratory animals. Lastly, fragrances in a product are known to cause skin sensitivity. 
That being said, I'm not particularly bothered by the presence of these ingredients. All have been cleared by FDA because the amount used is small to cause any safety concerns. But if you are pregnant or have sensitive skin, you may want to do further reading on these ingredients.
---
What's Not Great about Clinique Smart Night?
1. Not travel-friendly
While the container may not be made of glass, it does feel like one – heavy and sturdy. As such, Clinique Smart Night Moisturizer is not something you'll want to bring overseas unless you are able transfer a small portion to a travel-sized container.
2. Hygiene Issue 
I'm still surprised that most moisturizers come in a jar container which means having to dip our finger into it for every single application. Sometimes, the cream gets under the nails and I had to scrape out the cream before applying it on my face. Yucks! Ha ha. Can't waste an expensive cream, right? Why aren't more companies packaging their cream in tube form, such as this one? Oh I know. It's not as attractive and harder to sell. ;)
To be honest, although it feels unhygienic, I think it's not really a health issue. Most established companies would know how to blend in preservatives to extend the product's lifespan. After one year of usage, I'd utilized 50% of the product and yet the cream remained white and pure. :)
3. Quality Comes at a Price
Clinique Smart Night Custom Repair Moisturizer is the second most expensive moisturizer in their range, retailing at USD58 on Clinique's website and S$115 in Tangs, Singapore. Here's its latest online price.
Although I don't normally associate a product's quality with its price, this is one of the few products that made me think otherwise. And I thought Clinique Smart Night Moisturizer qualifies to be priced at a premium – I haven't had such noticeable results from moisturizers for a long while.
---
Recommendation: Should you buy Clinique Smart Night?
I enjoy and look forward to using Clinique Smart Night Custom-Repair Moisturizer every night. By right, the novelty should be gone by now, since I've been using it for a long while. What I like about this effective moisturizer is how I look at myself in the mirror every morning and notice a supple, firm and more radiant skin. 
If you are combating dry and/or dehydrated skin and are looking for a nighttime cream that targets the main signs of aging such as fine lines, skin laxity and dullness, Clinique Smart Night may be worth a consideration. I would definitely repurchase this night cream which I already did. Rating: 5/5
To find out the latest price on Amazon, click HERE. 
Or view prices on Shopee (SG). 
---
That's all for today's review and recommendation. I hope you like it. Stay tuned for more honest beauty and travel reviews. See ya! :)
SUBSCRIBE
(This post was first published in Nov 2018 and last updated to include latest opinion)
Pin This!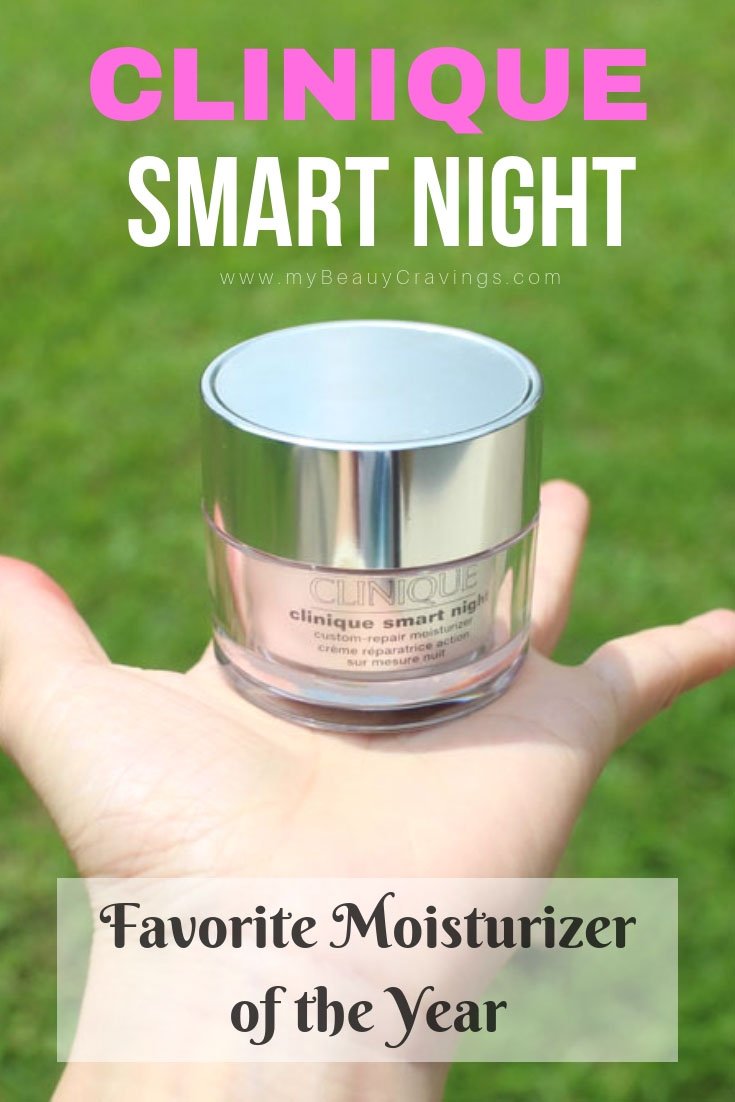 This post may contain affiliate links, meaning I earn a commission if you make a purchase, at no cost to you. Read my full disclosure for more info.
(Visited 3,452 time, 11 visit today)