Goodbye, Hualien. Today, on Day 4 of our Eastern Taiwan Tour, we would be making our way to Luodong, a town located further north on the eastern coast of Taiwan. Read on and see why we regretted not taking an express train (it's not a speed issue). I'll also show you why Luodong Night Market is so worth going to. Scroll down now. :)
---
Breakfast at a Popular Eatery in Hualien 
(9.30am)
Getting drenched in the rain for days had finally taken a toll on me. I woke up feeling unwell and spitting blood-red phlegm. The chill started the night before and made me shivered under the blanket, and then somehow made me perspired throughout the night. What a confusing night for my body system. 'Are you hot or cold? Make up your mind.', I could imagine my body asking. 
> RELATED: Taroko Gorge on a Rainy Day
Being sick on a trip was no fun! The fever gave me body aches and made me so sleepy and tired even right after getting out of bed. As a typical tourist who wanted to take in as many new experiences as possible within a limited time in the country, I gathered all my energy and dragged myself to the first experience of the day – to have breakfast at a popular breakfast outlet highly recommended by my Airbnb host. The short walk felt like an eternity.
Known as Miaokou Red Tea (廟口紅茶), it is loosely translated as 'Temple-Front Red Tea'. Way before reaching the outlet, long queues could be seen snaking out of the humble-looking outlet.
'Wow, the food there must be darn nice', I'd thought.
So we joined the queue which by the way was under the morning sun. It was hot and standing 20 minutes in the queue left us perspiring! I believe I was still running a fever, so that was kind of a torture, you know?
Due to the outlet's popularity, all seats were occupied and we had to do a takeaway. What? Couldn't even rest for a while? Poor me.
Okay, let's see what we ordered – carrot cake, egg biscuit, ham & egg sandwich toast, red tea and plum juice. 
The food kind of look very bland, huh? Not very photogenic. Actually, the food was okay but not amazing enough to warrant another visit, given the long queue and unavailability of seats.
Miaokou Red Tea (廟口紅茶) was apparently popular for her tea which they pumped down through steel pipes (from the upper level of the building). The tea was not bad, but not outstanding.
All in all, our breakfast for two was cheap at NT105. It's definitely an authentic breakfast place for the locals although I was left feeling a little underwhelmed.
Getting to Miaokou Red Tea
Miaokou Red Tea was located just 6 minutes walk from my centrally-located Airbnb unit. Here's the google map for you on the exact location.
---
Checking out of Hualien Airbnb Unit
(11am)
Three days flew by in a blink of an eye. It was time for us to say goodbye to Hualien City.
Isn't it great to have free transport to the train station? Oh yes, our dear Airbnb host was so kind to give us a lift. Overall, I had a really pleasant experience staying there.
The spacious self-contained room came with two king-sized bed, a large TV, fast wifi, good water pressure and comfy blankets. What was even more important especially to tourists was its central location. It was walkable to the most happening part of town where we could shop or get food. You wouldn't believe how cheap it was. I'd only paid about $40 per night for the Airbnb room.
If you haven't tried Airbnb, go get an account. I am very sure it will help you save on travel expenses. Plus if you sign up through this special link, you'll get S$45 off your first Airbnb stay.
---
Should I take an Express or Local Train from Hualien to Luodong?
(11.15am)
At Hualien train station, we had the option to buy either Express or Local Train tickets to Luodong. Is speed the only difference between the two options? Apparently not!
Since Luodong wasn't exactly far from Hualien, we thought we could make do with a local train (區間車). Not only was it cheaper, but the next train also had an earlier departure time than an express train. So although transit time was 1.5 hours vs 50 minutes on an express train, the actual arrival time to Luodong didn't differ much.
What a mistake! Had I known that a local train was like an MRT (or Metro), I wouldn't have chosen it, especially not when it was so popular with the locals that there were no available seats for that entire 1.5 hours journey.
Being feverish, fatigue had overtaken me and I had no choice but to sit on the dirty train floor, right next to the door. In all honesty, that was the first and only time I've ever sat on the floor of a train. And that had to be captured on camera.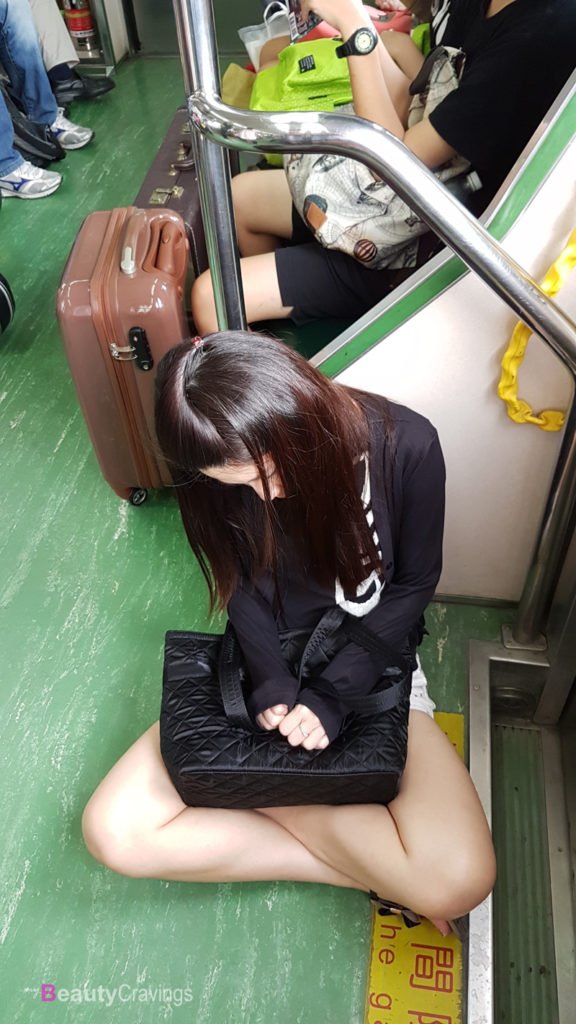 I'd thought I could make use of transit time to sleep so that I could recover by the time I reached Luodong. But no. It was too noisy! I'm not kidding. Some elder folks on the train were having conversations by way of 'shouting'. A baby was screaming. A group of active youngsters was chatting happily among themselves. Don't believe? Check out the video below. :(
The local train also seemed to stop at every station than Express ones and whenever that happened, I'd to shift my butt to allow people to embark and disembark. How to sleep? 
Soon, there was not even a decent space for me to sit properly on the floor. The photo below was my view throughout the whole trip – 1.5 hours only. Just pairs of legs surrounding me. LOL.
It was definitely a stark contrast to our comfortable express train ride when heading from Taipei to Hualien. So please, just go for the express train. Unless your travel objective is to meet and see the locals, then go for 'local' train. I wonder if that's the rationale for the naming convention.
If you take this route, you may see indigenous people of Taiwan who are original inhabitants of Taiwan (臺灣原住民) since 5,500 years ago. Today, they constitute about 2.3% of the island's population. 
---
Say Hello to my Sanctuary in Luodong!
(1.10pm)
A short stroll from Luodong Train Station and we arrived at Sun Sweet Hotel, one of the taller buildings in the vicinity. Although it was an old hotel, the executive room we'd booked was newly refurbished.
It was such a joy and relief arriving at the spacious and luxurious room after an uncomfortable journey. The bathroom was so huge it was like half the size of the room. And it even came with remote control for heat, music, light and humidity control.
What a great place to 'recover'? Yay!
I wasn't supposed to sleep on a trip, not at 1.30pm and without lunch. But my strength had left my body and I couldn't take it anymore. So, I took a 'quick' nap that ended up being 3 hours long. Sadly, I woke up feeling even worse. By then, my travel partner who went out for his lunch at Sushi Express came back with a box of panadol. After taking the tablets, I resumed my sleep for another 2 hours.
Did you know? Sushi Express originates in Taiwan.
Wow, half a day went by just like that! Luckily, it was drizzling. So I comforted myself that I probably didn't miss much. Hee!
---
Luodong Night Market – A must-go in Taiwan
(7pm)
By the time I woke up from my 5-hour long nap, energy had returned and I felt all ready to explore Luodong Night Market for my lunch cum dinner.
It was great staying so near to Luodong Night Market. Just a few minutes stroll from Sun Sweet Hotel and I arrived at the bustling night market, taking in the sight of busy streets and overwhelmed by the huge array of food options. There were also shops selling clothes, shoes, cosmetics and knick-knacks.
I loved Luodong Night Market at first sight. It was one of the best night markets I've been to in Taiwan.
> ALSO SEE: Ranking of Night Markets in Taiwan
Let's see what we had for dinner today. First, let's start off with the very popular San Xing Scallion Biscuit (玉本舖三星蔥餅). At NTD35, it was crispy and nice but can't beat the ones we had at Hualien.
We also ordered two Oyster Egg Buns (布袋美食蚵蛋包) from a stall located next to San Xing Scallion. Each of these egg buns contained a fat and succulent oyster wrapped within the egg pocket (NTD40 each).
The best food for the night must be the plump grilled scallops. Three in a stick for just NT100. That's way cheaper than those we sampled at Hualien Dongdamen Night Market and so we ordered another stick! Yummy!
We also ordered Fish Ball Soup, Fried Bee Hoon and Rice Cake from a stall (NT95) that had newspaper cutouts of celebrities pasted all over the stall front.
I didn't like any of the dishes ordered from this stall. The Bee Hoon was soggy and thick and the rice was pretty tasteless. The fish balls were mediocre in my opinion.
And here's a not very flattering of me at Luodong Night Market. That was the only photo I have of myself. I should start taking more selfies in future.
Psst, I'll be having meals at Luodong Night Market again on next few nights. So stay tuned for more food photos.
That's all for Day 4. Stay tuned to next post where we would mademakerip to Wufengchi Waterfalls, Yuemeikeng, Lanyang Museum and many other interesting places. If you like to get notified of newly-published beauty reviews and travel stories, just click the button below to subscribe. I'll even give you some free and exclusive stuff. See you there!
SUBSCRIBE
This post may contain affiliate links, meaning I earn a commission if you make a purchase, at no cost to you. Read my full disclosure for more info.
---
Related Posts:
(Visited 1,794 time, 1 visit today)