For the past one year, there's one eye product that I would reach out for most of the time, and it's MUAC BellEvolve Beautifeye Lifting Serum. In fact, I've been using it daily for the past few months and love how cooling and soothing it feels on my delicate eye areas. There are more things that I like about MUAC BellEvolve Beautifeye Lifting Serum and I'm sharing it with you in this review before it gets emptied soon.
---
About MUAC BellEvolve Beautifeye Lifting Serum
MUAC stands for Makeup Artists Choice and is a company based in the US with more than 20 years of history. I started using MUAC products since 2014 and was drawn to their affordable and no-frill acid-based products such as Gly-Luronic Acid Serum. Since then, I've tried other range of their products including makeup and skincare and most of them have given me above-average experience.
BellEvolve is a luxury line under MUAC and comes with better packaging than their no-frills basic range. Today's review is on one of such luxurious products – MUAC BellEvolve Beautifeye Lifting Serum. Let's see what this product promises to achieve for her users.
Marketing Promises: BellEvolve Beautifeye Lifting Serum
MUAC BellEvolve Beautifeye Lifting Serum is said to contain an award-winning active from Sederma that would provide lifting action to sagging upper eyelid. It further claims to lessen crow's feet wrinkles, fade dark circles and diminish puffiness.
You can read the full benefits of MUAC BellEvolve Beautifeye Lifting Serum at their
website
. Let's see if this eye serum is really as good as it claims to be. As usual, we'll start off with the good things about this eye lifting serum.
---
What's Good about MUAC BellEvolve Beautifeye Lifting Serum? 
1. Well-designed & Quality Packaging
Unlike most eye cream, you can use this eye serum even if your fingers are dirty because MUAC Beautifeye Lifting Serum comes in the form of a metallic roller. You just need to roll the applicator over the eye areas and the right amount of serum will get deposited.
I've been using MUAC BellEvolve Beautifeye Lifting Serum for a year and am amazed at the quality of this roller. Unlike other rollers that I've used, there's no hardened residue around the 'ball'. It was able to roll as good as new even after one year of usage, including a period when I stopped using it for a few months to test other eye products. When I picked it up again, there was no dried-up serum and the ball rolled smoothly.
What's more, there was absolutely no drip no matter if you hold it upright or upside down. I've mentioned it before, but like to emphasize again that the right amount gets deposited with every roll. You don't know how much that can simplify life.
2. Cool, Soothing and So Refreshing!
This attribute is what draws me to MUAC BellEvolve Beautifeye Lifting Serum every day. The metallic roller felt cooling to the eye area, and I love how it massages my eyes. I like to roll with a little bit more strength along the tear trough as I tend to have late nights (working on this blog) and such massage action soothes my tired eyes.
I enjoy using MUAC BellEvolve Beautifeye Lifting Serum, more so than other eye creams especially when the weather gets hot. Well, living in a hot and tropical climate in Singapore, you can understand why I naturally reach out for this eye serum all the time.
According to product instruction, you can refrigerate Beautifeye Serum so that you get enhanced de-puffing in the morning. I haven't found the need to do that yet because I thought the roller on its own was cooling enough.
3. Lightweight and Long-Lasting Hydration
Although MUAC BellEvolve Beautifeye Lifting Serum comes in a clear and liquid form, it was able to provide lasting hydration.
Immediately after application, there will be a slight stickiness. This goes away after a few minutes and what would be left behind is a light film similar to that of a light eye cream.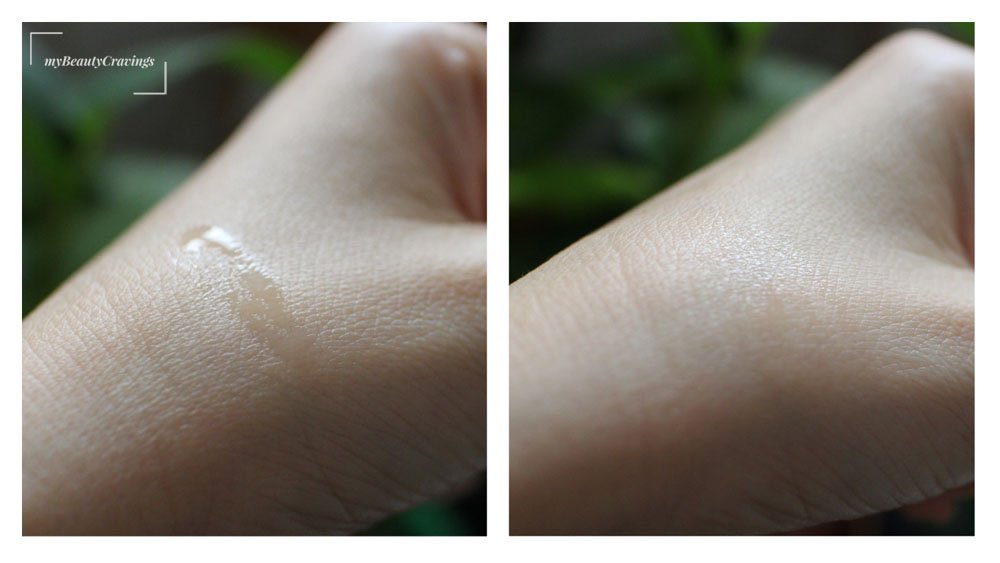 The light veil of moisture remains for hours, giving me confidence that my delicate eye area is protected from elements and dryness. I've never felt the need to layer with other eye creams, be it day or night (note: I stay in a hot and humid country).
4. No Milia
I have been using MUAC BellEvolve Beautifeye Lifting Serum for close to a year and did not get any milia seeds from it. It's good to know that the serum provides sufficient hydration without being too heavy. 
5. Product Lasts Forever
The tube stated that it contains 15ml of serum. I've been using it almost daily for the most part of the past one year and am surprised that this 15ml can last so long. I've always thought liquid gets depleted faster than cream. Apparently, it's not the case for MUAC BellEvolve Beautifeye Lifting Serum.
I'm still a little suspicious if it contains more than 15ml, but I can't certainly be right since things are done according to standards. Perhaps, the ability to deposit the right amount of serum via the roller helps prevent wastage.
6. Reasonably-Priced
I've mentioned that BellEvolve is the luxury line under MUAC. So BellEvolve Beautifeye Lifting Serum is notably pricier than her basic product range. It is priced at USD38.95.  As compared to premium beauty brands like Estee Lauder and Lancome, it is still very much cheaper.
What's even better is how it offers a sample size (4ml airless pump) for just USD10. You may not be able to enjoy the soothing and massaging effect of the roller though, but you can test out the effectiveness of the serum.
---
What's Not So Great? 
1. Don't Expect Miracle!
Okay, first of all, I do not yet have any crow feet (thank god). So I can't verify if MUAC BellEvolve Beautifeye Lifting Serum helps lessen wrinkles in that area. I do however have under-eye dynamic fine lines, i.e. lines that appear when I smile. And I did not notice a visible difference to those lines. They did not seem to reverse or worsen as I continued to age. To be fair, MUAC BellEvolve Beautifeye Lifting Serum didn't specifically indicate that it targets under-eye wrinkle. 
From my experience of using eye creams including those from premium brands such as SKII, Chanel and Shiseido, I've not had the good fortune of seeing off-the-counter eye cream succeed in reversing my signs of aging. In my experience, only botox and aesthetics procedures were able to reduce wrinkles visibly and quickly.   
So if you are looking for miracles, you may not find it in off-the-counter beauty products. But who knows? Maybe I will start seeing wrinkle reduction after having more laxity in my skin.
—–
Know what? I may have to eat my words. I normally prepare images after completing the review draft. Although I didn't notice a visible improvement by daily observation, the before-after photos that I dug out from my archive seem to tell a different story. Here are the before-after photos taken last year. I was smiling hard in both photos to show you my dynamic under-eye wrinkles.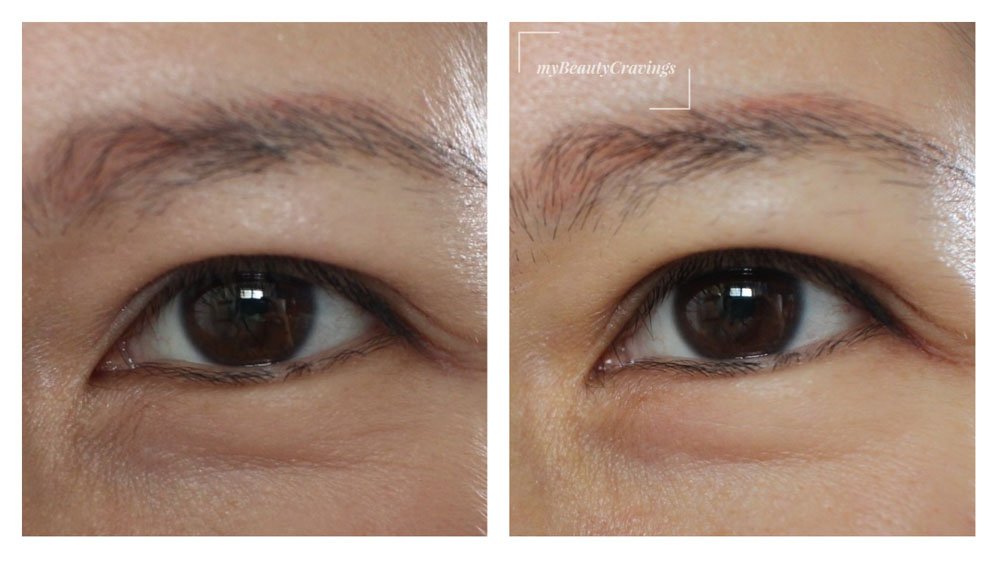 The BEFORE photo was taken before applying MUAC BellEvolve Beautifeye Lifting Serum while the AFTER photo was taken at the 10-day mark after applying Beautifeye twice daily. I think I see a little improvement towards the outer corner of my under-eye areas. Do you? It's surprising why I didn't notice the improvement until the before and after photos were placed side by side in a collage. 
I'm tempted to delete this point but think I'll let it stay to manage users' expectation not to expect an overnight miracle. 
2. Shake Well on First Use
I'd gotten pimples over my eyelids on the first few applications. Shaking it once after receiving it from the warehouse should do the trick of evenly distributing the moisturizing ingredients. In the course of one year, I'd only needed to shake the tube once.
---
Ingredient List of MUAC BellEvolve Beautifeye Lifting Serum
For those who are interested, here's the ingredient list. I'm not an expert in this area, so I'll leave others to do the analysis. I can only say that I've noticed a few moisturizing agents including Sodium Hyaluronate and Peptide.
Purified Water, Glycerin, Albizia Julibrissin, Siegesbeckia Orientalis, Polysaccharrides, Camellia Sinensis (Green Tea) Extract, Porphyridium Cruentum Extract, Sodium Hyaluronate, Cellulose Gum, Acetyl Tetrapeptide-2, Xanthan Gum, Darutoside, Phenoxyethanol, Ethylhexylglycerin.
---
Recommendations
I love using MUAC BellEvolve Beautifeye Serum Lifting Serum. And I certainly love receiving an effortless and cooling massage every day. As at the time of writing, I'm only left with maybe a week's of usage. As mentioned in my earlier post, it's not easy to empty a beauty product. But I've never had any issue emptying great beauty products.  
If you are looking for a hydrating serum that provides lasting hydration, soothes the eyes and is easy to use, MUAC BellEvolve Beautifeye Serum Lifting Serum is a good option. If you have crows feet and have used this product, please let us know if this product helps reduce your eye wrinkles. I have all along thought of rating this as 4/5 until I saw the before-after photos. It made me ponder if I should upgrade the score. Maybe I would as I continue to assess the improvement. Rating: 4/5.
---
This content was sponsored by MUAC. I've acquired the product more than a year ago, used it extensively, recorded my unbiased review and invited MUAC for sponsorship. MUAC allowed us to retain 100% editorial opinion and did not vet through this review before it is published. Thank you to MUAC for supporting 100% honest review. Thank you to my readers for supporting sponsored posts that add value to myBeautyCravings and help sustain our website.
---
Love honest reviews? If you like to get notified of newly-published beauty reviews and travel stories, just click the button below to subscribe. I'll even give you some free and exclusive stuff. See you there!
SUBSCRIBE
This post may contain affiliate links, meaning I earn a commission if you make a purchase, at no cost to you. Read my full disclosure for more info.
(Visited 892 time, 3 visit today)