I'm so glad I picked up Kanebo Media Brow Pencil when shopping in Japan. It's such an impressive piece. In fact, this is the best brow pencil I've tried since my favorite Lancome Le Crayon Sourcils was discontinued. I'm so glad to have found a good replacement, and am even more pleased that it comes at just a fraction of the price.
Let's see why this dull-looking brow pencil turned out to be a fabulous buy!
---
The Brand: Kanebo Media
Media (媚點) is a sub-brand by Kanebo and is widely available not only in the land of origin – Japan – but also in Taiwan.
The first product that I got a few years ago from the brand was Media BB Cream. It turned out to be quite good and that prompted me to load up more cosmetic pieces from Media in subsequent trips to Japan. 
RELATED: Say 'Hi' to plump and shiny lips with Kanebo Media Shiny Essence Lip 
Kanebo Media Brow Pencil: What's so special?
As at time of writing, Kanebo Media has six types of brow products to suit different needs, e.g. liquid, pencil or powder. The product we are reviewing today – Kanebo Media Brow Pencil – differs from the rest as one with dual ends.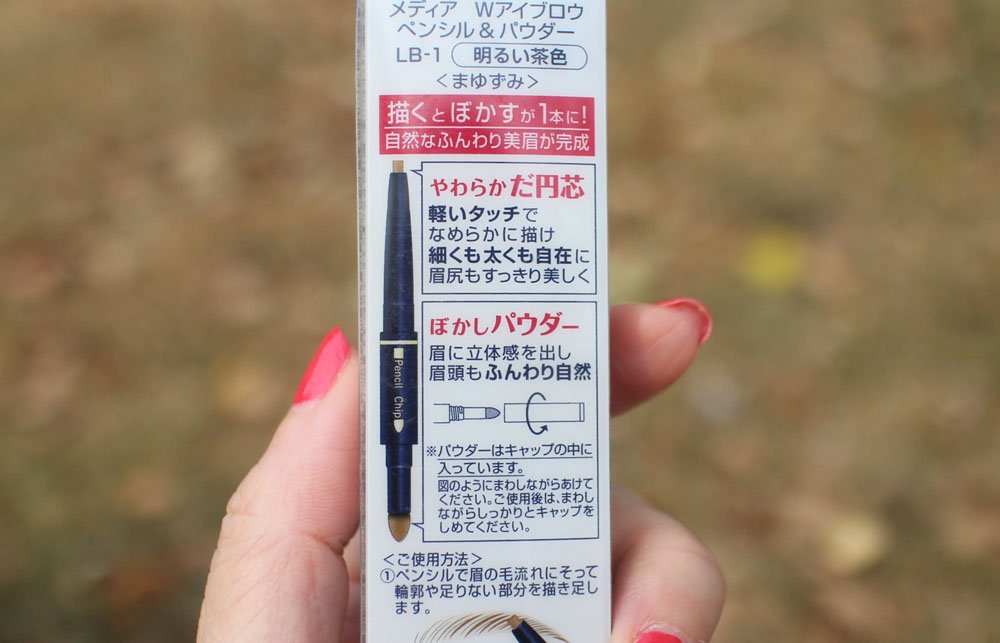 One end holds a pencil while the other is a sponge applicator that deposits powder. According to the product description, the pencil can be used to outline the brow or fill in gaps, while the powder applicator blends to create a 3-dimensional and natural-looking brows. 
Sounds good? Let me share the pros and cons and the step-by-step guide on how I use this brow pencil!
---
What's Great about Kanebo Media Brow Pencil? 
1. A Smooth Pencil that's easy to apply  
The first thing I did was to follow the instruction and use the pencil to outline my brows, as well as fill in gaps caused by sparsely-grown hair.
Why Bald Brow Patches? Some parts of my brows were "bald" due to years of over-plucking, when skinny brows used to be a fashion statement in the 90s' and early 2000s.

So remember, constant plucking can retard hair growth and even cause permanent balding. 
The oval-shaped pencil was cleverly designed as I could twist the angle to create elongated or slim lines when I need to, e.g. towards the end of the brows.
My first impression of Kanebo Media Brow Pencil was nothing short of excellent! That's because the pencil glides on so smoothly to produce blurred lines that look more like crayon than pencil. No matter how many strokes I made, I couldn't create a single harsh line. That's truly amazing, isn't it?  
In fact, I could walk out at this point without blending my brows or use the sponge applicator and still look put together.
2. Achieve Full Brows in a few strokes  
When I went on to the second step of using the sponge applicator, the powder that was deposited evenly gave me fuller and more blended brows.
I appreciate how the thick sponge made it quick and effortless to fill thick brows in just a few strokes. 
3. Well-defined & Yet Still Natural-looking
I've never thought that a brow can be both well-defined and natural-looking at the same time. Kanebo Media Brow Pencil proved me wrong.
It is one of the few brow products I've used that offers well-lined brows that're still so natural looking. I could go to the market and not feel like I was overdressed. I also love the soft finish that gave good definition without an obvious drawn-on effect.
In the collage below, you can see me applying Media Brow Pencil. I've only applied it on my left brow (your right) to let you see a better before-after comparison.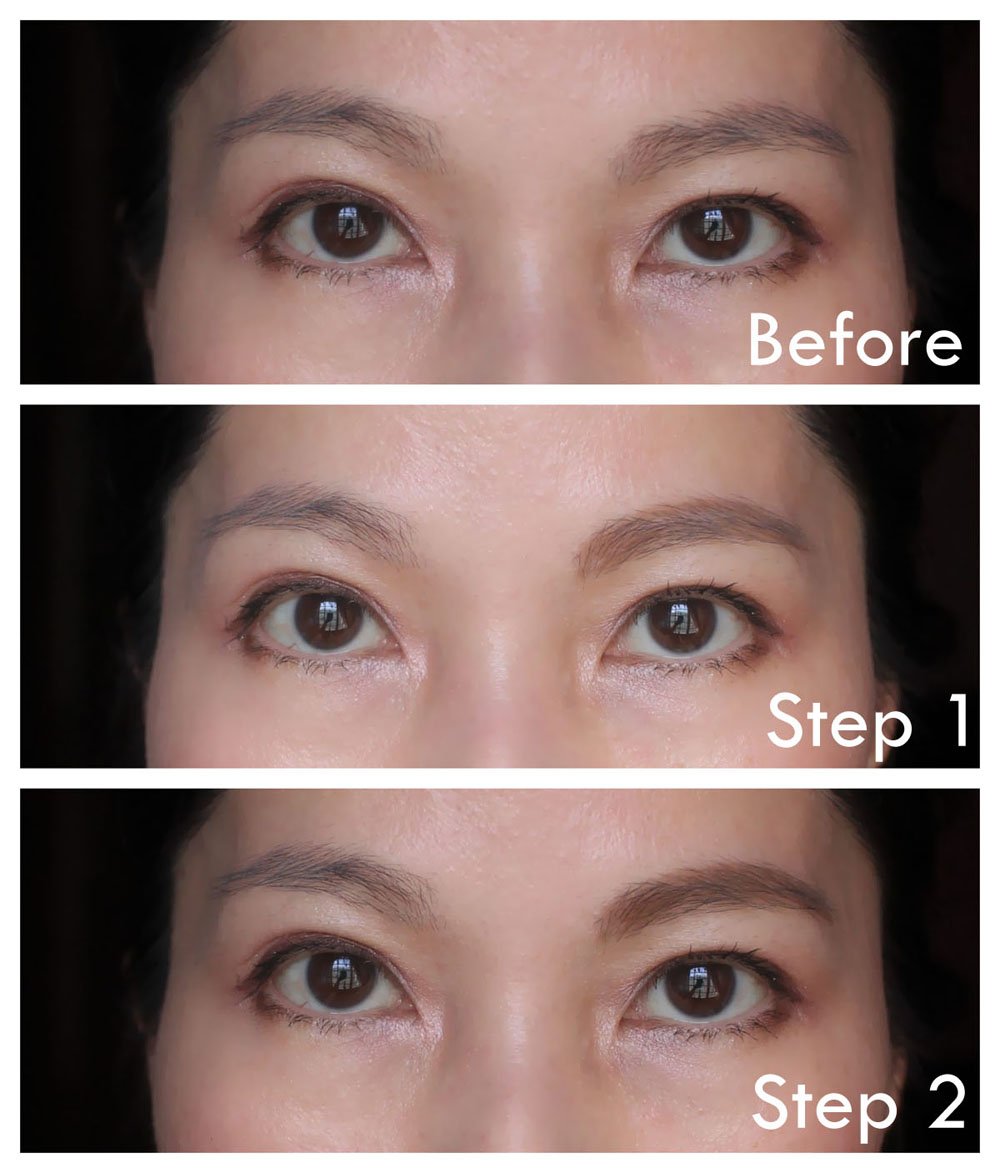 4. Very Wearable Colour
This brow pencil from Japan comes in three colours, all of which are different shades of brown. The one I bought – "LB-1″ – is the lightest shade and is translated as a "tea" colour.   
Here's how color LB-1 looks on my inner arm. It's a lovely brown tea, isn't it? :)
The shade created by the pencil tip (top) is slightly darker and warmer in shade, while the powder (bottom) offers an ashy cool tone.
5. Price is good 
I've got an amazing deal as Kanebo Media was having a brand-wide 25% discount when I was touring in Osaka. Even without discount, I thought Media Brow Pencil (priced at ¥1200) offers very good value, considering the kind of quality you get.
If you are thinking of getting this online, here's the latest price.
---
What's Not Great about Media Brow Pencil? 
To be honest, I think Kanebo Media Brow Pencil is almost flawless. I'm forcing myself to be extra fussy in order to come out with a more balanced review. Do note that these cons didn't affect usage or bother me much.
1. Twist to Open One End 
One end of the brow pencil – the sponge tip – took longer to uncap than what I was used to.
Specifically, you need to twist the cap 2 full rounds to loosen it. For info, the other end holding the pencil can be pulled out without such twisting action.
I believe there's a reason why Kanebo Media made us work harder on the sponge-end as the original state (twisted-in) can ensure maximum contact between the powder pot (set within the cap) and the applicator. But can they reduce it to just one round instead? :)
2. Which Side is Which? 
The photo below clearly shows you which end is the pencil and which is powder. However, after using it for a short while, the label has completely faded off. 
As such, it's a "tikam" game for me to get the pencil tip on the first attempt. But it didn't really affect my usage except for spending an extra millisecond or two. 
---
Recommendations: Who would love Kanebo Media Brow Pencil? 
I honestly think everyone would appreciate Kanebo Media Brow Pencil. It's such a wonderful piece especially for those who has and love full brows, and wanted them to be well-defined and natural-looking at the same time. The cons that I've stated here are really no issue in terms of usage. 
Go on and try this brow product and let me know if you love it too. Kanebo Media Brow Pencil is certainly entering my Japan Must-Buy List!
To find out the latest price on Amazon, click HERE
---
Do you enjoy such honest reviews? If you like to get notified of my new posts, just click the button below to subscribe. You'll also get free and exclusive stuff as a subscriber. See you soon!
SUBSCRIBE
Pin This!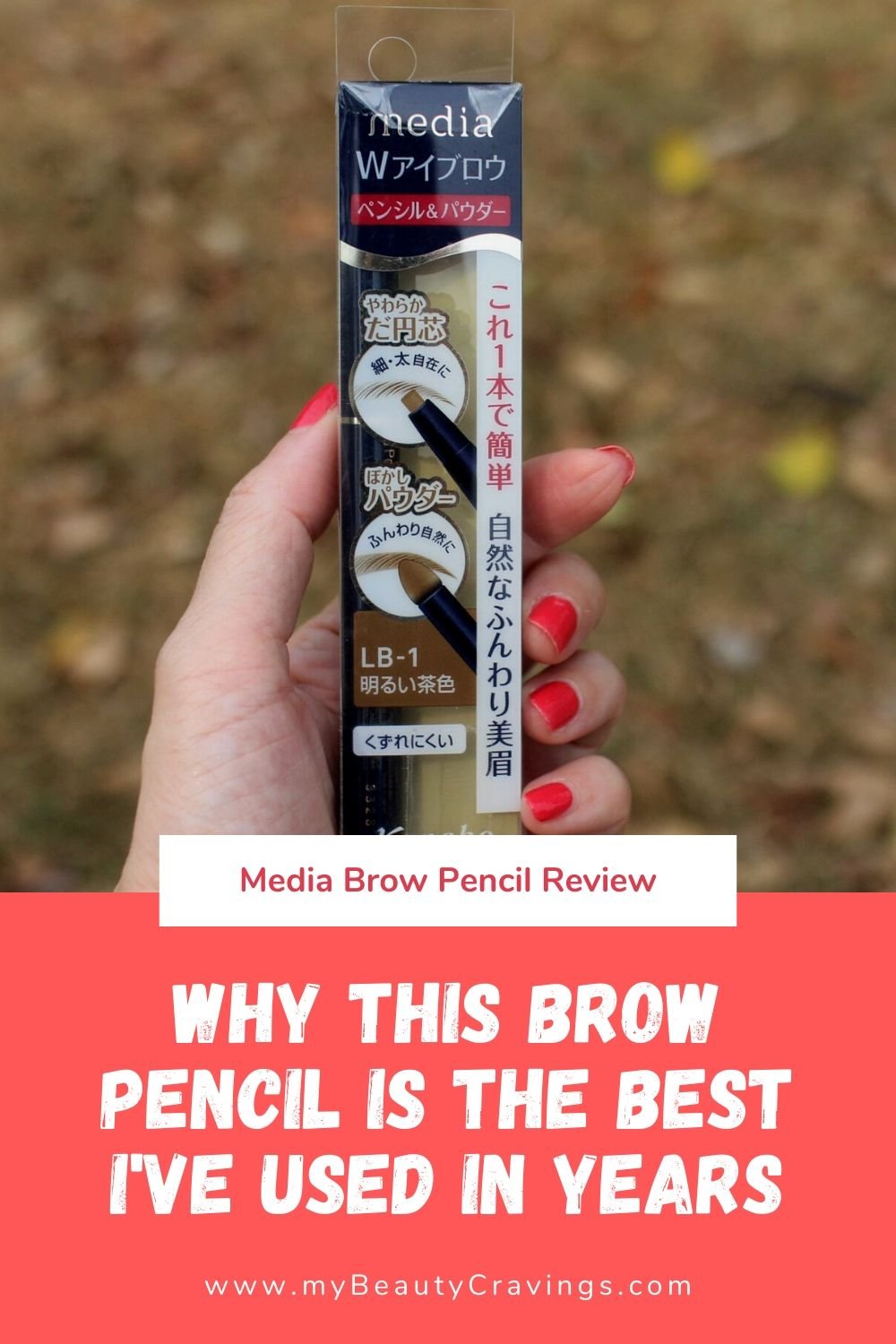 (Visited 465 time, 2 visit today)