Ladies, does a hydrating and crystal-shine lipstick sound appealing? Today, I'm going to talk about Media Shiny Essence Lip, my favorite lipstick haul from Japan to-date.
Do you love lips that glow with a healthy lustre, but yet not being too over the top? Would you love a lipstick that works great on dry and sensitive lips? If so, read on as I'll share all pros and cons of this lipstick, which by the way is entering my Japan Must-Buy List.
---
About Media Cosmetics
Media is one of the cosmetics sub-brands under Kanebo. Made in Japan, Media cosmetics are available in Japan and neighboring countries such as Taiwan and Hong Kong.
I first got acquainted with this brand in Taiwan, when I bought a Media BB Cream. This BB cream was good enough to get me to try more products from the brand.
What's the target audience of Media? Based on the artiste fronting the brand (Selina Jen, a Taiwanese celebrity), I believe Media is targeted at women in their 30s to 40s.
What does Media Shiny Essence Lip do?
At the moment, Media has four types of lipstick, ranging from gloss, water-shine to long-lasting. It is interesting to note that none of them produces a matte finish, thank god! My dry lips is feeling appreciative. :)
The product in review – Media Shiny Essence Lip – differs from the rest as one that's pearlescent and boasts a three-dimensional shine. Containing collagen and Jojoba oil, this fragrant-free lipstick is also said to be moisturizing.
Great! Give me a moisturizing lipstick anytime and I'll be as happy as a lark!
Read More:
---
What's Great about Media Shiny Essence Lip?
1. A Truly Hydrating Lipstick
Yes, it's true. My lips feel soft and hydrated when I'm wearing Media Shiny Essence Lip. Best of all, the moisturizing comfort lasts for hours.
I'm appreciating the hydration boost because another self-declared hydrating lipstick (also from Japan) that I'm testing concurrently failed quite badly. I'll be sharing a review of that soon – it's a lipstick from Cezanne by the way.
2. Lasting Color 
Normally, moisturizing lipsticks don't have long staying power. Media Shiny Essence Lip surprised me when I saw that the color, albeit faded a little, was still noticeable after 5 hours. And that was after sipping a cup of iced latte.
Note: In all my lipstick reviews, I do not test it against food intake as greasy food can remove almost any lipsticks except those that stain.
3. Translucent Crystal-Shine That's Not Over-the-Top
This moisturizing lipstick leaves a soft pearly-shine and subtle glitter over the lips. It looks really pretty under bright light and the lips pop with a healthy radiance.
Despite the pearl and glitter effect, the finish was very natural. Nothing too over-the-top which is great for natural makeup lovers, like me (and you?).
4. Slim and Elegant Casing
Media Shiny Essence Lip stands out with its slender metal casing, which is lightweight, easy to carry around and looks elegant.
The slim profile is said to help you line your lips without the use of lip pencil. Well, I don't find myself benefiting from this "pro" because I never use a lip pencil when it comes to natural-looking lipstick.
5. Affordably-Priced
Although Media essence lipstick isn't the cheapest lipstick I've gotten in Japan (the cheapest is probably Chifure), it is still affordably priced at 950 yen, which works out to less than 9 USD. Here's the latest online price.
I was lucky to see a 30% brand-wide sale when touring in Osaka and couldn't help loading up multiple cosmetic pieces from Media. You'll get to see more product reviews from Media soon. :)
---
What's Not Great?
1. Subtle Color
Media Essence Lipstick comes in 14 colors, many of which are soft colors. Therefore, if you prefer stronger pigment and shades, then this lipstick may not offer much options.
The color I've gotten – PK-05 – which has a pink base was a tad too light on me. If I am to repurchase Media lipstick, I would likely go for deeper shades such as RS-04 and RD-04.
2. Comes with lower quantity
Most lipsticks come with at least 3g of product. With its slim body, you get 15% less product from Media Shiny Essence Lip, at 2.5g.
I don't really mind because I hardly finish my lipsticks. 15% less of a lipstick is something I can deal with if the lipstick is good. This lipstick is good.
---
Recommendation
If you love a nice soft sheen over your lips that plumps them up while giving you a natural look, then go grab a piece or two of Media Shiny Essence Lip when you visit Japan or Taiwan. Another reason you'll like this lipstick is how it'll keep your dry lips comfortable for hours. Rating: 4/5
For Ebay's live pricing, click HERE. 
---
Did you enjoy this honest review? If you like to get notified of newly-published beauty reviews, click the button below to subscribe. See you!
SUBSCRIBE
This post may contain affiliate links, meaning I earn a commission if you make a purchase, at no cost to you. Read my full disclosure for more info.
Pin This!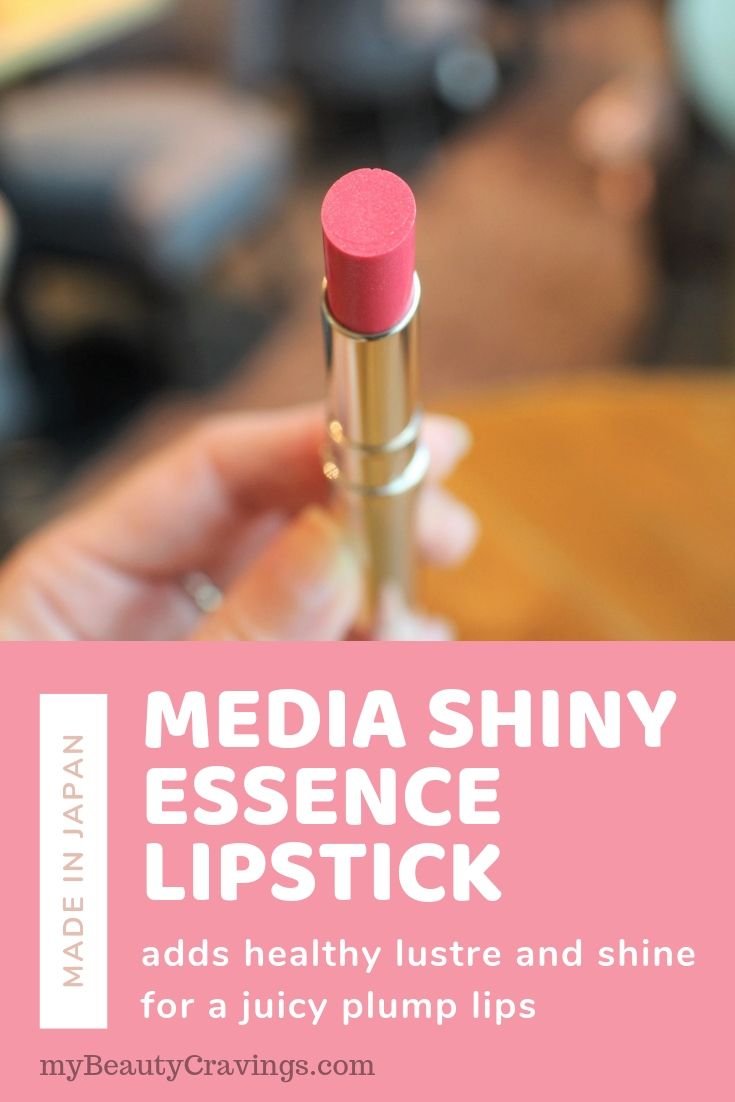 (Visited 379 time, 1 visit today)