We had just chased a few waterfalls around Yilan in the morning. Here are a few more attractions around Yilan to complete our itinerary for the day. Our afternoon would be filled with family-friendly attractions such as Jiaoxi Hot Springs, Lanyang Museum, Mr Brown Castle Cafe and Jimmy Park.
Read on and I'll also show you our amazing seafood experience at Daxi Fishing Harbor. Let's go!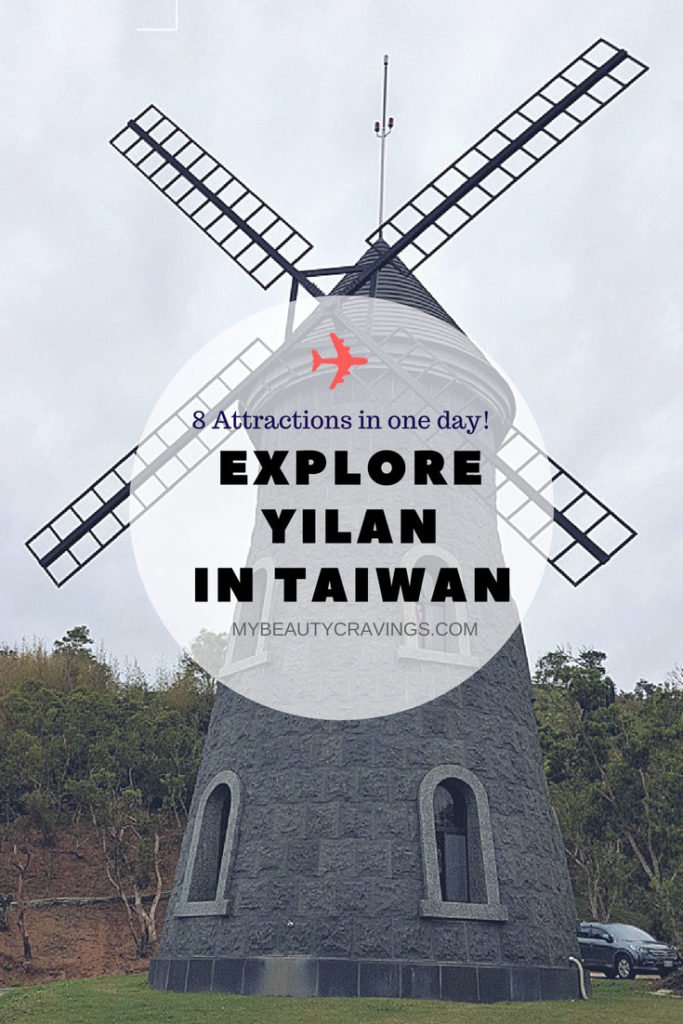 ---
Freshening up at Jiaoxi Hot Springs Park
If you didn't already know, Jiaoxi is a town famous for her abundance of hot spring hotels and bath facilities. Many would travel down and stay a day or two to relax and explore the town. For us, we just wanted to find a place to clean ourselves of all the dirt, sweat and grime accumulated during our morning hike. Getting to dip in a hot pool would be a bonus!
Jiaoxi Hot Springs Park Forest Furo (森林風呂)
Our first choice was Jiaoxi Hot Spring Park Forest Furo (森林風呂). I believe it is the largest open-air hot spring in the area that is surrounded by lush greenery. Being so close to nature, Forest Furo (森林風呂) sounded like the closest onsen experience to what I've had in Hokkaido (e.g. Sounkyo Choyo Onsen Resort). 
Alas, it was closed for refurbishment when we were there. I read from reviews that it's now opened and you should really go take a look! Entrance is NTD80 which is cheap! But do note that it requires you to get all naked, just like how it's done in Japan. The baths are separated by gender, so don't worry! Just use a small towel to cover the important areas before entering the baths (then put the little towel on your head).
Here's the google map location.
TIP: Have a few hours to spare and like to enjoy a private hot spring session with your darling? There are many bath houses in Yilan offering private bath lasting about an hour or so. Hot Spring Onion is one of them and it integrates relaxation with art appreciation. The facility looks clean and modern and it's within walking distance to Jiaoxi train station. 
Backpacker's style – Public Toilet would do!
We could have traveled to other bathhouses nearby but my travel partner isn't a fan of hot bath. So, the quickest and easiest alternative was to make do with a public toilet located just outside Forest Furo (森林風呂).
Nope, we didn't bathe! What we did was wiped ourselves with wet tissues before changing into a new set of clothing. The hair remained smelly. Shhh! :)
We, being the only souls in the then-deserted park made a very good lunch for the hungry mosquitoes. Well, at least, we played our part in supporting the natural ecosystem in Taiwan, didn't we?
Okay, so we didn't feel as comfortable as we'd wanted to, but that would do! Backpackers' style! 
Ouch! Jiaoxi Public Hot Foot Bath (礁溪溫泉公園泡腳池)
Jiaoxi Hot Springs Park was a nice place to stroll about. The design and layout made me feel like I was in a Japanese garden.
Soon, we came to a public hot foot bath which seemed very popular with local Taiwanese (map location), more so than to tourists. I believe we were the only tourists there and probably the only ones who couldn't get our feet under water for more than 5 seconds.
I've been a fan of onsen and enjoyed hot spring bath almost daily during my Hokkaido trip. But this water temperature was just too hot! The maximum depth I could get underwater was 'feet-deep'. And for only a few seconds at a time. How embarrassing!
That wasn't exactly a relaxing experience for me, especially not on a hot afternoon. LOL. But it certainly was good news to my partner because it meant that we could move on quickly to the next destination. 
Oh yes, he didn't dip his feet at all. What is considered hot to me would be like fire to him. :)
We didn't venture to the more touristy part of Jiaoxi town because we had other plans in mind. So Jiaoxi was more of a touch and go for us. If you like to, you could consider staying a day or two at one of the hot spring hotels in Jiaoxi. Next time for us, maybe.
Moving on northwards of Yilan towards the next destination for a seafood lunch by the harbor. Join us!
---
Fresh Seafood Lunch at Daxi Fishing Harbor
(1.30pm)
Time for lunch! We first drove to a seafood wholesale market (魚貨直銷中心) near Wushi Fishing Harbor and Lanyang Museum. There were numerous seafood stalls with vendors aggressively touting their products. We understood that the concept was to buy from any of these stalls and get them cooked in the restaurants upstairs (google map location).
INFO: You can read about my cheap and fuss-free car rental experience in 2019 or view live rental rates here.
The whole set-up appeared a little touristy! We felt like some game animals waiting to get hunted. After walking one round and getting confused at the seafood prices and persistent sales pitches, we decided to move on to the real source of seafood – Daxi Fishing Harbor.
Daxi Fishing Harbor: Seafood Prices & Experience
Daxi Fishing Harbor was about 25 minutes drive north of Lanyang Museum, and it was a detour for us. But the experience was worthwhile as the seafood we ordered was extremely fresh and the ambiance felt authentic!
Why authentic? Because it was a shabby dining environment – think of a wet market. Well, of course. We did mention dining at a harbor, didn't we? If you love fine dining and aircon, you can probably give this place a miss.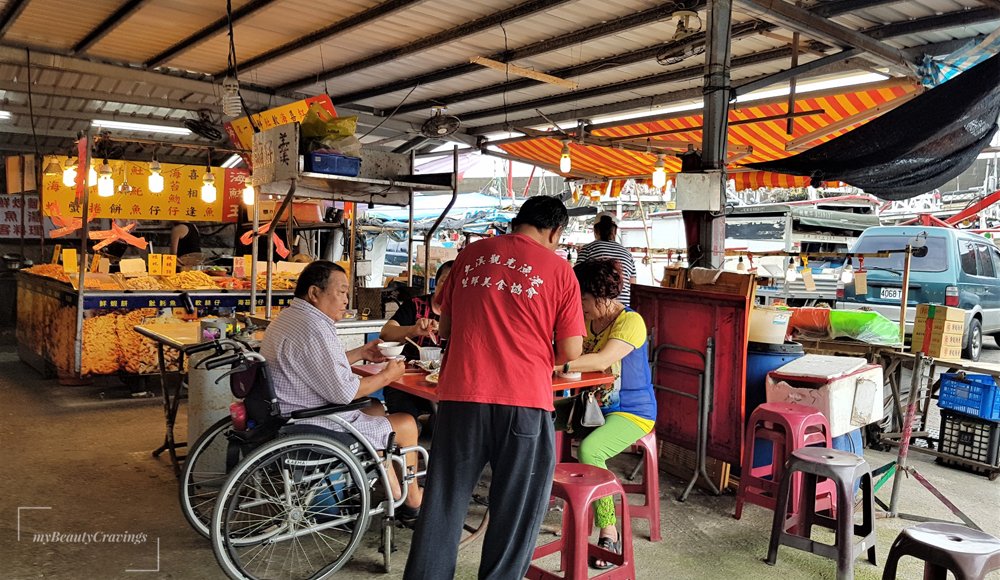 We walked around the 'market' to see what we could have for lunch. There wasn't any pricing indicated and honestly, I didn't feel very comfortable having grown up in a country where prices are clearly indicated and fixed.
'Would we get conned?'  I was concerned because we are extremely bad bargainers!
I do not have the answer, but I'm glad my partner decided to 'just order'. Whether we'd paid tourist prices or not, the seafood was very cheap as compared to what we could get in Singapore. And the experience, which you would know in a while, was so worth it! 
So, we just pointed and placed our orders, after which the vendor would cook it for us using very simple cooking methods and wares, like just a portable grill. See our orders below!
Our first order of the day was abalone (九孔), loosely translated as 'Nine Holes'. It was NTD200 for 8 pieces and tasted great – chewy but not tough. The morbid part about this experience was watching the abalone died a slow death (see video below). 
Next up was flounder and it was quite a large piece of fish at NTD150. Having a fish for less than SGD7 – if this is not cheap, I do not know what is!
The Butter Claim (奶油贝) at NTD100 was relatively expensive in my opinion because it was just 5 pieces of tiny meat within the large shells. But still, it was just SGD5. 
We also ordered 6 large prawns for NTD200. Look at the size relative to my face! Worth it?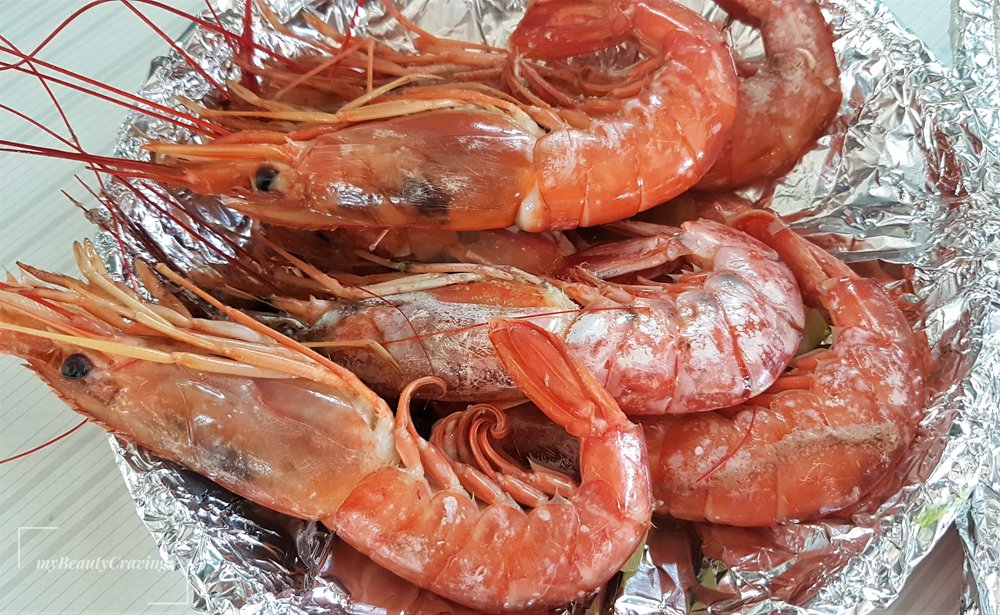 To complete our meal, we ordered a plate of seafood noodle that turned out to be quite a big plate. It came with clams, prawns and pork (NTD80) and probably meant for 3 to 4 pax.
Paired with three bottles of Lemon Aiyu (爱玉) drink (NTD100) which is a form of jelly beverage, we were completely stuffed!
Satisfied with our sumptuous seafood lunch, we stood up and was ready to leave. While making payment, the friendly vendor thanked and offered us each a 'peony' prawn (牡丹虾) as a farewell gift. 
'Try it! Eat it raw."
I was a little hesitant because she just picked those prawns from a small pail containing water and didn't wash it at all. 
"Go ahead! It's very fresh," urged the friendly vendor.
We did, and WOW, it was indeed very fresh! We caught her by surprise when we told her we wanted to buy a plate of the Peony Prawns (NTD100). Know what? The roe of this peony prawn is bright blue! Very pretty!
In case you wonder, we didn't suffer from food poisoning. :)
The total bill for two came up to about NTD1000. It's probably not the cheapest meal we've had in Taiwan, but this is the only meal where we had abalone for lunch and so many delicious seafood orders including sashimi prawns!
Location of Daxi Fishing Harbor
Daxi Fishing Harbor was located near Toucheng Town. Parking fee was NTD45. See google map for location.
---
Lanyang Museum and its awe-inspiring architecture
(3.30pm)
The next destination was Lanyang Museum – a very popular attraction with a uniquely-shaped building architect lovers would love to be at. The entrance fee was at NTD100 per pax.
The facade was truly inspirational and photo-worthy. And we spent quite some time outdoor taking photos of the building.
But the interior was underwhelming. Despite the rave reviews online, I didn't really find the exhibits within Lanyang Museum interesting. It required a lot of readings off labels and descriptions and include information such as the geological formation of Yilan. Perhaps, the illness that just came back to haunt me made reading a dizzying task. I skipped the texts and completed the visit in an hour (Map location).
---
Mr Brown Castle for hill-top scenery
(5pm)
I didn't do well reading when I was sick but I certainly wouldn't mind admiring beautiful hill-top scenery at Mr Brown Castle.
Mr Brown is a casual coffee chain in Taiwan. But this branch located on a hill-top and shaped like a castle is worth a visit. Best of all, it's free if you skip having coffee, like what we did. LOL!
There were two castle cafes there, within walking distance to each other! The exterior was a quaint garden with panoramic mountain view. Though not a fantastic view, it was a nice complement to the visit. 
We'd read that Mr Brown served very average coffee and food, so we decided it was better dedicating our limited daylight to another attraction – Jimmy Park.
(Location: Refer Google Map)
---
Jimmy Park equally fun at night
(6.15pm)
Unfortunately, we didn't make it to Jimmy Park before nightfall as the sun in Taiwan sets early. Luckily, Jimmy Park is opened 24 hours and we didn't miss having fun with the lovely and life-sized characters even at night.
By the way, Jimmy is a famous picture book creator in Taiwan and some of his works were adapted into Chinese movies.
(Location: See google map)
---
Simple dinner to end off the day!
We were still so full from our lunch that we ended just having red bean taros dessert at Luodong Night Market (NTD45).
This completes Day 5 of our Eastern Taiwan Travel. Stay tuned to our equally packed itinerary on Day 6 where we would hike up Teapot Mountain and visit Bitou, Nanya, Yin Yang Sea and Shifen Waterfall.
Do you want to hear about the fun things I do as a budget-savvy free and easy traveler? Just click the button below to subscribe. I'll even give you some free and exclusive stuff. See you there!
SUBSCRIBE
This post may contain affiliate links, meaning I earn a commission if you make a purchase, at no cost to you. Read my full disclosure for more info.
---
Related Posts:
(Visited 2,226 time, 1 visit today)