I was surprised that I actually love Melaka's Jonker Street Night Market, which is likely the most touristy place in Melaka. Those who know my traveling style would know how much I loathe overly-touristy places. So, what made Jonker Street Night Market so special?
It's all about good food, reasonable pricing, vibrant ambiance and beautiful historical buildings! Let me bring you through Jonker Street, the way I'd experienced it.
This post continues from Melaka Day 1 (Part 1). You may like to read this post first for better continuity of story.
---
Where to Park at the Busy Jonker Street in Melaka?
(6.15pm)
Many online reviews have mentioned how difficult it was to park at Jonker Street. You know what, they were right.
We did our research and drove straight to a location about 5 minutes' walk from Jonker Street (see location). We must be really lucky because we managed to get the last available lot at around 6.15pm. Parking is free during weekends in Melaka.
TIP: Parking in Melaka is free during weekends and public holidays. On weekdays, please display paper parking coupons – you can get them from random convenience stores at 60 sens per coupon (1 hour) or 40 sens (30 minutes)
Jonker Street Night Market opens only during Weekends
The street vendors at Jonker Street Night Market only operate during weekends, from Friday to Saturday, 6pm to 12am.
If you are here during weekdays, the permanent brick and mortar shops and cafes will still be opened. And you can still buy some bakeries and souvenirs. However, you will definitely miss out on the most vibrant part of Jonker Street, i.e. the lively and bustling street food and hawking scenes.
TIP: Even though Jonker Street Night Market is officially said to open till midnight on weekends, the stalls were mostly closed when we visited it on a Sunday night, at about 11pm. Maybe they were worried about Monday blues too. :P
---
Unexpected Great Ambiance at Jonker Street Night Market
"There's nothing much to see or do in Melaka. Let's treat it as a relax-and-do-nothing type of getaway."
I'd said this repeatedly when planning for this trip. Honestly, that was the impression I got when I first visited Melaka more than a decade ago.
I'll be forever teased for making the above statement. This statement may hold true 10 years ago, but things have changed so much. The Melaka that I'm seeing now was pulsating with life and activities. It was full of Melakan character. And what's that? Read on to find out.
TIP: Is it Melaka or Malacca? This historical town in Malaysia has officially switched to the name "Melaka" since mid 2017.
Can't Stop Admiring the Traditional Shophouses at Jonker Street
The shophouses were not just nostalgic-looking, they were so pretty, with many spotting intricate details. I'm not someone who is into architecture, but couldn't stop admiring these shophouses that date back to pre-war periods.
Each shophouse around Jonker Street has its own unique design and colors which can be a total contrast from its neighbors.
TIP: If you are a tourist in Kuala Lumpur, you can either join a day tour or rent a car to explore Melaka, an UNESCO World Heritage Site about two hours' drive from KL.
Local Folks Enjoying Public KTV Sessions at Jonker Street Night Market
Loud dialect songs were blasting from a temple when we walked past it. We looked up at the signboard and noticed that the temple belongs to a Dialect Clan Association – Hokkien Huay Kuan.
A few local folks stood within the temple, singing away through mic and enjoying their superstar public KTV moments. Although I didn't understand what they were singing or appreciate the songs, it totally lifted my spirit. What a peculiar sight! I couldn't help smiling and indulging in the vibrant atmosphere and was completely in the mood as a tourist in Melaka – something I didn't expect myself to feel in a city that's so close to Singapore.
Delicious Food at Affordable Prices: Jonker Street Night Market
I wasn't expecting food to be this good at a place as touristy as Jonker Street Night Market. The first stall we patronized was one manned by an elderly couple (located near top half of Jonker Street). They sold local kuehs (bite-sized snack) such as Vegetable Dumpling, Yam Cake and Ondeh Ondeh. I was taken aback at how nice these local snacks tasted.
Okay, I admit that I did judge the book by its price. :) It turned out that cheap things doesn't mean it's average. The savory vegetable dumpling was delicious and approved by our elderly.
The Ondeh Ondeh too was really yummy – the brown sugar liquid burst through the not-too-thick pastry skin and filled my mouth with pure heaven. In fact, one of the Ondeh Ondeh squirted sweet juice onto my sling bag because I was carelessly talking when eating it. Ha Ha.
Can you believe five of such delicious ondeh ondeh cost only rm1.50? Hello, that's S$0.50! They tasted so much better than the Ondeh Ondeh I'd tried at a night market in Langkawi. This one in Melaka is really Buay Pai ("not bad" in Hokkien).
Another type of Nonya pastry that I bought from the same stall also surpassed my expectation. It's a sweetened and colored glutinous rice topped with grated coconut. I'd it as next-day breakfast and it was yummylicious even after refrigerating and rewarming it. The rice was soft and the grated coconut didn't melt into a messy lump. I couldn't stop raving about how good it was and how I must revisit the stall again. This was also selling for just rm1.50 per piece.
There are other Melakan specialties to buy such as pineapple tarts and baked traditional cookies such as Beh Teh Soh ("Horse Hoof" Biscuit / 马蹄酥) and Tau Sar Piah (Mung Bean Cookie / 豆沙饼). I'll share more on these purchases in Day 2's posts.
Weekend Street Vendors hawking their Wares and Talented Skills
You will notice street vendors selling anything from T-shirts and souvenirs to artistic ornaments and sundries. I stood there to observe this talented calligrapher working her stuff. She wrote so beautifully and reminded me that nothing is impossible as long as we set our mind, heart and soul to achieve it.
My Takeaway: Malakans Take Pride in the Food they Serve
I have a very good impression of Malakans after this trip. It is obvious that they are not just out to get a profit. Whether the food is being sold from a touristy or local street, there was no compromise in food quality. They must have taken a lot of pride in their food culture and want tourists to walk away remembering how good Malakan food is. Okay, that's just based on my experience lah. :)
By the way, I'm also impressed that the food prices were kept reasonable at a touristy belt. Maybe it's because this street is also visited by Malaysians from other cities?
---
Open-Air Dinner at Jonker Street Night Market
(7.30pm)
There was an alley at Jonker Street that reminded me of Taiwan's Night Market (see location), albeit a smaller version. Food stalls lined the alleys, selling proper meal options such as Laksa and Oyster Omelette. Just like many night markets in Taiwan, seats were very limited. Expect to stand and eat or stroll and eat. :)
> ALSO SEE: Ranking of Taiwan's Night Markets
As we have an elderly with us, we needed a proper eating place for her to rest her feet. Luckily, we spotted a sheltered area that belonged to a seafood stall. The way it works is that you can bring in outside food, however all seafood and drinks must be ordered from this stall. Understandably, their seafood was priced at a premium because they were renting us a proper eating place. I think it's worth it if it meant comfort for the elderly.
Here's our food order for the night:
La La Clams in Sambal Sauce (rm20).
Laksa (rm6)
Oyster Mee Sua (rm8)
Otah (5rm for 5 sticks)
Salted & Crispy Chicken (rm10)
Rojak (rm6)
Oyster Omelette (rm10)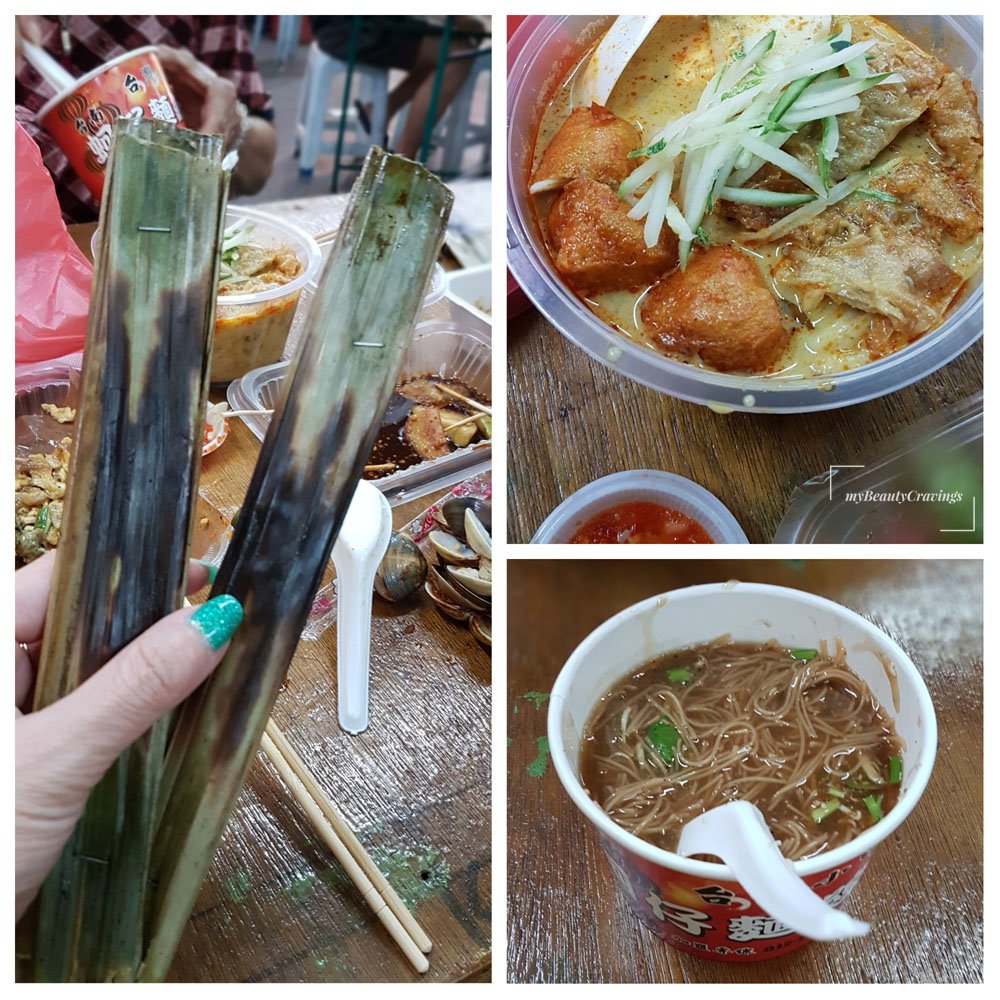 The elderly was very impressed with all the food that we'd ordered. And we, in turn, were impressed with how much she ate that night. LOL! She's normally a small eater.
I thought the food was not bad, except the Salted & Crispy Chicken. It wasn't very crispy and the meat seemed to contain too much of other stuff, flour maybe? Or fats? Well, it just didn't taste meaty enough. I recommend that you skip this. :)
---
Foot Massage Haven along Jonker Street 
(8.20pm)
If you are a massage lover, you will love Jonker Street because there are many foot massage spas here. Walking along the street, you'll notice many signboards shaped as either LED-lighted foot or gigantic foot mould.
We sent our elderly to one of these massage houses – Pusat Rawatan – for a 40-minute foot massage (rm38). According to our elderly, the massage was good although she'd preferred it to be stronger in pressure. But I think this is subjective. I know I prefer it light as I bruise easily even from a gentle massage.
Pusat Rawatan is located next to a pastry shop.
---
I made a vow to have Cendol Every Day in Melaka
(8.30pm)
I'd read so much about how delicious Cendol in Melaka was and made it a mission to have one daily.
As our elderly was enjoying her foot massage, we hastened through the jam-packed Jonker Street towards Jonker 88, a popular shop known for its good Laksa and Cendol (see location). The restaurant was packed right to the brim. Normally, we would have walked away but the big bowls of Cendol on the guests' tables were just too tempting. "Let's wait for an empty seat!"
After a few minutes, we were delighted to secure an empty table and attempted to place our orders.
"We are closing already," the staff said.
But it was only 8.30pm. The official closing time was indicated as 9pm on Google Map. I honestly felt like crying – it's strange because I hardly have such strong food cravings. I can't even think of another instance when I felt so sad without getting my food cravings satisfied. What happened to me? 
Maybe it's because I was thinking about Cendol the whole day. I even skipped my favorite milk tea and other taro balls dessert to make space for Cendol. And the expectation built up to a massive level only to be disappointed by an earlier-than-expected closing hour of the shop. 
I Made Do with a Cendol at San Shu Gong (三叔公) / Lao Qian Ice Cafe
I walked to San Shu Gong (三叔公), a popular souvenir shop at the intersection/entrance of Jonker Street. Located within the shop is a Lao Qian Cafe that sells Cendol and Coffee (see location). Having a strong desire to eat Cendol tonight, I made do with this one. There are two types of Cendol to choose from – Durian and Gula Melaka. I chose the latter because my craving was for an authentic and original Cendol (rm5.50).
The Cendol came in a fanciful packaging with a disposable spoon that's so thick it felt like it's not supposed to be disposed after one use. I think the packaging is not very environmentally-friendly. Vendors have to play a role in saving the earth. Otherwise, their descendants will have a hard time in coping with global warming and strange weather phenomenon.
We brought the Cendol to the second floor verandah where many red lanterns were hung. It's like stepping back in time, to an ancient Chinese brothel. :)
So, how was the Cendol from Sam Shu Gong / Lao Qian Cafe? 
It was just alright. I can easily get better Cendol from any hawker centres in Singapore ("Sorry! Just being honest). The cendol from Sam Shu Gong was overly-sweet. Other than a thin top layer of shaved ice, the cendol beneath wasn't icy enough – it was already in thick liquid form. I've never enjoyed eating melted ice cream, and therefore didn't appreciate "melted" Cendol. 
The red bean was also sweetened – I normally associate sweetened red bean with something that's not freshly-made. So in a nutshell, my burning desire for Cendol was doused. I kept wondering if Jonker 88's Cendol would have tasted much better. At that point, I made a mental promise to myself to revisit Jonker 88 again.
(Note: Taste is subjective)
---
Left Jonker Street Night Market Reluctantly
(9pm)
Very quickly, 40 minutes had elapsed. It was time for us to 'pick up' our elderly from the massage parlor. We squeezed through the crowded and narrow street, which by now was bursting at the seams. The short street took us much longer than we thought we needed to reach our elder folk and we kept her waiting for a while. :P
We ended the night early at Jonker Street Night Market but you don't have to. Go shop at every shop or chill at some nice cafes. I would have stayed till late night if I was a solo traveler. But the loved ones' comfort is more important. Melaka is so near to Singapore; we can always visit it another time.
So that's it for Day 1 in Melaka. Stay tuned for more Melaka stories. Coming up very soon – see next post!
Essential Info:
Accommodation: Airbnb at Silverscape Residences
Month of Travel: October
Itinerary for the Day: Day 1 (Part 1) >> Jonker Street Night Market >> Shopping >> Dining at Open-Air Market >> Foot Massage >> Cendol at San Shu Gong
Transport: Car, Walk
Printable Travel Packing Checklist: Download
Love what you've read? If you like to get notified of newly-published beauty reviews and travel stories, just click the button below to subscribe. You'll also get access to my free and exclusive stuff. See you there!
This post may contain affiliate links, meaning I earn a commission if you make a purchase, at no cost to you. Read my full disclosure for more info.
---
Related Posts:
Pin This!
(Visited 1,119 time, 1 visit today)