Finally, after a 12-hour journey travelling from Singapore to Hualien and successfully gotten hold of our own private transport (scooter), it was time for our first proper meal in Hualien. There was no question about it – we would visit one of the most popular eating places in Hualien.
Yes, that's right, it's none other than Hualien Dongdamen Night Market which would offer lots of street food options. Yay!!!?
---
Hualien Dongdamen Night Market
When we arrived at the highly-raved Hualien Dongdamen night market, it was practically a dead town. Yes, blame the rain! There were very few people around and half the stalls were closed. It must be the least happening night market I've ever been to in Taiwan.
TIP: If it's raining in Hualien, you can probably give Hualien Dongdamen Night Market a miss.
So, why then did we go to an open-air night market on a rainy day? On our way there, the rain had stopped. When we arrived, it started pouring. You can see in my photos here various weather conditions – from no rain to downpours to no rain (repeat). That's a typhoon-induced rain! It started and stopped like someone was playing with the tap. From no water to full blast within seconds. That's our first experience with this type of rain! 
Now the question is – if it wasn't raining, how would Hualien Dongdamen Night Market fare as compared to other night markets in Taiwan? Unfortunately, I could only based it on my experience and here's how I would rank the ten night markets I've been to in Taiwan: 
Ranking of Taiwan Night Markets
Shilin Night Market, Taipei
Hualien Dongdamen Night Market (may not be fair due to rain condition)
How would you rank them? Where would you insert Hualien Dongdamen Night Market (assuming you went there on a good day)?
Location of Hualien Dongdamen Night Market
See map location.
---
Lousy Food at Hualien Dongdamen Night Market!
The fried crab (NT100) that had looked so appealing didn't meet my expectation and certainly can't compare to those I've eaten in Miaokou. The shells were so thick that for every bite I took, I had to spit out a thousand times. This made it a very inconvenient finger food and why then was it served on a stick? 
We also ordered some random food, none of which were memorable. The Lemon Lime Tea we ordered tasted like syrup water.
On our final attempt, we decided to order oysters and scallops from a stall with sitting area. Maybe those would offer higher food standard? Well, the scallops were ok, but the oysters had a foul taste. Yucks! It definitely wasn't fresh! The oysters cost NT200 for 12 and Scallop at NT160 for 2 pcs.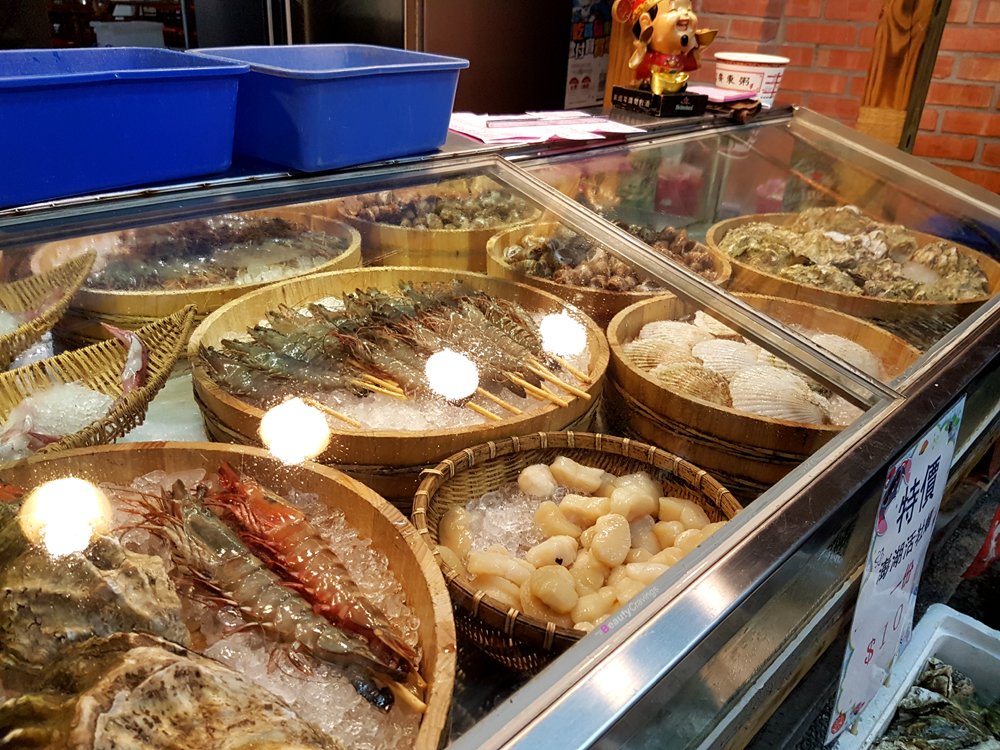 Ok, time to leave. We'd given up hope! That was a lousy first dinner in Hualien. But that's okay because there's another place marked out by our Airbnb Host that would still be opened at this hour. In fact, it's opened 24-hour. Let's go!
---
What's better than Gongzheng Baozi?
Gongzheng Baozi has been really popular on tourists' map. But the one Taiwanese go to is the outlet just beside Gongzheng Baozi.
Known as Zhou Jia Yan Jiao (周家蒸餃), which translates to Zhou's Dumpling, this place offers similar offerings as Gongzheng Baozi.
I guess what made these two outlets really popular were how cheap the Xiao Long Bao (steamed buns) were. It's just NTD5 per piece, i.e. 17 cents!!! They tasted good, but comes with thick skin and little fillings.
The Chives Dumplings (蒸餃) were the best order of the day. The skin were thin and fillings were meaty and juicy. You've got to try it. Can you believe these 10 dumplings cost only NTD40? That's US$1.35.
We also sampled Bee Hoon (Rice Noodle) and Noodle Soup which I thought were average because I've tasted better ones in Taipei. FYI, you can order these in small or large size. Please note that "small" is equivalent to a regular bowl and "Large" should have been an XL size.
Our total order including drinks came up to just NT165 (US$5.50) for two pax. Now you know why these two outlets were so popular!
In case you wonder if Gongzheng Baozi fared better than Zhou's Dumpling, the answer is "No". We visited Gongzheng Baozi the next day and understand why locals prefer Zhou's Dumpling. I'll share my review of Gongzheng Baozi in my next post.
Location of Zhou Jia Yan Jiao (周家蒸餃)
See map location.
---
Riding Scooter on a Rainy Day
This was our first experience renting scooter when travelling. And there was really a lot to get used to. First of all, it wasn't easy to navigate the streets because our hands weren't free unlike driving. So, whenever we had to orientate ourselves, we would need to stop by the road, take out our phone, unlock pin and locate our GPS. Cumbersome, huh? It's worse when it's raining. :(
Since our first scooter experience was on a rainy day, it meant driving around in raincoats. This peculiar typhoon rain that starts and stops so many times tricked us into taking off and putting on raincoats repeatedly. :(
Alright, I've come to the end of Day 1. In the next post, I'll share our experience visiting Taroko Gorge on a rainy day. It turned out to be more adventurous and risky than we were ready for because of the effect of Typhoon Haima. Stay tuned! 
Like to hear about the fun things I do as a budget-savvy free and easy traveler? Just click the button below to subscribe. I'll even give you some free and exclusive stuff. See you there!
SUBSCRIBE
This post may contain affiliate links, meaning I earn a commission if you make a purchase, at no cost to you. Read my full disclosure for more info.
---
Related Posts:
(Visited 2,508 time, 1 visit today)