Who knew I'll be spending time writing my first Singapore Airbnb Review when I still have a huge backlog of travel posts to churn out. Sorry guys, those have to wait because I feel a strong need to do the community a service, i.e. to share about how horrible my first Airbnb Stay in Singapore was.
The sooner this goes out, the better it is to provide a more balanced view of this Airbnb unit. Because for reasons that I cannot comprehend, this Airbnb unit in Woodlands, Singapore has a large number of positive reviews.
---
My First Airbnb Stay in Singapore: How it All Started
My readers know how much I love travelling. It's either real travelling or weekend getaway to Malaysia. This time around, I thought, "Why not do a staycation in Singapore?" In that way, I get to introduce good accommodations to my overseas readers, and also get into the mood of exploring Singapore like a tourist.
And so I chose a unit in Woodlands that's located in Northern Singapore. This is an area that I'm less familiar with and thought I'll do a round-up posts such as "Top 5 Places to Explore in Northern Singapore."
It turned out to be a huge mistake and I suffered quite a bit, emotionally. Ya, I'm that vulnerable. :) Read on and check out my experience.
---
I booked Singapore Airbnb as a Solo Vacationer
The stay was meant to be purely for blogging work. Therefore I'd booked the unit to stay on my own. I intended to explore a few places on my own, take down notes and then return to the unit to commence writing straightaway. I also came up with a one-day itinerary for myself and intended to travel around these attractions by public transport.
A week before this Singapore Airbnb Solo Getaway, I was so excited I started buying potato chips, cup noodles and other snacks, planning for a sinful junk-food indulgence session. I'd read that this Airbnb unit in Woodlands was really out of the way from amenities and public transport. So, it was a necessity to have enough munchies on hands in case I got hungry at night.
---
Review of my First Airbnb Stay in Singapore – A unit in Woodlands
First Impression of Airbnb Host
My first impression of the Woodlands Airbnb Host was formed through initial messaging through the Airbnb App. I thought there was a lack of warmth and friendliness. Response only came through after a few hours. In addition, my "Thank you" and "See you tomorrow" hardly get any reply. I couldn't help having the feeling that I shouldn't burden the host with further questions regarding the unit. For info, I'd only asked two questions.
Incorrect Location Marked on Airbnb 
A day before check-in, the host decided to switch from Airbnb messaging platform to Whatsapp. He even sent me another message through Airbnb to tell me that he had "Whatsapped" me. I wondered why the sudden change, but didn't think much of it.
He then revealed the exact address of the Airbnb unit. It was different from what was publicly indicated on Airbnb. The unit lies outside the Blue Circle and is more secluded than the original location. If you look at the map below, not only is it out of the circle, it is not even on the map below. Is this allowed in Airbnb? Isn't this misleading?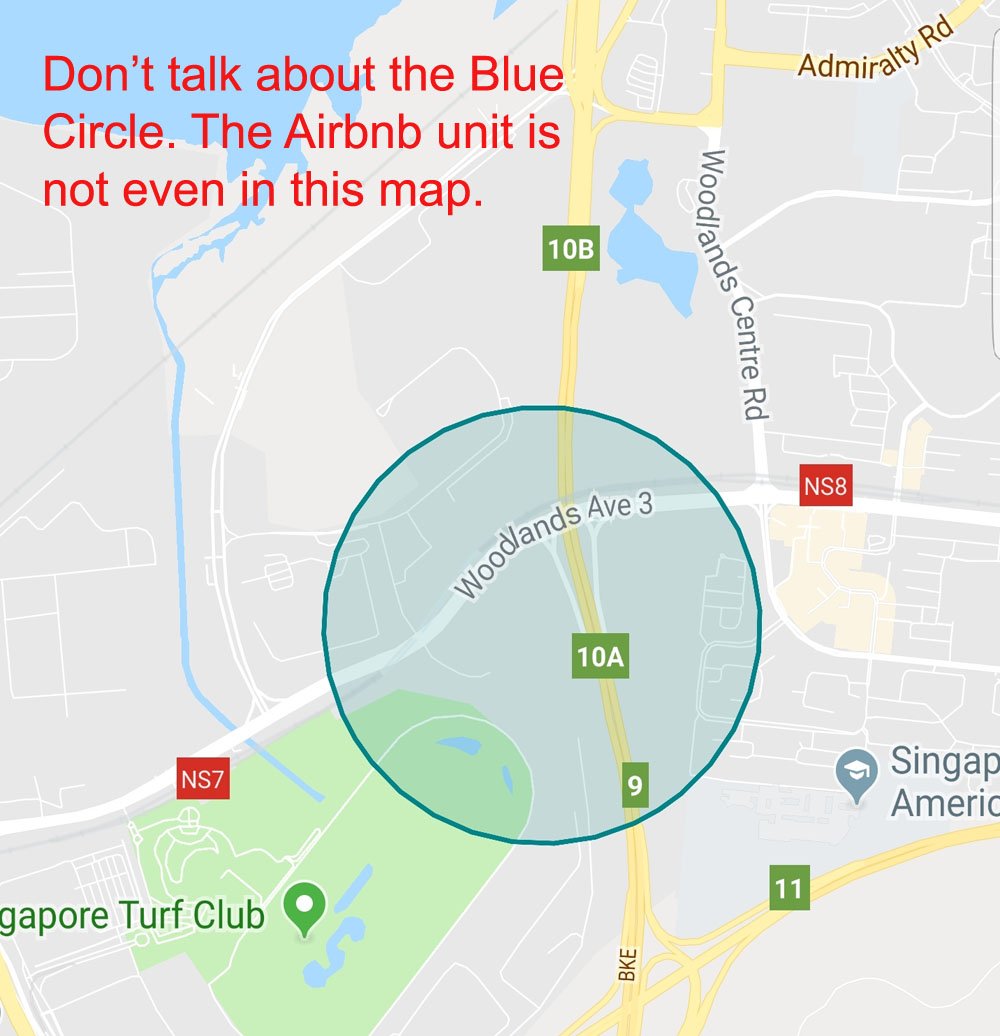 Even the booking confirmation and receipt showed a wrong address.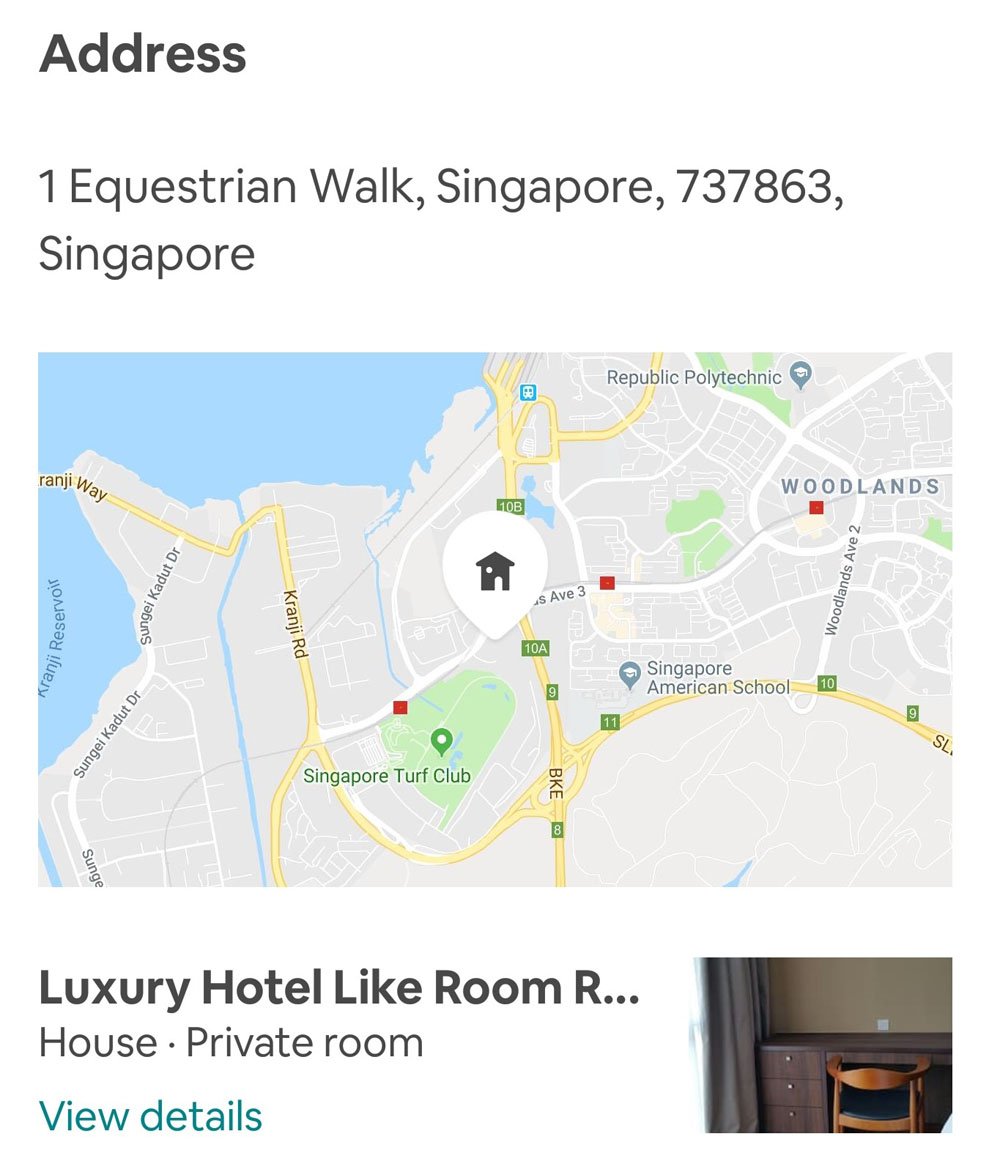 The unit was also within a 300m radius to a large cemetery (4,500 tombstones) and war memorial. While I respect those who sacrificed in the war, it's a different story to stay alone very near to the actual burial grounds (I did visit the beautiful and peaceful Kranji War Memorial after checking out of the unit).
Other than receiving the correct address at the last minute and knowing that it was near a cemetery, I also had to spend time re-adjusting my itinerary and logistics info, such as re-figuring out what buses to take or stops to alight to get to/fro places, e.g. Sungei Buloh, Singapore Zoo.
Did you know I spent an hour using Google Street View to figure out where the Airbnb was based on the original address? I could only see a cafe and a Horse Riding Place. What a waste of my time.  
Airbnb Host Requested for me to Check-in Later 
The host then asked me when I would be checking in. I said "12pm" which is the official check-in time. The host told me to come after 1pm, because "we need 1 hour to clean up the room for you." I've no issue with this honestly. But it did irk me later. Read on.
And aren't they cleaning the room for their 'business and profits'. Why attribute this delayed check-in on me – look at underlined? They could easily change the official check-in time to 1pm or 2pm which would be perfectly fine with most guests.
Anyway, I'm not so petty lah. I was only irritated after the full episode which caused me to rewind and re-examine the situation, and of course, I have to start nit-picking. That's how things work in real life, isn't it? At least, I'm being honest. Heh Heh! :)
Check-in Process: My First Airbnb Stay in Singapore, Woodlands
I intentionally took public transportation because I wanted to share "Getting There" on this blog with Singapore visitors. Along the way of my 1 hour 45 minutes journey, I took photos, note down travel time and bus stop numbers etc. Mid-way through the journey, it began raining heavily.
When I alighted at the bus stop, the rain got worse. It was now accompanied by thunder. I crossed over an overhead bridge carrying my umbrella, daypack and a laptop bag. It took another 20 minutes of uphill walk through the rain to get to the unit. Along the way, I passed by a restricted and forested firing range. Don't ever enter such areas okay? :) This is a place where the military conducts live firing exercises.
While there were luxurious-looking houses at the estate, I also saw dilapidated and vacant units. One had a few trucks and lorries parked outside and appeared to be a quarter or dormitory for workers. On my way in, I didn't see a single soul.
20 minutes of walk and not a single soul? "Must come back before 7pm", I'd registered.
Greeted and Hosted by the Maid
After pressing the doorbell, a young maid opened the door and let me in. A lady in black whom I'd assumed was the lady owner was sitting at the kitchen island with her back facing me. I was waiting for her to turn around and say 'Hi'. She was just a few metres away from me. But she remained still – no hi, no smile, no turnaround. I never got to see her face.
The maid then led me into the lift which was really a grand sight. This was the first time I'd witnessed a lift within a house. The maid also gave a brief explanation of where the tea, water and fridge were.
Next, she showed me my room and gave a brief intro. I honestly wasn't expecting a maid to be performing such business role and am not sure if this is in line with the employment guideline. But who knows? I'm not an expert. For info, this is the general guideline:
Employers cannot use Foreign Domestic Workers (FDWs) to help out in businesses. Examples cited in the report are clear violations – FDWs walking dogs as pet boarders… ~ Ministry of Manpower
I would imagine the maid having to engage in daily cleaning of rooms, provide complimentary ironing and laundry services and have their sleep disrupted whenever a guest returns late. The few occasions when the maids answered the door, they seemed to be huffing and puffing, like they had run down from wherever they were in the huge house; like they had been specially instructed to "Open door quickly."
Exploring the Singapore Airbnb House in Woodlands
After checking in, I started taking photos of the room for the sake of this blog. I also asked the maid where the swimming pool and gym were. They were located on the roof level.
I was disappointed when I saw the gym. One of the activities I'd wanted to do here was to use the gym. I even brought two days' worth of gym gear, intending to exercise on day of check-in and check-out. But, I only saw a single treadmill located at the laundry area. There were lines of clothes being hung beside the lonely treadmill.
Um, can a single treadmill qualify as a "gym"? It was a turn off and I knew I wouldn't be using that "gym". 
How about the swimming pool? It'd looked big on the Airbnb listed photo. So one day before checking in, I messaged the host to ask how deep it was so as to determine whether to pack my swim gear. Here's the reply – read it from bottom up.
When I saw the pool in person, I was shocked at how shallow and small it appeared to be. I didn't swim since I didn't bring my gear, but it seemed like there's no way any adult could get drowned in this pool.
Maybe the host thought he was communicating with a toddler? My only thought was, "Hmm, maybe he doesn't want me to dirty his pool."
Here's a review by another guest: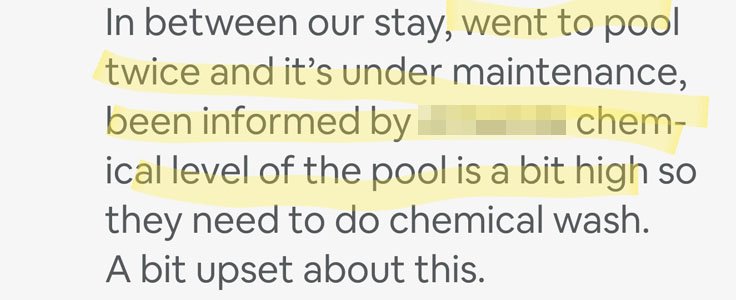 Room Key not Provided. Cannot Lock Door after Exiting
Amazingly, guests weren't given any keys to their rooms. Yes, I can lock it from within, but can't lock it when I exit the unit. Meaning to say that my room can be entered by almost anyone, even guests from other rooms.
In the review that I've read, the host defended this decision saying that there are safe box and surveillance cameras around. He also compared his unit with a hotel in terms of security features.
Okay. So, do hotels ask you to keep your rooms unlocked? 
When a tourist is about to check out and then find a missing item, does he have the time for the owner to go through the surveillance camera or conduct investigation? This seems to be the case where the owner placed his interests and desire for control over a guest's comfort and security.
So much said, I did leave my unit unlocked when I left for 4 hours, including my laptop which I couldn't deposit into the safe. It was definitely uncomfortable, but I didn't want to create too much trouble for anyone. By the way, the safe box in the room was so small it couldn't even hold an iPad. When I returned, I thought someone had entered the room because things looked proper – like the wardrobe door was closed and the bed was made.
I don't normally ask for room service and while I appreciated the kind act, I'll rather not have my stuff seen or touched in my absence.
---
The Turning Point – I got Lectured by the Owner for Making a Polite Request
None of the things I've mentioned above would have caused me to write a negative review on Airbnb or on this blog until what happened next.
Even though I was excited over this solo-staycation, I was also slightly put off by the longer-than-I-thought distance to the nearest public transportation and how secluded the path was. Furthermore, the shock of staying so near a big cemetery was starting to create some fear in me. Timid me, yeah! :) Watched too much horror movies – this is one of my favorite genres, by the way.
So, I couldn't resist the thought of asking my partner to join me. 
Knowing how a previous dispute took place due to "additional charges for extra person", I'd intentionally tried to make things super easy for the owner. I offered to pay him the extra fees without him asking for it, and in whichever mode that was comfortable for him. I honestly thought he would be delighted at my sincere effort and of course the 45% extra money he would get in offering nothing extra. Zero cost to him. 
Did you know how shock I was to see a strong reaction from him? 
First of all, my polite requests did not get responded to immediately. When he did reply half an hour later, that's what he said:
I replied to tell him that my significant other would be joining me. He then replied with this:
Before I could type out a reply to understand what else he wanted to know, he called me. It was a very rude and interrogative tone, lecturing me and asking repeatedly if the extra person is an illegal immigrant or legitimate person.
I told him that I understand his concerns and offered to show him our ICs, hoping to allay his concerns. But he gave me another lecturing on why it would cause him more trouble if he viewed our ICs (that he would then be more responsible for our stay etc).
I couldn't tell him that I'd checked in first to conduct an unbiased review of his unit and later changed my mind because I thought his unit was not worth my time and I was afraid of staying alone so near to a cemetery (and don't forget how I was tricked to stay there by the wrong location indicator). Therefore, I cooked up some domestic reasons that wouldn't offend him further. But why did I even need to explain anything? Do hotels request for detailed reasons when an extra person comes and stay with their guests?
You know what's the illogical thing? In my Airbnb Account, I've yet to provide any identification for "Trust and Verification". So I could also be an illegal immigrant, but he accepted my booking, right? Also, if I'd chosen to book "2 guests" upfront, would he be able to tell that my +1 is a legitimate person or an illegal immigrant?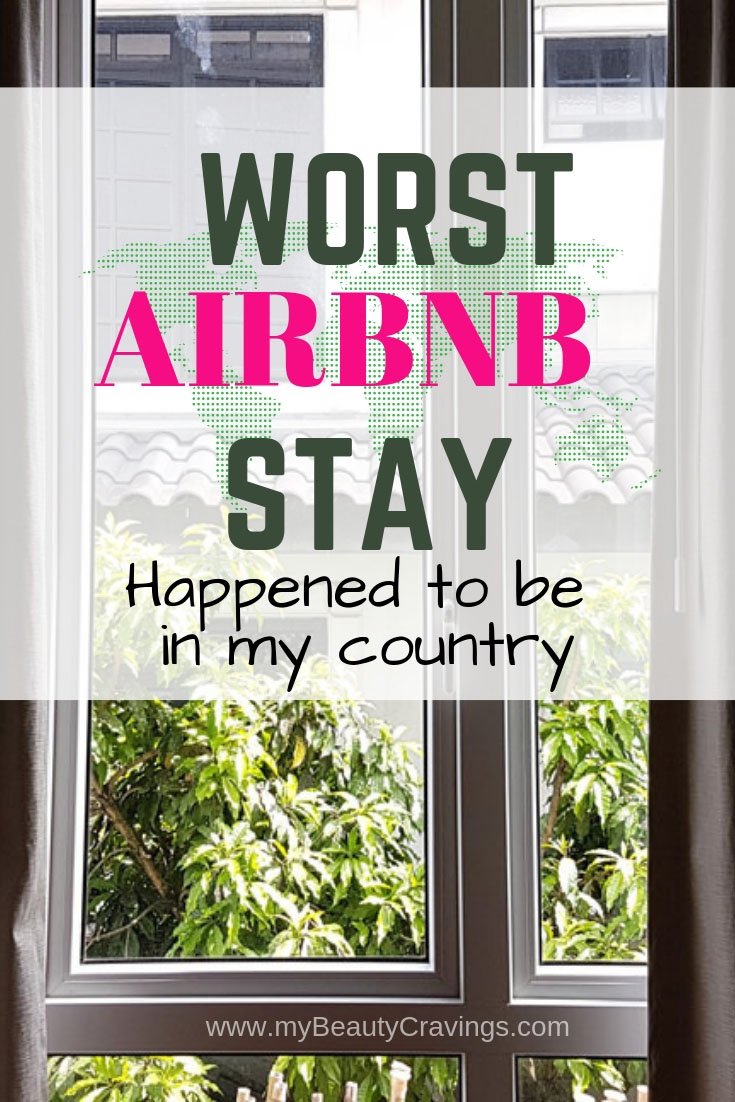 One thing I can recall vividly about what he'd said to me, "You have to help us help yourself."
Huh? I only made a polite request, not a demand. If he said it's not okay, I am perfectly fine to continue my solo adventure. Did I do something so gravely wrong to deserve such a lecturing, especially as a paying customer? Did I sound rude in my request?
So I told him that if adding an extra person was a major concern, I would not ask my partner to come. Strangely, at this point, he told me to put the extra 45% of money on the kitchen table. What??? So much negative energy for the same outcome as what the guest had originally requested?
I'm clueless about what he was trying to achieve. But I knew one thing – my mood was deeply affected. I was no longer happy, calm and at peace. I just got scolded for something I didn't even think was wrong. And I can understand how his other guests had felt because some of them had gotten it worse. 
Bad Review #1:
And she continued to describe the incident:
---
Always Look out for the Worst Reviews When Booking an Airbnb Unit
I'd come across an advice to look at the best and worst reviews before committing to a purchase, be it hotels, merchandise or any other things. On hindsight, I regretted not following this advice.
While there is a long list of very positive reviews of this Woodlands Hotel-like Airbnb Unit, the bad reviews were very extreme, with quite a number saying "It's the worst Airbnb unit…"
How can one Airbnb unit enjoy such a long list of great reviews when it was viewed as the worst to some? Normally, you'll see very good reviews mixed with some average ones. Not this extreme in polarity, if you know what I mean.
Bad Review #2:
Mr. R continues: 
Bad Review #3:
Bad Review #4:
I could go on with this review to share about other pros or cons, but there's no point wasting more resources. No matter how clean or grand a unit is, if the host doesn't respect or view his guests as customers, this unit is not worth recommending.
It's like being on a minefield. I don't want anyone to get blown up for nothing. So, please avoid this unit in Woodlands, Singapore. 
---
A Sleepless Night: Airbnb Stay in Singapore, Woodlands
I couldn't sleep that night. The incident kept flashing in my mind and I couldn't help thinking if the request I made was really wrong – yeah, self-doubt developing. I was also deeply troubled that he had possibly viewed me as a prostitute. Hey, I just got a client, that's why I need to request for an "extra person", so that I can offer my service – to illegal immigrants by the way.  
No decent lady can withstand being viewed as a prostitute. 
I was also troubled over how to share this honest reviews with the Airbnb community because I saw many who posted less-than-stellar reviews were shamed by the host. 
> RELATED: How I lost the mood to do anything after my first Airbnb Stay in Singapore 
One moment, I thought I shall not get myself implicated. But on the other hand, my "Robin hood" mentality kept reminding me to keep the community aware of the truth. This internal struggle lasted till 7am. That was when I was able to get a little snooze on the luxurious mattress. 
Here are some shaming examples for you to read through. 
How Airbnb Host Shames Guests Who Make Negative Reviews
Shaming Example 1:
Ms J was scolded in person by the host, who knocked on her door. And then she was shamed further by the host on how she lacked culture, humanity, and has a self-indulgence and self-entitlement attitude.
To be honest, prior to the stay, I did view her in a negative light. Now I understand it's probably not her issue and I choose to believe her version of the story. Anyway, she has a long list of very positive recommendations by Airbnb hosts all around the world.
Shaming Example 2:
Ms L was stranded for 20 minutes in a secluded area that's 0.3km from a large cemetery. And it was raining heavily, according to what the host wrote. So she must have been standing in the rain for this long too. She left a mildly negative review (see above Bad Review #3) but was shamed on the world wide web, about how she'd anger issues and had "slammed the door a few times".
Shaming Example 3:
A guest was upset because the owner declined to provide laundry services which were advertised as complimentary in the Airbnb listing. The guest was made to sound like a demanding person "first day arrive late…informed us to do laundry." 
If the host has an internal guideline on the minimum stay period to qualify for complimentary laundry services, why not make it known in their listing? As for giving excuses on the time required for clothes to dry, mine can often dry overnight within 12 hours or the most 24 hours. I've seen the laundry area of this Airbnb unit and it was on the roof level – I'd reckoned that clothes would dry even quicker?
Shaming Example 4 (Placeholder):
This is a placeholder for me. I'd left a negative review too and am expecting the host to shame me soon. :) I will post it for you to see when he does.
Update: He has shamed me!
---
Checking Out of the Horrible Airbnb Unit in Woodlands, Singapore
Having only fallen asleep at 7am, I wanted to wake up as late as I could without exceeding the check-out time of 12pm. Unfortunately, I was woken up by a message at 10.30am. The host asked me what time I was checking out.
Err, does hotel do that? Do other Airbnbs do that? Not really, you know. The most they do would be to let you know "How to check out", not when to check out. To do so before the official check-out time after lecturing me earlier made me feel like he couldn't wait to get us out. Didn't I agree kindly when he requested that I checked in late (which he didn't thank me for)?  
He didn't even get up to say hi or walk us to the door
At 11.30am, we packed our bags and took the lift down. A man with his laptop was sitting at a table and he was facing the lift. He was likely monitoring and checking that guests leave on time. 
He didn't say hi. When I asked him if he was "M" (the person who lectured me), he said yes. I told him I was checking out and he said, "See you!" He didn't stand up to say hi, neither did he walk us to the door. We walked across the grand hall, opened the door on our own (with the host sitting comfortably behind us) and left.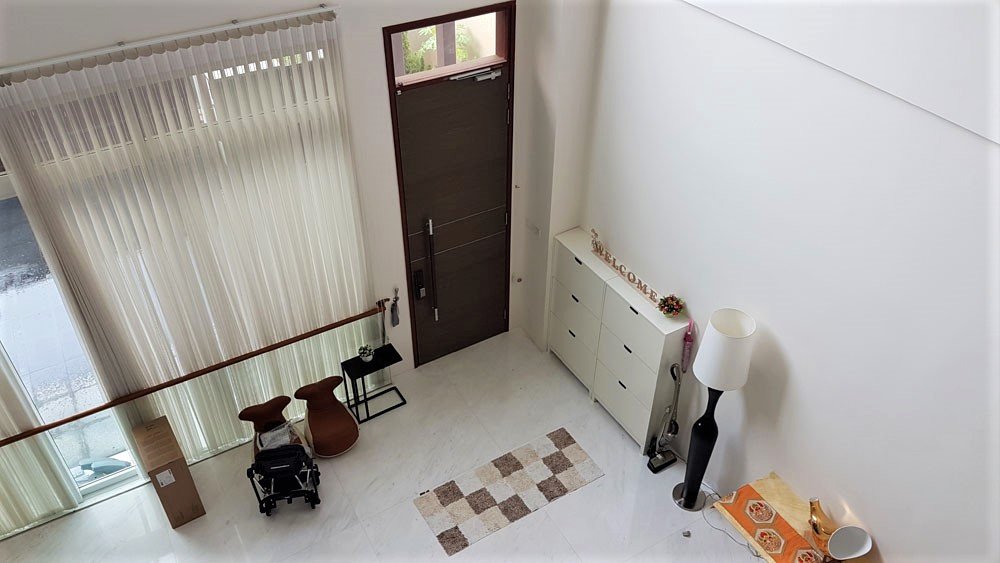 What an experience! This differs from the hospitable services I've received elsewhere in the world and will be a joke if this is reported in Taiwan or Japan. For info, my Hualien host welcomed us with tea and tiramisu on check-in day and spent two hours sharing with us the things to do and eat in Hualien. He even drove us to the train station on check-out day. Did I mention that he assisted us in applying for Taroko Special Hiking Permit? 
And my Okinawa host drove two hours to welcome me personally at his property in Nago, telling me which restaurants are good and where we could shop. A few days before check-out, the host messaged me to warn us of an impending typhoon and told us the best time to be on the road so as to stay safe. He's not obligated to do it, you know? 
I think this Airbnb unit in Woodlands is a disgrace to Singapore and I do not believe this represents our Airbnb culture. This episode led me to think if all "rich men" are like that. But I think it's not fair to stereotype. And I will leave it at this. 
Worst Airbnb Stay (Part 2): How I Was Shamed By Airbnb Host For Leaving A Factual & Negative Review
---
Recommendations
As what some guests have written, I'm also deeply puzzled as to how this Woodlands Airbnb unit could have garnered so many positive reviews including "how warm the host was." If the location can be sheepishly indicated wrongly, I have no confidence in the integrity of the host. I do not recommend anyone to visit this Hotel-Like unit in Woodlands. It may be cheap, but it's not worth it if your vacation mood is affected if you happened to step on landmines. It's also not worth the $40/trip cab fee to get to town or the airport. Rating: 0/5
In general, I do not recommend travelers to stay in the northern tip (unless you are a Malaysian or unless the unit is located near to public transport and amenities). With the airport being located in the eastern tip and tourist attractions in Central-South (Orchard to Sentosa) region, there's really not much reason to be right at the northern tip.  
---
I am not linking this review to that Airbnb unit and have deliberately excluded photos of house facade and unit number, because it is not my intention to shame any individuals. Moreover, the profile of the host was fronted by a kid's image, and a lady's name. I've taken the trouble to mosaic out all faces and names even though these are publicly-available information. The purpose of this post is to warn others of this Airbnb unit in Singapore, Woodlands. If you are looking to book an Airbnb unit in Singapore, please think twice if you see familiar reviews or screenshots shown in this post. If you are a Singaporean, please warn your friends about it.
Do you have some thoughts after reading this story? Do you think it was wrong for me to have made the request for an extra guest? Let me know what you think. And don't forget to subscribe for more honest reviews. I'll also give you some free and exclusive stuff. See you soon.
SUBSCRIBE
This post may contain affiliate links, meaning I earn a commission if you make a purchase, at no cost to you. Read my full disclosure for more info.
Pin This!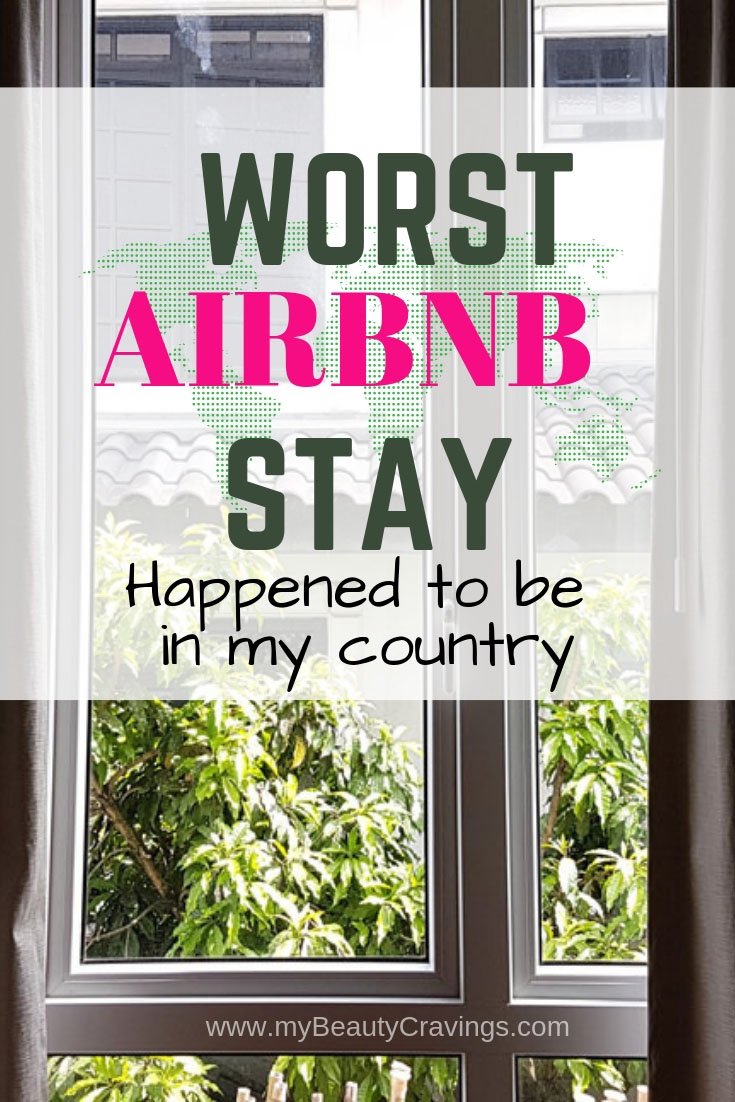 (Visited 1,365 time, 1 visit today)