Hey there,
How's your weekend been? I just came back from a staycation in Singapore and sadly, it was one horrible experience. That Airbnb stay affected my mood so much I actually couldn't sleep at all on their comfy and luxurious mattress. And I couldn't write for a few days even though my intention was to do full-scale writing at the 'serene' retreat. Sadly, this bad Airbnb example had to come from my country.
But I do firmly believe that this is the exception rather than the norm. I will explore more local Airbnbs in Singapore and introduce to you guys the worthy ones. I thought I could introduce this Woodlands Airbnb unit to you, and took so much diary notes, even deliberately taking a 1 hour 45 minutes public transport to get to the secluded place…until I realize, "No No! I can't introduce this bad stuff to you! No way."
And there goes my effort and money. Ha Ha!
TIP: Singapore has very strict Airbnb law. Public housing can only rent out their unit with a minimum 6-month stay period, while private property owners have to keep the rental period to a minimum of 3 months, unless special permission has been granted from the authority. Hence, the supply of Airbnbs in Singapore isn't great.
Want to know the true story? I may reveal it soon if I think it's worth my time. In a nut-shell, I felt I was viewed as a prostitute by an arrogant owner who owns a landed property in Northern Singapore.
> MUST-READ: My first Airbnb Stay in Singapore turned out to be a horrible mistake
Just a quick tip from me – if you are looking for an Airbnb stay in Singapore, try to avoid northern Singapore, especially one that is close to Woodlands and has been advertised as being hotel-like. The long list of positive reviews was a total contrast to my experience there. While many reviews are positive, there are a few that mentioned it was the worst Airbnb stay for them. I should have heeded their advice.
Just to add, the location marker for that unit was inaccurate. I didn't know I'll be sleeping within 0.3km to a big cemetery.
"I was so scared, you know?" :P
Anyway, most tourist activities are located in Southern Singapore, congregating between Orchard Road and Sentosa. And the Airport is in the eastern tip of Singapore. So I won't recommend staying in the North. After adding up all the taxi fares, it may be cheaper staying in a more central area.
The exception is if you are staying at an off-central area that is close to public transport network. In Singapore, you often don't need to spend more than 6 minutes to get to the nearest bus stop. Obviously, the Woodlands Airbnb unit doesn't qualify. It's about 20 minutes walk to a bus stop.
---
We booked our Flights to Taiwan. Yay!
At least one good thing came out from the weekend. We booked our flight tickets to Taiwan. Yes! I love Taiwan and will be celebrating 2019 there. This time round, I'll likely be covering Taichung, with a few days spent in Taipei.
> MUST-READ: 9 Days Itinerary in Taichung and areas around it
Okay, that's it for a quick update. I hardly write such posts, but I am still emotionally affected by the Airbnb incident and can only churn out such casual post (easy to write, no need SEO and stuff). If you prefer to read less of such ramblings, feel free to let me know. I always like to hear and adjust my writings based on your feedback. Because, I'm writing for you. :)
One more thing before I go. For those who intend to solo travel in Taiwan, take a look at the Taiwan Solo Travel Itinerary. And let me know if you wish to hear about the juicy Airbnb incidents. I'm not quite sure if I want to reveal it as yet though…it's like engaging further in negative thoughts.
But maybe I would, for the sake of the community. That's all for the brief update. Have a great Deepavali Holiday!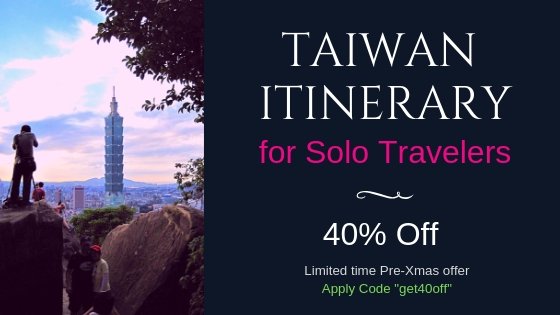 (This post was first published in Nov 2018)
This post may contain affiliate links, meaning I earn a commission if you make a purchase, at no cost to you. Read my full disclosure for more info.
(Visited 215 time, 1 visit today)