Hey guys, with nowhere to travel to these days, I found myself having a staycation at Park Hotel Farrer Park which is centrally-located in Singapore and super close to amenities and train station. It was during this stay that I uncover some good food options that I would never have found out otherwise. 
Without any further ado, let me share my experience at Park Hotel Farrer Park. I'll also share who I think this place is suitable for.
---
Why we chose Park Hotel Farrer Park
Now, a little bit about the hotel – Park Hotel Group owns a few hotels in Singapore, such as those located in Orchard, Clarke Quay and City Hall. The one I stayed in is located at Farrer Park. Hence, this explains why we have two "Park" in the hotel name, and admittedly, it took me a while to get the name right, like is it Farrer Park Hotel? Parkroyal Hotel? :)  
The duration of my stay was over the Chinese New Year (CNY) period where high demand probably pushed up the prices. The reason why we chose this hotel was not to have a romantic and unforgettable getaway, but to utilise our SingapoRediscover Vouchers without having to top up too much. :)
INFO: To help boost the travel sector, Singaporeans were offered $100 SingapoRediscover Voucher which they can use for their travel experience, e.g. hotel and attractions. 
Of course, we also wanted a hotel that offers free parking, is within walking distance to amenities and offers non-Chinese food options as we foresaw many Chinese eateries would be closed during the CNY period.
And there we have it – Park Hotel Farrer Park meets the criteria. Let's check into the hotel and see how the experience unfolds.
---
Checking into Park Hotel Farrer Park 
We arrived at the hotel at 2.30pm, after its official check-in hours of 2pm. There was a queue and I was the 4th in line. After standing for 15 minutes, I was served swiftly by friendly staff and given a free room upgrade.
As the upgraded room – "Sky Loft" – is very different from the room I've booked, I told the staff that I would check it out and may return if the room doesn't meet my needs.
Preview of Sky Loft (Park Hotel Farrer Park)
Take a look at the Sky Loft located on the highest floor, on 20th storey. It was a novel experience and we'd wanted to embrace the change. However, the place felt very small and rather inconvenient. For instance, the sofa on first floor faces the door and there was nothing much we could do there since there was no TV on that level.  The pantry underneath the staircase also appeared dim.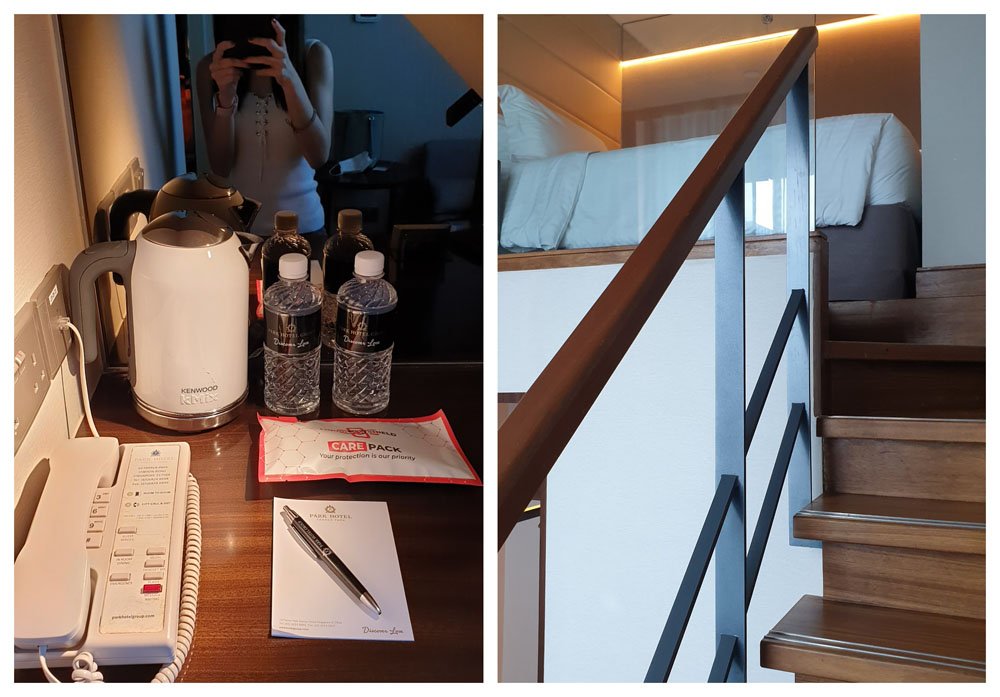 I was also concerned with the steep staircase that led up to the bed and TV. We felt that going to the toilet in the middle of the night might pose some inconvenience. And the final deal breaker was the lack of a desk which I needed to do my work. So, back I returned to the lobby to get the room I'd booked – a superior room.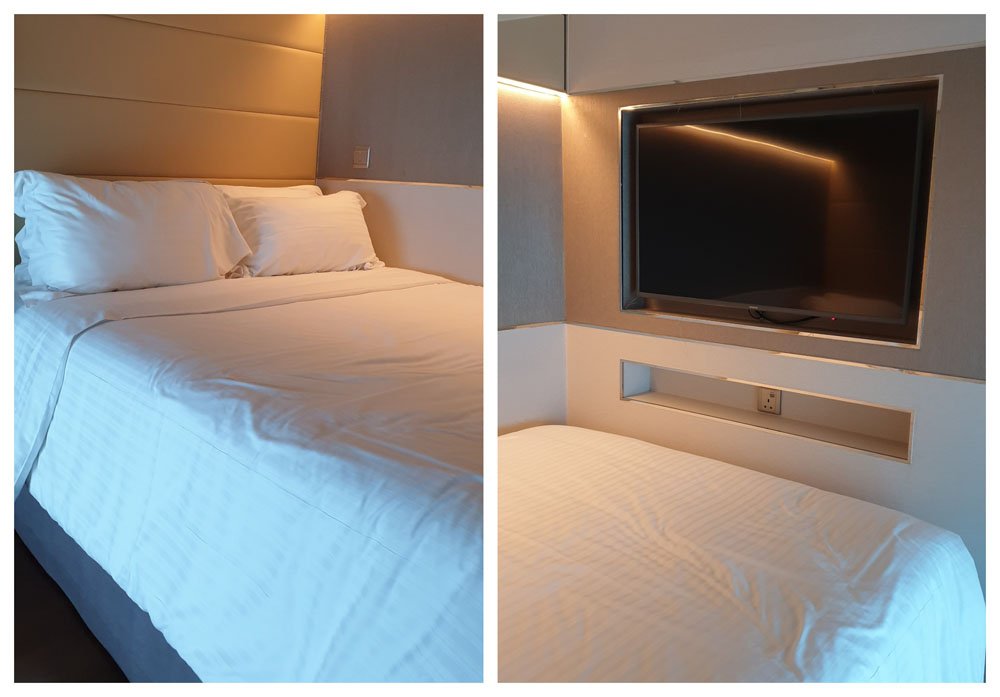 Check out Superior Room at Park Hotel Farrer Park
When I entered the superior room on the 19th floor, I knew I had made the right choice as the space seemed bigger and more airy. Similar to the loft, I was in awe with the panoramic and unblocked view. This is such a rare privilege in land-scare Singapore.
> MUST-READ: This is why Goodwood Park Hotel is good for locals and tourists alike
In fact, the superior room has better view than the loft as the view wasn't partially blocked by planter/parapet. The window was also much cleaner.
Although the price of a Superior room is a lot cheaper than a loft, I have no doubts that it offers a better value. Let's check out my experience within the superior room.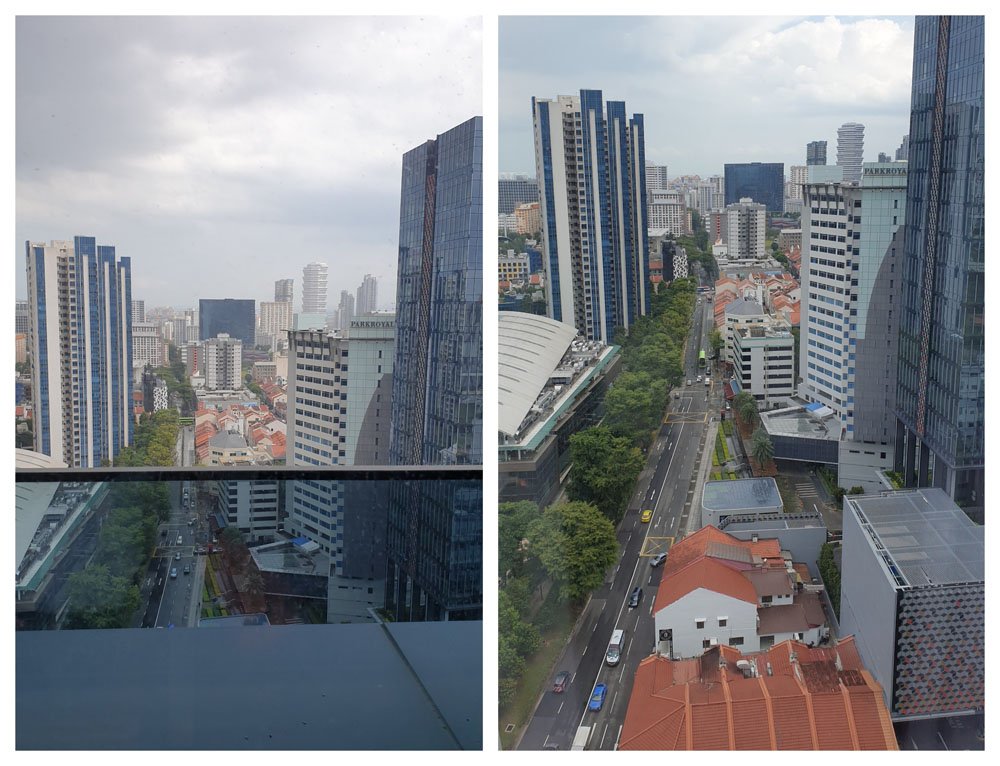 ---
Superior Room Experience at Park Hotel Farrer Park
1. Room Design 
The design of the Superior Room was typical of most modern hotel rooms and comes with the usual desk, flat-screen TV and ample switches. However, a USB charger would have been nice. 
Another thing that impressed me was the size of the bed – it must have been bigger than a king. But upon seeing that it was supported by two divan base, it gave the impression that the bed was formed by the combination of two twin beds. Would there be gap in the middle? We were hoping that it would not affect our sleep quality (see #4 for more info).
Other than the bed, the tea/coffee facilities also made a good impression. I like it that it was located by the floor-to-ceiling window, which made tea-making a scenic experience. The safety box was also commendable as it was large enough to hold a few of our laptops and could be tucked away like a drawer.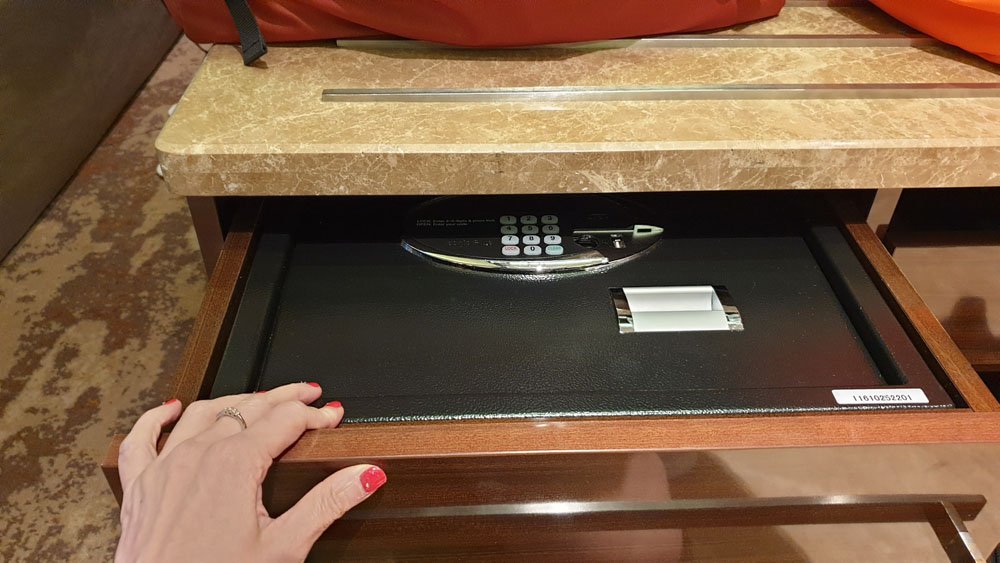 However, there were some things that could perfect our experience in terms of design. For instance, I couldn't find a suitable spot to apply my makeup as the desk area has no mirror. Also, my optical mouse didn't work against the glass-panel desk surface. This can be easily solved by placing a piece of paper on the table.
2. Location of Park Hotel Farrer Park
Transport
Location must be Park Hotel Farrer Park's best selling point! It is basically sitting right above one of the underground entrances to Farrer Park train station.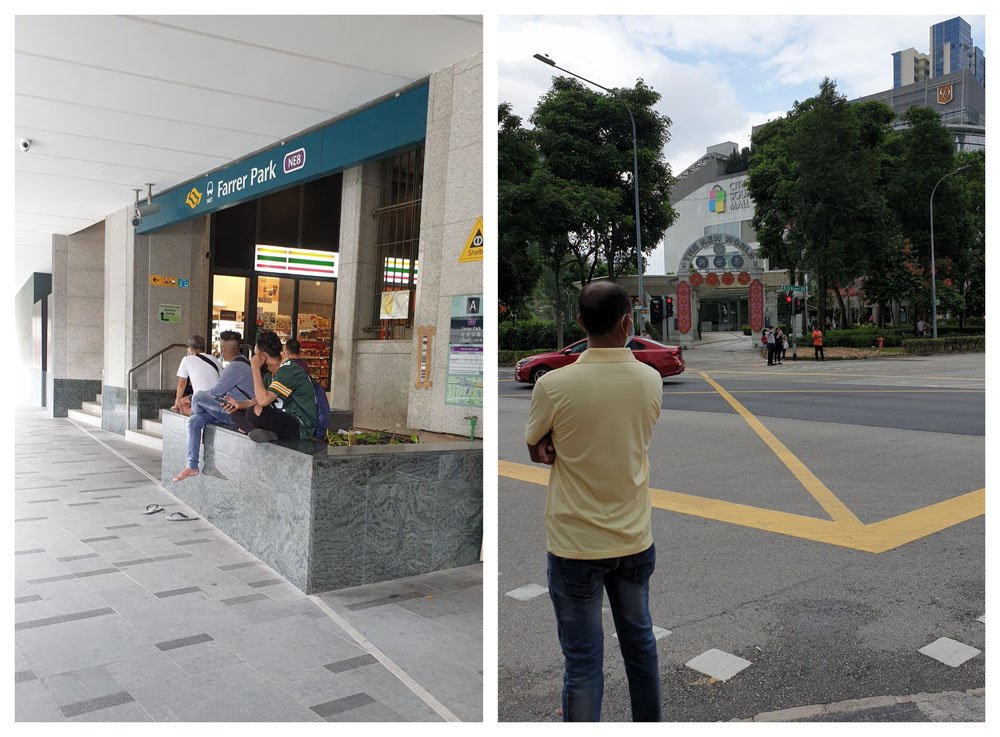 This station along Singapore's Northeast line (purple colour) can bring you to a few places of interests, such as Dhoby Ghaut (shopping), Clarke Quay (night spot), Chinatown and Vivocity (shopping and link to Sentosa).
You can also transfer at Dhoby Ghaut to get to the more popular green and red lines such as Orchard and City Hall, or link to the yellow circle line to get to Esplanade and Marina Bay Sands. 
Food
In terms of food, you'll be spoilt for choice. You can either get food from City Square Mall which has plenty of options and a food court on Level 4. Alternatively, you can walk around the vicinity to discover quaint cafes and restaurants or plenty of Indian coffeeshops.
Some of the food we had during our stay included:
Roti Prata & Teh Tarik
Randomly chose one of the many Indian coffeeshops to have our next-day breakfast – egg prata and Teh Tarik (foamy milk tea).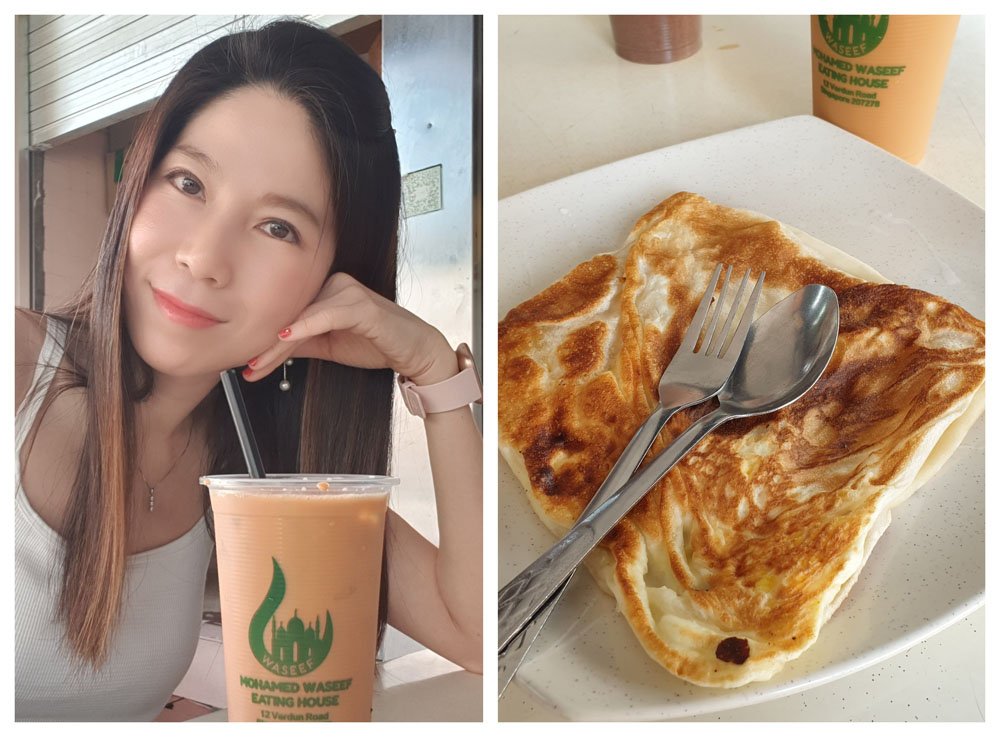 Thai Food at Suk's Thai Kitchen*
Just a short walk away was Suk's Thai Kitchen. This was a great find and the food was super delicious and authentic (see location).
Jia Bin Klang Bak Kut Teh
Apparently, this is one of the popular places to have Bak Kut Teh (pork rib soup). The food was not bad, but we would prefer more peppery and clearer soup. Also, the Crispy Tofu that we ordered turned out to be oily tofu skin. Maybe because we aren't familiar with Bak Kut Teh or are healthy-eaters, we thought the meal was too heavy and oily for our liking (see location).
Italian-Japanese food at Saizeriya*
Saizeriya is a chained outlet in Singapore, selling Italian food at pocket-friendly prices. One outlet is located in City Square mall, B2 and we had a simple lunch there (see location).
Other Notable Food Options
Other interesting food options north of hotel (3 minutes walk) included Mosanco Enchanted Cafe, Old Hen Coffee Bar, Brunches Cafe etc. Though we didn't dine at these places, they seemed popular with diners when we walked past (see locations).
You can also walk towards the south of hotel to reach Beach Road Scissors Cut Curry Rice (location), Swee Choon Tim Sum Restaurant* (location) and Da Lian Minced Pork Noodle* (location). If you like hawker experience, there's also a Berseh Food Centre (location). 
I've marked the good ones that I've personally tried with asterisks (*).
Shopping
Park Hotel Farrer Park is not just great in food options and transport. There are also two shopping places around – City Square Mall (location) and Mustafa Centre (location). These are not malls where you can expect fashionable finds. But you should be able to get basic amenities here.
Don't miss Don Donki at City Square, B2. It's the equivalent of Don Quijote in Japan. Sports lovers can also visit Decathlon and budget/Japan lovers can visit Daiso and Uniqlo. 
At Mustafa Centre, a multi-level mall that sells everything from gold and perfume, to luggage, apparels, electronics and grocery items, you can get almost anything here. As its name suggests, this place appeals to South Asian customers.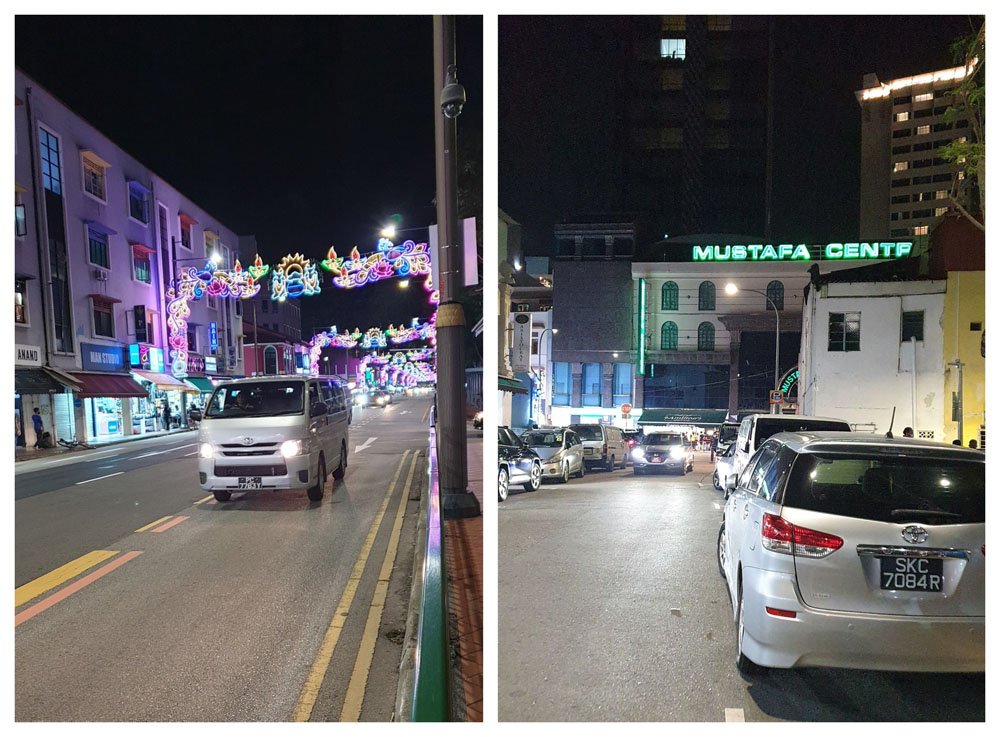 3. Room Amenities & Bathroom
Let's come back to our superior room at Park Hotel Farrer Park, shall we? :) The room comes with standard tea and coffee supplies, and notably, the tea from The 1872 Clipper Tea Co was quite nice.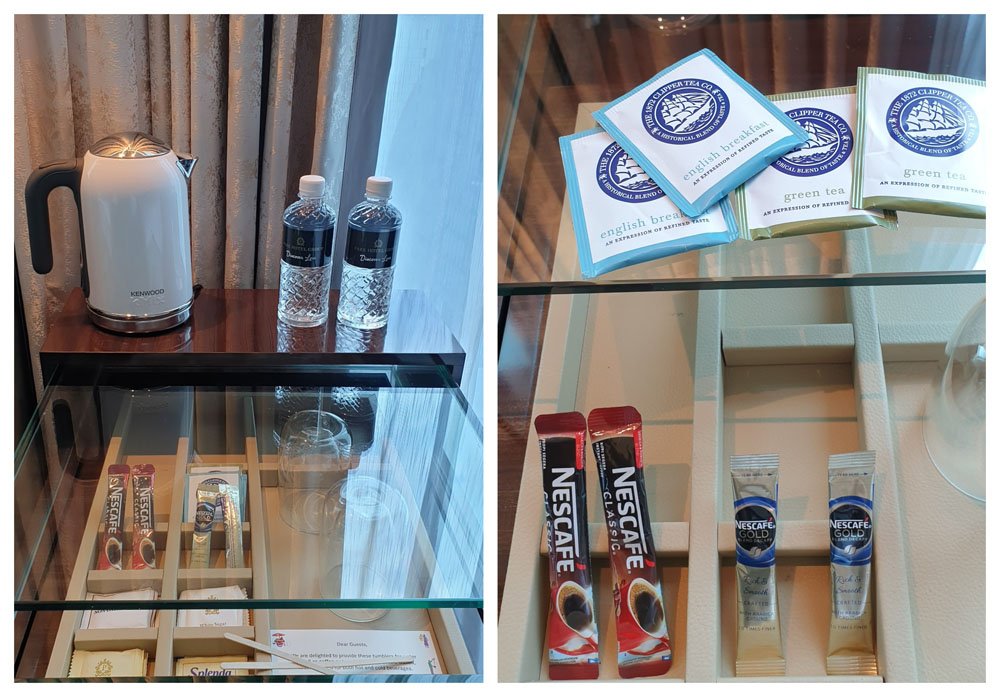 A surprise item – Shield Care Pack was really thoughtful and came in handy. I used the sanitary wipe to clean commonly-used surfaces within the room such as remote control, kettle switches, alarm clock etc. 
When it comes to bathroom amenities, we get the usual supplies such as toothbrush, shaver, cotton pad, toiletries etc. I didn't use any of these as I prefer to be environmentally-friendly. Therefore, I can't comment if they were good. 
Since we are talking about bathroom, I want to say that the bathroom was very functional. The water pressure was good and hot/cold water was easy and quick to adjust. Other than the shower head, you can also enjoy rain shower if that is what you prefer. 
4.  Quality of Sleep
Now, this is the item that heavily affected the rating of this hotel and our recommendation. Sleep quality in our experience wasn't great. In fact, both of us had trouble falling asleep with the super-thick and very firm pillows. 
See the side profile of pillow – it's as tall as a mineral water and is very firm. It retains the shape so well I wished I had heavier head.
The mattress (likely a topper) also sunk in at the butt portion making our body posture very weird (think v-shape) and uncomfortable – imagine head propped-up, butt sunk in. We tried very hard to fall asleep and by 2am, we gave up and decided to call reception with the hope of getting a more normal pillow. Unfortunately, no one picked up the phone.
Numbed Limbs Experienced by Both
When I did eventually fall asleep, I woke up twice with numbed fingers. The overly-tilted neck could have compressed some veins. Surprisingly, my partner mentioned the same in the morning – his right limb went numb too.  
The next morning, we called the reception and requested for a change in pillow type. A housekeeper came up with three pillows hugged in his arms (not very hygienic in this Covid-19 climate) and told us the hotel has only one type of pillow. The replacement pillows seemed thick too, but one of them appeared a little bit flatter. 
Hotel Manager's response: When completing post-stay email survey and sharing my experience, I was surprised to receive a reply from the Hotel Manager. He shared that "we do not have a pillow menu…to suit your comfort." Well, I wasn't looking for a menu, just a normal pillow lah! :)
The Sun's Ray
Other than pillow and mattress that affected our sleep, the sun also disrupted our sleep by shining right onto our face early in the morning. We got up to draw the curtain, but the sun was still able to penetrate through the minor gap between the curtains. 
This shouldn't be a major disruption if we were able to fall asleep early the night before, but as you know, we couldn't.
To be fair, I didn't see any reviews on poor sleep quality. Therefore, it's possible that our room happened to have a combination of very unusual pillows and mattress. If that's not the case, I really wonder how others manage to fall asleep.
5. Connectivity
TV channels were great and we were able to keep ourselves entertained. However, the WiFi speed was so slow I had to wait for the internet images to load one by one. In the end, I just switched to my mobile hotspot. Thanks to Giga, I have close to 80GB of data every month. :)
> MUST-READ:  7 reasons why I switched to Giga Plan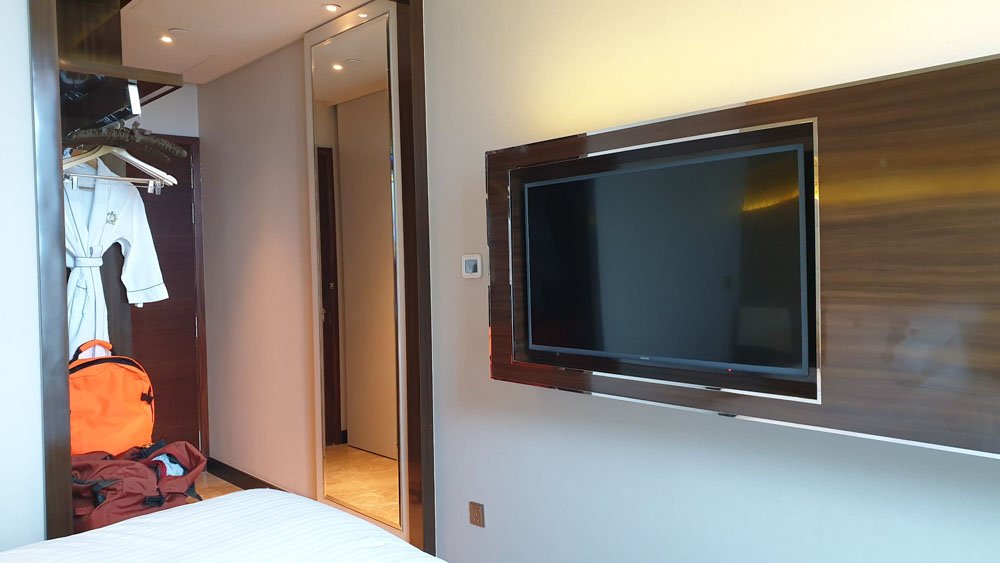 6. Hotel Facilities
During the ongoing pandemic, guests at Park Hotel Farrer Park could book 1 hour of facilities per day through an online chat/link. Facilities included gym and swimming pool.
The gym was accessed via the medical block, on level 12, and was a little too small to be enjoyable. I made do and did some weights and sit-ups before moving on to the pool.  
The swimming pool on the 5th floor on the contrary was enjoyable. It's not a big pool, but was enough. I also love it that the water wasn't very cold and the sun wasn't directly on my face when I visited around 3pm. Even if you don't swim, the pool lounge bed was a great area to chill and enjoy the breeze. 
On the same level, you will also see a Thai restaurant – Blue Jasmine – and some outdoor cafe seats. I'd wanted to bring my laptop to work at the outdoor areas as it seemed so conducive but I ran out of time at the hotel. :) 
7. Service
The service staff were generally friendly and helpful, though there seemed to be some minor gaps in service. For instance, I wasn't given the hotel facilities booking instructions during check-in. And the staff forgot to tell me that I needed to reactivate my key card in order to use it on the second day. "You need to activate your keycard!" was the response when I sought help at the counter the next morning. 
Similarly, the room supplies (toiletries, coffee & tea etc) were not placed the right side up. This was seen in both the Sky Loft and Superior Room. Of course, this didn't affect us in any way, but pointing this out as it deviates from the norm of hospitality industry.
Also, as shared earlier, the reception did not pick up my call after midnight. Based on online reviews, this was experienced and reported by a few guests. 
8. The Price
Price is probably one of the main reasons why people select this hotel. We paid $180 per night during Chinese New Year peak period. For such a centrally-located hotel in Singapore that is connected to the train station, this is quite a steal especially for tourists.
For locals who are well-versed in local transportation network or have private transport, there may be many other options at similar price range that are worth considering. 
9. Culture
The vicinity around the hotel is well-known for its appeal to South-Asians, both locals and foreigners. In fact, it is known as Little India in Singapore. If you like to explore one of our multi-racial cultures, this is a place to visit. 
Due to the high male to female ratio at night especially during weekends and holidays, I personally would likely not visit Little India alone as I always love to be able to blend in with the crowd no matter where I am. 
---
Summary: 
What's Good? 
Great location, transport & food options
Modern room design with good room amenities 
Panoramic in-room view 
Not expensive
What's Bad? 
Sleep wasn't great
Weak WiFi
Small gym
---
Recommendation: Who would love Park Hotel Farrer Park?
Park Hotel Farrer Park is a place that I would recommend to tourists who love convenience and transport connectivity at a good price. However, this is provided they would not experience the same sleeping issues I'd encountered. For tourists who normally have a busy itinerary, the lack of a good gym may not affect their travel experience by much. 
As for locals, I do not think this is a suitable staycation option. You may prefer a hotel with stronger and more extensive facilities. A one-day stay here may be fine just to evoke memories of travelling, such as checking-in/out and packing and unpacking. :) Rating: 3.5/5.
---
That's all to today's review. Love more of such honest reviews? Just click the button below to subscribe. 
SUBSCRIBE
This post may contain affiliate links, meaning I earn a commission if you make a purchase, at no cost to you. Read my full disclosure for more info.
Hotel Info:
(Visited 521 time, 1 visit today)