Who do you count on for honest beauty reviews? Oops…can I raise my hand? It's been a while since I've had to publish a negative review. Today's review is on Cezanne Lasting Lip Color N. Let me share why I'm a little afraid of this lipstick which I've brought back from Japan.
In my recent trip to Japan, I bought quite a number of products from Cezanne. Coincidentally, this brand was also brought into Singapore at almost the same time when I was in Japan. If I'd known that I could get Cezanne in Singapore, I might have given this a miss and opted for brands that are exclusively available in Japan.
But that's okay because Cezanne in Japan is considerably cheaper. For instance, Cezanne Lasting Lip Color N was at just half the price as compared to those retailing in Singapore.
---
Tell me more about Cezanne Lasting Lip Color N
Cezanne is a Japan brand that has been around since 1964 and aims to offer women with high quality and affordable cosmetics. This brand is widely available in major drugstores in Japan and I got mine at Aeon Rycom in Okinawa.
There are two types of lipstick under Cezanne – one is glossy and the other which I'm reviewing today is long-lasting and supposedly non-drying. Let's see the marketing description of Cezanne Lasting Lip Color N which I've lifted from Cezanne's official website.
Long lasting: Beautifies your lips with translucent color for a just-applied finish.
Non-dry: Retains moisture, protecting the lips from dryness and roughness.
Fragrance-free / Contains squalane and royal jelly extract (moisturizing ingredients).
There are 12 colors to choose from. The one I bought is Color 301, a pink with a light purple undertone. Of the 12 shades, eight of them including Color 301 have a pearl finish.
Now, I'm not in love with Color 301. I'd liked it when I did a swatch on the back of my hand, but I don't when it is applied on my lips.
I thought Color 301 is a bit mature looking on me (you can see me wearing it later). Oh yes, I know I'm quite mature in age – all the more I'm trying to stay away from mature colors, right? :) Anyway, colour preference is personal and it is not the reason why I am rating Cezanne Lasting Lip Color N negatively.
Let us take a look first at the things I love about Cezanne Lasting Lip Color N, before moving on to the bads.
---
What's Good about Cezanne Lasting Lip Color N
1. Elegant and Sturdy Casing
Cezanne Lasting Lip Color N comes in a pretty ivory-colored casing. The exterior is adorned with a flowery and elegantly-molded print that made me fall in love with it when I first picked it up. The lipstick feels heavy, but in a good way. It is sturdy and gives one the impression that it is more expensive than its actual retail price.
2. Perfectly-shaped Tip Angle
I love how the Cezanne Lasting Lip Color N is beautifully angled at the tip to make application a breeze. I don't normally notice such things, but the less-than-perfect gradient of Chifure Lipstick made me appreciate Cezanne more.
> MUST-READ: Cezanne Two Color Eye Shadow – An eye shadow that's worth talking about
3. Translucent with Good Colour Payoff
Yes, I know it sounds like I'm contradicting myself. Though Cezanne Lasting Lip Color N has a semi-translucent finish, it does deposit sufficient color with a single swipe. 
The color that I chose (Color 301) has a pearly finish that is not too over-the-top but was able to give my lips a soft and elegant glow.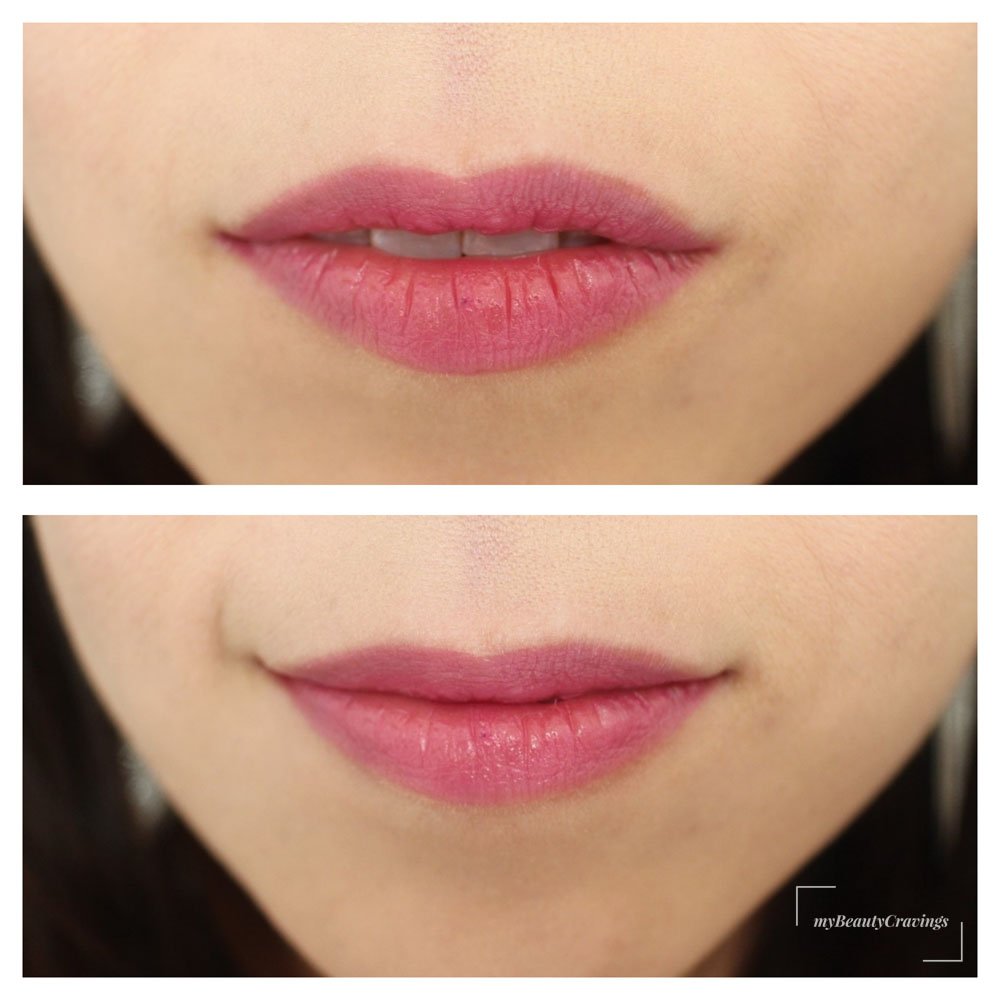 4. Lasting Colour 
True to its marketing claims, Cezanne Lasting Lip Color N is indeed long-lasting. I wore it for a few hours and the color remained rich. Even when the lipstick faded after food intake, it did so without the uneven patchiness of Chifure Lipstick.
I did, however, notice that Cezanne Lipstick stains the lips. Some may like this feature as it means that the lip color would remain enhanced even after meals.
5. An Inexpensive Made-in-Japan Lipstick
If you get Cezanne Lipstick in Japan, it's less than ¥500. I got it for ¥456 after some tourist discount – that's about US$4. Even in Singapore where things are known to be pricey, Cezanne is retailing at an affordable price of S$12.90 in Watsons.
Now, I'd really wanted to love Cezanne Lasting Lip Color N, but something in it is incompatible with my lips. Read on to find out what it is.
> RELATED: Cezanne Natural Cheek N Blusher | Another Cheap Japan Makeup that Works!
---
What's Bad? 
1. Burning Lips
Honestly, I thought of giving Cezanne Lipstick a 5-star review when I first tried it. I mean, everything seemed so perfect, from elegant casing to great color payoff and affordable price.
However, three hours later, I changed my mind. My lips started feeling uncomfortable and I found myself licking my lips way too often. I was trying to relieve the discomfort as my lips felt dry and slightly sore.
When I reached home, I saw two raw spots around the edge of my lips. During then, I didn't immediately associate the discomfort with Cezanne Lasting Lip Color N and continued to use it for three consecutive days. By then, there was a light crust forming on my lips. It was uncomfortable and my lips felt chapped.
> RELATED: Chifure Lipstick S Hydrates Your Lips Without Hurting Your Pocket
I used to suffer from lips allergy but have since recovered for at least a couple of years. So it was surprising to see the allergy coming back again.
As per my usual extensive testing, I stopped using Cezanne Lipstick for a few weeks to let my lips recover which it did. But when I tried it again, the sore feeling came back within three hours of usage. I've since tested it thrice with resting periods in between to be able to share with you confidently that this lipstick may not suit those with sensitive lips. 
After publishing this review, I doubt I'll be using this lipstick again. I don't hate it. I'm just afraid of the consequences.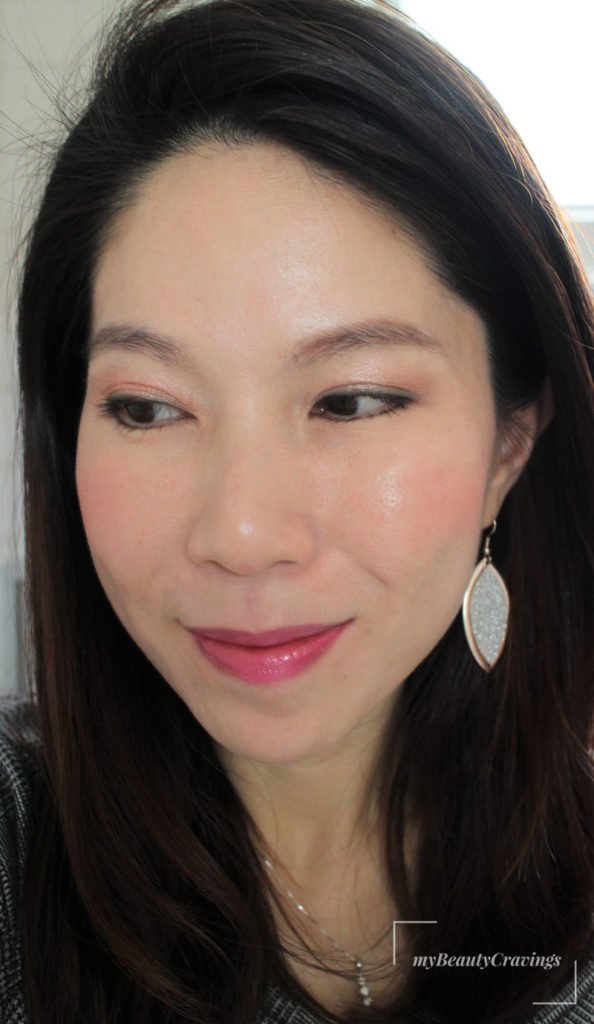 2. Don't think it retains moisture
Cezanne Lasting Lip Color N is said to contain moisturizing agents such as squalene and royal jelly extract. Unfortunately, not only did my lips not feel moisturized, they felt chapped.
Please note that this is based on my personal experience. I may be allergic to some of the ingredients in this lipstick. If you have been able to use this lipstick without facing any discomfort, please let us know so as to offer a more balanced view. 
By the way, I just saw this article and wonder if that's the reason why my lips disagree with Cezanne Lasting Lip Color N.
3. Stains the Lips
This can be either a good or bad thing depending on what you like. Some like staining lipstick because it gives lips an enhanced color that lasts through meals. Unfortunately, I have dry lips and understand that staining lipstick can be drying.
---
Recommendation
Cezanne Lasting Lip Color N is a promising lipstick with more benefits than its weaknesses. I'd like it and hope this works for most people. Unfortunately, I have to give it a negative review based on my experience because it burned my lips and I cannot continue using it. For general info, I can use most lipsticks without any problem, except for some drying and matt ones. Rating: 2.5/5.
Update (Dec 2018): My mom took over the lipstick and didn't face any irritation (she doesn't have sensitive lips). Also, the color looks great on her and she loved it. Glad I didn't have to waste this lipstick.
Love honest reviews? If you like to get notified of newly-published beauty reviews and travel stories, just click the button below to subscribe. I'll even give you some free and exclusive stuff. See you there!
This post may contain affiliate links, meaning I earn a commission if you make a purchase, at no cost to you. Read my full disclosure for more info.
SUBSCRIBE
Pin This!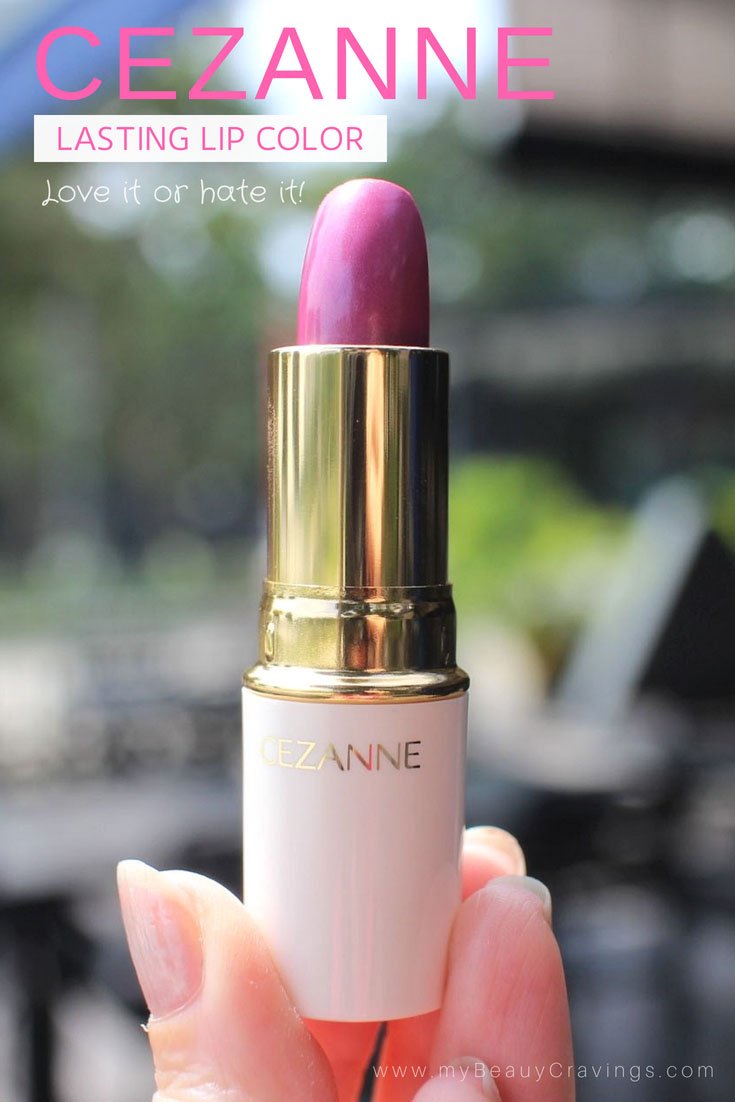 (Visited 2,840 time, 1 visit today)