The reason why I bought Curel Makeup Cleansing Gel was because of the brand's philosophy, which is to "to provide solutions for sensitive skin".
Although I do not have sensitive skin, I was hoping that such a product would be gentle enough on my age-related dry and flaky skin. 
Can this makeup cleanser remove makeup effectively? Is Curel Makeup Cleansing Gel mild enough to be used on dry and sensitive skin? Let's find out. 
---
What is Curel? What does Curel Makeup Cleansing Gel do?
Curel is one of the brands under the Kao umbrella which also carries other well-known brands such as Biore and Liese.
How Curel differentiates from other brands in the saturated skincare market is its emphasis and target on those with sensitive and dry skin.
If I understand correctly, most if not all of Curel's products either contain ceramides or are designed to protect the skin's natural ceramide.
So, what are Ceramides?
Ceramide is a form of fat found on the skin. It works by holding the skin together and protecting it from elements or moisture-loss.
This waxy lipid molecules are often used in anti-aging products to plump up and firm the skin, so that wrinkles and fine lines appear less visible. 
What can Curel Makeup Cleansing Gel do?
Curel Makeup Cleansing Gel promises to"remove makeup including long-lasting foundation from deep within pores while protecting ceramide". Skin's natural barrier function would improve and skin would be protected from dryness.
This sounds exactly like what I needed for my persistently-flaky skin. But with some online reviews saying how Curel Makeup Cleansing Gel isn't effective against stubborn makeup, who should we believe? 
I've since used Curel Makeup Cleansing Gel for a while and am ready to share my thoughts and experience. Check out the simple experiments I did comparing it with my favorite maker remover.
---
Experiment: Can Curel Makeup Cleansing Gel remove makeup effectively?
Step 1: Cover arms with stubborn makeup
To test how effective Curel Gel is in removing makeup, I drew two sets of makeup on my arms using Lancome Teint Miracle Liquid Foundation and waterproof cosmetics (Integrate Curl Waterproof Mascara, Bourjois Waterproof Eyeliner in Blue & Brown).
Step 2: Place Makeup Cleansers over Makeup
Next, I covered each set of makeup with different makeup cleansers. Set 1 on the left is covered with Curel Makeup Cleansing Gel while Set 2 is covered with Biore Mild Cleansing Liquid. 
I made sure the gel/liquid were placed over the makeup with no rubbing action so as to test which works faster. A damp cotton pad is then placed over each area and given firm pressure for a few seconds.
Step 3: First Observation
The experiment presented very clear results. When I lifted the cotton pad, Set 1 (Curel Gel) didn't remove as much makeup as Set 2 (Biore Liquid).
Hence, I can conclude that Curel Makeup Cleanser doesn't work as quickly as Biore Mild Cleansing Liquid. 
Pardon the blur camera focus of Set 2. Though blur, I've observed that it has more makeup removed. The cotton pad below shows you how much makeup was removed from each set. 
The one on the right (cleansed with Biore Mild Cleansing Liquid) lifted off more makeup.
Step 4: Second Observation (Swipe 3 times) 
To confirm the earlier observation, I will add swiping action into the experiment. Each set is given 3 downward swipes with their corresponding cotton pad. 
Once again, the left side (Set 1) was left with makeup remnants while the right side is completely cleansed.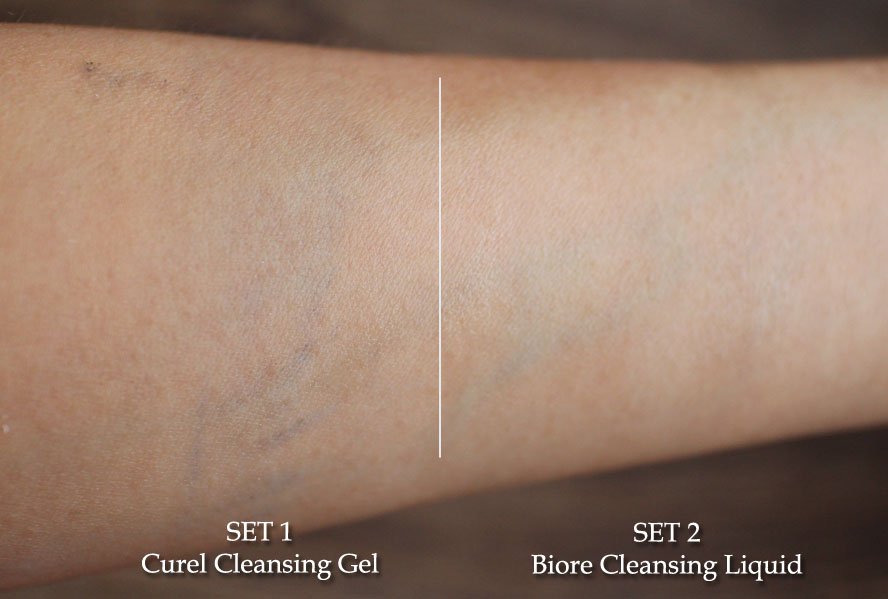 Final Step: Let's follow Proper Cleansing Instruction
So far, we've determined that Curel Makeup Cleanser is slower in removing makeup than Biore Cleansing Liquid. However, this doesn't mean that Curel Makeup Cleanser isn't effective because we've yet to apply proper cleansing instructions.
Usage Instruction

Apply on dry skin with dry hands. Gently massage 4 – 5 times using circular movements. Rinse off thoroughly. Complete your cleansing with facial foam. 
To be fair, I tried a separate experiment and gave each test area a good massage. All makeup came off completely. 
*Verdict: Curel Makeup Cleansing Gel can remove general makeup including waterproof makeup effectively, but it may work slower than other cleansing products.
But how about Stubborn Makeup? 
Now, let me tell you a joke. My sister gave me some beauty samples from her stash, including a sleeping mask from Laneige. One night, I applied it over my face and was surprised at how difficult it was to spread the product and how sticky it felt.
When I looked at the product packaging again, I was shocked to see that this sleeping mask was meant for the lips. Ha Ha! And off I went to wash my face that felt darn sticky and waxy. 
When removing such stubborn product, Curel Makeup Cleansing Gel failed quite badly even after two attempts. Eventually, it was Clinique Rinse-off Foaming Cleanser to the rescue. Yes, I washed my face 8 times that night (4 sessions of dual cleansing). 
*Verdict from Real-Life Experience: Curel Makeup Cleansing Gel isn't effective against very stubborn stuff. 
Now that we are done with the cleansing effectiveness of Curel Cleansing Gel, let's examine other aspects of the product. 
---
Review of Curel Makeup Cleansing Gel
1. Application: Does it Spread Easily? 
Curel mentioned that the product spreads easily without excessive rubbing action. It is true to a certain extent, however, I think a gel is less easy to spread than a cleansing liquid or oil.
You'll also need a lot of product to get it to spread without any tugging of the skin. 
2. Depletes Quickly
To use Curel Makeup Cleansing Gel, you are supposed to squeeze out 2cm of the gel. There's a measurement indicator printed on the back of the tube to help you gauge the amount to squeeze out.
Now, 2cm is actually quite a lot of product if you consider the thickness of the gel. Anything lesser than that wouldn't be enough to spread over the entire face. In fact, I need 3cm to get it over both my face and neck. 
As such, Curel Makeup Cleansing Gel depletes very quickly especially when the tube comes with only 130g of product as compared to 230ml for Biore Mild Cleansing Liquid and 200ml for DHC cleansing oil. 
3. Packaging Looks Unpresentable Quickly
Just like a toothpaste, the tube gets squashed into an unpresentable state quickly. In fact, it got deflated faster than a toothpaste due to the amount needed per application.  
4. Does it suit those with Dry Skin? 
We've seen how Curel Gel is able to remove everyday makeup effectively. But is it equally competent in protecting the skin from dryness as per its marketing claims? 
After rinsing off the gel, my skin feels comfortable without tightness. A light and smooth layer of residue is left on my face, similar to how it feels like when using Cetaphil.
Looking at the ingredient list below, we can see that most of them are moisturizing or conditioning agents (as shown in bold):
Ingredients of Curel Makeup Cleanser

Sorbitol, Water (Aqua), Caprylic/capric Triglyceride, Octyldodeceth-20, Glycerin, Hydrogenated Polyisobutene, Cyclopentasiloxane, Isononyl Isononanoate, Butylene Glycol, Distearyldimonium Chloride, Dipotassium Glycyrrhizate, Isopropyl Alcohol, Ethylparaben.
Unfortunately, this makeup cleanser indicated the need to follow up with foaming wash. As such, whatever protective veil it'd left on my face was gone after the second cleanse. If I'd known about the double-cleansing requirement, I might have given Curel Cleanser a miss.
For info, I've tried doing away with a second wash, only to see pimples popping out. Therefore, it's best to follow instructions.
5. Price of Curel Makeup Cleansing Gel
I got Curel Makeup Cleansing Gel from Osaka at ¥880 (tax-free). This is cheaper than the S$20 it retails for in Singapore – view latest price.
The price seems fair when compared to similar products from other drug-store brands, except that you'll probably get lesser quantity. :)
6. Less Travel-Friendly Than A Cleansing Oil
Generally speaking, a tube is easier to travel with than a bottle of cleansing oil. However, since I like to travel light, I often transfer a small amount into a travel-sized container. 
Based on how much product is needed per application for Curel Makeup Cleansing Gel, I find myself switching to a cleansing oil when packing my luggage. 
7. Stings the Eyes
Similar to many makeup removers I've used, Curel Cleansing Gel stings the eyes. I don't penalize it as we should use a specialized eye makeup remover to get rid of eye makeup. 
---
In Summary: Pros Vs Cons of Curel Makeup Cleansing Gel
What's Good? 
Contains lots of moisturizing ingredients
Suit dry skin type if paired with a gentle foaming cleanser
Reasonably-priced
What's Bad? 
Takes longer to remove makeup
Low quantity
Depletes quickly
Gets unpresentable quickly
Less travel-friendly
Stings the eyes
---
Recommendations: Should you try Curel Making Cleansing Gel?
Do you wear light to medium makeup? Is your skin type dry and sensitive?
Are you okay if the makeup cleanser takes slightly longer to work and may deplete faster than similar products in the market? 
If your answers are 'yes' to the above, Curel Makeup Cleansing Gel would likely work great on your dry skin type, provided you are able to pair it with an equally gentle foaming cleanser. Rating: 3.5/5
To find out the latest price on Amazon, click HERE.
---
Hope you've found today's review useful. If you like more of such honest review, feel free to connect and you'll get notified on newly-published beauty reviews and travel stories. Just click the button below to subscribe and you'll also get access to all my exclusive contents. Chat soon!
This post may contain affiliate links, meaning I earn a commission if you make a purchase, at no cost to you. Read my full disclosure for more info.
Pin This!
(Visited 273 time, 1 visit today)