The one thing that I'll always bring back from Japan is none other than a Japanese sunscreen. In my recent trip to Nippon, I bought a few tubes including Skin Aqua Sarafit UV Essence SPF50+.
This is by far the cheapest sunscreen that I've gotten in Japan and I wondered how Skin Aqua would match up with the other great Japanese sunscreen I've used. Read on and I'll share the pros and cons.
Specifically, if you are looking for an all-around sunscreen that is affordable, lightweight and water-resistant, there's a high chance that you may like Skin Aqua Sarafit UV Essence.
---
More about the Brand: Skin Aqua
Skin Aqua is a brand by Japanese company, ROHTO Pharmaceutical – the same company that oversees brands such as Obagi (Japanese version), Hada Labo and Sunplay. 
When shopping in Japan, it's hard to miss Skin Aqua as they are often displayed prominently in mega drugstores and supermarkets. For example, when I was in Okinawa, Skin Aqua UV products were hung on a rack right at the entrance of Don Quijote, with big discounted price tag. How to resist buying? :)
In any case, you don't have to travel to Japan to get Skin Aqua products. They can be easily found in major drugstores in Singapore and Malaysia, although you have to expect to pay higher prices over here.
> READ: 25 things to buy in Japan that are affordable and loved by locals
When it comes to product range, Skin Aqua's daily sunscreen is available in various forms such as gel, essence, lotion and mist. The one I'm reviewing today is a UV essence. 
What is Skin Aqua Sarafit UV Essence? 
I tried to obtain the official difference between Skin Aqua's gel, essence and lotion by comparing the product descriptions. Unfortunately, all were described as being 'moisturizing, weightless and gentle (source)'. Since I didn't have the chance to try out all of them, I'm going to assume that an essence is thicker than a gel and lighter than a lotion. 
Here's the marketing description of Skin Aqua Sarafit UV Smooth Essence SPF50:
Double Silky Powder Technology
Allows skin to stay fresh & comfortable, with a silky matte finish
Sweat & water resistant
Contains double Hyaluronic Acid and Collagen for long lasting moisture
Different Types of Skin Aqua UV Essence
Within the essence family, the formula is further differentiated.
The pink tube that we are reviewing today is scented while the blue one is fragrance-free. There're also newer ones that are tinted, such as the purple and mint-yellow packaging.
Having used the pink/scented one for a few months, I'm ready to share with you the pros of Skin Aqua Sarafit UV Essence.
---
What's Great about Skin Aqua Sarafit UV Essence?
1. Lovely "Aqua Floral" Scent 
The first thing that welcomed me when using this pink tube of Sarafit UV essence was the fragrance. Since I've never been a huge fan of perfume, I was surprised to find myself enjoying the "aqua floral" scent.
It is light, fresh and the best-smelling sunscreen I've used in a while (mainly because I hardly use perfumed sunscreen). 
2. Richer than a Gel, but still Lightweight
As compared to a UV gel such as Suncut Protect Gel, Skin Aqua Sarafit UV Essence feels slightly richer, but not by much. I think the consistency is similar to that of an emulsion or a light day cream, except that it dries/gets absorbed a lot faster.
I love how the essence spreads easily and leaves behind no obvious traces of grease, stickiness or residue.
3. Sarafit Feels and Looks like Bare Skin
Since I'd gotten the Skin Aqua Sarafit UV Essence from Japan (which has no English descriptions), I didn't know this product contains powder until I started working on this review. The English version describes this sunscreen as one formulated using "a Double Silk Powder Technology which would leave a silky matt finish".
I'd initially thought that the descriptions were erroneous (or lost in translation) as I didn't spot any sign of powder or matt effect. The Japanese label also didn't mention these when I run them through Google translate.
Everything then became crystal clear after I did a test – I applied Aqua Skin Smooth Essence and a UV Gel side by side on my arm for comparison.
The side with Sarafit Smooth Essence feels smooth and looks like bare skin while the other side with the UV Gel gave a lightly-moisturized finish, i.e. a teeny weeny bit of tug and heaviness on the skin.
No wonder I didn't detect any powder in Skin Aqua Sarafit Essence since it is meant to offset the greasy feel of a lotion, and not to produce a powdery effect.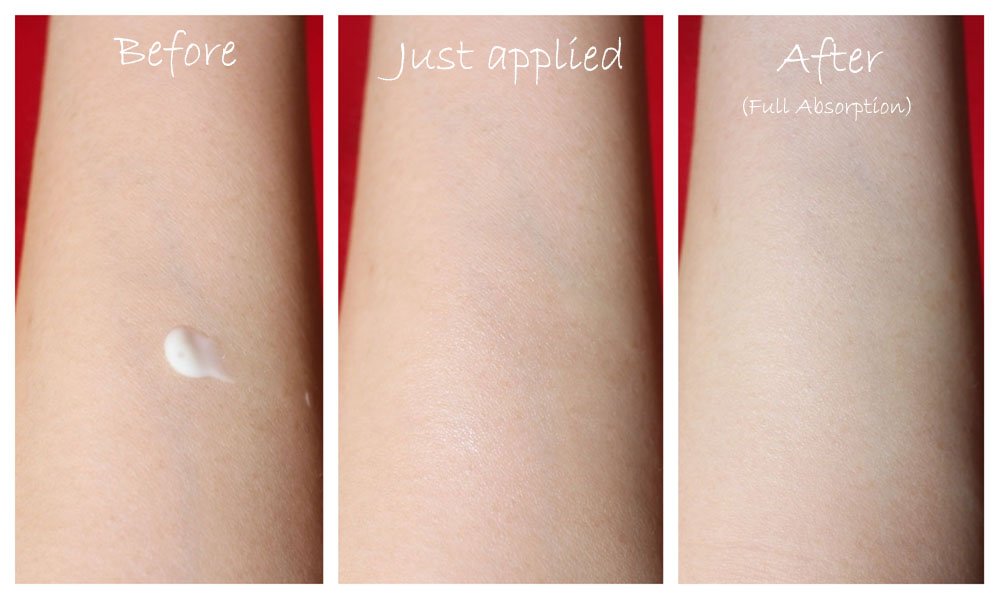 4. No White Cast 
It's not uncommon for some sunblock to leave an obvious white cast, such as Innisfree Perfect UV Protection Cream. 
I'm glad to share that Aqua Skin Sarafit UV Smooth essence is not one of them. The UV essence blends into the skin, leaving it looking as if nothing was applied.
5. Safe on my Pimple-prone Skin
Being prone to pimples, I'm glad to report that I didn't suffer any pimple breakouts even though this product contains powder.
Updates (June 2020): Do note that I normally remove all sunscreen using specialized makeup remover. When I skipped it during Covid-19 lockdown – simply because I no longer wear makeup on a daily basis – I had multiple small pimples on my face the next day.
6. High UV Protection 
Aqua Skin Sarafit UV Essence offers protection of SPF 50+ PA++++, which is a level good enough for most.
7. It's very cheap in Japan! 
We know Japanese sunscreen is cheap if you get it in Japan. But Skin Aqua Sarafit is one of the cheapest when compared to competitors such as Suncut and Biore. For instance, I got my 80g tube of UV essence at just 500 yen (before tax) from Don Quijote. This works out to just S$6 based on today's foreign exchange rate.
For info, this UV Essence retails at S$16.90 in Singapore and rm40 in Malaysia. Here's the latest online price on Amazon. 
8. Resistance against Sweat and Water
Skin Aqua Sarafit UV Smooth Essence is said to be sweat and water resistant. Although I've not had the need to use it under such conditions yet, I'm optimistic that it would work.
According to the label, this UV essence has undergone an 80 minutes water resistance test.
> RELATED: Is Suncut Super Waterproof UV Protect Gel really waterproof?
9. Free of Colouring and Mineral oil
Skin Aqua Sarafit UV Smooth Essence is free of colouring and mineral oil. Those with sensitive skin may want to opt for the blue tube as it is free of fragrance too. 
---
What's Not Great about Skin Aqua Sarafit?  
1. May not suit those with dry skin
A lot of Japanese sunscreen contain alcohol. In the past, I wasn't bothered because I live in a hot and humid country and my face would often be drenched in oily sebum.
However, ever since I reached my 40s, my skin hasn't been as efficient in producing sebum. Therefore, I think is the right time for me to reduce my exposure to products with high alcohol content.
When working on this review, I felt uneasy when I realized alcohol was the second-most ingredient in Skin Aqua Sarafit UV Essence. I also wouldn't have opted for a powder-based sunscreen given my current skin condition. 
Ingredients of Skin Aqua Sarafit UV Essence (Floral)
water, ethanol, ethylhexyl methoxycinnamate, BG, diphenylsiloxy phenyl trimethicone, diethylamino hydroxybenzoyl hexyl benzoate, sodium hyaluronate, sodium acetylated hyaluronate, hydrolyzed collagen, arginine, Bis-PEG-18 Methyl Ether Dimethyl Silane, Glycol Dimethacrylate Crosspolymer, bis-ethylhexyloxyphenol methoxyphenyl triazine, acrylates/C10-30 alkyl acrylate crosspolymer, PEG-12 dimethicone, Polyglyceryl-10 Pentaisostearate, TEA, Polystyrene, polyvinyl alcohol, EDTA-2Na, xanthane gum, methylparaben, fragrance

~ Source: translated using Google translate. Confirmed by Donki.com.
---
Recommendation
I think Skin Aqua Sarafit UV Smooth Essence is an all-round sunblock that would work great for those with normal to oily skin. Not only is it affordable and extremely comfortable on the skin, you can also use it under wet condition. 
To be honest, I'd wanted to give this UV Essence a 4.5 star. However, after learning more about the product (high alcohol & powder content), I am lowering it to a 4-star based on my dry-skin profile. I would likely use it only during hotter days and avoid consecutive days of usage.
If you don't have dry skin, please go ahead and enjoy this popular Japan sunscreen. Rating: 4/5
To find out the latest price on Amazon, click HERE. 
---
Did you enjoy this honest review? Click the button below to subscribe and you'll get notified on newly-published honest reviews. All subscribers will also enjoy free and exclusive gifts. See you there!
SUBSCRIBE
Pin This!
(Visited 504 time, 3 visit today)