I've been a fan of Suncut since I first blogged about this sunscreen brand in 2014. Previously, I've only tried the "gel" version. Today, let's talk about the "essence", or more specifically – Suncut UV Protect Essence.
How are the two formula different? Is the essence as good as the gel? Why use one over another? Let's find out. :)
RELATED: 
---
More about Suncut UV Protect Essence
I've earlier shared in this post that Suncut's range of UV products is so wide you would certainly be confused if you didn't do any prior research. Not only do they have different colours to suit varying needs, each colour range also comes in either gel, essence or spray.
Today, I've finally tried the "essence" formula for the first time, and this is the baby blue range that we are talking about (i.e. caters to normal needs – not waterproof). 
As compared to Suncut UV Protect Gel, the essence is more milky and feels like a day lotion. Though it doesn't absorb as instantly as the gel, it assures me that my face is moisturised. I also like to think that perhaps, less alcohol is included in the formula. 
Let me elaborate more as we break down the attributes into pros and cons. Of course, I will also compare it to the gel formula. 
Did you know? The gel formula comes in a bottle with a top lid, while the essence comes in a tube-form with a bottom lid.
---
What's Great about Suncut UV Protect Essence? 
1. High UV Protection 
Suncut UV Protect Essence comes with a high UV protection of SPF 50+ PA++++. This would help block off 98% of UVB radiation. Anything higher would only offer marginal benefit, e.g. SPF 100 will provide 1% more protection, at 99%. :)
Also, a PA++++ (with 4 pluses) offers the highest protection against UVA radiation. 
2. Feels Moisturising
Unlike the gel formula that absorbs quickly into the skin and provides a bare-skin after-feel, Suncut Essence leaves a light lotion-y feel. It's still fresh and refreshing, just that it doesn't disappear into the skin. 
This may not be a bad thing, especially if you are looking for a face sunscreen, as it helps add another layer of moisture to your skin. I did a quick check and found that an essence formula does indeed contain less alcohol as compared to the UV Gel. 
Look at the ingredient list that I managed to translate with the help of Google Translate. You can see that alcohol is the third-most ingredient in an essence formula. In a gel formula, it's the second-most.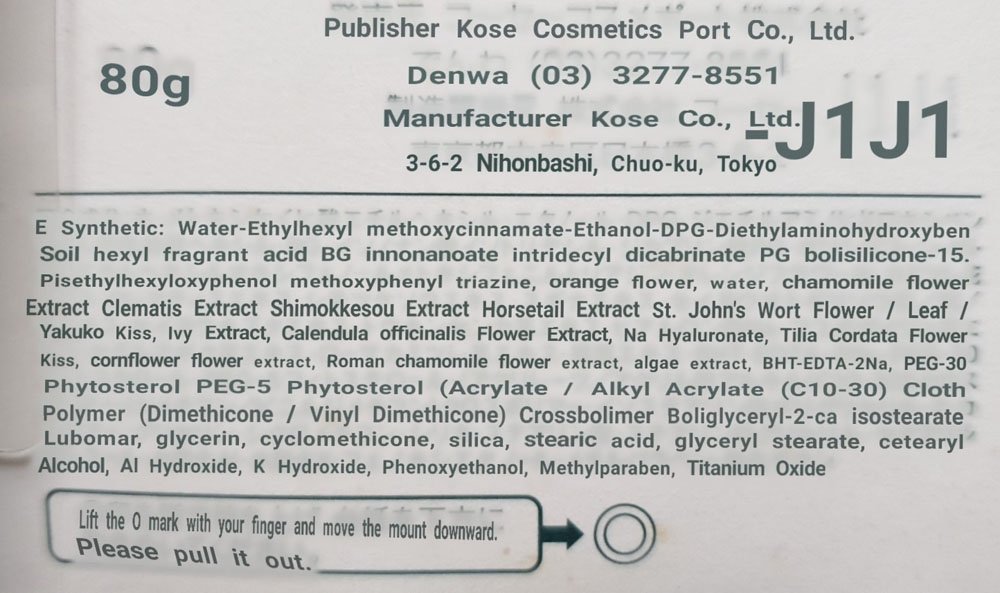 3. Generous Quantity 
As compared to other face UV products, Suncut Essence offers more quantity at 80g. The industry average is normally between 30ml to 50ml. 
4. Reasonably-Priced
I got it from Osaka, Japan at less than 650 yen (S$8). In Singapore, you would probably have to pay a bit more. 
Here's the latest online price. 
> ALSO READ: 2 Weeks Itinerary in and around Osaka
5. Stays Pimple-Free
Having used it for months and close to emptying the tube, I am certain that this is safe to use on my pimple-prone skin. This is similar to my experience with its gel formula. No pimples at all! :)
It also marketed itself as a sunscreen that can be easily removed using just soap, unlike other sunscreens that can only be removed with makeup removers if you don't want clogged pores.
---
What's Not Great? 
1. Not as Generous as the Gel Formula
Though this essence formula from Suncut is generous as compared to other brands, it is not as generous as its gel version that comes with 20ml more (i.e. 80ml vs 100ml).
Still, I think I would rather use the essence formula on my face considering how my aging skin is getting drier by the day. Remember, it contains less alcohol!
2. Not Waterproof
This is actually not a con, but more of a variation in feature. I'm listing it here so that you would know the difference, i.e. to pick this only if you are using it in as an everyday sunscreen.
If you need a waterproof formula, go for the yellow tube instead.
---
Recommendation
I enjoy using Suncut UV Protect Essence as an everyday sunscreen for the face. I like it that it contains less alcohol than a gel, offers lasting moisture and comes with high UV protection. 
This is definitely a product I would repurchase. I may also buy the yellow version for occasions when I need to go underwater. :) Rating: 4.5/5
To find out the latest price on Amazon, click HERE
This post may contain affiliate links, meaning I earn a commission if you make a purchase, at no cost to you. Read my full disclosure for more info.
---
Love honest beauty reviews? If you like to get notified of my new posts, you can click the button below to subscribe. See you there!
SUBSCRIBE
(Visited 251 time, 1 visit today)