Hey guys, need ideas on where to stay in Kuala Lumpur, the capital of Malaysia? Let me share with you my recent experience staying at Sunway Velocity Hotel Kuala Lumpur. It's my absolute favorite as compared to three other hotels I've stayed during the week-long getaway.
Upon entering the superior room of Sunway Velocity Hotel Kuala Lumpur, I was immediately blown away by its cheerful color, brightness and modern decor. There are a lot more things that made me fall in love with this hotel. So read on and check out the pros and cons.
---
A little about Sunway Velocity and why we chose this Hotel
Sunway Velocity Hotel Kuala Lumpur is a relatively new hotel, having only opened its door in late 2017. I love its use of bright and refreshing colors that instantly lifted my mood and spirit, right from the lobby.
By common standard, the 4-star Sunway Velocity Hotel is not a luxury hotel. In fact, it was the smallest room we've stayed in during this trip. But it ended up being my favorite!
RELATED: Chill & Have Fun at Capri by Fraser Kuala Lumpur Hotel
Apparently, size is not all that matters. LOL! Actually the superior room was pretty spacious at 25 m². Just that the other hotels we've stayed in were even bigger.
Why did we choose Sunway Velocity Hotel, KL? 
Having visited Kuala Lumpur (KL) many times, our recent trip wasn't so much to tour KL like a typical tourist. All we needed was a hotel that's near to amenities and connected to public transport. We wanted a place to rest and relax.
Although we drove there and normally use a car to navigate around KL, we wanted to try something different this time around. We wanted to learn new things, that is, how to navigate around KL using public transport. It would give us a little bit more fun because learning new things is always fun.
All in all, here's our hotel selection criteria: 
Near to Amenities
Connected by public transport
Free Parking
Let's see how Sunway Velocity Hotel Kuala Lumpur was able to meet my criteria and offered so much more.
---
What's Good about Sunway Velocity Hotel?
1. New and Modern Interior
Our eyes lit up when we stepped into the room. Wow! The superior room that we'd booked was so bright and modern.
The feeling was exceptionally pronounced since we just checked out of two globally-known hotel brands. Both of them shared common traits – they were old, dim and dated.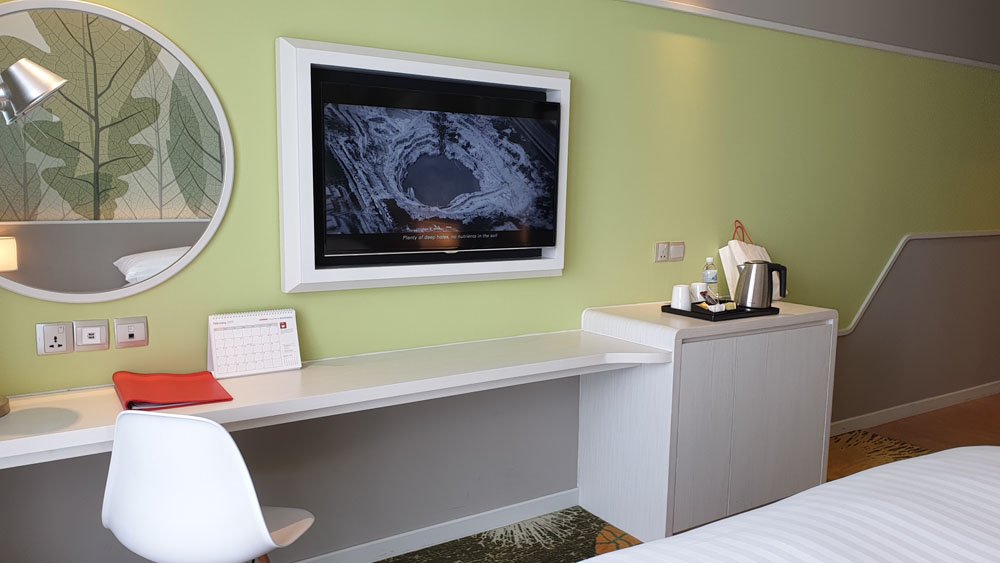 Sunway Velocity Hotel is refreshingly different. We love the apple green and gray color theme, the floor-to-ceiling window that allows light to beam through generously. And let's not forget about the great interior design. It is, in my opinion, almost flawless.
The shower cubicle even comes with a bench for you to rest your tired legs when bathing. And we were absolutely delighted with the bidet spray that's attached to the toilet seat – just turn a knob and you'll walk out feeling clean and fresh. :)
2. Room Amenities of Sunway Velocity Hotel
Other than the usual toiletries and coffee and tea, you'll also get hairdryer, iron and ironing board, a safe box and a good-sized TV that comes with a great resolution.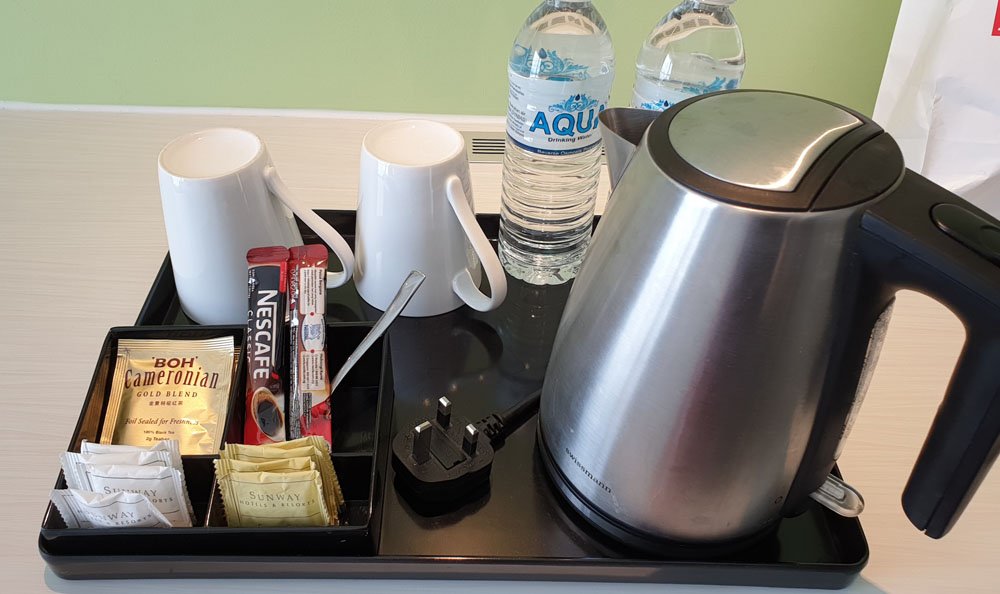 The king-sized bed was so huge, it reminded me of Fushin Hotel in Taichung. I could place 3 pillows side by side and roll around in bed.
Other modern fixtures included USB port, all six of them and modern fixtures. I love the plastic desk chair as compared to fabrics ones because it is easier to clean. I often refrain from sitting directly on fabric chairs and always lay a towel or T-shirt over the seat as I assume they wouldn't be properly cleaned.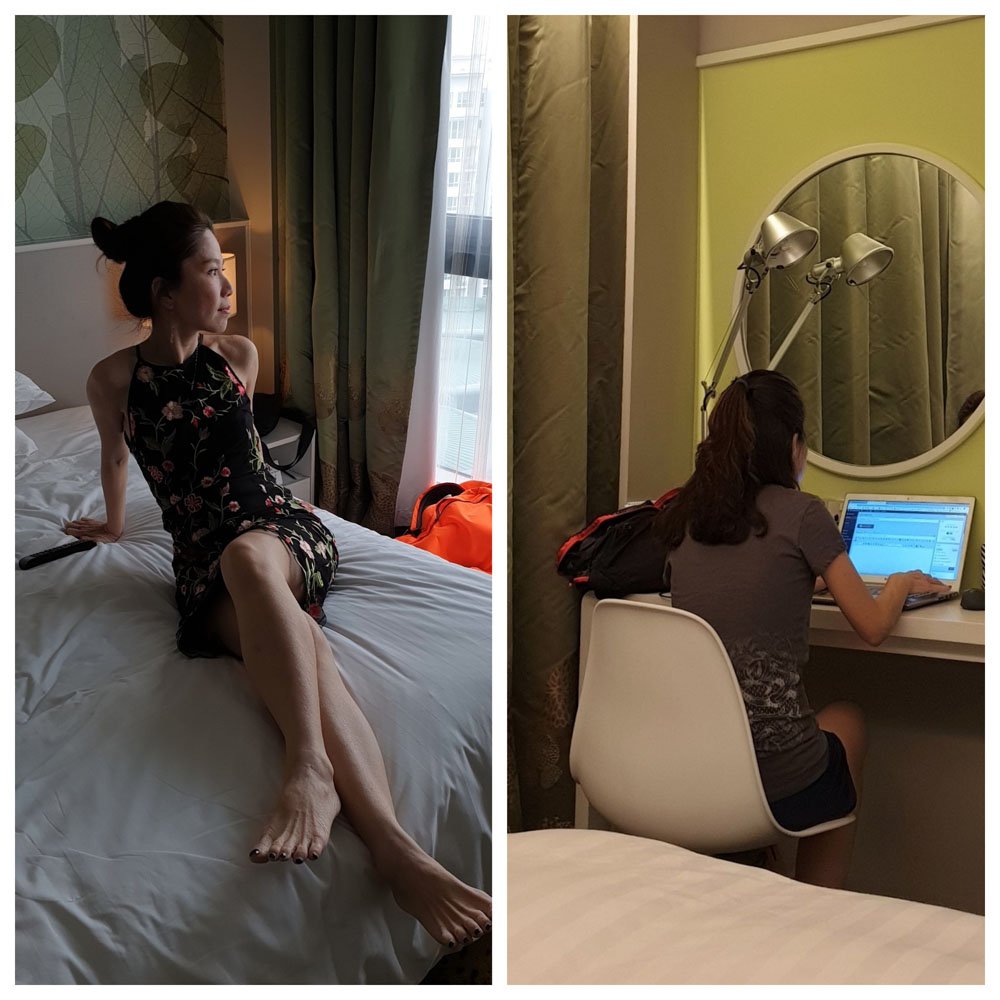 And as promised in an earlier post, I tried my best to act like an "instagram model-wannabe" by gazing dreamily out of the window. Quite a failure because I didn't even draw the day curtain. LOL!
The photo on the right is a more realistic photo of how real life is – blogging in my newly-bought Body Glove T-shirt and Nike shorts. :)
> MUST-READ: 20+ Things to Buy in Malaysia (2019)
3. Integrated with an Excellent Shopping Mall
How cool is it to stay in a hotel that's linked to a really cool mall? This must be one of the greatest selling points of staying in Sunway Velocity Hotel Kuala Lumpur. In fact, that's the reason why I'd chosen to stay there in the first place.
However, at the time of booking, I didn't know Sunway Velocity Mall would exceed my expectation by this much.
The food options were just overwhelming. You'll see food concentrated on the 5th floor and at the basement level. If that's not enough, you can also walk out of the mall that connects you to the residential condo blocks where you'll see a continuation of F&B options there.
It's not just the food choices that are great. Sunway Velocity Mall has a good blend of shopping options, from budget to mid-range brands. It's a big mall and I guarantee that you won't get bored there. If you do, Aeon Taman Maluri Shopping Centre is just a few minutes' walk away (see location).
TIP: Sunway Velocity Hotel is directly linked to the mall via two connection points. One is via Level 5 and the other is to exit Parkson Department Store (located on ground floor) and enter through the hotel's lobby.
4. Walkable to Train Station
Sunway Velocity Mall is linked to two MRT stations – Cochrane Station and Maluri Station. It takes about 8 minutes to walk to either one. From there, you can easily reach Pavilion, Bukit Bintang and Central Market. If you do a transfer or two, you can reach more places.
TIP: You can refer to this KL MRT Map to plan your travel in Kuala Lumpur
5. Free Shuttle Service to Popular Malls in KL
As if Sunway Velocity Mall isn't convenient enough, the hotel offers free shuttle service to a few popular malls such as Pavilion and KLCC. Here's the shuttle timing: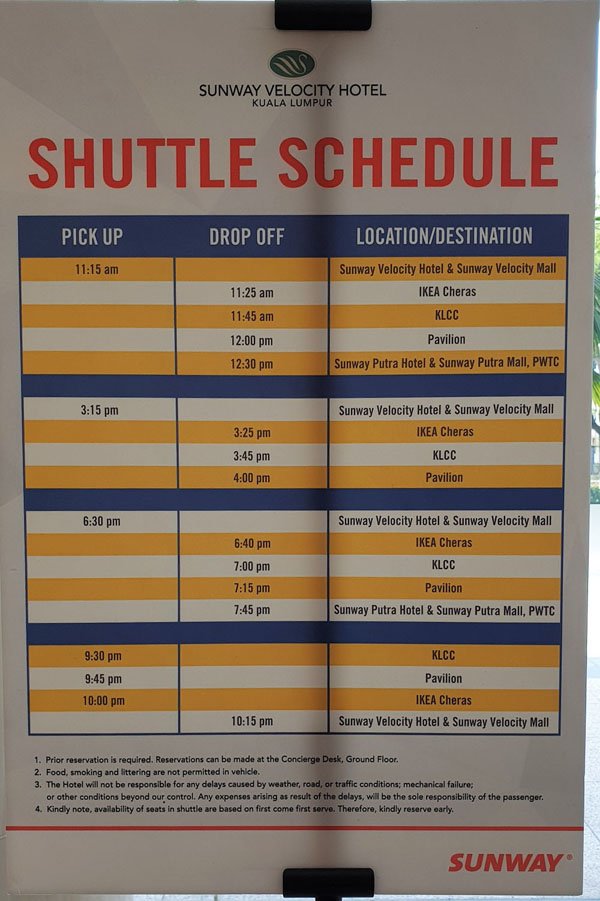 TIP: The most iconic landmark in Kuala Lumpur is Petronas Twin Towers. You can skip the queue and get free transport there when you book the admission ticket online. Another popular icon is the KL Tower. Ticket price is a lot cheaper than official rates over here.
6. Friendly and Polite Staff
The young lady reception staff who attended to me must be the friendliest one I've met during this week-long stay (I'd stayed in four hotels). She smiled a lot, was extremely polite and took the effort to get me a room before the official check-in time. For info, I'd arrived 2 hours earlier.
It must be due to fate that I was attended by the same lady when I checked out. Once again, she was so friendly and gave me accurate instruction on the shortest route to redeem my free parking.
This time around, I took note of her name. Thank you, Miss Nornajiha from Sunway Velocity Hotel. The hotel is lucky to have you as a staff. :)
INFO: For free parking, approach counter staff to get Carpark Voucher. Take a lift to B2 Autopay Machine, scan the Carpark voucher and you can insert the scanned voucher to get through the parking barrier. I shaved rm36 off the parking fees incurred for 2 nights.
7. It's Reasonably-Priced
I paid S$70 per night for a Superior Room (no breakfast) at Sunway Velocity Hotel during Chinese New Year period. I wouldn't say that it's cheap because there are many hotels available at similar price point, especially if they are located outside of KL's tourist belt.
However, I do find the price good bang for the buck, given the comfort and convenience of staying within a great shopping mall.
8. Infinity Swimming Pool
The view from the 16th floor infinity pool was great. Here's my view of the pool during a rainy day. Yeah, we wanted to swim, but the weather said "No!".
9. Free Parking
Don't assume all hotels or Airbnbs within KL come with free parking, especially if they are located in touristy areas such as KLCC and Bukit Bintang.
Sunway Velocity Hotel KL is located 3.8km from the city centre. Perhaps, that's why they provide complimentary parking.
TIP: Please examine hotel booking portals or Airbnb listings carefully. Even if you include "Car Park" as your search criteria, those that come out in the result list may still charge extra for parking.
---
What's Bad about Sunway Velocity Hotel?
1. Slow WiFi during Peak Hours
WiFi can be slow during peak hours such as nighttime. In fact, I couldn't stand the slowness and had to tap on my mobile plan. Time is precious to me. :)  
INFO: If you need internet connection in Malaysia and are coming from KL Airport, this affordable 4G SIM Card offers good value. For just S$7+, you'll get 15GB of data for 7 days and can make calls in Malaysia.
When writing this review, I scanned through the hotel reviews and didn't see "slow wifi" as a common complaint. Not sure if it's because I was there during public holiday or the fact that I was staying on high floor (12th storey)?
2. First-time Parking can be Confusing
When you first drive into Sunway Velocity Mall's basement parking, it may not be easy to find your way to lots that are located nearest to the hotel.
What we did was to park anywhere, leave our luggage in the car, take a lift up to the mall and recce around. After we've found the hotel lobby, we checked in, make ourselves a cup of hot tea before making our way back to our car. We then drove the car to the "correct" parking area (next to hotel lobby) and retrieved our luggage.
3. Small Pool & Gym
Although the swimming pool has a lovely view, it was small. The gym which is located a level above the pool is also too small for our liking. Do note, however, that we are gym-enthusiasts. You may not be as particular if you just need a place for simple cardio exercise. The view there is pretty awesome.
---
Recommendations: Who would love Sunway Velocity Hotel?
If you have been to KL many times and just want a place to rest, relax and shop in, Sunway Velocity Hotel KL is an excellent choice. After checking in, you don't have to go anywhere if you don't want to. Of course, if you like to go somewhere, the hotel offers shuttle service. It is also within walking distance to transport network (MRT).
All in all, I highly recommend Sunway Velocity Hotel Kuala Lumpur, especially if you like something new, modern and cheerful. Rating 4.5/5.
Hotel Info:
Location: Kuala Lumpur, Malaysia (see map)
Price We Paid: S$70+ per night (view current price)
Month of Travel: February (Chinese New Year Period)
Transport: Self-drive and MRT
Free Packing Checklist: Download
Does this sound like a hotel that you would love to stay in? Do you have any good KL hotel to recommend? Please stay tuned as I'll be back with more KL hotel reviews and travel tips. Connect with me if you like to get notified of my latest and 100% honest reviews – just click the button below! See you.
SUBSCRIBE
Pin This!
(Visited 670 time, 1 visit today)