Hey all, if you are wondering where else to explore in Singapore, come do a Stadium Riverside Walk at Kallang. You can walk along Tanjong Rhu Suspension Bridge and take in the sight of Tanjong Rhu Lookout Tower. 
Having been in Singapore for decades, I was surprised that I didn't know about the bridge and tower near the stadium. Thanks to Covid, it's really forcing me to get to know Singapore inside out.
Now, let me share with you my late-night romantic stroll at Kallang. You'll also get to read about my second revisit during the day, which was ouchie-hot! 
---
Let's begin our Stadium Riverside Walk
Starting Point: Near Shopping Malls in Kallang
Since we drove, we parked at Kallang Wave Mall. It's one of the two malls at the Stadium vicinity, and is the newer and more happening one, as compared to Leisure Park. But do manage your expectation as the shops are very much heartland-based.
Food-wise is fine, but nothing much to shop in either malls. 
In between these two malls is the Stadium MRT (map) on circle line. So that's where you would alight if you take a train here. Do note that actual distance between places is longer than expected. This is a big area. 
Map the Journey: Kallang Wave Mall > Stadium MRT > Stadium Riverside Walk 
Captivated by River-front Dining @ Singapore Indoor Stadium
Soon, I passed by Singapore Indoor Stadium and was drawn to the romantic ambiance of some river-front restaurants. I told myself I would revisit soon, to have dinner or a beer there one day.
Tanjong Rhu Suspension Bridge
Tanjong Rhu Suspension Bridge was right in front of me. Even if it may pale in comparison to other suspension bridges I've seen, such as the longest suspension bridge in the world, it was still a pretty sight.
> RELATED: A hike to Alexandra Arch in Singapore
The skyscrapers in the background and the night lights with its lovely reflections off the water made a scenic view. It's definitely worth whipping your camera out for a few quick photos.
Soon, we were on the bridge, and saw many cyclists. This is the path that links Gardens by the Bay to the stadium.
Tanjong Rhu Lookout Tower
I'd never known about the existence of Tanjong Rhu Lookout Tower. So glad I've had a chance to catch a glimpse of it.
Alas, the tower was closed for maintenance. So I couldn't climb it to show you the view from the top. As a determined traveler, I revisited the tower after its estimated maintenance completion date. Check out my daytime revisit below! 
Did you know? Tanjong Rhu Lookout Tower was build in the 1990s. It became popular in early 2000s with its Cosy Bar restaurant and bar, but the eatery closed in 2008.  
---
2nd visit during the day: Singapore Stadium Vicinity
So, I made another visit, this time by train. Let's check out the daytime view of Stadium Riverside Walk. 
Places of Interests at the Stadium
Near Kallang Wave Mall, you'll see a Sports Hub Library and a Singapore Sports Museum. I checked out the latter to escape the scorching sun. 
Singapore Sports Musuem
The Singapore Sports Museum isn't big and can be completed quite soon, unless you are a fan of sports. It contains interesting facts about Singapore's sports history. 
No harm checking it out if you are around the vicinity as admission is free for locals. Here are some photos. 
Stadium Riverside Walk
Done with the indoor tours, but the sun hadn't relented. It was still so hot! Therefore, I recommend you come at night than day. Here are the views taken in the day.
> RELATED: Sembawang Hot Spring Park: The only onsen in Singapore
Now, if you are wondering what the brown rocket-like building is, it's the Water Sports Centre. You can rent kayak, canoe, dragon boat etc.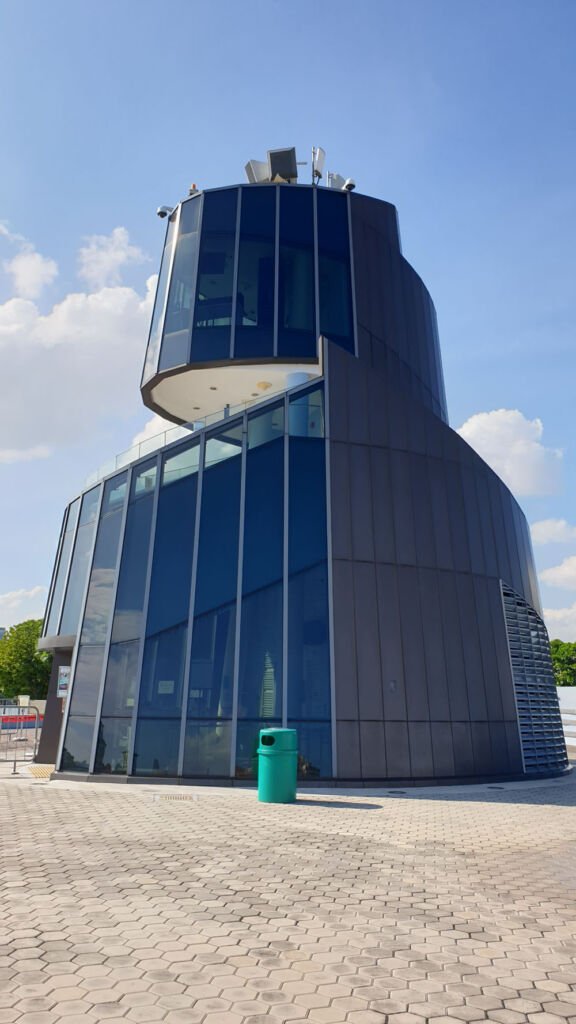 Let's start checking out the daytime views of the riverfront. Can you spot the Tanjong Rhu Lookout Tower in the photo below? 
It's in the middle of the photo, sadly, almost invisible without the night lights. In fact, without the lights, everything you see in the photos below seemed more ordinary.
That's another reason why you should probably come at night, in addition to the cooler climate.
The night lights make a big difference, agree? Now, here's the view taken while I was standing on the bridge.
From the photos above, can you tell how hot it was? It was burning, chao-tar-kind-of-hot. :) Where's my sunscreen? 
Here at Tanjong Rhu Lookout Tower Again
And finally I reached my destination of the day, which was to climb the Tanjong Rhu Lookout Tower. Alas, it was still closed after the estimated completion date of 1 Oct 2021. 
I gave up! LOL! And I made my way back in disappointment. A wasted trip! Sob.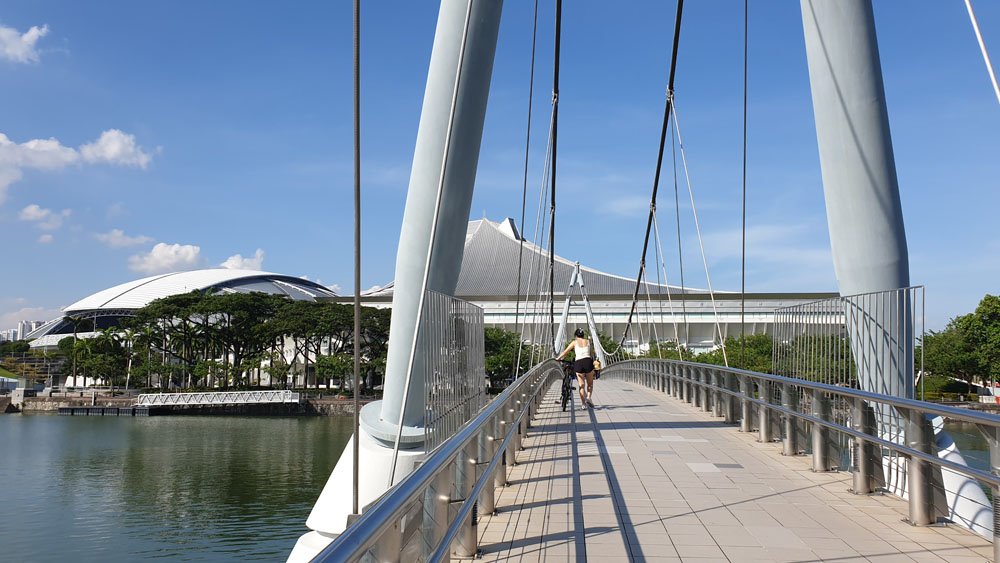 Map the Journey: Singapore Indoor Stadium > Tanjong Rhu Suspension Bridge > Tanjong Rhu Lookout Tower
---
You can also walk to Gardens by the Bay (East)
Now, if you feel adventurous enough and like a longer hike, continue southwards from the lookout tower and you can reach Bay East Garden (map) within 15 minutes. That's not where the Super trees and domes are though. To get to the popular tourist sights, it's another 30 minutes walk away. 
All in all, an hour of walk or hike can get you from Stadium Riverwalk to the popular spots at Gardens by the Bay. Definitely a good way to kill boredom and stay healthy. :)
And there's all I have for you. Hope you are coping well. I've been too busy at work lately and time flew by in a blink of an eye. I'll find time to do more exploration in Singapore and to chat here with all of you. Stay safe, everyone! 
This post may contain affiliate links, meaning I earn a commission if you make a purchase, at no cost to you. Read my full disclosure for more info.
---
Ok, that's all to my "domestic" travelling. If you want to read more of such posts, click the button below to subscribe. See ya!
SUBSCRIBE
(Visited 63 time, 1 visit today)