I totally switched off from social media and blogging over the weekends because I'd received a rude shock – Taipei and Taichung hotels are up to five times more expensive during New Year's Eve and New Year 2019. At time of writing (a full seven weeks prior to New Year 2019), many good accommodations are already fully booked.
Even Airbnb units that often priced themselves low at $20 to $40 also inflated the price such that a small windowless and dingy unit at a back alley in Taichung cost $130 to $200 during New Year Period.
I was frantically trying to finalize my rough itinerary so that I can confirm where to stay and for how many days. At one moment, I was looking at Taipei, found it too expensive and shifted to Taichung and still, it was so super-inflated.
Don't force me to spend New Year in a secluded little village in Taiwan, please. =P
---
Over-inflated Hotel Prices in Major Taiwan Cities over New Year Period
I thought I still had time since it's still more than 7 weeks away from my actual Taiwan travel. What an awful surprise when I randomly swiped through the hotel portal app. All of a sudden, I have to put everything on hold and dedicate full attention to travel planning.
I thought such an opportunistic phenomenon would happen everywhere and so I googled Singapore's hotels during New Year's Eve and New Year's Day. Nope, I didn't see a cheap 2-star hotel being priced like a 5-star hotel. Even if there was a price increase, it wasn't as exaggerated as compared to Taipei and Taichung. Neither is it happening in Kuala Lumpur, the capital of Malaysia or Johor. Is it happening in your country, like for hotel prices to go up by 500% during festive period?
Maybe Taiwan is a place popular for domestic traveling and the whole of Taiwan is heading to the big cities to celebrate the New Year? I seriously mean it and it's not meant to be a sarcasm. I do sometimes envy Taiwanese because their country is so beautiful and they need not get out of the country to "travel". Can I move and stay there for a year to explore every corner of Taiwan? :)
Taichung & Taipei Hotel Prices cost 5 times more during New Year
Just look at this list of hotel prices for a one-night stay in Taichung during New Year's eve. Most of them are above $200 and this is before the 15% taxes.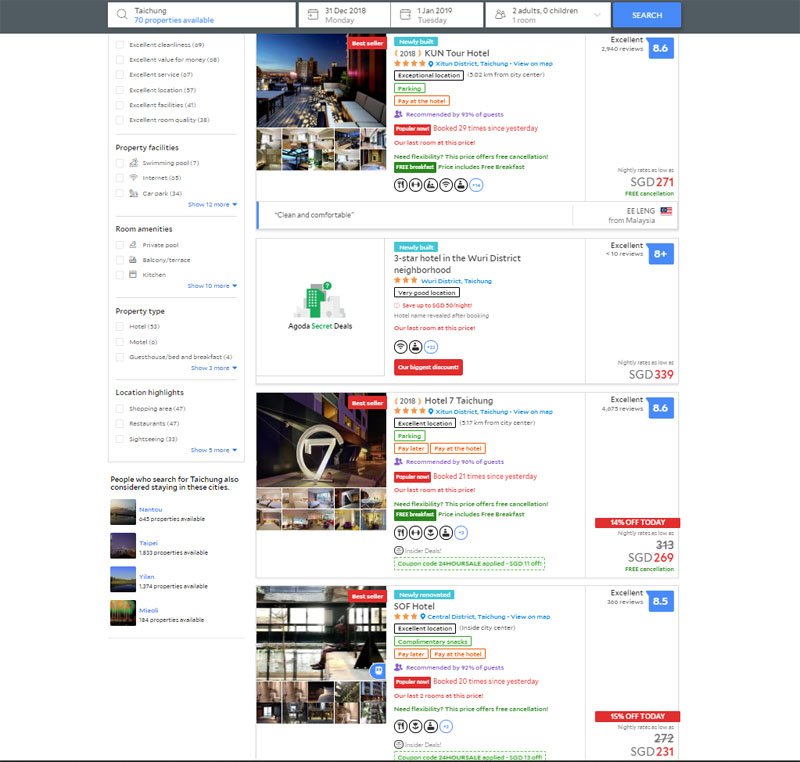 In any case, I've settled the crucial day, that is, New Year's eve. I'll be staying at a 5-star hotel which is quite an unusual thing for me to do. My regular readers know I hardly book a 5-star hotel, often leaning towards Airbnb unit to budget or mid-range hotels. I don't normally need room service and I'm often out the whole day. For instance, I reckon that for this Taichung stay, I won't have time to use the hotel's well-equipped gym, pool and other exquisite services.
And who needs 'very good breakfast buffet' when Taiwan is known for its popular street food.
So why did I book a 5-star hotel in Taiwan?
It's based on a value principle. If the very rundown hotels and Airbnb units want to charge five times the rates, I would rather pay 50% to 100% more for a 5-star hotel. :) Although its' more expensive in absolute terms, I think it's better value for money in a situation like this. At least, I get larger space, free parking, good breakfast and hopefully a better sleep and a grand toilet to die for (please read my recent example of what a bad hotel is like, okay?).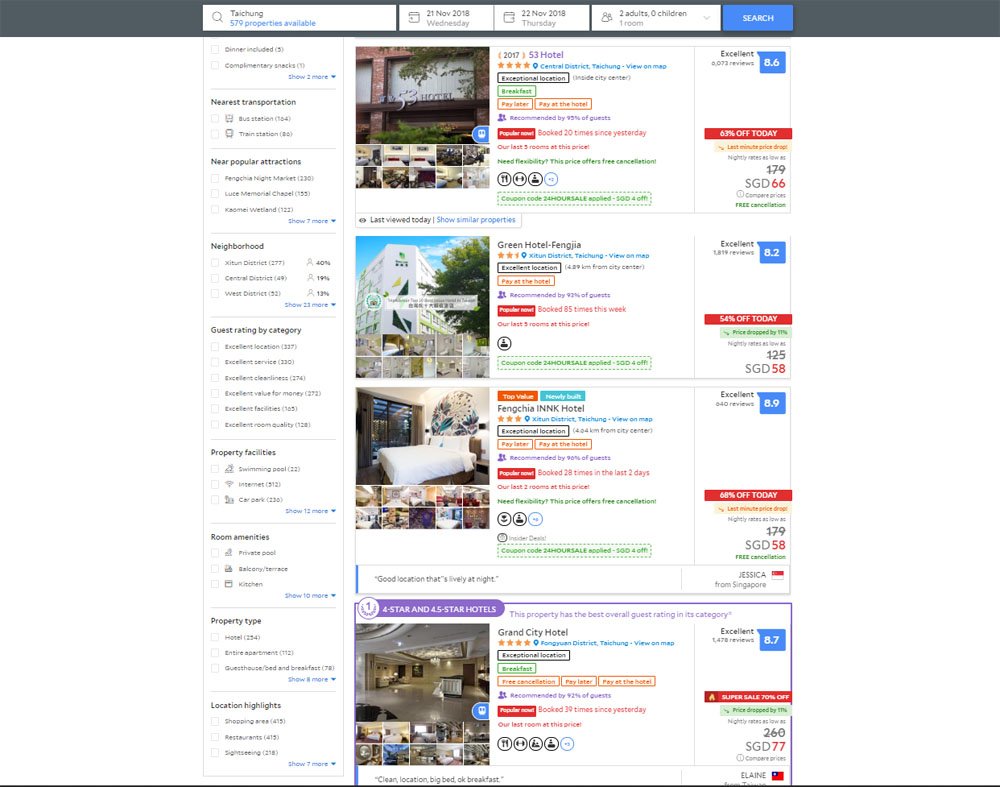 Of course, I booked my hotel using Agoda Pay Now option than Pay Later. It is free to cancel – however, I've got the feeling that if I do end up canceling the reservation, I'll be getting back 7% less no matter whether the currency move against or in my favor.
> RELATED: Agoda Pay Later: How I ended up Paying More at Agoda
I'm not done yet – will have to book the rest of the nights in Taiwan but reckon it won't be that tough after the New Year cross-over period (when Taiwanese return to work? Heh). 
TIPS: When making booking, I noticed how active the algorithm of hotel portals was at work, with price swinging by the hour. One moment, it could be $20 more. A few hours later, it could be less. Another price difference is between desktop and mobile app. I recall that prices used to be cheaper via Agoda mobile app. This time round, the price of my Taichung hotel was priced at 20% premium via the mobile app.

When can things be back to its innocent pricing model? Data analytics is really helping company a lot in maximizing profits. Poor consumers! I'm assuming that these "cookies" can register our actions and interests. If they noticed we are clicking on certain destination or hotel, the price may go up (for us). If they notice we are losing interest, they may send us a reminder email or even discount coupons to urge us to take action. That's how I got a $20 off my 5-star hotel yesterday?

I'm also guessing that these hotel prices would plunge drastically towards the New Year's day, that is if they are still unsold. And then I'll regret my decision in acting fast. Sob Sob! Let's monitor!
---
Updates over Weekend – Attended AsterSpring Workshop 
Over the weekend, I attended an AsterSpring Workshop where a new product was introduced – Dermalogica Rapid Reveal Peel. This workshop that was held on 10 November was opened to public (at a $50 fee that can be used to redeem against Dermalogica products). 
Just look at the gift bag for participants – isn't it attractive? This on its own plus the complimentary buffet lunch at Straits Cafe, is worth the $50 fee even if you don't redeem any products.
List of Products in AsterSpring Gift Bag
Here's a glimpse of what're in the gift bag. I think it's a pretty generous door gift.
1. Dermalogica Rapid Reveal Peel (2 tubes)
2. Sample Trial Size of Dermalogica products: 
Essential cleansing solution (30ml)
Intensive moisture balance (10ml)
Nightly lip treatment (2 sachets)
Daily superfoliant (4g)
Multi-active toner (30ml)
Stress positive eye lift (6ml)
3. Sample Trial Size of Davines Hair Products
Absolute Beautifying Shampoo (90ml)
Nunou Hair Mask (75ml)
Momo Conditioner (75ml)
4. Youngblood Cosmetics (Full-sized)
Crushed Mineral Blush
Brow Artiste 
Lipstick
Intense Color Eye Pencil
New Product Launch – Dermalogica Rapid Reveal Peel
Back to the workshop, a product demo was done on stage – by Beth Bialko, Director of Dermalogica – to show participants how to use Dermologica Rapid Reveal Peel. She had flown in from Los Angeles to give an hour-plus facial demo to two lucky participants.
This at-home peel is of professional grade and recommended for once-weekly usage.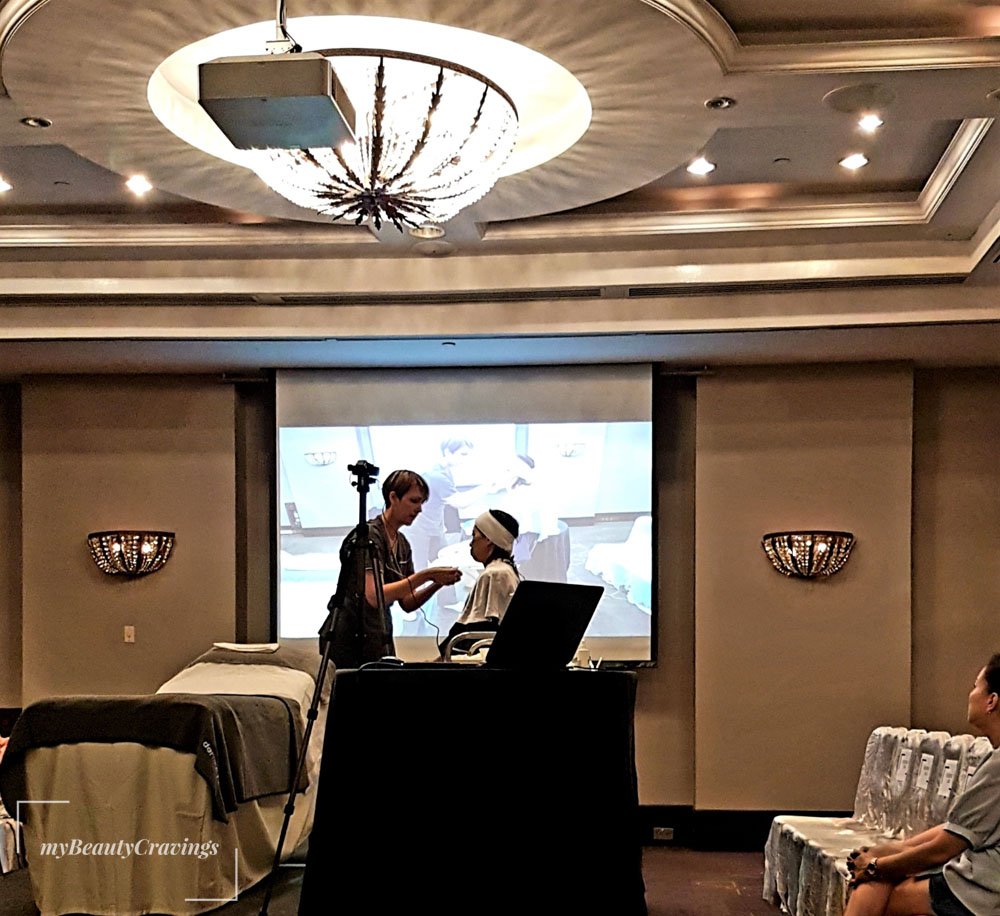 How to use Dermalogica Rapid Reveal Peel? 
Massage Dermalogica Rapid Reveal Peel over face in the evening and allow it to activate for 3 to 7 minutes. Expect a tingling or warming sensation. Then rinse it off with cold water. 
This sounds like how I'd used my professional-grade glycolic acid and lactic acid at-home peels. I do not know the acid strength or percentage concentration of Dermalogica Rapid Reveal Peel. One thing I do know, it's made of lactic acid (yes, milk milk. :P). 
The application comes in 10 mini tubes that are sold in a travel-sized package. One tube (3ml) is for a single use (face, neck, decolletage). Those who only use it on the face may find excess acid remaining. You can seal the cap and keep the solution for up to a week and use it as a second peel, according to Beth Bialko.
Benefits of Dermalogica Rapid Reveal Peel 
Just like any other peel or exfoliants, Rapid Reveal Peel is used to get rid of dull skin surface so as to reveal brighter skin. It is also said to reduce appearance of fine lines and smooth skin texture. You can find more product information of Dermalogica Rapid Reveal Peel here. I will give it a try and if I find it useful, I'll share it as a dedicated review.
That's all for the quick update. Thank you to Ms Annie from AsterSpring for the special invite. Unlike other emails I've received, I was pleased to see in AsterSpring's invitation email no mention of a requirement to blog about this product or the company. I think this shows respect to bloggers that our time is worth more than freebies. I am putting this up on my own accord as I think this is a relevant product that is worth sharing with my readers. Also, this is not a review post and I will share my opinion only after trying the products. :)
---
The Direction of this Blog till Year End 
This is year end and most people in my country are traveling. Is it the same in your country?
Since we are really in the mood for traveling, I'll like to finish up as many overdue travel posts as possible (before my next trip). So you may see a slight shift leaning towards travel posts till year end. Beauty posts may shine again in January 2019. :) But who knows, if I see really good or really bad beauty products, I may be pushed by my strong desire to share it with you anytime. And don't miss the yearly Holy Grail Beauty post which will be out next month, before X'mas.
Stay tuned, folks. And have a happy session planning for your year-end travel. The research phase is also the time when you get to learn more about the country. So do enjoy the process. By the way, where are you heading to? Before you go, don't forget to subscribe for more honest reviews. See you soon.
Cheers, 
Nicole
P.S: I've recovered from my worst Airbnb staycation and refused to revisit the Airbnb website to see if or how the host has shamed me for leaving a negative review. Spent enough time on such toxic stuff…moving on to positive, happier and more productive things. Thank you for leaving sweet comments on my social media – I'm feeling 100% positive again :) 
This post may contain affiliate links, meaning I earn a commission if you make a purchase, at no cost to you. Read my full disclosure for more info.
(Visited 546 time, 1 visit today)