How to save money when travelling in Osaka and around? Hey guys, how's your day been? By the time you read this, I should be mid-way through my Osaka trip and having a blast shopping, dining and exploring off-the-beaten places in the Kansai region. Thought I'll share with you on the things I did prior to the trip to cut down on my Osaka travelling expenses.
These include ways to get cheaper admission tickets and how to reduce cost on public transportation and WiFi plan. I'll also share with you on how travelling with a rental car for half of the trip helped us trimmed our expenses. 
---
How to Save Money When Traveling in Osaka (Kansai Region)?
1. Save Transport Costs between Kansai Airport and Osaka City
I've purchased the YOKOSO! Osaka Pass that gives me three things, namely:
1) an express train ride from Kansai Airport to Osaka City (Namba Station)
2) a one-day unlimited pass to commute within Osaka City (by subway, buses or trams) and,
3) admission discounts off 30+ popular attractions.
One good thing about this YOKOSO! Osaka Pass is how you can use the one-day unlimited transport pass (#2) either on the day of arrival or on the next day. We intend to use it on the second day when we start the day fresh and early (so that we can go to more places). :)
Or Should You Get a No-Frill Airport Express Ticket?
Actually, I was contemplating between getting the YOKOSO! Osaka Pass or the Nankai Ticket. Yes, Osaka has soooo many different transport passes it can get confusing.
If you are only keen in getting between the airport and Namba Station (city), then you can consider the Nankai Line Airport Express Ticket. This no-frill pass doesn't include unlimited transport pass or discount coupons. You may find yourself choosing this option if you are also getting the Osaka Amazing Pass.
Why? Because the Amazing Pass already comes with unlimited travelling within Osaka. I'll explain more under point #4. 
How about a Limousine Bus for a Seamless Connection?
For the return trip from Osaka Station to Kansai Airport, I've purchased the KIX Airport Limousine Bus Transfer. I assume by then, I would have bought so much stuff that it would be easier to get to the airport using an almost door-to-door service (a bus) than a subway where transfer is required.
I've also read from reviews that family with kids or elderly appreciated the convenience of limousine buses although they noted the longer travelling time.
> MUST-READ: Review of KIX Airport Limousine Bus Transfer
2. Rented a Car to Travel Around the Kansai Region
Once again, we decided to self-drive  in the Kansai region so as to explore quieter towns such as Okayama, Yonago, Matsue and Tottori. We managed to book an 8-day car rental for just 36,450 yen. That works out to just S$60 per day.
Expensive Parking Fees in Osaka & Kansai Region
If you are thinking of self-driving in and around Osaka too, I thought I should let you know about how expensive parking fees in Osaka and Kansai region can be. You can assume that most, if not all hotels charge parking fees. The rate can range from ¥1000 to ¥2500 per night.
Unlike our experience in Okinawa, Osaka region is a place where parking fees are required almost everywhere – from busy shopping belts to remote attractions. Hence, we found ourselves heavily researching on ways to cut down parking fees. You'll read more about our efforts later in my Osaka travelogues.
But overall, I think we gained more than if we had covered the remote region (around Osaka) using public transport. A lot more, actually! :)
Why do we proceed to rent a Car in Osaka?
We managed the cost by renting the car for only 8 out of our 2 Weeks Osaka trip. On these 8 days, we would be covering off-the-beaten places that would be hard to reach via public transport.
Having two persons (or more) to share the expenses also justified the cost of renting a car, especially when public transportation in and around Osaka are not known to be cheap either.
3. Trim Public Transport Expenses between Kyoto, Osaka and Kobe
We bought a 2-day Hankyu Pass that would allow us to travel between Kobe, Osaka and Kyoto using the Hankyu line. It's only S$8+ for a one-day unlimited usage or S$14+ for a 2-day use.
We intend to visit lots of fun destinations such as the Kobe Sannomiya areas, Osaka Cup Noodle Museum, Minoo Waterfall, Arashiyama and Nishiki Market.
Update: We regretted not buying the Hanshin Transport Pass when we traveled from Osaka to Kobe. This pass will help us save money and make our life easier. It also covers attractions such The Great Hanshin-Awaji Earthquake Memorial.
Alternative Option: The Kansai Thru Pass 
Most visitors to Osaka would be spending most, if not all of their time in Osaka, Kobe and Kyoto. They would also likely not be driving.
If the above describes you, then this Kansai Thru Pass may make better economic sense to you. As you see, the Kansai region is made up of a confusing large number of railway and subway lines. The Hankyu Pass that I'll be getting only allow me to travel on the Hankyu lines. It works for me because I have the car on other days to bring me to places.
If you intend to travel around solely using public transport, then the Kansai Thru Pass will bring you everywhere within the Kansai region. You don't have to spend time figuring out the complicated network lines or ticket rates. What's the cons – it's not cheap. So plan your days well to maximize the usage.
TIP: You can use Google Map "direction" feature to show you how much ad hoc transport costs would be between places. Get the Kansai Thru Pass if you find that the combined transport fees exceed the cost of the pass. 
4. Enjoy 30 Osaka Attractions at a Great Discount
I'm considering buying this highly-raved Osaka Amazing Pass that would give me entry to 30 attractions with one pass. The price of this pass at S$30+ is a great deal, because attractions in Osaka aren't cheap. For example, the Umeda Sky Building Observatory alone would cost S$18.
Adding one or two more attractions would already recoup the investment, giving you "free entry" to 27 other attractions, i.e. provided you can complete them within a day. :) This amazing pass also comes with a 2-day option which would allow you to travel at a more relaxing pace, all for just a few extra bucks.
What's really amazing about this Osaka Amazing Pass is how it also gives you free unlimited rides on buses, subway and trams within Osaka. Value for money or not?
The reason why I haven't taken action is because I have limited time in Osaka city – so I'll have to play by ear.
5. Hassle-Free Way to Enjoy Popular Osaka Attractions
Some popular destinations are not included under the Osaka Amazing Pass. I've included them here for your easy reference:
6. Save Money in Osaka by Having your Passport with You All the Time
In and around Osaka region, foreigners can often enjoy significantly cheaper admission fees than locals. Hence, please remember to bring along your passport everywhere you go.
7. WiFi Options in Osaka
If your trip is under 8 days, you may find it worthwhile to get this Pocket WiFi or a SIM Card.
My case is a little bit of a headache. With these devices charged on a per day basis, the cost can quickly add up. Therefore, in my instance, I would either be getting the Pocket WiFi ($45 for 15 days shared by two) or a Starhub data option ($20 each for 3GB/30days).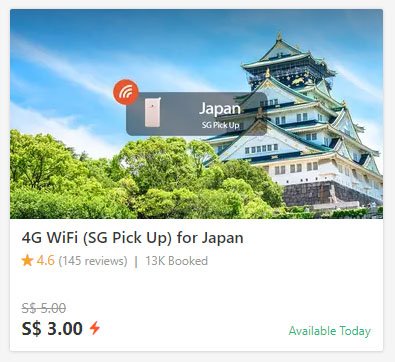 The cost is about the same on a per person basis. Pocket WiFi wins in terms of offering more data (500MB per day 4G; unlimited 3G) whereas Starhub would allow us to shop and wander separately while staying connected.
Let me think for a while on which to get. LOL!
8. Popular Day Tours Around Osaka
Most people who visit Osaka would be getting around using public transport and/or joining day tours. If you are travelling with elderly or kids, this Osaka Wonder Loop Bus may be logistically friendlier than subway passes.
I'm also including two popular day tours that will bring you to more distant places from Osaka.
9. Shopping in Osaka
If it's free, just grab it. He he!
I saw this Bic Camera Tourist Privilege Discount Voucher available for free. So yeah, just download it. No harm, right? It gives up to 7% off consumer electronics, cameras and contact lenses and up to 5% off medicine, cosmetics, daily necessities and more.
This voucher can be used at all Bic Camera, KOJIMA, Sofmap and Air Bic Camera locations.
---
That's all to today's post. I'll give a full review of some of these travel services when I'm back from Osaka. Watch out for more Osaka tips and recommendations – coming up soon.
To stay connected, just click the button below to subscribe and you'll get notification whenever a new post is published. As a subscriber, you'll get access to free and exclusive stuff. See you!
This post may contain affiliate links, meaning I earn a commission if you make a purchase, at no cost to you. Read my full disclosure for more info.
SUBSCRIBE
(Visited 539 time, 1 visit today)