Hey guys, today I want to share with you one cheap and fast way to get from Osaka Kansai Airport to Osaka City? If you are planning a trip to Osaka soon, read on as this YOKOSO ticket will help shave a big sum off your transport costs in Osaka, I promise!
I'll first share with you the various options of getting between Osaka Kansai Airport and the city, before giving a detailed review of YOKOSO Ticket (which is a bundle transport pass).
---
Popular Options to Travel from Osaka Kansai Airport to Osaka City
There are a few ways to get from Osaka Kansai Airport to Osaka City. Let me list down a few popular ones:
By Train
The most popular way to get between Osaka Kansai Airport and Osaka city is by train. Assuming that you're heading to Namba Station, you can do so either via a normal train or an express one.
The normal train (The Airport Express) costs about ¥920 and takes about 50 minutes to reach Namba City. Peak period travelling may see the traveling time extend further. Since this is a normal commuter train (like our MRT), there is no designated luggage space on the train. Neither can you be guaranteed a seat.
If you like a faster service with certainty in journey time, you can get on the Rapi:t Airport Express. This bullet train makes only 7 stops (versus 12 stops on normal train) and can get you to Namba City within 40 minutes. Although this service is more expensive (¥1430), it is more comfortable. I'll share more about my experience on the Rapi:t train in just a bit – read on!
By Osaka Airport Limousine Bus
You can also get to Osaka City from Kansai Aiport by a comfortable Osaka Airport Limousine Bus. It may take slightly longer to reach the destination, but is extremely convenient. If you are travelling with kids, elderly or lugging a few pieces of luggage, I highly recommend the Limousine Bus, provided speed is not your major concern.
As a matter of fact, I took the Airport Limousine on my way back from Osaka Station to the Airport and super enjoyed the experience.
> MUST-READ: Review of Osaka Airport Limousine Bus 
By Private Airport Charter
Do you prefer convenience, privacy and point-to-point pickup and drop-off? If so, then the Private Airport Transfer may be relevant. However, it is pricey and would be best suited to those who are travelling in large group (max = 7 pax as at time of writing).
> MUST-READ: 9 ways to save money when travelling in Osaka
Now that we've gone through what the various airport transport options are, let me dive deeper into what the YOKOSO Ticket is and how it'll benefit you.
---
What is Osaka YOKOSO Pass? Why is it Great Bang for the Buck? 
Osaka YOKOSO Ticket is a discounted transport pass that bundles up three things:
1) Nankai Rapi:t Train Ticket
2) One-day Unlimited Transport within Osaka City, and
3) Discounts to over 30 tourist attractions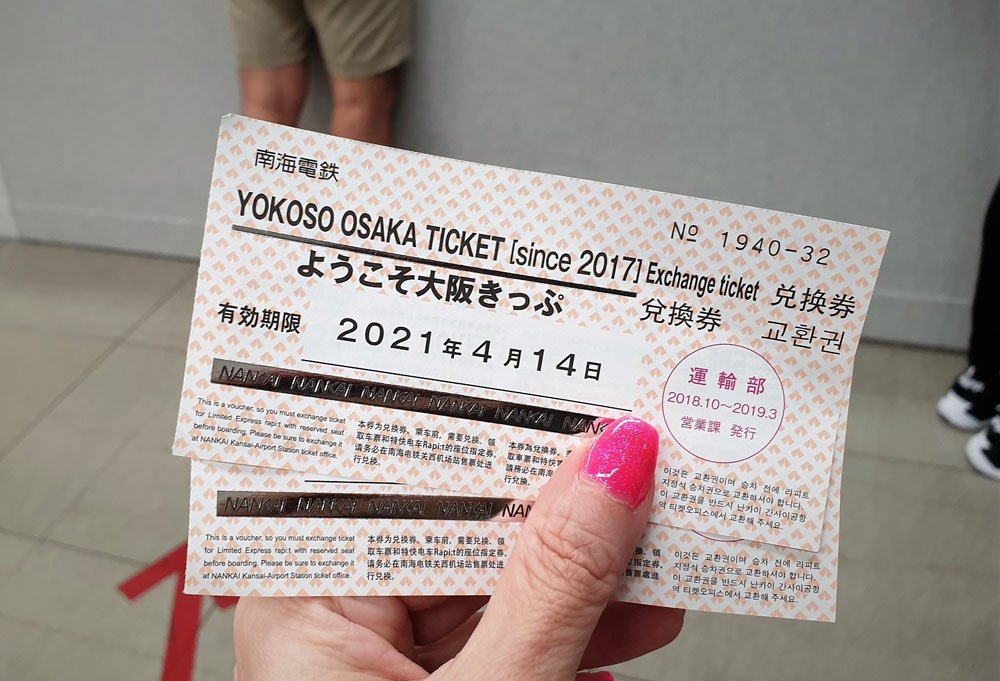 How much does Osaka YOKOSO Pass cost?
As at time of writing, YOKOSO Ticket is priced at S$19.
How much can I save?
The Osaka YOKOSO Ticket offers so much value you'll be as surprised and delighted as I was at how much you can save. Check out these a la carte prices if you were to pay for the tickets separately.
Rapi:t Airport Express = ¥1430
One-day Transport in Osaka = It depends on your itinerary. I would have incurred more than ¥1500 without the YOKOSO Ticket on Day 2
Discounts to over 30 Attractions = It depends on your interests. Let's assume ¥300 savings to be conservative
Total Estimated Value = ¥3230 (approx S$40)
Total Estimated Savings = S$20 (i.e. 100% savings)
So, now you know why I kept singing praises of the YOKOSO Ticket, huh?
---
How to Optimize your One-Day Unlimited Osaka Transport Pass
The One-Day Osaka Transport Pass (bundle item #2) can either be used on the day you exchange for the Yokoso Pass (likely your day of arrival) or the next day.
To obtain the best value, I suggest that you use the One-day Unlimited Transport Pass on your second day and start the day early. Try to plan your itinerary and consolidate destinations that require public transport to get to. If possible, cover the more distant destinations as they are likely to incur higher transport fees if you visit them another day using normal tickets.
MORE TIPS: You may want to reserve time-consuming activities such as Universal Studios Japan on another day. Places that can be reached by foot from your hotel can also be scheduled on another day to maximize the value you get from the Osaka YOKOSO Ticket.
---
Why Buy the YOKOSO Ticket Online? 
Based on my experience struggling to buy Osaka's transport ticket for part of the journey, I'll suggest that you get the YOKOSO Ticket (or any other applicable transport passes) online. It'll eliminate the language barrier which is VERY real in Japan.
I still remember having a hard time trying to get a train ticket to Kobe. We basically stood at Namba Station for more than 20 minutes, looking up at the price chart that was placed way above our eye level, with words that were so tiny that our necks started to ache. 
In Japan, you'll have to figure out the price to get between places before buying a ticket. For instance, I had to figure out how much it costs to get to Kobe because that was the ticket that I needed to buy (e.g. ¥410). So it was quite a hassle and a time-consuming affair.
TIP: For places that are not covered by the YOKOSO or other transport passes, you may want to read about this ICOCA card. It is a stored value card just like our EZLink card and Taiwan's EasyCard. You just tap and go without having to figure out how to buy the individual train ticket.
---
What's Great about YOKOSO Pass? 
We already learnt about what a YOKOSO Osaka ticket is. Let me share my actual experience using it – we'll start with the pros.
1. Experience An Award-Winning & Futuristic Train-Ride 
One important thing about traveling is to "experience" new things. This YOKOSO Osaka Ticket gives you a ride on a futuristic train that is shaped like a bullet and move like one.
If you are travelling with kids, I think they'll be delighted to be sitting on the express Rapi:t train.
2. A Fast & Reliable Way to Reach Osaka City
Among the various transport options shared with you earlier, the Rapi:t Airport Express is likely the fastest and most reliable way to get between Osaka Kansai Airport and Osaka City.
When we traveled during peak hours (6 to 7 pm) on a weekday, it took only 40 minutes for us to reach Namba Station. If you travel during off-peak period, the timing can likely reduce further.
Precise Departure and Arrival Timings
We were very impressed with Japanese railway system as the train departed and arrived right on the dot, according to schedule. You can view the schedule on the display monitor at the platforms.
TIP: Based on our experience, Google Map's "direction" feature gave very accurate departure timings of trains in Japan.  We used it a lot to confirm that we were on the right platforms waiting for the right train.

If Google said our train heading to our destination will arrive at 3.22 pm, we'll make sure we were at a platform that shows a 3.22pm train arrival. :)
3. You are Guaranteed a Seat
Unlike a commuter train, the Rapi:t Airport Express guarantees you a seat. Basically, you'll get an assigned seat number when you exchange for the ticket. Therefore, there's no need to squeeze with the working crowds, say if you are boarding the train during peak hours.
> MUST-READ: 15 Days Osaka Itinerary – What to do in Osaka and around? 
4. Very Comfortable Ride on a Spacious Train 
The ride on the train was very spacious and comfortable, with ample legroom to slouch all you want. You can definitely sleep if you want to because the ride was smooth and without any bump. And everyone was politely quiet.
> RELATED: Here're 11 things I love about Japan and I know you would too!
TIPS: In Japan, people are generally considerate towards other people's comfort and well-being. Therefore, please turn your phone to silent mode when on public transport if you want to blend in with the culture. You will also want to avoid speaking loudly.

If you are sick, please wear a face mask to prevent the virus from spreading.
When you enjoy the ride, you'll get access to a cup holder and a seat pocket to deposit your small items. You can also get WiFi access during the ride, although admittedly, the WiFi signal wasn't fast or stable, unlike our experience on the Osaka Airport Limousine Bus.
5. Dedicated Luggage Space
One reason why we felt comfortable during the ride was because we didn't have to hold on to our luggage or let it ruin our spacious legroom. There's a dedicated luggage area near the train doors to place our bulky items.
Apparently, we can lock our luggage using some chain devices. But we couldn't (bothered to) figure out how to do it and therefore was a tiny bit concerned when our luggage was not within our sight. The Airport Limousine Bus on the other hand offered us more assurance because the luggage was placed within a locked compartment.
6. One Day Unlimited Osaka Transport Pass Offers Tremendous Value
Now that we have spent the earlier 5 points talking about how good the Rapi:t Airport Express is, let's continue to talk about the second item included in YOKOSO ticket, i.e. the one-day unlimited Osaka Transport Pass.
As mentioned earlier, you can use this pass on the same day (e.g. if you require transfer at Namba Station to get to your hotel). However, it's best to use it on a fresh day so that you can maximize the card (and travel to more places for free).
This Osaka Transport Pass covers all Osaka Metro, Trams and Bus rides. On our second day, we used it to visit so many places all over Osaka that I believe we would have clocked more than ¥1500 in transport cost (about S$20) if the tickets were bought on a la carte basis. That's the reason why I highly recommend that you get the YOKOSO Osaka Ticket because I am confident you will save a lot of money (err, unless you choose to be a hermit in Osaka :)).
TIP: If you are also getting the Osaka Amazing Pass, please don't use it on the same day as you use your YOKOSO free unlimited transport pass. Because the Amazing Pass also provides unlimited train/bus rides within Osaka city, in addition to free admission to 40 tourist attractions. Here's one way you can combine and optimize the use of both passes:

Day 1: Arrive and use YOKOSO ticket to get you to city centre via Rapi:t Express Train
Day 2: Use YOKOSO's Unlimited Transport Pass to visit places not covered by Osaka Amazing Pass (e.g. Harukas 300) or places that don't require admission (e.g. Den Den Town, Nambayasaka Shrine, Kuromon Ichiba Market).
Day 3 (or any day after): Use Osaka Amazing Pass to visit interested attractions in their free-to-enter list
7. Enjoy Discounts off 30 Attractions in Osaka
Did you know that buying the YOKOSO ticket gives you discounts off over 30 attractions? Oh yes, I've said it earlier. :P
To get the discount, simply show the reception staff your one-day Osaka Unlimited Transport Pass. We succeeded in getting more than 10% off our ride on Tempozan Giant Ferris Wheel.
---
What's Not Hot about YOKOSO Ticket?
1. Collection of Ticket Not Straightforward
How do you collect YOKOSO ticket? The first collection is very easy. You'll walk out of the airport immigration (T1), turn right and walked till you see the HIS Counter on your left. On your way there, you'll pass by a tourist information centre.
The staff was efficient and gave us the YOKOSO OSAKA Ticket within 3 minutes, together with other transport passes that we've ordered, e.g. Hankyu Tourist Pass and Osaka Airport Limousine Bus Ticket. However, explanation was minimal on what was to be done next. Let me attempt to fill in the info gap here. Read on.
Collect the Real Tickets at Kansai-Airport Station 
What you've gotten from the HIS Counter is an open-dated YOKOSO ticket. You'll need to exchange that for the real train tickets and that's when things get a little complicated. I remember being a little flustered when handling my luggage, newly-collected travel brochures and other transport passes.
Let me walk you through my experience so that you would know what to expect. Check out the steps below:
Step 1: After collecting the YOKOSO Osaka Ticket from HIS Counter, you'll notice an escalator next to it. Get up the escalator, turn right and you'll see a door leading you out towards Kansai-Airport Station.
TIP: If you are carrying many pieces of luggage and prefer to use a lift, head back to the Tourist Info Centre. There's a lift located to its left. 
Step 2: Continue walking until you reach Kansai-Airport Station. There'll be a Nankai Ticket Information Office on your left. Enter the office and join the queue.
Step 3: The staff will collect your YOKOSO Osaka Ticket and give you 4 slips, namely:
a) Your Rapi:t Express Train Ticket which you'll use to enter the subway gate
b) A Seat Reservation Slip that you should hold on to and show the train staff when boarding the express train
INFO: The staff will show you the next few train arrival timings. Choose which one you like to board and they'll assign you a seat on that train before handing you the printed ticket. Please make sure you get onto the assigned train on time. 
c) A Similar Slip showing you instruction on how to seek refund (just keep it, and then dispose it after the ride)
d) Your One-day Unlimited Osaka Transport Pass (this is so important!)
INFO: You'll be asked to choose when you intend to use the One-day Transport Pass – today or tomorrow. So plan ahead. :)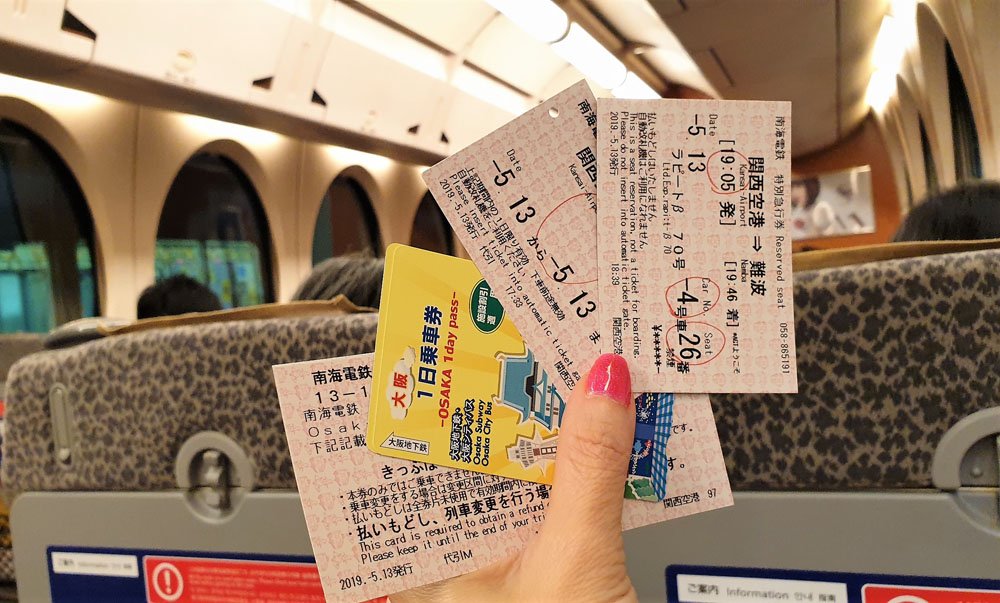 Step 4: The train platform is located opposite the ticket office. Use #3a (train ticket) to get into the station. You'll insert the ticket, and collect it when it comes out through the other end. Then you'll proceed to the platform (one level down) to find your "car" number.
And that's it. It's actually quite an easy process if you know what to expect. And I hope you do after reading this. You're welcome ;P
2. Not Sure if It's Necessarily Faster than other Transport Options
I've detailed about what you need to do to collect your real train tickets. You can probably tell that there would be a bit of queuing, walking and waiting involved. Furthermore, a Rapi:t train's frequency is lower than say a commuter train.
All in all, we took about 80 minutes to get to Namba Station, from the time we left HIS Counter. I kept wondering if a Limousine Bus would get me to Osaka City Centre faster, considering it has less walking and logistics activities involved (I assume).
3. Train Transfer Required if you are not staying At Namba Station
If you aren't staying around Namba Station, you would need to make transfers since the bullet train ends at Namba Station.
TIP: Please note that there are many "Namba" Stations at Namba Station. Sounds confusing? Yes, you'll get the same confusion at some other major hubs such as Osaka Station and Sannomiya Station (at Kobe). 

The reason for this is because each Namba station may serve a different subway line. So if you take the Rapi:t Express to Namba, you'll stop at this Namba Station (see map). If you are travelling within Osaka city for sight-seeing purpose, you'll likely be using this Namba Station instead (see map). And we traveled to Kobe using this third Namba Station (see map). 
---
Recommendations: Who Should Get the YOKOSO Ticket?
I was able to obtain great value out of the YOKOSO Osaka Ticket, mainly because I stayed around Namba Station and also made good use of the One-day Unlimited Transport Pass. I highly recommend that you give this ticket some thoughts. Although the logistics may be less straightforward than other transport tickets we've collected, it'll give you a chance to sit on an award-winning bullet train.
If you are travelling with kids or elderly or aren't staying around Namba, then the Airport Limousine Bus may prove to be very useful and convenient. This bus travels to more destinations, including the vibrant Osaka/Umeda Stations. However, it doesn't come with a one-day unlimited transport pass. :)
All in all, I was glad that I managed to try out both the Rapi:t train and Limousine Bus services. For the value that the YOKOSO ticket offers, I'll give it a rating of 4.5/5.
---
That's all for this review. Hope you've found it useful in your travel planning to Osaka. Drop me a note if you need any further information. And do watch out for more Osaka tips and recommendations which are coming up soon.
To stay connected, just click the button below to subscribe and you'll get notification whenever a new post is published. As a subscriber, you'll get access to free and exclusive stuff. See you!
This post may contain affiliate links, meaning I earn a commission if you make a purchase, at no cost to you. Read my full disclosure for more info.
SUBSCRIBE
Pin This!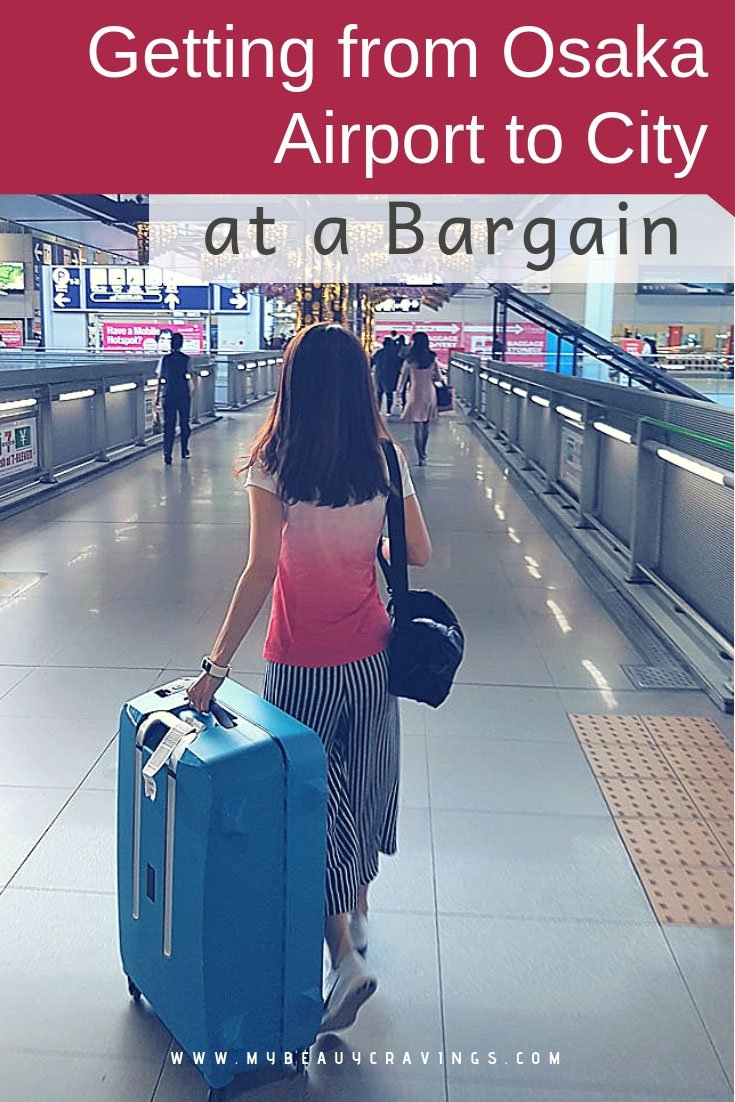 (Visited 699 time, 1 visit today)