I'm missing Japan badly and want to share with you 11 things I love about Japan. Do you want to make a guess what they are? Why am I planning a revisit to the land of the rising sun even though I've been there four times already?
Did you say Kawaii stuff? Indeed, Japan is known for its "cute" culture. But since I'm not a mega fan of cutie stuff, I'm going to be listing 11 other things that I'm missing about Japan. Check out what they are and let me know if you love Japan for the same reasons.
---
11 Things I Love About Japan. Do you? 
1. Super Clean Toilets that are Well-Cared-for by Locals
Japan's toilets must be the best in the world. I'm not just referring to technology, but more on how the toilets are taken care of by both providers and users.
Most public toilets, even those remotely placed came supplied with toilet paper. They are also likely to be installed with a washlet (electronic bidet) which I really appreciate. Just click a button and you can get yourself properly cleansed – down there.
Other than one touristy place (Arashiyama in Kyoto), all other public toilets I've been to in Japan felt clean enough to sit down immediately. If you are particular about hygiene, you can use the in-cubicle sanitizer and wipe the toilet seats before using them.
In Singapore (and many other countries), you may see seat sanitizer dispenser too, i.e. if you are lucky. However, I've given up on using them because the last few times I've tried, they were empty! 
There's no need to cover toilet seats with excessive toilet paper or pee in a half-standing 'horse' stance. Toilets in Japan felt as clean as those in your own private home because I think Japanese are gracious people. They care about the comfort of other people and take care of things. For instance, all toilet paper were neatly torn off and appeared presentable for the next user. Kudos to the Japanese!
Can Singapore succeed in picking up such gracious toilet habits? 
I hope Singapore can emulate such a gracious toilet habit. However, I know it would be difficult because such a culture would take many years (hundreds?) to form. Everyone must do their part for things to work. A single broken link (irresponsible and selfish user) can break the whole system.
Yesterday, I visited Jewel Changi Airport and was happy to see that the toilet was well-kept and sanitizer filled despite the massive crowds. The toilets were also fixed with similar washlets that I've seen in Japan, by the company "Toto" (erm, I'm not referring to the lottery system, folks!).
Good job by the Changi Airport Group! Let's hope our airport is not the only place where clean toilets exist. :)
2. Consistently Great Service in Japan
The Japanese staff were the most polite people I've encountered anywhere in the world. Many would welcome you into their store, and some would even bow to you when you make payment.
> MUST-READ: 9 Ways to Save Money when Travelling in Osaka
One staff (from Porter at Grand Osaka Front) even took the trouble to make a u-turn out of the counter area to hand me my purchase, when she could just pass it to me over the counter. I'm truly amazed and impressed.
INFO: In most Japanese restaurants, there is no service fees imposed unlike those in Singapore. However, they do charge consumption tax (8%) just like many other countries. Do note that the taxes are normally added only at the point of payment. So do factor in the additional cost when you shop at malls or even when looking at food court menu prices. 
3. Polite, Well-behaved & Gracious People
Japanese are generally very polite and well-behaved. You hardly get bumped by them no matter how crowded the streets or train stations are. They are also graciously quiet.
When you come into the path of a Japanese, she would likely take the initiative to make way for you to continue your path and accompanied that with a Gomen'nasai "sorry".
TIP: When using public transport, refrain from making too much noise if you like to blend in with the culture. Some of the things you can do is to speak softly or turn down the phone notification volume. 
Such good manners seem to be ingrained in their culture. There was a memorable experience when we stopped our car to allow a young girl to cross the road. She was probably just 7 or 8 years old. When she made it to the other side of the road, she turned back and bowed at us.
That was so endearing. You really wouldn't expect such a behavior from a young kid, would you?
INFO: Travelling to multiple cities in Japan? Take a look at this Japan Rail Pass which many reviewers have praised it for being great bang for the buck and convenient to use. 
4. Good Genes! Good-Looking People
I think it's genetics. It's so easy to spot a pretty lady in Japan as compared to other places. Not only do they possess nice features, they are also extremely well-groomed. I especially love the way the Japanese ladies style their hair and wear their makeup. It's immaculate, demure and trendy (and they don't show a lot of skin).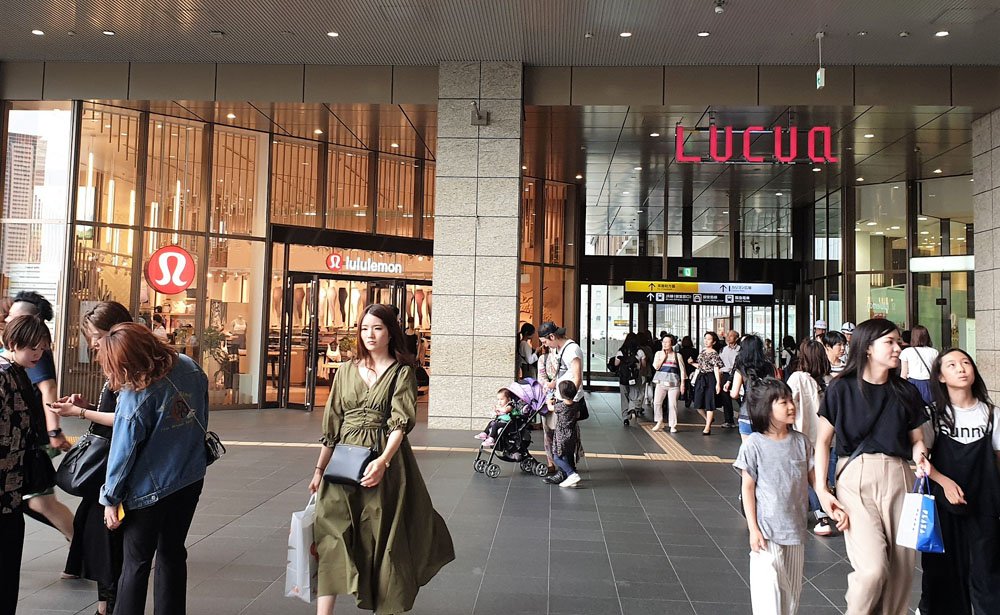 In the image above, I was capturing a photo of the mall for blogging purpose and didn't notice the pretty ladies until I'm back in Singapore. See how a random shot like this can capture two pretty ladies in Japan.
How about the guys? Are they good looking? Oh yes! You can easily spot a "lookable" men although I gave more attention to the ladies out of admiration and envy. :)
5. Immaculate and/or Creative Dressing in Japan
Although most Japanese dress in roomy clothes of earthy tones (e.g. gray, brown, black, white), you'll notice that they take an effort to look prim and proper. I didn't spot anyone in sloppy wear, flip flops or shorts. Most ladies wore makeup and look presentable.
We spent a weekend shopping around Osaka Station and had the chance to witness some really stylish and creative dressing by the young Japanese adults. There's no cookie-cutter dressing and many would dare to deviate from the norm. I saw men wearing skirt, wore creative makeup or adorn themselves with stylish accessories. It is also common to see a manly Japanese man carry shoulder bags or tote bags.
In Singapore, most men don't carry any bags at all. If they do, it's likely to be sling bags, backpacks or their girlfriends' bags. :)
Hence, It's really a feast for the eyes when you see people making an effort to stand out from the rest. Unfortunately, I didn't manage to capture any accidental random shots that showcase creative fashion.
6. Feasting on Great Japanese Food All Day Long
One thing I'll greatly miss about Japan is their food. Think about raw fish (sashimi), sushi, Bento set, Ramen & Soba, Japan-made coffee, matcha ice creams, tasty rice-crackers and more. I'm salivating just listing some of these down.
Luckily, I've brought home some Japan snacks, but doubt they'll last me very long because I've been munching them every day.
> ALSO SEE: Osaka tips and recommendations
7. Japan is an Amazing Shopping Paradise
I don't normally shop much when I travel because my interests are mostly in gaining new experiences through food and sight-seeing. Also, Singapore is quite a good place to shop in (our fav past time is shopping LOL!). So, I hardly see the need to bring anything back from overseas unless they are significantly cheaper or not available in Singapore.
But Japan is a different story! Not only is it a great place to load up on beauty items, I also found myself loading up on food, apparels, bags and random items. When a country produces great quality stuff that come in a wide assortment and attractive packaging, it'll make anyone dig out their wallets (including struggling entrepreneurs like me. :))
> MUST-READ: Top 30 Skincare & Makeup to get from Japan
8. Cool & Dry Weather
Okay, I know Japan can get uncomfortably hot during summer or cold in winter. But at least, they get to enjoy the cool and pleasant spring climate.
When I got back from Japan in late May, I was greatly missing the weather (which hovered in mid-20 °C) because Singapore was then insanely hot and humid.
I could hike up a tall mountain in Japan without perspiring much but was dripping sweat just sitting down in a coffee shop and having my dinner in Singapore. That's the difference!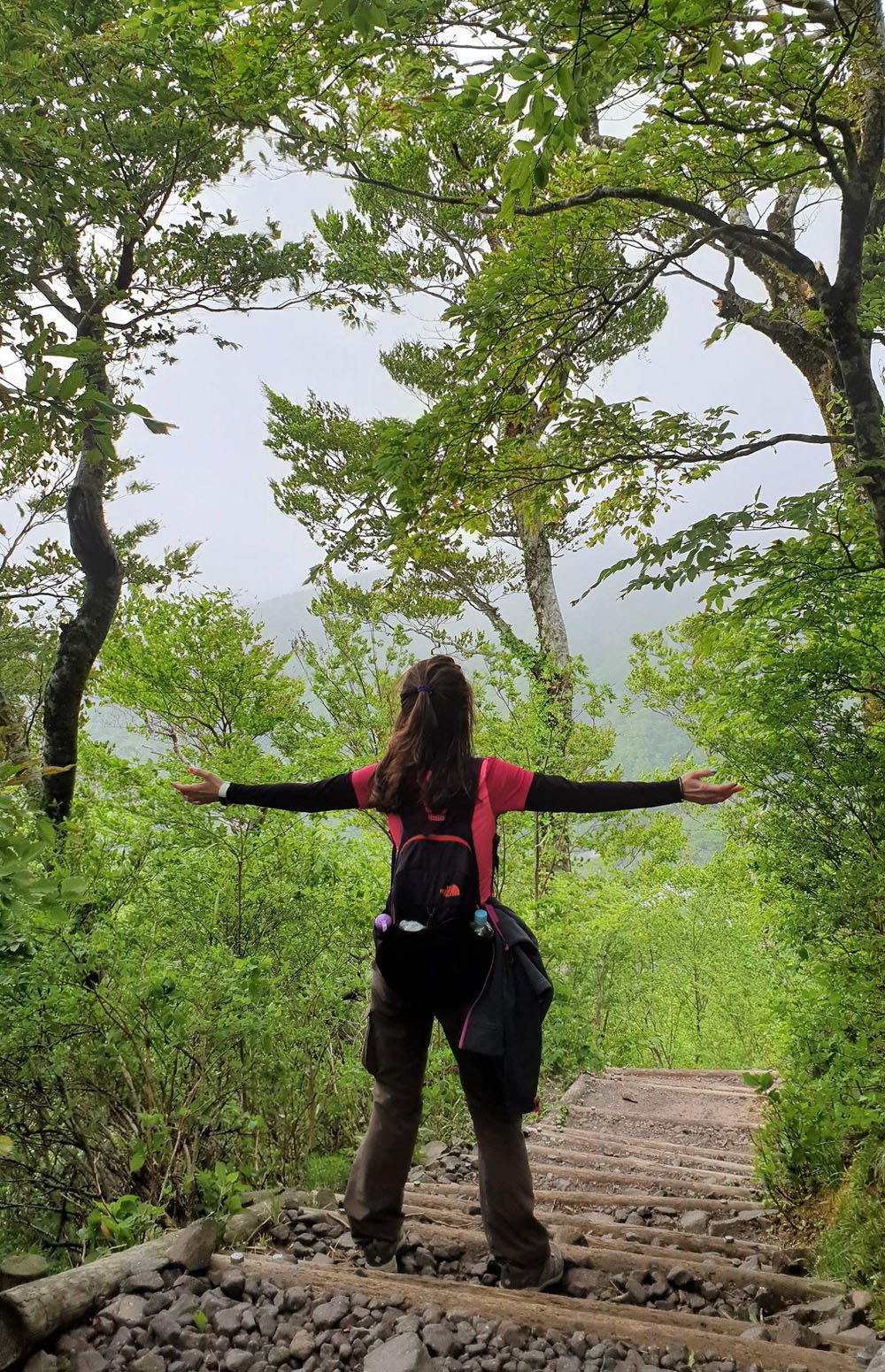 9. Greatly Discounted Food at Japan Supermarket 
If you visit a Japan mall nearing closing hours, you'll see the supermarkets' food hall greatly slashing the prices. It is easy to get Bento set, Sushi or other ready-to-eat food at 50% off.
Yes, Singapore's NTUC supermarket outlets do slash their prices too. However, it feels very different when you are in Japan. You don't get the feeling like you are buying left-over items because there's a vast variety of freshly-stocked food on sales. And most likely, the place would be bustling with locals, trying to get some food after they got off from work.
Our Thoughts: Since Japan doesn't have food priced at hawker/street food range, we kind of think that the locals treat supermarket food hall like how we view our hawker centres, i.e. affordable food. We see these food hall well-patronized by locals. 
10. Vending Machines Everywhere in Japan
In Japan, you'll see vending machines everywhere. Most of them dispense drinks although I noticed some in Osaka selling cigarettes too.
The amazing thing is how most of them are located on the streets and exposed to the elements, which can be harsh during the summer months.
See Also: 
Now, do you want to know why there's such a strong presence of vending machines in Japan? I've read that everyone in Japan can own a vending machine as long as there are available slots. Sounds like a good passive income, hor?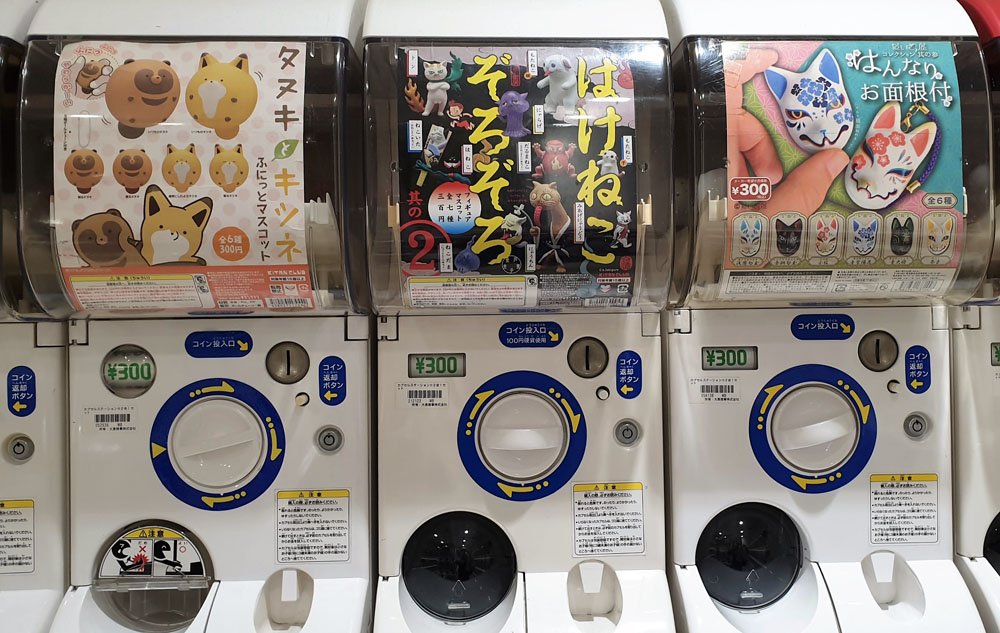 11. Onsen Experience (Let's Bathe in the Nude…Together!)
I left the best for last. I'm a fan of hot spring and love how easy it is to find a hot spring facility either in Japan accommodations (hotels, ryokans) or natural landscape (public hot spring).
The best experience I've had was in Hokkaido where most of the hotels I stayed in came with good onsens. Some were outdoors and looked like they were a part of nature (e.g. facing river). In this northern Japan prefecture, it seems like a must for accommodations to provide onsen facility for guests. :) My most memorable stay was at Choyo Resort Hotel at Sounkyo and The Lake View TOYA Nonokaze Resort. Check them out if you are visiting Hokkaido.
In my latest Osaka & Around Roadtrip, I also indulged in hot bath at Yubara Hot Spring town (see map) and Onyado NoNo where I stayed three nights. I'm highly recommending Onyado NoNo if you intend to venture out of Osaka city.
INFO: Hot spring culture doesn't seem to be strong in Okinawa, a southern prefecture in Japan. Most hotels do not come with such a facility. But not to worry, you can soak and snorkel at beaches, capes and waterfalls. :)
---
And that's it – 11 Reasons why I love Japan so much. Are these reasons same as yours? Do you have other things that you love about Japan? I'd love to hear from you.
Okay. I'll be back with more Japan travel stories. Connect with me if you like to get notified of my latest and 100% honest reviews – just click the button below! See you.
This post may contain affiliate links, meaning I earn a commission if you make a purchase, at no cost to you. Read my full disclosure for more info.
(Visited 671 time, 3 visit today)