I've been writing about Travel for a while and can't believe that I haven't written one on Singapore. Having stayed on this little island as a true-blue Singaporean for a few decades, it's time I share my personal recommendations to visitors of Singapore. For this first post on Singapore, let me share 11 Authentic Singapore Experiences that a traveler can visit to experience Singapore like a local.
---
What counts as an Authentic Singapore Experience?
As a traveler, I dislike overly-touristy places and long for authentic local experiences. That is, I want to go to places where locals would go or do things that residents would do.
To quote an example, I was recently shopping in a premium supermarket in Orchard Road. Guess what I saw? Boxes of chocolates with big fonts of SINGAPORE printed on them. These are clearly targeted at tourists because I've seen them around for years but have never considered purchasing them.
TIP: This Singapore Multi-attractions Pass saves you up to 30% off ticket price. You can choose from all-time favourites such as Universal Studios, Gardens by the Bay and Marina Bay Sands.
Hey, Singapore isn't really known as a country that produces milk or cocoa. Why would tourists want to buy chocolates from Singapore? In fact, I thought I saw that the chocolates were not even made in Singapore.
Did you get my drift?
Why buy things or visit places that locals wouldn't even consider? Isn't traveling about getting to know the country, her people, her food and the culture?
That's why I'm not a Big Fan of Group Tours
By now, you would understand why I always choose free and easy travel over group tours. I noted from my past (limited) experiences of joining group tours that there would be at least one visit to an unknown shop, factory and/or service outlet where the aim was to get tourists to spend money.
It could be a small-scale souvenir shop or a place offering free foot massage (and then selling massage oil). In those tourist traps, I did not see any locals. Locals probably know where's the best place to get the best stuff at the best price, and it's likely not at these places.
Spending extra money is one thing. Sacrificing precious time on non-authentic travel experiences to fatten the pockets of travel operators and companies is another. But that's just my pet peeves and I can totally understand why some would appreciate group travel experiences.
Group Tours Do Add Value to Some
Group tours do add value to some people. For instance, my parents who aren't comfortable traveling around on their own actually enjoy having everything planned out for them. They didn't mind paying more for souvenirs or tipping the guides as long as the whole experience is hassle-free.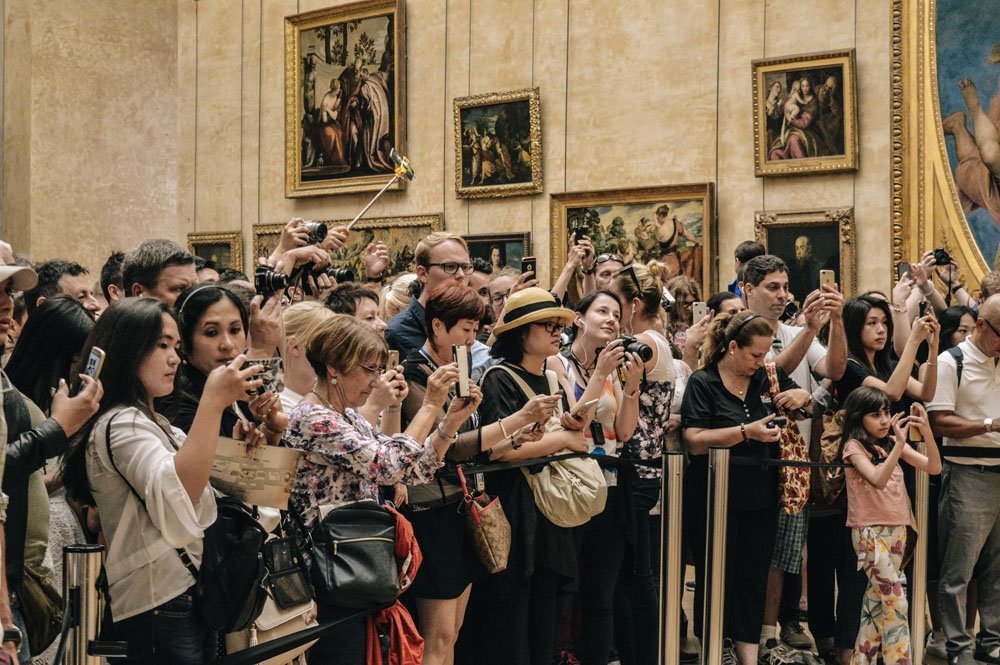 They yearn for people to bring them around, show them what to do and when to do what. I cannot discredit the value offered by tour guides, such as in taking care of travelers' needs and making sure everything runs smoothly.
So in all fairness, whether you like authentic travel experiences or curated touristy ones depends on the type of traveler you are.
If you love to immerse in authentic travel experiences in Singapore and don't mind spending time on research and logistics planning, this post is made for you. I will share with you from an insider's perspective on some of the things Singaporeans do, eat and visit.
TIP: When traveling on free and easy, it's best to have data connection so that you can google on the go. In Singapore, you can pick up your Tourist 4G Sim Card at the airport. Starhub is a reliable telco operator that has been around for decades. Highly recommended!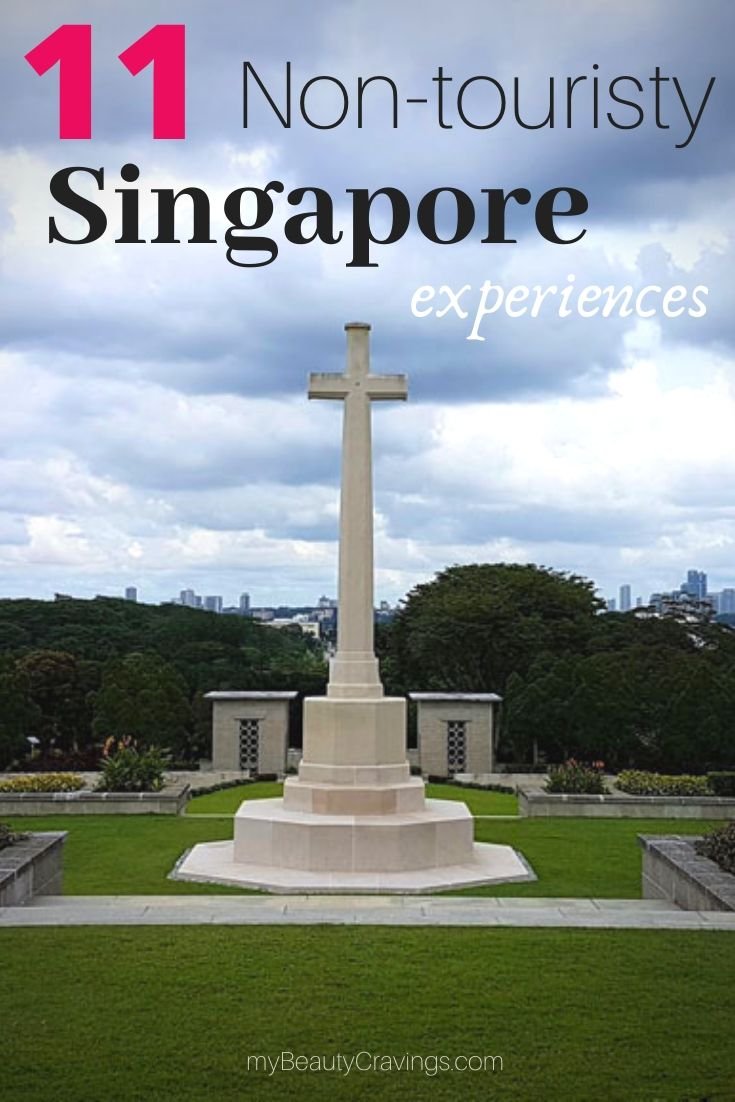 ---
11 Authentic Singapore Experiences for Real Travelers
1. Get around Singapore by MRT or Public Buses
What's the best way to travel around like a local? Singapore is blessed with a well-connected public transportation network that makes commuting a convenient and affordable affair for most Singaporeans.
Do you want to travel like a local? If yes, get on our efficient MRT network or reach specific places by local buses. Our MRT networks have clearly-labeled signage and are easy to use. If you live in a city with a metro system, you shouldn't have any problem navigating around. There are tourists passes that you can buy that gives you unlimited rides for a specified time period.
How about the bus network? Isn't it a challenge for travelers to navigate around when they are not familiar with service numbers, connection hubs and fare charges? Nope, it's not. Google map is such a great invention. Just follow the steps below.
How to Get Around Singapore by Public Buses?
Download Google Map App
Type in destination name in the Search field (e.g. Gardens by the Bay)
Click Directions button
Enter Starting Point (e.g. Hotel Name)
Choose the icon that looks like a bus
If you follow the above steps, you will be presented with various traveling options including what bus service numbers to take and how to get to specified bus stops. You will also be shown where to alight. 
TIP: Carrying too many luggage? Here's an Airport Private Transfer that can bring you straight to your hotel.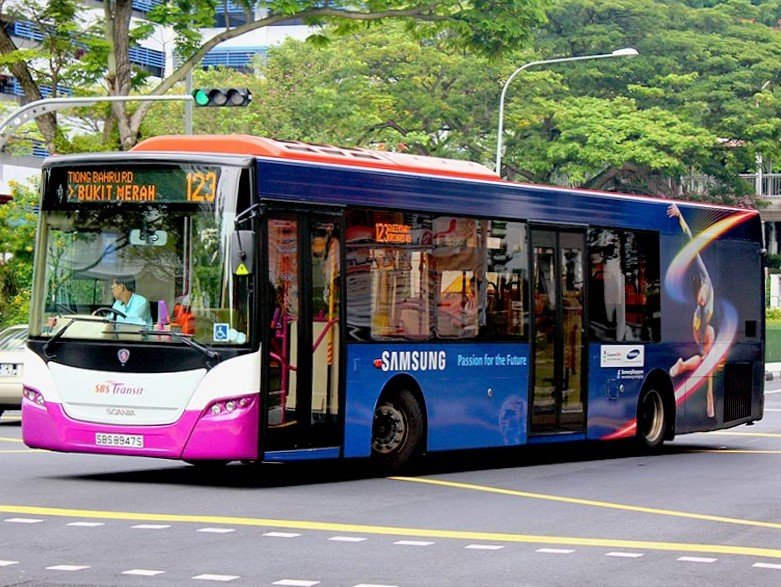 2. Shop for Souvenirs at Local Supermarkets
Want to get souvenirs for your family and friends? Source for them at local supermarkets, not touristy outlets unless you need to buy pretty gifts.
Three popular supermarket chains in Singapore that are heavily patronized by locals are NTUC Fairprice, Giant and Sheng Shiong. They are normally located in the heartlands to cater to locals' needs. I've scanned through their website to pick out outlets that are easier for tourists to get to.
Singapore Supermarket Accessible to Tourists
NTUC: Scotts Square, Chinatown Point, Amara, Tanjong Plaza, Valley Point, Tiong Bahru Plaza
Giant: Vivocity, Suntec, IMM 
Sheng Siong: None are at touristy areas. You can pop by if you intend to visit the heartland of Singapore, e.g. Bedok Reservoir Park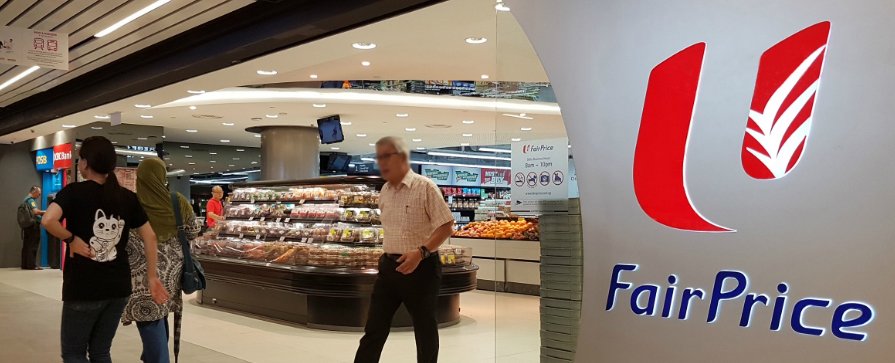 When you are at the supermarket, look out for unique things that are not available in your country. You can also filter by ensuring that what you buy is 'Made in Singapore'. Here are just a handful of made-in-Singapore items commonly consumed by locals:
If you stay outside of Asia, you can also pick up Asian snacks, coffee/tea and cooking sauce and paste, most of which are made in Malaysia and Indonesia.
3. Spend a Day in East Coast Park
East Coast Park isn't a place high on tourists' map. That's the reason why I'm recommending it to you because this is a place loved by locals of all ages. Most Singaporeans have fond childhood memories growing up at East Coast Park.
On a weekend, you can find Singaporeans from all walks of life engaging in some form of fun activities such as cycling, skating, BBQ-ing, camping, taking a romantic stroll or chilling at beach-front cafes.
>> RELATED: Guide to hiking Rail Corridor in Singapore
Do you have kids? Don't miss the large and modern playground outside McDonald's – Marine Cove Playground.
East Coast Park comes with ample F&B options, ranging from cafes and fast-food to Alfresco restaurants. There's even a beachfront hawker if you can find it. If that's not enough local activities to fill up your day, you can stroll to Parkway Parade (a heartland mall) and shop where the locals shop.
4. Watch Sunset at Bedok Reservoir Park
Another park where you see more locals than tourists is at Bedok Reservoir Park. It's located in the eastern part of Singapore and offers easy hiking or jogging opportunity. Walking one round may take 45 minutes. Remember to be there to catch the sunset (between 6.30pm to 7pm). The best spot to do so is near this location.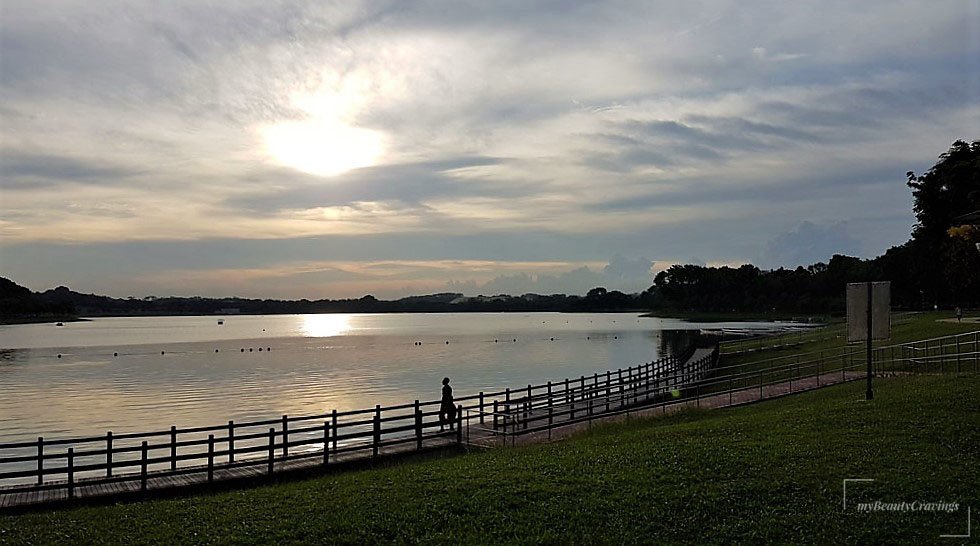 There's also a boardwalk area at another corner to rest or admire the sunset. This place on the southern end of the reservoir is nearer to 'civilization' and located close to F&B outlets, supermarkets, McDonald's and bus stops.
From here, you can observe the locals running their daily errands. Join them in shopping in supermarkets or walk around blocks of HDB flats (housing built by Government for the public). 
TIP: Prefer a more renowned park? :) Then head over to the extremely popular and Instagram-worthy Gardens by the Bay. This is one of the touristy places that I find worthy in recommending. You can get discounted admission tickets when you book online.
5. Take an Evening Stroll at Clifford Square
Where else to catch a good city view in Singapore, without having to jostle with the crowd? Arrive at Clifford Square in the evening and you would be able to take in the famous city view of Singapore (see location).
Take a stroll by the waterfront or enjoy the scenery with a drink at Customs House (see location). If you are lucky, you may even catch a free and massive fireworks show in July/August that takes place weekly leading up to Singapore's National Day on 9 August. 
6. Load up on IT & Electronic Gadgets
Singaporeans normally travel to Sim Lim Square to get the best deal on IT and Electronic wares. However, I would not recommend this place to tourists as there are some unscrupulous merchants lurking around waiting to rip off tourists.
Instead, you can visit Challenger if you need to get your fix on IT wares. It sells products at fixed prices and has stores that are scattered across the island.
If you do not have an Apple store in your country, you can also drop by Southeast Asia's first Apple store that is located in Orchard.
7. Get a Taste of Singaporeans' Nostalgic Snacks
Ask any Singaporeans what snacks they grew up eating and Old Chang Kee is likely to be mentioned, in addition to Bengawan Solo and Bee Cheng Hiang (during Chinese New Year).
My favorite among this list is Old Chang Kee. If you want to know what I ate 30 years ago as a kid, try Old Chang Kee's Curry Puff in original flavor. I sure know how to make myself sound old, don't I? :)
By the way, their newer offerings such as Sardine Curry Puff is highly recommended too!
8. You Must Eat at a Hawker Centre
Visiting a hawker centre is a must-do when you visit Singapore. Singaporeans from all walks of life love hawker food. It's a place to find quality local delights at affordable prices. You may not get the comfort of eating in an air-conditioned environment, but it would be totally worth the experience. Trust me on that!
> RELATED: Singapore Hotel Reviews from perspective of a Singaporean
What food should you try? Here are a few:
Chicken Rice
Rojak
Laksa
Char Kway Teow
Bak Kut Teh
Wonton Noodle
Fried Carrot Cake
Bar Chor Mee
Lor Mee
Oyster Omelette
Hokkien Prawn Noodle
Chwee Kueh
Roti Prata
Where's the best hawker to sample such local delights? I'll curate a list for you on what to eat and where to eat them – stay connected with me. In the meantime, Tiong Bahru Hawker and Old Airport Road Food Centre are a few that are located near downtown Singapore.
TIP: Psst, most hawker centres in Singapore are WIFI-enabled. Aren't we Singaporeans lucky? Alternatively, you can get seamless internet access everywhere you go through a reliable and affordable 100GB SIM Card.
9. Pay Your Respect at the Peaceful Kranji War Memorial 
As a Singaporean, I didn't know this place existed until recently. Kranji War Memorial is a serene and peaceful site that commemorates the 24,000 British Allied forces who died during WWII. You'll get brief information of how Singapore was invaded during WWII. 
I normally shun cemeteries, but this is one beautifully-manicured landscape with 4,400 white gravestones lining the gentle slope, and offering a commanding view of the Straits of Johor to the north and the hills of Singapore to the south. 
It is out of the way, located in north Singapore. You can consider placing this in your itinerary if you are also visiting attractions in the north such as The Singapore Zoo or Sungei Buloh. But if you intend to book an Airbnb in the north, please read this post first – My First Airbnb Stay in Singapore.
Info: View location | Admission: Free
10. Enjoy a Day Trip to Johor Bahru, Malaysia
Do you agree that Singapore is a small country? After a while, Singaporeans may run out of places to go to. Therefore, most Singaporeans love to travel. Many would also do short weekend day trips to our neighbor country, Malaysia.
How to Get to Johor Bahru from Singapore?
You can easily get to Johor Bahru (JB), the nearest Malaysian city from Singapore, by crossing a land border using public transport. Or to cut the hassle especially for time-deprived tourists, you can take a private direct transfer that brings you to kids-friendly theme park from any place in Singapore and at anytime.
TIP: If you have kids, click here to get discounted admission tickets to Legoland and Utopia Jungle World. 
What to do or buy in Johor? 
What do we Singaporeans love about JB? Food, shopping, massage, hair, spa and nail services and most importantly low prices as compared to Singapore.
Due to the difference in currency strength, things in Malaysia are often significantly cheaper than in Singapore.
MUST-READ:
It is important to remain discreet when mentioning price affordability in Malaysia because it appears that the Citizen's income level didn't move up in tandem with their local prices. Yeah, so be sensitive and refrain from saying things like "It's so cheap!" when you are in Malaysia.
I visit Malaysia very often, and really enjoy their great food, cheap/free parking and shopping options and will continue to support their economy.
RELATED: Read my Johor Travel Posts (Blog Posts | Instagram Posts)
11. Stay Connected for More Honest Singapore Tips
I have a lot more to share about Singapore. As with all my posts, you can find 100% honest reviews, suggestions and tips. Here's where you can find my Singapore Tips on Instagram. There'll be a lot more detailed ones coming up on this website. So let's stay connected!
---
Complement with These Touristy Attractions
That's all to the "local experiences". I will add on to this list when I find more authentic Singapore Experiences that are worth sharing.
You can complement this non-touristy list with other worthy tourist attractions in Singapore. 
MUST-READ:
Other favorite touristy attractions include:
Jewel Changi Airport 
Gardens by the Bay (Discounted ticket)
Sentosa (Fun Pass | Universal Studio Ticket)
Marina Bay Sands SkyPark (Discounted ticket)
Marina Bay Sands Light & Water Show
Jubilee Bridge
Botanical Garden
Esplanade Waterfront Promenade
MacRitchie Nature Trail
Shopping at Orchard Road, Suntec City, Vivocity and IMM Mall
Do you enjoy reading this post? If you like to get notified of newly-published beauty reviews and travel stories, just click the button below to subscribe. I'll even give you some free and exclusive stuff. See you there!
SUBSCRIBE
(This post was first published in Sep 2018 and updated in Jan 2020)
This post may contain affiliate links, meaning I earn a commission if you make a purchase, at no cost to you. Read my full disclosure for more info.
Pin This!
(Visited 2,895 time, 1 visit today)