The sky was cloudy, and the thunder roaring. That didn't stop us from visiting Fort Siloso Skywalk, an attraction located at a remote corner of the Sentosa Island in Singapore.
With more countries under locked-down and social distancing measures intensifying every other day in Singapore, we wanted to be out and about as much as we can. Because who knows – we may be forced to implement the last resort if the covid-19 infection number continues to rise. 
> RELATED: How Coronavirus affected life in Singapore
Fort Siloso Skywalk seems like a great place to be where we can embrace nature, enjoy great views and still maintain a good social distance. 
Covid-19 in Singapore (Mar 2020): Instead of a complete lockdown, Singapore is practising social distancing whereby we are encouraged to keep a distance of 1 metre from other people. Events of more than 10 pax are restricted, and some entertainment businesses have ceased to operate.  
---
Here at Fort Siloso Skywalk in Singapore
We parked our car at a nearby lot and took a leisure stroll towards Fort Siloso Skywalk. What we didn't expect was to witness a heartwarming scene – that of a smiley security officer extending his warmth and love to a "mystical" resident in Sentosa. It was a Gorgeous Peacock!
If I'm not wrong, phoenix can also be regularly seen at Shangri-La's Rasa Sentosa Resort, an accommodation located nearby. Therefore, if you like phoenix, you'll know where to stay on the Sentosa Island. 
Anyway, we continued our walk and soon arrived at Fort Siloso Skywalk. 
Free Entrance to Fort Siloso Skywalk 
As Fort Siloso Skywalk is free to enter, we didn't see anyone manning the entrance. In fact, there was no entrance, just a cosy elevator that we instinctively knew we had to take.
And when we stepped out of the elevator, we found ourselves at one end of the sky bridge, 11 storeys above ground.
TIP: Get a map before you take the lift up. It will give you numbered markers and guide you through the walk. 
How's the View at Fort Siloso Skywalk? 
Having been to fabulous sky bridges such as Cingjing Skywalk and Langkawi Sky Bridge, I wasn't expecting much from Fort Siloso Skywalk. That's one of the reasons why I'd delayed my visit to this attraction even though it was built many years back.
And precisely because my expectation wasn't high, I didn't walk away feeling disappointed. In fact, I thought the view was not bad.
Even though it's not in the same category as other skywalks I've been to, Fort Siloso Skyway does offer a 'wow' moment.
On the right of the bridge was a luxurious condominium – Reflections at Keppel Bay – sitting on the southern end of Singapore Main Island. And on the left, we got to enjoy the view of Singapore harbour, many ships, as well as a stretch of sandy beach (Siloso Beach). 
> RELATED: Why Marina Bay Sands SkyBar offers best sky view in Singapore
As we walked further along the bridge, I was presented with what appeared like part of an ancient jungle juxtaposed with modern architectures. This is literally a concrete jungle, and I mean it in a good way.
Check out the mesmerizing view that stopped me in my track for a moment. A magical sight, isn't it?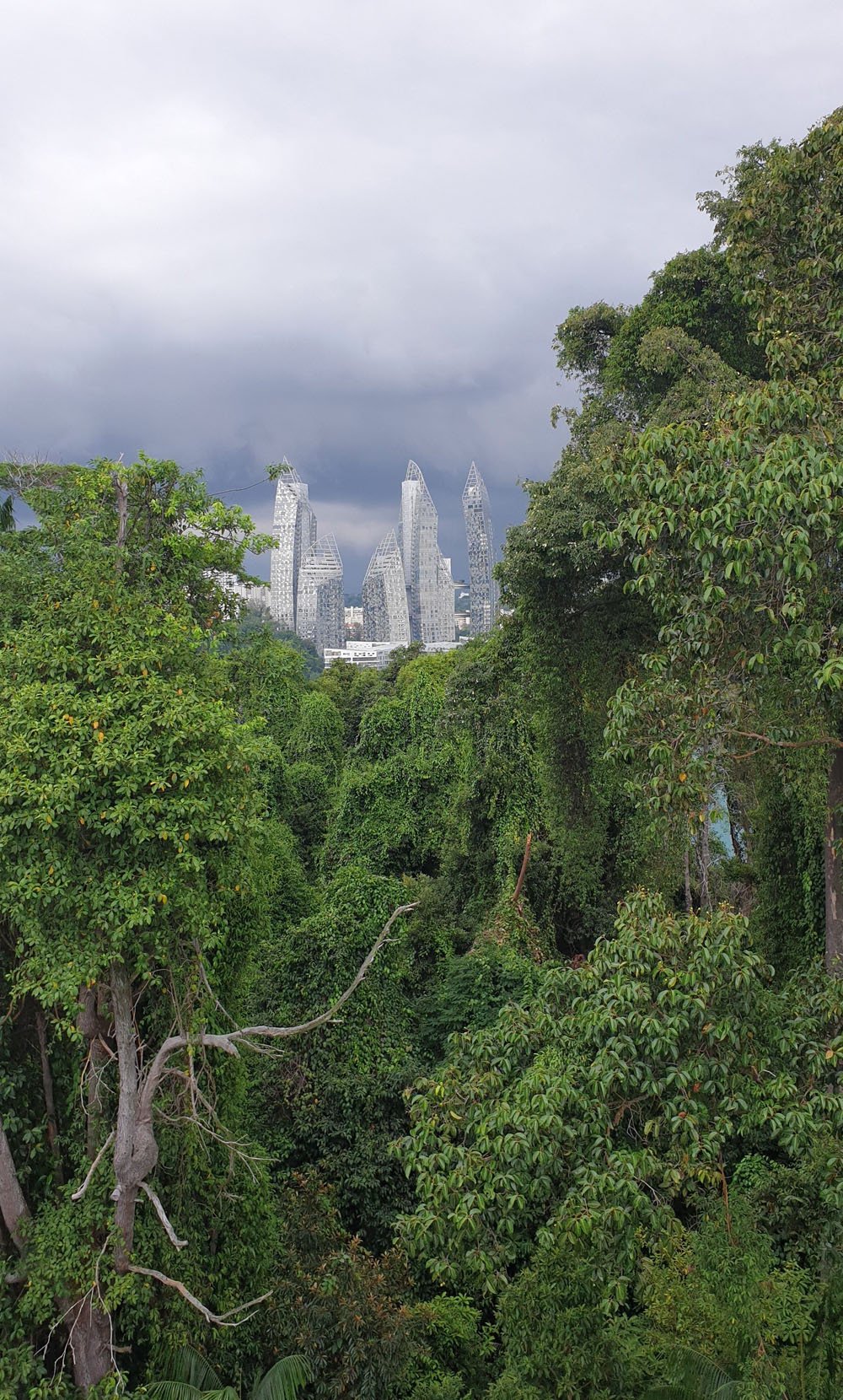 Sadly, the bridge was short (181 meters) and the walk ended quickly. But not to worry. We have more things to do at the other end, which I'll share in a bit. 
> MUST-READ: 11 non-touristy & authentic Singapore experiences 
Is Fort Siloso Skywalk Worth Visiting? 
I don't think Fort Siloso Skywalk is a must-visit attraction in Singapore. If you are a tourist, you may not need to make a special trip here.
However, if you are already staying on the Sentosa Island and have some free time to spare, then why not give this place a visit since it's free to enter anyway? Best of all, you'll get to learn more about the WWII history of Singapore and see a real fort built in the late 19th century.
TIP: Check out the Sentosa Fun Pass that allows you to save while you play on Sentosa Island.
How to get to Fort Siloso Skywalk? 
To get to Fort Siloso Skywalk, you'll first have to get to Sentosa island. This can be done by various modes of transport – car, buses, train, cable car or even by foot. Check out this Sentosa guide.
Free Island Admission: Enter Sentosa for free via Sentosa Express or by driving through till 30 June 2020. For info, entering by foot has always been free. 
Once you are within the Sentosa Island, you can get to Fort Siloso Skywalk by taking a:
Sentosa Beach Tram (board at Beach Station, alight at Siloso Point)
Sentosa Bus (board Bus A, alight at Siloso Point)
Singapore Cable Car (board at Merlion or Imbiah Station, alight at Siloso Point)
TIP: Here's where to get discounted Cable Car ticket. 
Attraction Info: Fort Siloso Skywalk 
---
Fort Siloso – Museum & Trails
What do you do once you reach the end of the Skywalk? Continue on and you can start exploring another attraction – the fort itself.
At Fort Siloso, you can see remains of tunnel, military structures and coastal guns. There are also small museums – set within original military structures – for you to explore and read up on Singapore's war history. 
Did you know? 'Siloso' is a Malayan word that means "rock".
These guys (above) were looking out for enemies, expecting them to invade Singapore from the South, by sea. Unfortunately, they were outsmarted by the Japanese soldiers who attacked us from the North.
The guns were then turned to face inland to fight the enemies. But it was probably too late, and not the best strategy to fight enemies who came in by land.
Singapore was easily taken on 15 Feb 1942 and was under the Japanese Occupation for three miserable years.
Took Shelter at The Military Store
Halfway through the excursion, it began pouring. Thankfully, we happened to be at "The Store" and that gave us a good shelter from the rain. But I wouldn't say it's the best place to be stuck in for an hour.
As you see, the mini-museum shared how life was like when Singapore was occupied by the Japanese during WWII. There, we were surrounded by wartime photos, memorabilia and life-size replicas detailing how people were tortured and brutally killed.
And did I mention that we were the only ones there during the hour-long wait? It felt cold and eerie and the roaring thunder didn't help. 
> RELATED: National Museum of Singapore – Don't miss these 2 must-see exhibitions!
Then, a lightening struck the building and caused me to shriek. The TV went blank and I buried my head in my partner's chest. I wish I could leave the building right then, but it was raining cats and dogs.
A while later, the building was struck again. Hmm, better "guai guai" and stay indoor. But it did make me ponder why a building could be struck by lightening twice in an hour. 
A Caucasian Cyclist practising social distancing
In the long wait within The Store, I checked on the rain a few times and saw a Caucasian cyclist standing outside.
I wonder why he chose to stay at the other side of the door, but think he may be politely practising social distancing. Either that, or the room was too cold for his drenched body to bear. 
500m Dash through the rain
Finally, when the rain reduced in intensity, we forced ourselves to make a 500m dash towards the Surrender Chambers first, and then to the Skywalk entrance. 
So yeah, we missed quite a few things as our excursion was cut short by the downpour. But as a Singapore resident, I can easily revisit this place again. In fact, I was here some decades ago, when I was a kid. :)
Attraction Info: Fort Siloso 
---
Phoenix Waiting at a Bus Stop
One place that I stopped briefly when dashing through the rain, was at a bus stop. I lingered longer because, how often do you see a peacock waiting for a bus? LOL!
Nah! I think it's hiding out from the rain too. Clever phoenix! 
I quickly snapped a few quick photos while maintaining, yes yes…my social distance from it as I was afraid the peacock would peck at me.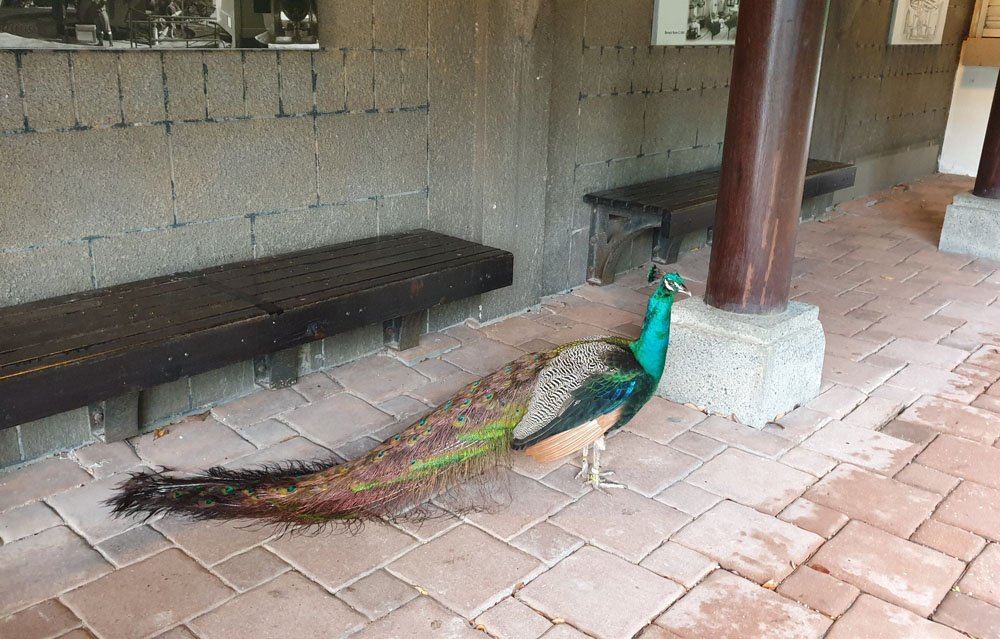 And this close encounter with the phoenix concludes my short visit to Fort Siloso. :) Thank you for reading. Here's some bonus info for you. 
Pin This!
This post may contain affiliate links, meaning I earn a commission if you make a purchase, at no cost to you. Read my full disclosure for more info.
(Visited 606 time, 1 visit today)