Hey guys, have you been spooked by the recent bad press of Scoot Airlines? Today, I'll share a review of my experience on Flight TR804, flying via Scoot from Singapore to Osaka. Read through if you wonder whether the significant cost savings via this budget airline justify the possible disruption risks.
As a spoiler, let me reveal that my flight via Scoot Airline was smooth-sailing. Now, even though I've emerged unscathed, we know that incidents do take place on random.
Disruptions aside (or the lack of), let's check out the pros and cons of flying with Scoot Airline (Singapore to Osaka Flight TR804).
---
What's Great about Scoot Singapore-Osaka Flight (TR804)?
To put things in context, I'm going to review this based on what I expect from a budget no-frill airline. I won't discount the airline for not offering entertainment system or complete amenities (e.g. blanket, amenity pouch, newspaper, toiletries).
Fair or not? :)
Okay, here we go. Let's talk about the good stuff first.
1. We Got Ourselves a Super Good Deal
We managed to get super cheap flight tickets to Osaka through Scoot's GTG ("got to go") sale that happens every Tuesday. Can you believe that a close to 7 hours return flight costs only S$260 per pax. And this was after we topped up for checked in luggage (20kg) and meals ("FLYBAGEAT") on both sectors, plus payment charges incurred via AXS machine.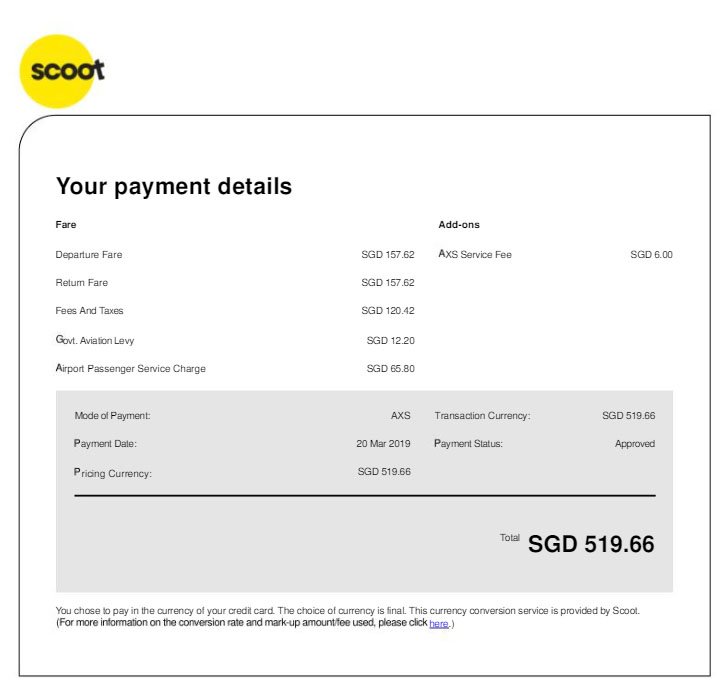 This cheap price is partially made possible due to the dates we've chosen, i.e. to depart on a Monday which is probably the least popular day of the week to travel. We also skipped the cherry blossom months because that would be too rush for travel planning considering this was booked in late March.
> MUST-READ: 9 Ways to Save Money when Traveling in Osaka
Other than that, the rest were pretty good. We were able to choose a departure date in mid-May and avoid Japan's Golden Week (which to us means crowded places and inflated hotel prices). The weather was also super ideal, straddling from end spring to the start of summer. The temperature was comfortable and hovered around the twenties (degree Celsius).
2. Favorable Departure Time via Scoot from Singapore to Osaka
Most budget airlines offer you a great deal but give you lousy departure timings, either making you sleep on the plane overnight or let you arrive so late you would probably just have time to check into a hotel, get supper and sleep.
In this aspect, I think Scoot did really well. Even for our super-cheap deal, we managed to get a flight that departs at 10.20am and arrives at 6pm. We didn't have to wake up at ungodly hours, pay cab surcharges or suffer from red-eye flight.
3. Direct Flight from Singapore to Osaka
Most people that I spoke with thought that my cheap flight to Osaka required a connecting flight. Of course they would because some flights (Scoots, Jetstar or other airlines inclusive) may require you to stop at say, Taipei or Philippines. Such flights may take 9 hours to reach Osaka.
Our flight – Scoot TR804, on the other hand, required only 6h 40m because it was a direct flight.
> MUST-READ: 15 Days Itinerary in and Around Osaka
4. T1 Departure gives easy access to Jewel Changi Airport
Scoot's Osaka-bound flight now departs from Singapore Changi Airport Terminal 1 (with effect from Oct 2019). This gives you easy access to Jewel Changi Airport, as they are linked via the arrival hall (L1). 
INFO: Among the four terminals (plus Jewels) in Singapore, Terminal 2 and 3 are the most convenient terminals to access by train. T1 can only be accessed by public bus or via airport skytrain.

T4 is the least convenient to get to and can only be accessed via airport shuttle bus.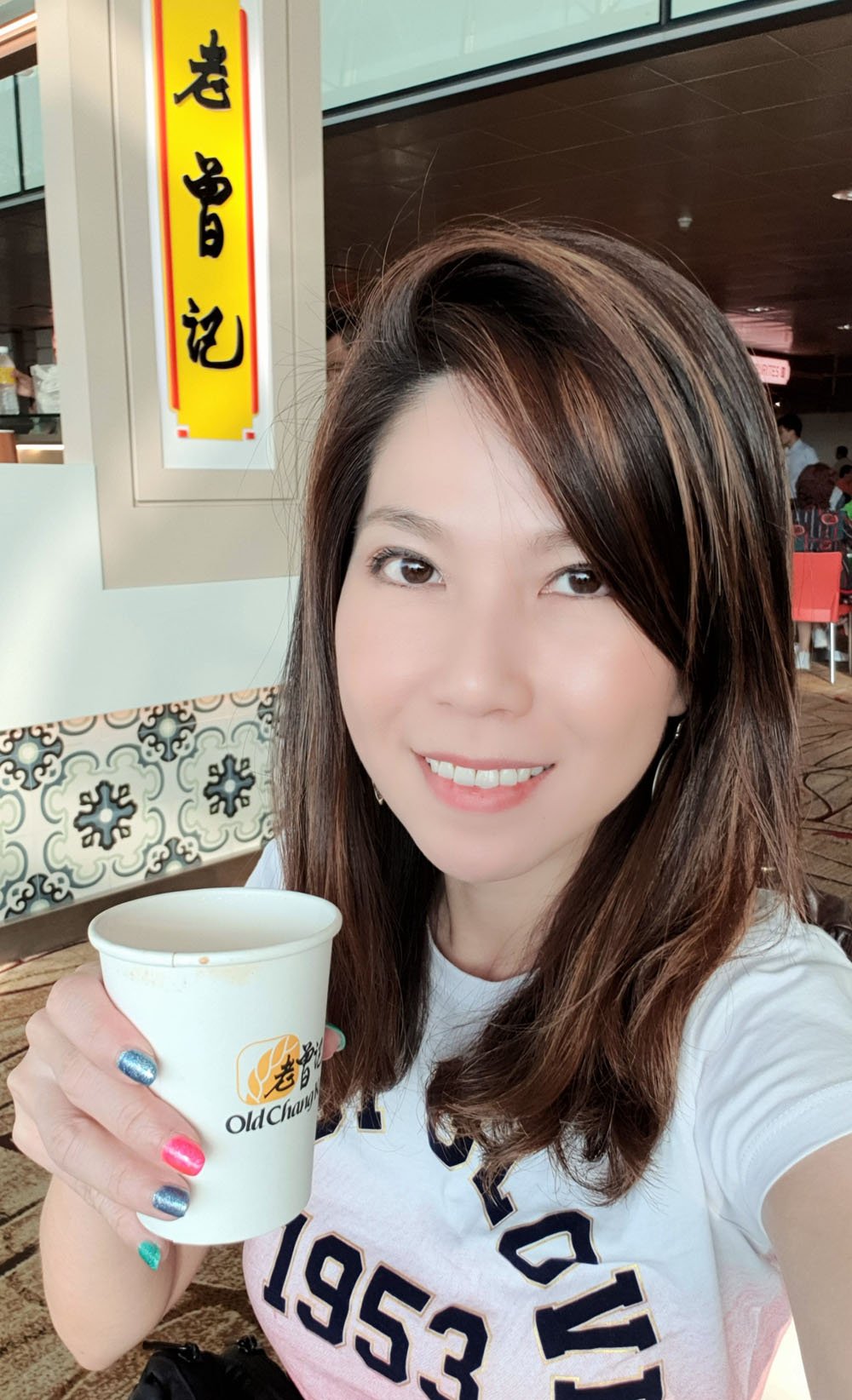 5. Early Check-in Possible with Scoot Airline (SIN-KIX)
On the day of departure, we were able to check in as early as 18 hours before the departure time. This self check-in via Auto kiosks is available till 70 mins before flight (see more info).
Checking in early is good if you want to enter the airport earlier than usual and do some shopping or just to chill.
How to Check in your Luggage via Scoot's Auto Kiosk
After scanning our passports at the Auto Check-in kiosk, the machine 'spitted out' luggage tag stickers. All we needed to do was to wrap the stickers over the luggage handles and proceed to the belt system to send our luggage off.
No human interactions were required, but we did notice staff standing nearby and appearing ready to assist.
6. Timely Departure of Scoot's Singapore to Osaka Flight
The boarding gate opened early. Mid-way through shopping, I stole a glance at the flight information display and saw that the gate was already opened. That was then 80 minutes prior to departure time.
As such, many people were seen hanging around within the boarding area. This may have contributed to the timely departure. For instance, I was already sitting comfortably in the plane 30 minutes before ETD. The plane then took off right on time, at 10.20am.
7. Spacious Leg Room for a Budget Airline
For a budget airline, the legroom we've gotten was commendable. This flight on Boeing 787-900 is a large plane with a 3 x 3 x 3 configuration.
> MUST-READ: 25 Things to buy in Japan that are Inexpensive & Loved by Locals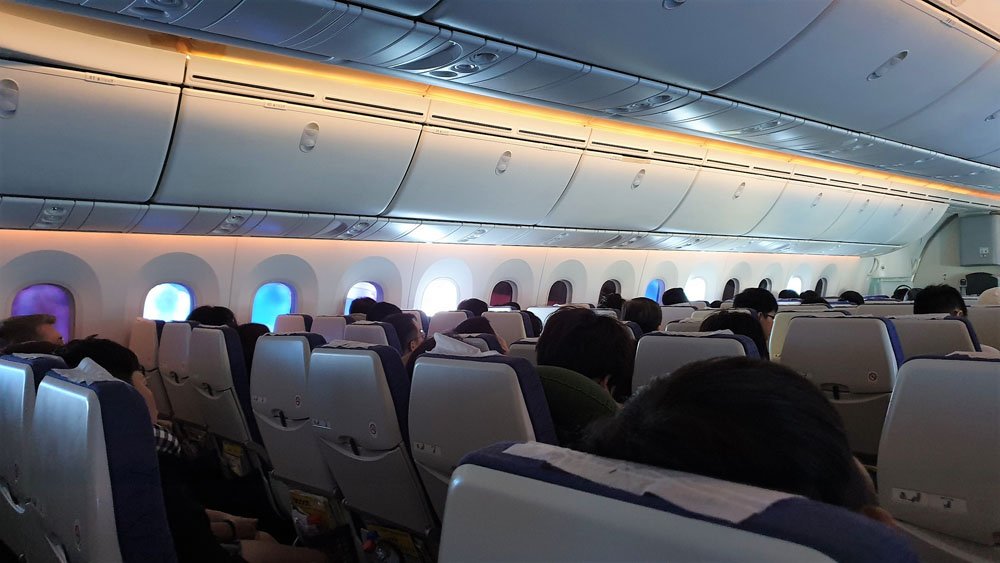 The seat offered is similar to what you get from full-service airplanes, with a legroom of around 31" and width of about 19″.
I could slouch and still have ample space between my knees and the seat in front. Of course, that's because I'm petite. But it was equally manageable for my partner (who have longer legs). :)
8. Sufficient Basic Amenities & Clean Toilets
This 787 aircraft comes with sufficient basic amenities such as attendant call, reading lights and recliner seats. The toilets have the essentials such as hooks to hang your bags, holding bars for safety etc. I also noticed that the toilets were kept clean throughout the 6-hour long flight. So did one of my favorite bloggers – Mitsueki. You can read her review of Scoot TR701, flying back from Osaka to Singapore.
Since Scoot is a no-frill airline, we didn't really expect things like foot-rest, toiletries, entertainment system, free newspapers etc. :)
Clean toilets throughout flight
9. Timely Collection of Checked-in Luggage
Our luggage came out timely, like almost zero waiting time. This may be attributable to the Japanese airport staff and their efficiency. But I think Scoot deserves some credit too.
I'm happy that there wasn't any delays, loss or damage to my luggage. I don't normally mention such things. But since Scoot has been in so much bad press lately, I like to point out that things may not be as bad in real life (for the majority).
Related Readings:
---
What's Not Great About Scoot "Singapore-Osaka" Flight?
1. Uncomfortable Seat 
Although the seat on Scoot TR804 Osaka-bound flight was spacious, it wasn't comfortable especially on the back area.
As a frequent flyer on budget airlines, this was the first time I'd to sacrifice my neck and use the neck pillow as a back support. My partner told me that he suffered the same aching feeling.
I'd thought that this was something we'd to live with, considering this being a budget no-frill flight. However, the return flight via the same airline (also a 787) was a lot more comfortable. So I guess it all boils down to luck and which aircraft you get on your flight. :)
Ok. I should stop complaining. Hey, this 6-hour flight costs only S$130 per sector. Shame on me for even making a noise! LOL!
Tips on Seat Selection
On a side note, I thought I'll share with you some tips on seat selection, ie. assuming that you'll be on the same aircraft.
The 'window' seat at row 42 didn't come with a window. I'm not complaining because I don't mind. But if you are particular and are paying for the seats, please avoid booking Row 42 (ABC or HJK). 
Did you know? Why are aircraft seats on the right labeled as HJK instead of HIJ? This is to avoid confusion as "I" could be mistaken as 'one'. Imagine if you get a seat Row 42I. Someone may read it as Seat 421 and confuse the staff and everyone else.
2. Maintenance Lapses
I guess I can legitimately complain about these maintenance lapses? As you see, my seat's recliner was spoilt. Yes, I was in an upright position for 6h 40m. :)
Look at the recline button below (right of photo) – it was basically gone and stuffed with tissue. Maybe I was unlucky as my partner's seat reclined well. I lived with it and didn't inform the crew because it was bearable. Also, I thought I could get some work done when being forced into an upright position. LOL!
To be honest, the laptop was a little too close for comfort. But, once again, for a S$130 flight, I can take it as long as safety is not compromised.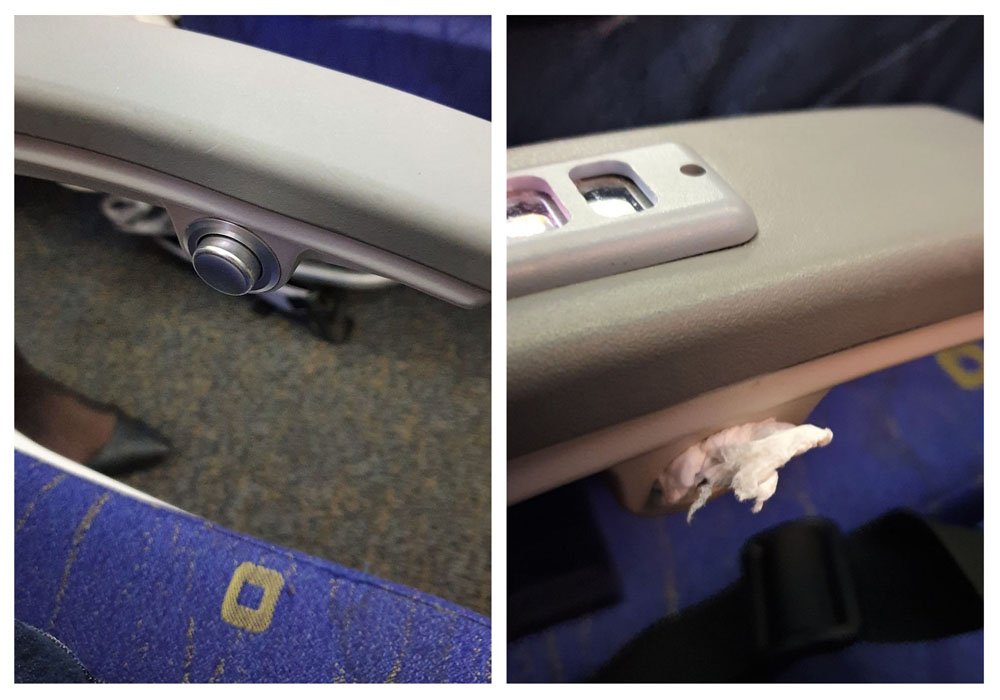 When we were about to get off the plane, I noticed that the area above the stowage was plastered uglily using what appeared like non-industrial tapes. I think nervous folks may get an anxiety attack if they see this prior to take-off. LOL!
3. In-flight Food on Scoot ain't great(from Singapore to Osaka)
I'd topped up for "FLYBAGEAT" and was able to pre-order my meal. I must be unlucky to have chosen what I thought was the worst airplane food I've ever eaten.
It was Signature Nasi Lemak. To be brutally honest, there was nothing I love about this meal. This, coming from someone who isn't fussy about food does mean something, right?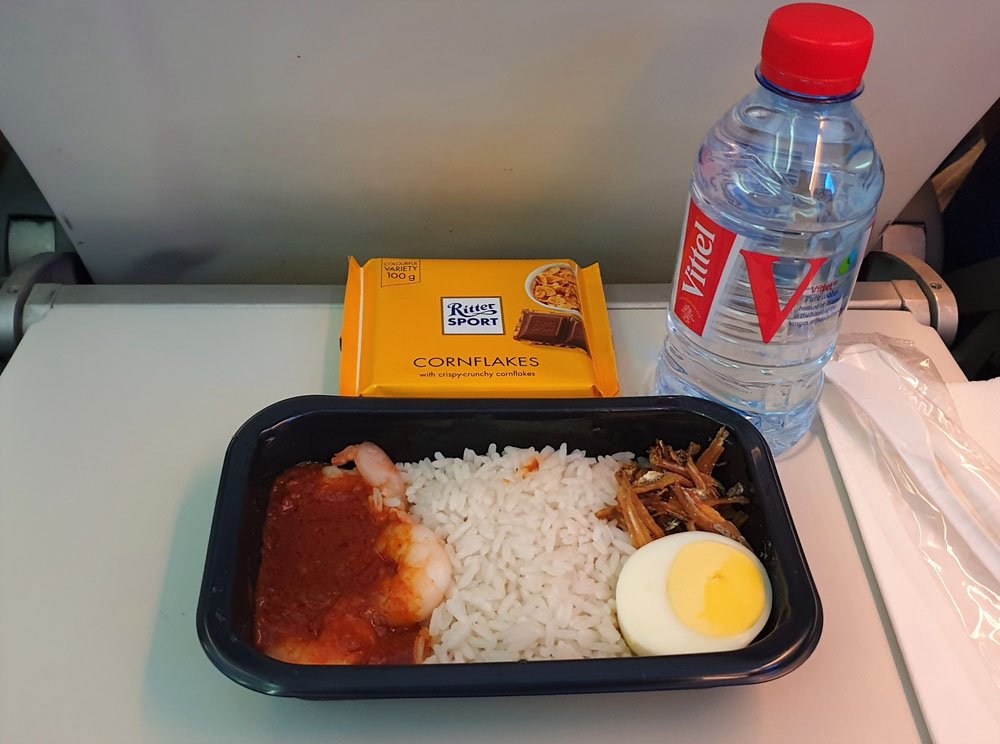 First of all, the Sambal chilli wasn't fragrant. It was also a tad too sweet for my liking (even McDonald's does it better). Secondly, the prawns were tasteless. And the most unacceptable part of the meal was the chewy Ikan Bilis. Instead of being crispy, these Ikan Bilis absorbed moisture during the rewarming process and became rubbery. I remembered chewing non-stop trying to swallow the anchovies.
The best item must be the hard-boiled egg? Sadly, this simple ingredient was below average and harder than usual.
I forced myself to consume the meal, but could only finish half of it. This was a rare instant when I let food go to waste.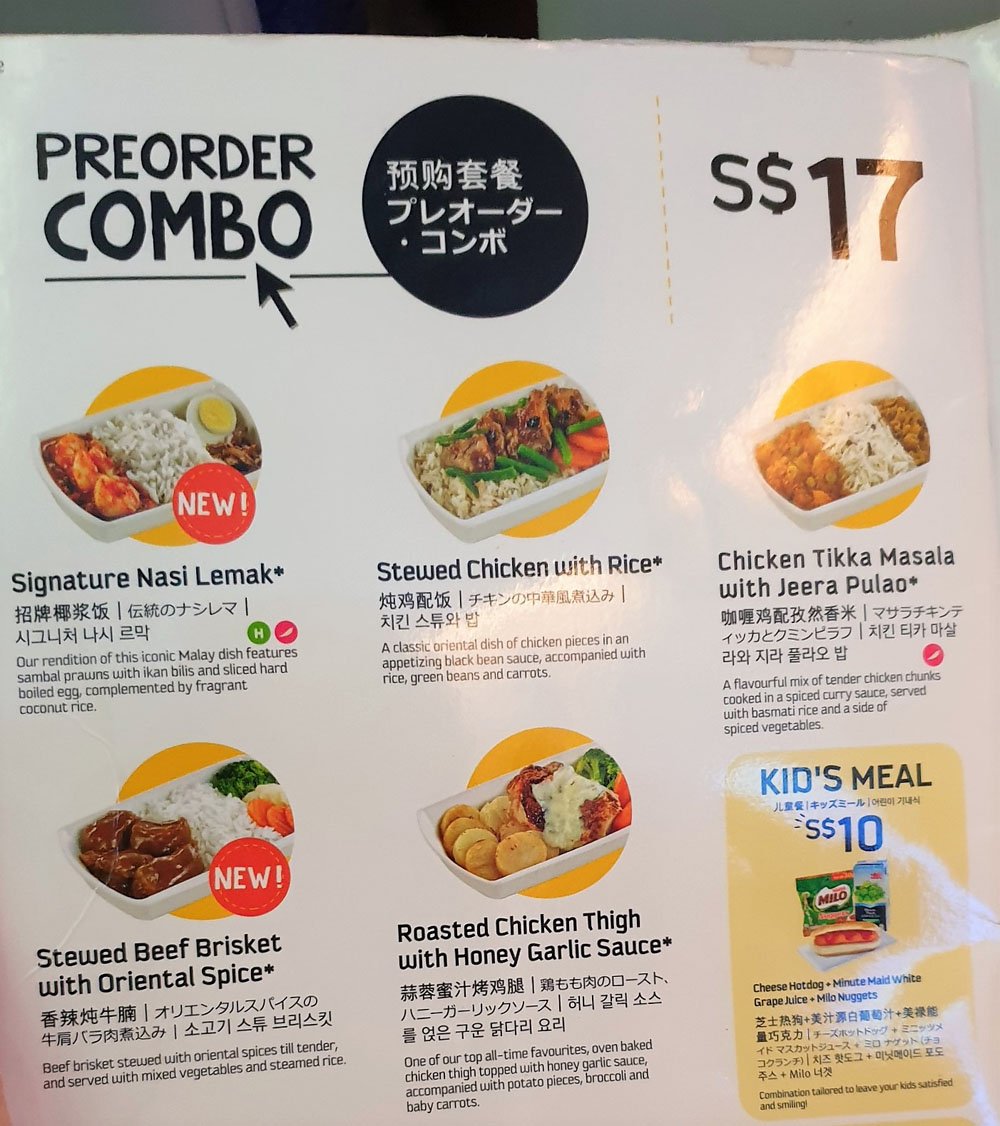 For info, my partner didn't enjoy his Stewed Chicken with Rice too. We were so disappointed that we took the trouble to login to the portal a few days before the return flight to swap our meals from Asian to Western Cuisine.
I even opted for a cheaper set – just a sandwich because I thought it would be hard to go wrong with a ham sandwich. I'll share my review of our return flight in a bit. As a spoiler, it was a much more comfortable flight. Coming up soon!
Generous Dessert Though
The meal came with a generous 100g of Ritter Sport Cornflakes Chocolate Bar (100g). We were also offered a choice of water or coke.
How I wish they could allow us to choose Coke Zero instead of Coke, since the ala carte prices of both items were similar. The staff said it wasn't possible and I'd to opt for water. Boring!
4. Warm Cabin Temperature
Cabin temperature can often be colder than what is comfortable. For our flight on Scoot TR804 (SIN to OSAKA), the temperature was a little too warm instead – at 29 degrees Celsius.
Although this isn't perfectly comfortable, I do prefer slightly warm than too cold. Also, such temperature control may vary depending on aircraft or whoever is in control. For instance, our return flight via Scoot TR805 was too cold – 22 degrees. :)
5. Bad Press of Scoot Airlines
I normally don't buy travel insurance unless the destination is one that I deem necessary or the activities involve some risks, e.g. New Zealand. With all the bad press and warnings from friends, I'd to buy a travel insurance for this trip to manage any disruption risks.
TIP: Although I didn't have the habit of buying travel insurance, I believe I would start doing so in future because it does provide a peace of mind. 
---
Recommendation
There are quite a number of things that I love about Scoot Flight TR804 (Singapore to Osaka), such as the spacious legroom, direct connection and how punctual the flight took off and landed. Other than the mediocre Asian food and uncomfortable seats, the rest were pretty commendable, considering how dirt-cheap the tickets were in our instance.
If you are interested in flying Scoot from Singapore to Osaka, you may like to avoid Asian meals or Signature Nasi Lemak specifically.
All along, I thought my experience should be ranked a 3.5/5. However, putting the price into the equation, I would like to bump it up to 4/5.
---
This concludes the review. I hope this post and other posts on Osaka can help you in your travel planning. I'll be back with more travel reviews and recommendations. Stay tuned! Connect with me if you like to get notified of my latest and 100% honest reviews – just click the button below! See you.
This post may contain affiliate links, meaning I earn a commission if you make a purchase, at no cost to you. Read my full disclosure for more info.
Pin This!
(Visited 2,326 time, 1 visit today)