Would a great start to Day 3 of our 8-Day Eastern Taiwan Tour continue into the second half? Read on and check out the state of Wenshan Hot Spring which was officially closed to the public but still visited by many. We would also visit one of the eight wonders of Taiwan – Qingshui Cliff and do a DIY Night-Tour of Hualien City. 
---
Would you take a Dip in Muddy Wenshan Hot Spring?
(3.40pm)
After completing the gorgeous Lushui Trail, we rode our rental scooter to Wenshan Hot Spring. The entrance was by a small staircase located beside the main road, just before Taishan Tunnel – parking location. Although Wenshan Hot Spring was known to be closed to the public, we read from online reviews that many were still visiting. Being a lover of onsen (Japanese hot spring), how could I miss this right?
Indeed, Wenshan Hot Spring was closed to the public but wasn't difficult to slip into. What welcomed us were steep flights of wooden stairs that led us deeper into the gorge while rewarding us with beautiful views of nature.
The great thing was how quiet this place was – in fact, the place belonged to us because we were the only ones there. 
The steep descend finally ended at the sight of a suspension bridge that was hung over a river. We stood at the bridge feeling somewhat disappointed. In contrast to the beautiful jungle-like landscape that we just passed by, what was presented next was a river that exuded a dark and eerie aura. It reminded us of what we'd gone through just a day before.
> RELATED: Day 2 – Taroko Gorge on a Rainy Day
Everything was a tone darker, be it the dull green of the vegetation or grey tone of the river. The sound of the rapidly-flowing river added a sense of fear especially when we saw it was fiercely flowing with mud. That's not all. The hot spring pool we were looking for wasn't immediately noticeable as it was entirely covered with mud. No……!!!
Anybody fancy dipping in such a muddy and hot pool? Ahh…not us! By the way, were we the only one who spotted a muddy hot spring at Wenshan Hot Spring (probably due to typhoon climate?), or was it its current permanent state? Share with us an update if you've recently been to Wenshan Hot Spring.
Making our way out was quite a strenuous but short climb back to the starting point. Although we didn't get to enjoy the hot spring, we thought this place was worth coming to because it offered a different type of hiking experience and sight – an abandoned hot spring and its forsaken facilities and not forgetting that photogenic greenery of the wild.
The steep flights of stairs offered a good cardio workout and would appeal to those who love ascending trails. An added bonus was how pretty those stairs looked on photos.
Do note that this part of Taroko Gorge also forms the entrance to Wenshan-Lushui trail. So yes, one can actually trek from Wenshan Hot Spring to Lushui. Special mountain permit is required though.
Location of Wenshan Hot Spring
See map location.
---
Taroko Gorge getting all misty and gloomy! 
On our way out of Taroko Gorge, the climate changed very quickly from being bright and sunny to misty and cold. Clouds were hovering low at eye level and I started to shiver. In case you wonder, it was only 4.30pm.
Soon, we knew the reason. Drizzle came! Guess Mr Rain wasn't done with us yet, huh? No problem as I'd purchased a new raincoat yesterday that looked way more durable than the free disposable ones provided by our motor-rental shop.
We hastily made our way to our next destination – Qingshui Cliff.
---
Qingshui Cliff: Don't miss Top 8 Wonders of Taiwan
(5pm)
It was a long walk from car park to the edge of Qingshui Cliff. I ran a little because it was getting dark and drizzling, remember?
The poor weather also meant that our plan to watch sunset at Qingshui Cliff couldn't materialize. To our great delight, the view at Qingshui Cliff on a cloudy day was still exceptionally beautiful. I'd read about its beauty but didn't expect it to be so mesmerizing. No wonder it's one of the eight wonders of Taiwan.
The way the cliff, clouds and ocean came together, the different tones of blues that formed the ocean, the small dot of light in the mountain where Suhua Highway disappeared into the cliff, were just breathtaking!
I stood for a good moment with my eyes glued to the misty and dreamy landscape. 
Many people have said that Qingshui Cliff was beautiful, and I thought it was just another 'normal-beautiful' ocean view. That's why we'd placed it low on our priority list and had intended to miss it.
Coming from someone who has driven one round of Australia and viewed countless ocean views, Qingshui Cliff was not just another beautiful ocean view. It was stunning! Definitely worth a trip!
Devouring Meat Buns at Qingshui Cliff
Having skipped lunch (not by choice cause hiked too much), I was glad I had some meat buns with me which I had 'tabao' (takeaway) from Shandong Doujiang Dawang (山東豆漿大王).  As it was purchased since morning, the buns were now hard and cold. But that's okay as long as it staved off hunger and recharged my energy.
See my purple plastic bag of emergency ration? LOL. Been carrying it the whole day and was finding it a chore until it came to good use.
Alas, the cloud couldn't take it anymore and it started pouring. Once again, we had to run quite a long way back to our scooter. Miserable moments came back to haunt us as we were wet, cold and shivering while making our hourly-long journey back to Hualien via highway.
I'm not sure if you could imagine how cold it was riding a scooter through the wind when drenched (hello, highway means fast traveling and strong wind, okay?). It was extremely cold, like having multiple large power fans blowing at you while you were taking a cold shower in an air-conditioned room. Brrr…..
Location of Qingshui Cliff
There were several viewpoints along this coast. One of them could even lead you to Chungte Beach (崇德海灣). We were at one that was further north of Suhua Highway – see map location.
---
Biggest Shopping Mall in Hualien City
(8pm)
After drying ourselves in our Airbnb apartment, we made our way out again, first to a shopping mall recommended by our Airbnb host. I believe Far Eastern Department Store was the biggest mall in Hualien City that's walkable from the Golden Triangle.
Did you know? Golden Triangle in Hualien is a popular segment within Hualien City that is framed by Zhongshan Road, Zhongzheng Road and Zhonghua Road. If you look at google map, you can see a distinct triangle.  This is the place where food and shops are concentrated in.
By Singapore standard, Far Eastern Department Store wasn't really that big. It was good enough to wander about for maybe an hour?
If you are looking for an air-conditioned place for a meal, there's a not-very-busy food court, a McDonald's and some restaurants at Far Eastern Department Store. You can also load up on food souvenirs at "A Mart" supermarket.
> MUST-READ: Things to buy in Taiwan? And What to Avoid?
While my travel partner was busy loading up his supermarket trolley, I ran off to Hualien Cultural and Creative Industries Park to catch a glimpse of the place before it closed for the night.
Location of Far Eastern Department Store
See google map location. 
---
A Night at Hualien Cultural and Creative Industries Park
Hualien Cultural and Creative Industries Park was an ex-brewery built more than 100 years ago. Today, it is a large exhibition space and creative hub.
By the time I arrived at Hualien Cultural and Creative Industries Park, many of the smaller booth stalls were closed or closing. Still, I managed to enter a few exhibition spaces including cafes and retail shops selling art and cultural stuff. There were also restaurants and beer houses in the vicinity.
Walking through the compound quickly, I passed by an outdoor space where locals, their kids and pets were hanging around having fun. In the photo below, there were two doggies running on the grass patches which my phone camera couldn't capture properly under low light.
Next, I followed the music and found myself at an outdoor theatre space where I sat for a while to update my travel diary while enjoying the music together with the local folks.
Hualien Cultural and Creative Industries Park may not be a must-see destination for most tourists. But I do find it refreshing to mix it with all the outdoor destinations that Hualien is popular for.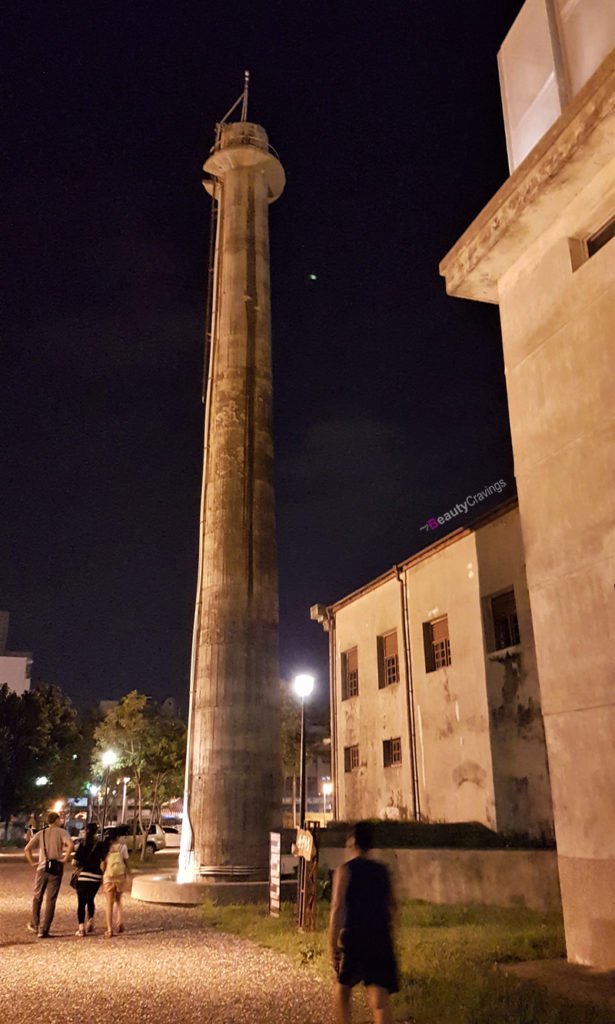 Location of Hualien Cultural and Creative Industries Park
See google map location. 
---
Japanese Supper in Hualien (王將壽司)
(10.40pm)
A long day hiking and shopping meant our energy was consumed fast and we needed constant replenishment. Okay, I was just trying to justify why we needed supper. ;)
After all the shops were closed, we made our way to Zhonghua Road where a Japanese stall made out of a lorry was parked. Apparently, Wang Jiang Sushi (王將壽司) only opened for business late at night, from 10pm to 2am.
There were so many people crowding around – queuing and waiting for their orders. What puzzled us were how these locals seemed disinterested in dining in. The extremely scarce sitting area wasn't exactly very popular. Locals in their casual wear (home wear, maybe?) appeared more interested in packing food home than dining in. Our guess – they were packing sushi back for their family members or dearest.
Since no one wanted the seats, we gladly took it. We probably also jumped the queue by sitting down as things came swiftly. Everything we ordered was so delicious we just kept ordering as if those were free of charge.
For the quality and taste of the food, it was considered cheap. We spent NT540 on our supper and even ordered some items twice due to limited menu items. Here are just a fraction of the items we ordered:
My diary quick note says:
五味

花枝 (squid) and Vinegar Octopus was 'QQ' (a Taiwanese term to refer to food texture that's chewy in a good way).

Fish roe was fresh and didn't have any fishy taste
Veggie handroll was refreshingly crunchy
Don't miss Wang Jiang Sushi (王將壽司) if you happen to crave for Japanese food after 10pm.
Location of Wang Jiang Sushi (王將壽司)
See map location. 
That's all for Day 3. In the next post, you will read how we made our way to Luodong, a town further north of Taiwan Eastern Coast. Luodong is popular for its night market, so you'll see a lot of yummy stuff in my next post. Stay tuned!
Do you want to hear about the fun things I do as a budget-savvy free and easy traveler? Just click the button below to subscribe. I'll even give you some free and exclusive stuff. See you there!
SUBSCRIBE
This post may contain affiliate links, meaning I earn a commission if you make a purchase, at no cost to you. Read my full disclosure for more info.
---
Related Posts:
(Visited 1,209 time, 1 visit today)