What a morning of Day 2 that saw us getting "bullied" by Taroko Gorge! Would the afternoon of Day 2 be kinder and offer us a respite from the persistent typhoon-rain?
The short answer is 'No!'. Nevertheless, the fearsome Taroko Gorge would still reward us with a spectacular and one-of-a-kind type of scenery that most tourists would miss. I'll also show you how pretty Chisingtan beach was. Read on!
---
Sneaking into Swallow Grotto Trail (燕子口)
Remember how we were denied entry into Swallow Grotto Trail this morning? Somehow, we arrived at the other end of the trail, not knowing we were there until we saw a signage bearing a swallow logo.
What'd caught our sight when we were riding along the curvy road was a raised wooden platform. Out of curiosity, we parked our scooter along the road and climbed up. Oh my god! Someone up there finally took pity on us! A spectacular twin-waterfall at close range was our reward of the day.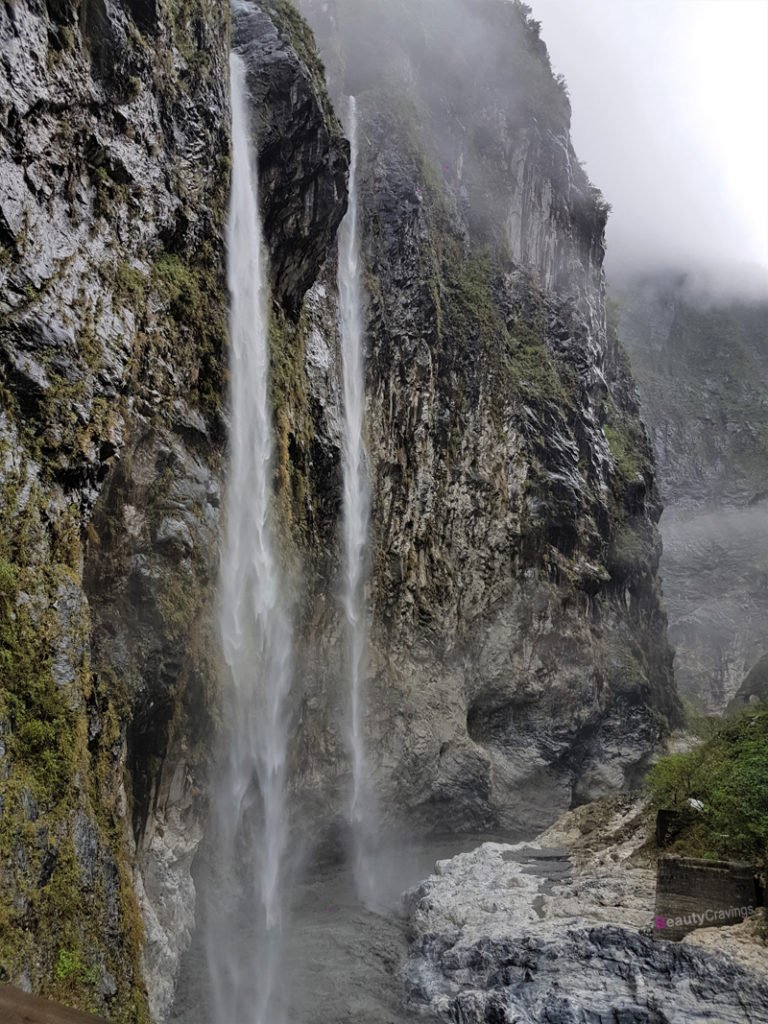 As the waterfall was at its full blast due to typhoon-rain, please turn down volume if you like to watch the video below:
Once we were done admiring the twin waterfalls, we decided to venture further along a footpath that seemed to lead to a cave tunnel. This was despite seeing a sign advising us to back off as the trail was closed due to rock falls. We were defiant and slipped through the unguarded barricade. As you can see, we were really desperate in finding a trail to conquer.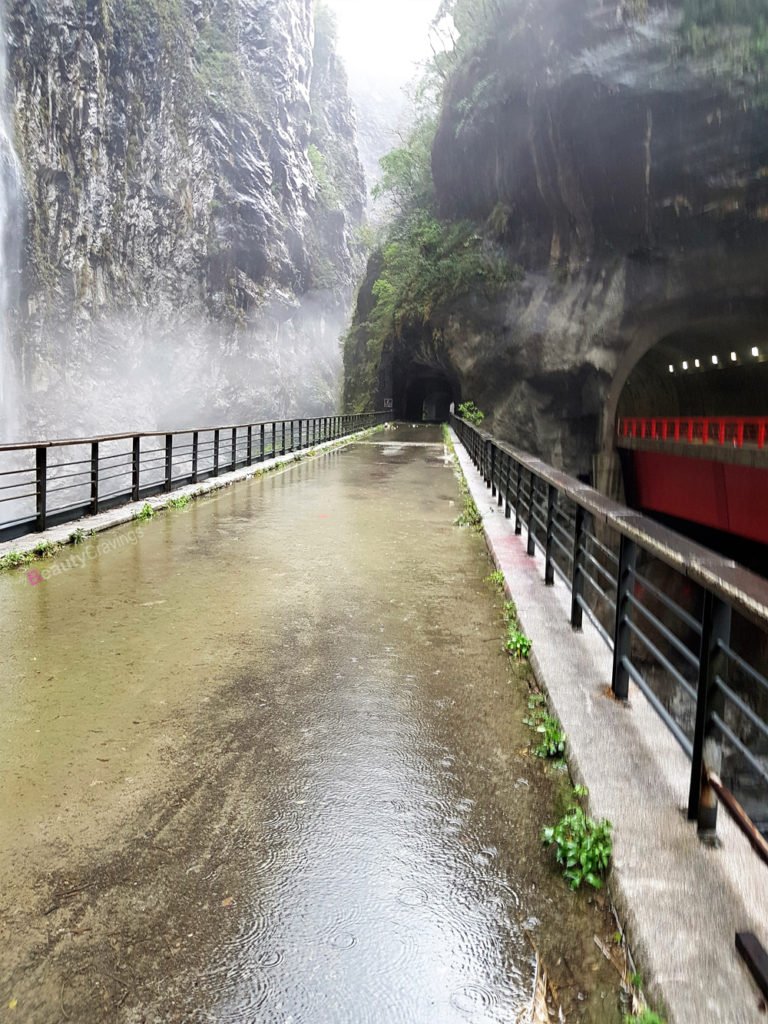 I'm not sure if you could tell. The pathway was slightly flooded, such that my feet would be submerged. So we held on to the side-fence and walked horizontally like a crab, along the raised narrow cement.
As we walked further in, we started seeing rocks on the pathway. The rocks got bigger the deeper we were in. Our logical mind told us that it was time to turn back, whether we like it or not. It's sensible to take only calculated risk and this was something not worth risking.
Once again, we were denied entry into a trail – this was the fourth time since morning. That's okay, we would be back (tomorrow).  
Location of Swallow Grotto (Yanzikou)
See google map location.
---
Shakadang Trail (沙卡礑步道)
(1.50pm)
The reason why we'd decided to rent private transport was to explore less touristy trails in Taroko Gorge. In the end, we ended up at one of the most touristy ones – Shakadang Trail. It was the only one that was opened that day. Beggars can't be choosers, right? At that moment, we were delighted it was opened especially after having been disappointed the entire morning.
INFO: Did you know that you can sight dolphins and whales in Hualien? So if you are not a fan of hiking, here's an affordable Hualien Whale Watching tour that you can consider adding to your itinerary.
Shakadang Trail was a flat and easy trail that anyone could easily conquer, including kids and elderly. Located very near the entrance of Taroko Gorge, this is where most tourists would be brought to if they join a day tour.
Built along the river cliff, Shakadang trail was supposedly famous for its crystal-clear turquoise water. But all we saw that day was muddy river. It must have had something to do with the weather that day.
Entering the trail requires climbing a steep flight of metal stairs. That was the only part of the journey that required climbing effort. Thereafter, the scenery involved mostly overhanging rocks and well….river. After some time, the view looked the same and we got a little bored.
As if we weren't sick enough of the rain, the overhanging rocks brought down curtains of rain on us, similar to how we got drenched riding our scooters under "leaking" rock ceilings.  Dashing through parts of the trail gave us a good cardio workout and helped keep us warm. LOL.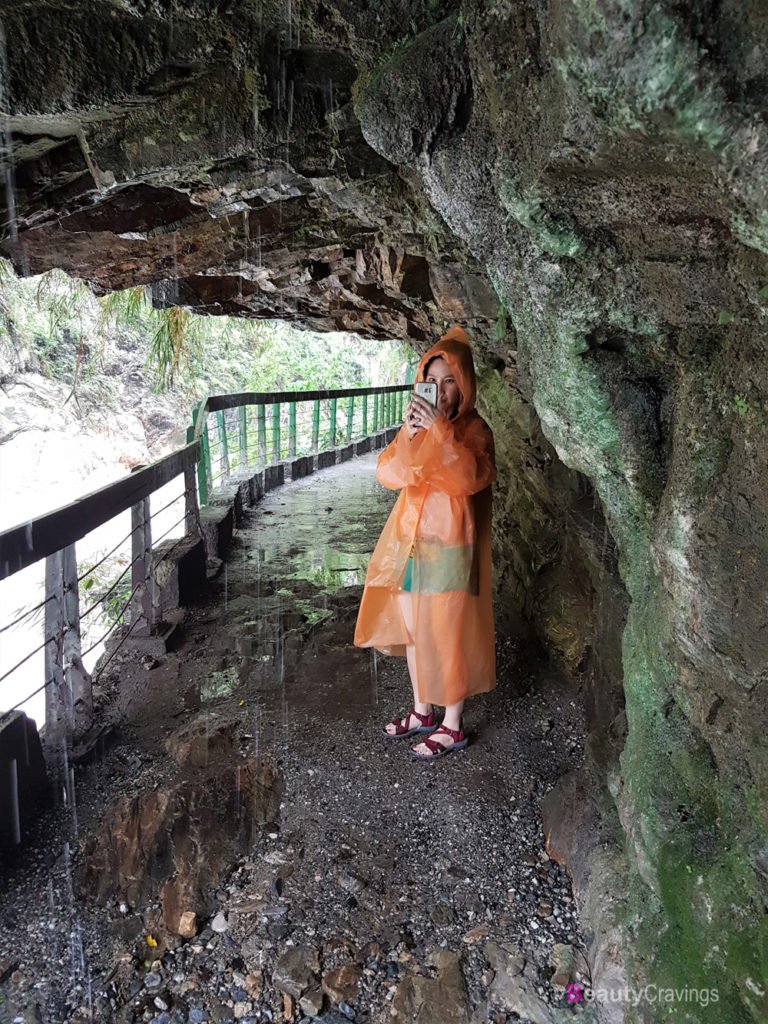 The presumption that these rock ceilings could provide shelter from the rain was silly thoughts on hindsight. These rock ceilings brought down more water than the actual rain itself which had by now reduced to a comfortable drizzle.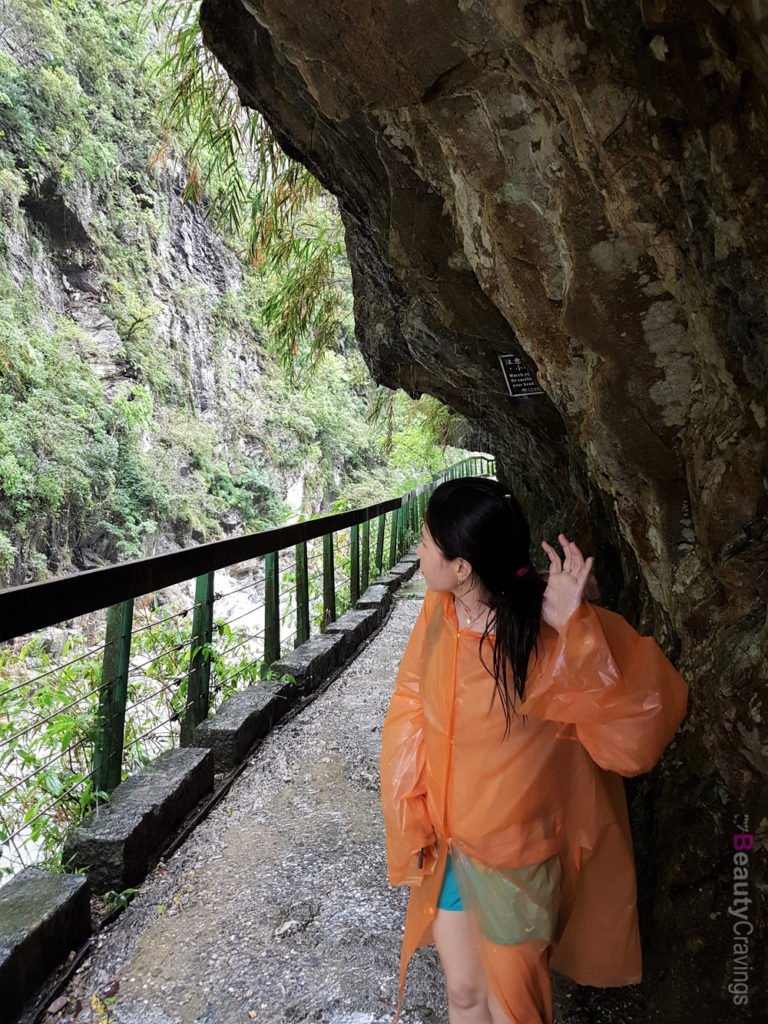 The thing hikers hate most is not being able to finish a trail. At the 500-meter mark before 3D Cabin (ending point), the path was blocked off. As such, we did not get to see the "deep pool with clear water". Maybe that explained our lukewarm impression of Shakadang Trail. Hopefully, you'll have better luck than us.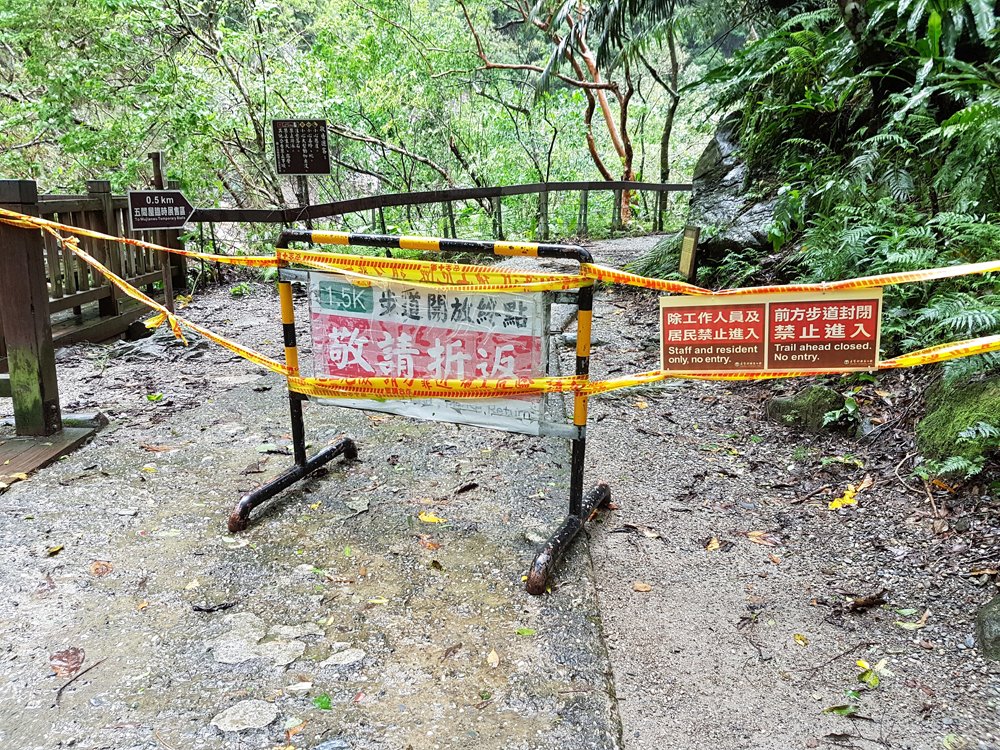 The round trip through Shakadang Trail took us 50 minutes (note: we are fast and impatient hikers). You have to walk out through the same path that you walk in. Along the way, you may see some lovely crawlies.
Location of Shakadang Trail
See google map location.
---
Where's the Sand at Chisingtan Beach (七星潭)?
(3.50pm)
On our way back to Hualien, we stopped by Chishingtan beach. Loosely translated as "Seven Stars Beach", this beach is characterized by its sand-less shore. What replaced the sand were countless pebbles in varying shapes and sizes.
These pebbles looked clean, glossy and lovely. We saw many tourists hugging a pile of XL-sized pebbles which I presumed they would be bringing it back to their home country. It's so huge I wonder if it would break their baggage limit.
TIP: Many would be tempted to collect some pebbles and bring it back to their home country. Please refrain from doing so as many have been fined at the airport when leaving Taiwan. Maybe collecting one or two tiny pebbles is fine, but not smuggling pebbles the size of a plate like those aunties did. 
When walking towards the beach, we were so delighted that the rain had finally stopped! But once we took off our raincoats, the rain came back with a vengeance giving us very little time to enjoy the sight of the beautiful beach. A few photos were taken and that was it!
I can still recall how useless the raincoat was at Chishingtan beach. The wind was so strong it prevented my raincoat from staying in position. After a long day of repeatedly putting raincoats on and off, some of the buttons had already come off. So, the wind basically blew open the raincoat from the side and allowed the "diagonal" rain to seep through.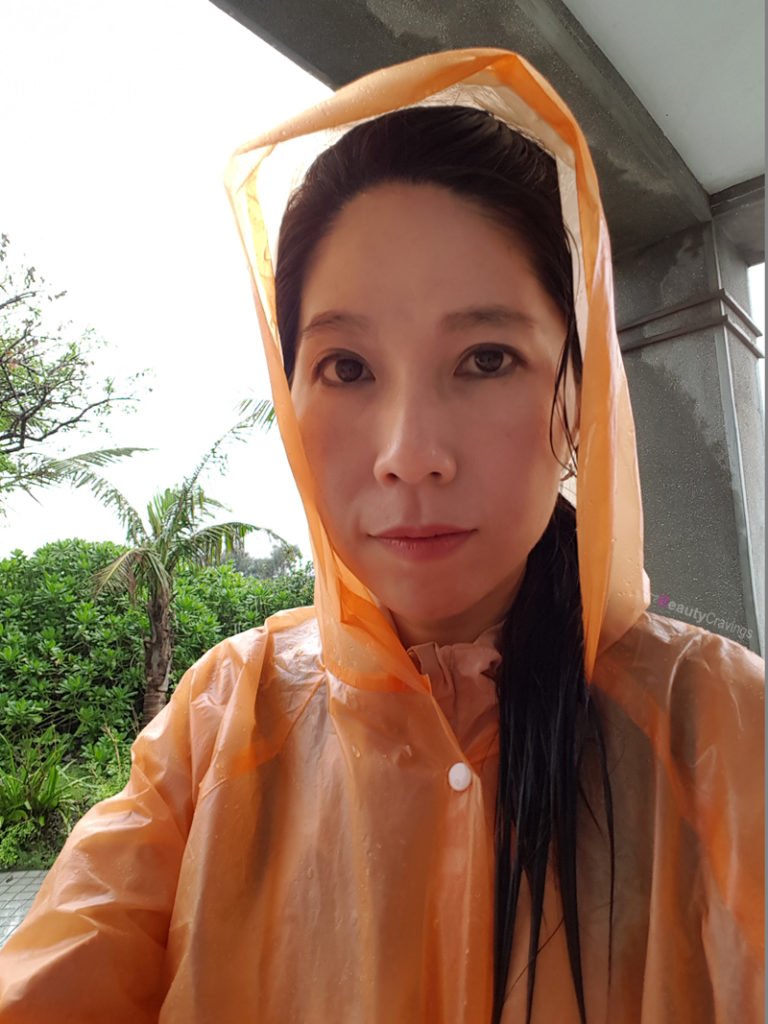 If you were there, you could see me frantically pressing down the raincoats from all sides while walking towards the scooter. Just think of Marilyn Monroe! That was me that day, except that I was in orange, and not as sexy. LOL. What a memorable experience!
Nevertheless, I think the beach was unique and pretty in her own way. Definitely worth a visit!
Location of Chishing Tan (Qixingtan)
See google map location.
---
Airbnb was our Refuge
After a long day out in the rain, it was an indulging moment getting back to our spacious airbnb unit and enjoying a long and hot shower.
Well, actually, we spent more time doing our laundry than relaxing. That's how we were able to travel light, i.e. we bring half of what we need for every trip or less. For a lady, I think I did pretty well keeping to under 7kg of travel baggage for a trip that lasted more than a week. Agree? ;)
 TRAVEL & SAVE: Enjoy S$62 off your first Airbnb stay and experience
---
Does Gongzheng Baozi (公正包子店) deserve to be this popular?
Last night, we ate dumplings at Zhou Jia Yan Jiao (周家蒸餃), which was recommended by our Airbnb host. You probably haven't heard of it because the one that's really popular and on every tourist map is Gongzheng Baozi (公正包子店), located next to Zhou Jia Yan Jiao.
It was also on our to-go list! Let's see what we ordered.
Dumpling wasn't well-prepared such that the skin either stuck to the container or to the neighbor dumplings. This is a no no for dumplings because the skin would break and all the precious meat juice would be gone when we picked them up.
Well, what was worse was that the dumpling skin had already broke when they were served. Yes, we were served leaking dumplings. What a shame!
How about the Xiao Long Bao? Well, it's not our usual juicy meat and soup wrapped in dumpling. The Xiao Long Bao here is more like a miniature meat bun that comes with thick skin with little fillings. It's really cheap, so can't complain much. ;) I guess it's an affordable food that can help fill up your stomach if you are not too concerned about taking in too much carbohydrates and too little protein. 
Our orders including drinks came up to NT185, which was very affordable and comparable to the other store (Zhou Jia Yan Jiao 周家蒸餃). 
So, which store is better? What do you think? Zhou Jia for sure! ;)
Location of Gongzheng Baozi
See google map location.
---
Shopping in Hualien
After dinner, we strolled along Zhongshan Road which is a shopping belt in Hualien. I bought my cosmetics from Cosmed, a popular drug store in Taiwan (see google map location).
> MUST-READ: Things to Buy in Taiwan? And what to Avoid?
If you want to shop for Taiwan snacks, Zhonghua Road has a few shops offering good options. We bought Taiwan Mochi and other goodies from some of the stores here. Check out the link below to read more about what we bought in Hualien.
MUST-READ: Things to buy in Taiwan Part 2
Location of Zhonghua Road in Hualien
See google map location. 
---
That's all for rainy Day 2. Let's see if Day 3 would turn out better as we would be visiting Taroko Gorge again! Stay tuned!
If you like to get notified of newly-published beauty reviews and travel stories, just click the button below to subscribe. I'll even give you some free and exclusive stuff. See you there!
SUBSCRIBE
This post may contain affiliate links, meaning I earn a commission if you make a purchase, at no cost to you. Read my full disclosure for more info.
---
Related Posts:
(Visited 985 time, 1 visit today)