Dotonbori is probably the most popular tourist attraction in South Osaka (Minami). I was there on a Monday night and was surprised at how happening the place was even after 9pm.
Let me walk you through my experience wandering around Dotonbori (also known as Dotombori). For better continuity, you may want to check out what we did earlier, including how we made our way from Singapore all the way to Osaka City Centre. 
Done that? Let's begin our first night in Osaka.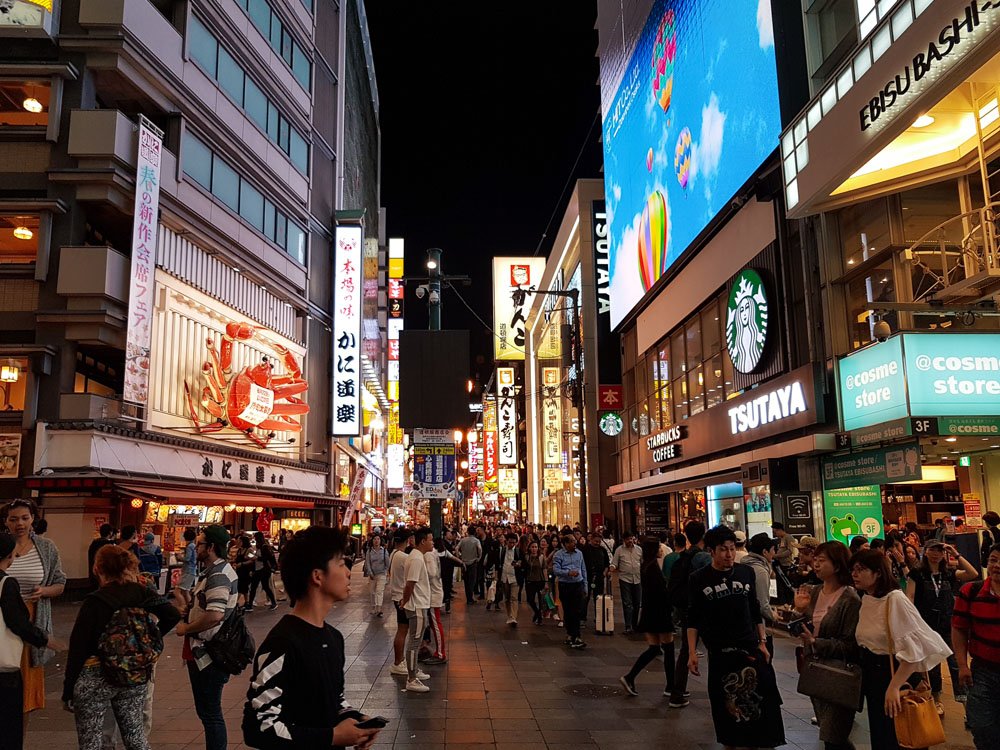 ---
First Impression of Dotonbori: "Wow!"
(9pm)
Getting to Dotonbori was easy as it was within walking distance from our centrally-located hotel in Osaka. A 15 minutes stroll was all it took to get us there.
When we stepped into the popular street of Dotonbori, we were welcomed by bright neon lights, gigantic 3D signs and a bustling street full of life, energy and activity (see location). 
At this moment, I like Dotonbori! And I couldn't stop grinning from ear to ear, deeply amused by the "Kawaii" and creative signboards. The first one you'll see should be Kani Doraku Crab Sign, which is a popular chained restaurant in Japan.
Other creative signs that left a deep impression included a hungry spider-man, friendly-dragon, huge puffer fish and a Nigiri Sushi so large it could feed me for a month.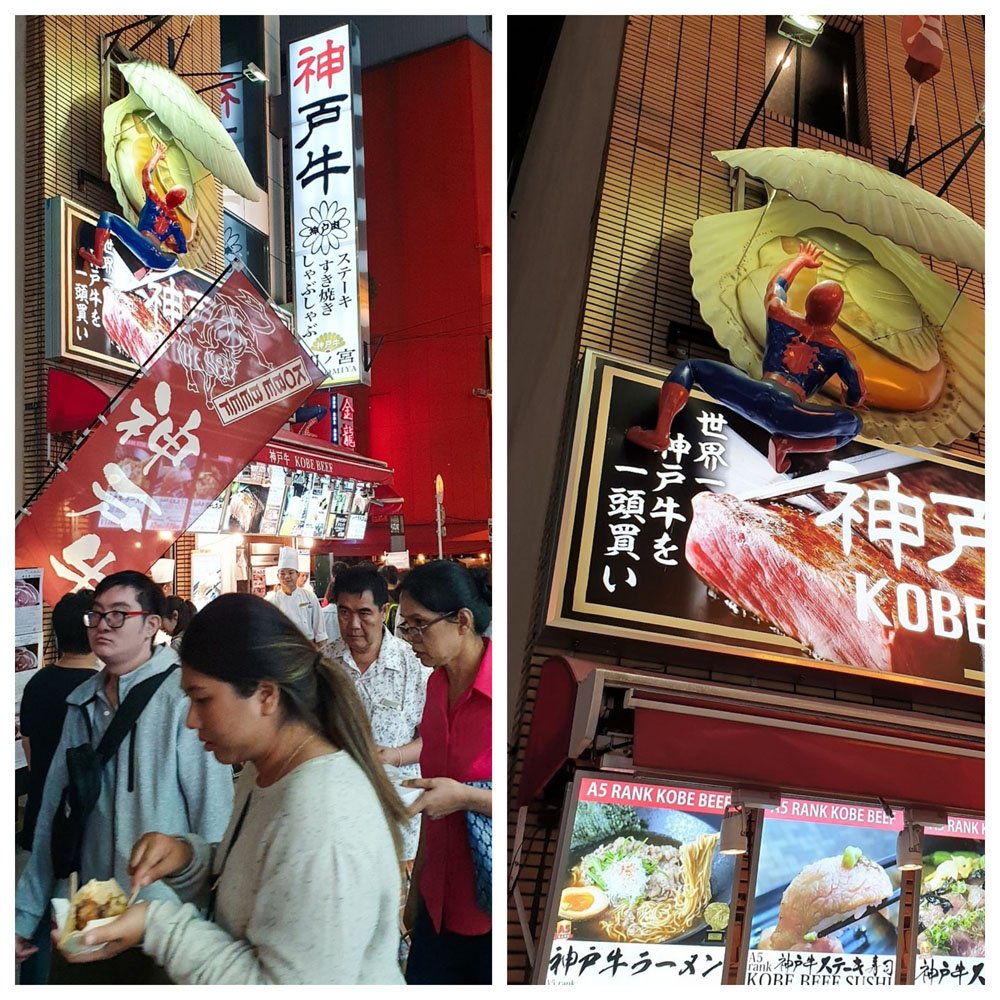 A Lot More tourists than Locals at Dotonbori
The more I lingered on the busy street, the more I realized how touristy Dotonbori was. Almost everyone here including myself were tourists.
Cantonese, Singlish and Mandarin were more commonly heard than Japanese along this street. In fact, I didn't recall hearing any Japanese except those coming from the food vendors.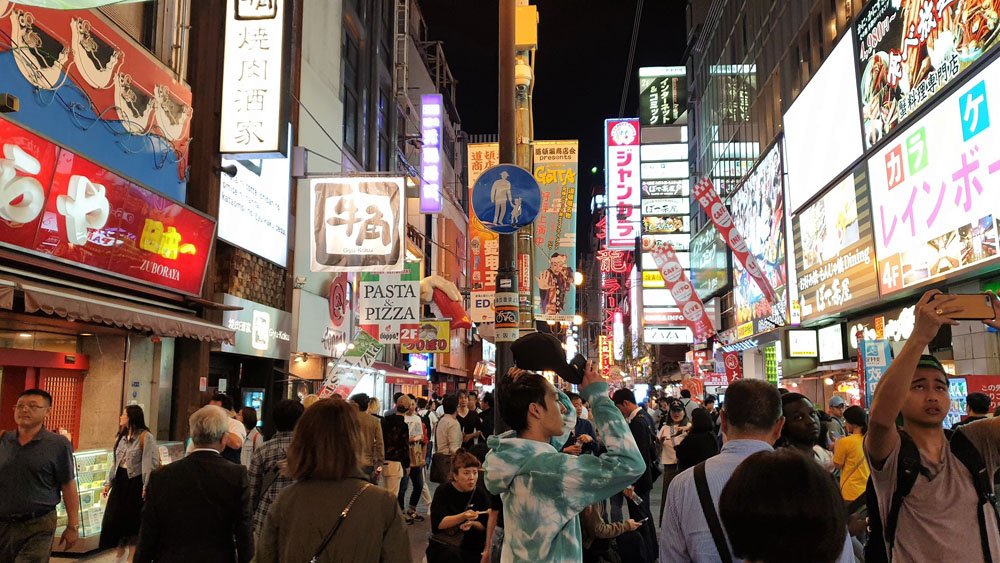 There's nothing wrong with a place having more tourists than locals, but this appeared to me like a 95% tourists ratio. Not sure if weekends crowd would have a better mix.
The over-touristy vibe didn't bother me at this point because I was still enjoying the sights and vibrance of Dotonbori. However, my perception took a 180-degree change when I started looking for food.
Street food (we tried) wasn't great
We were famished as it was past 9pm and our last meal was a mediocre lunch on board Scoot Airline (read flight review). I was feeling so weak by then that I didn't even have the energy to talk. But strange enough, I couldn't find any street food in Dotonbori that I was strongly attracted to.
Many stalls sold repetitive food such as Takoyaki (Octopus Balls), Okonomiyaki (Cabbage Pancake) and Daruma (fried skewered food). Variety-wise, it definitely pales in comparison to Taiwan's night markets. 
READ:
In the end, we settled for Takoyaki by joining a long queue at a random stall, waited too long and hopped over to another stall selling the same thing.
When our order of 8 Octopus balls (¥500) came, we were less than impressed. Taste-wise, it was not bad but the Octopus Balls were clearly undercooked as they were so soft and soggy we couldn't lift them without them breaking into a hot mess.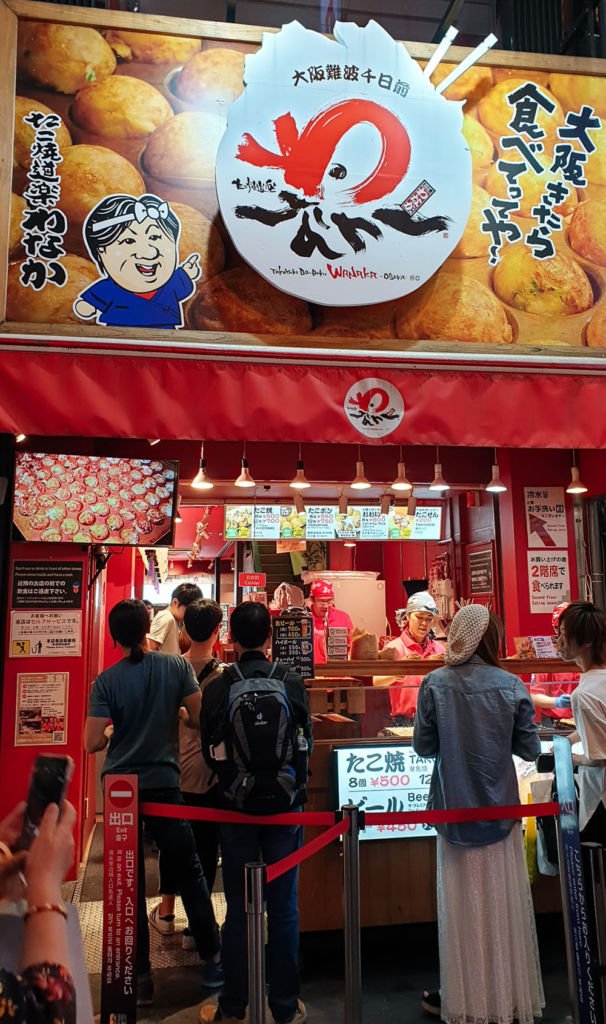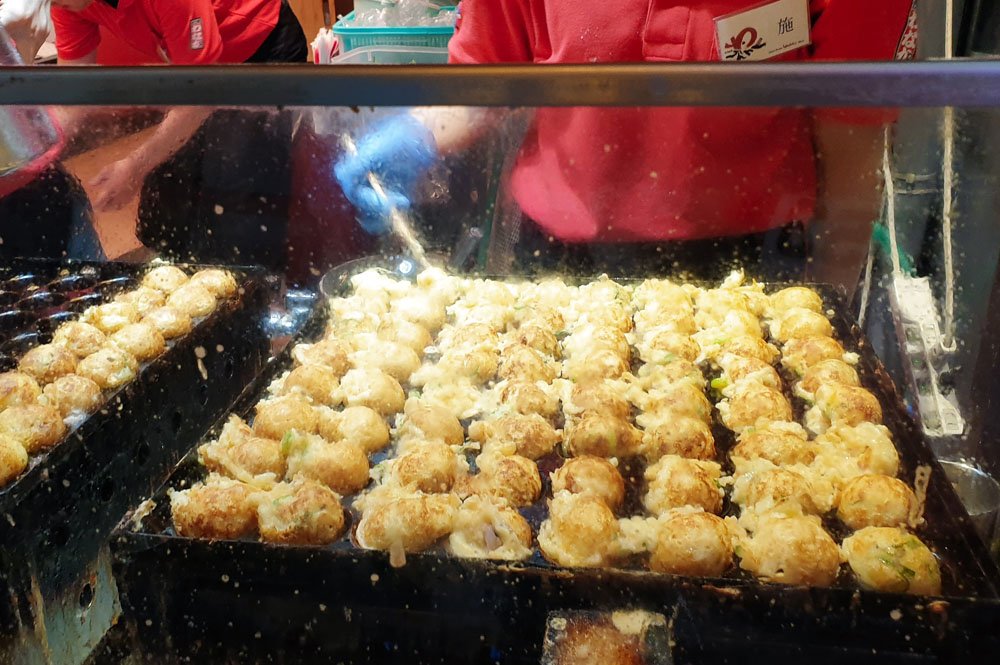 It'd appeared to me that food quality was compromised in order to tame the fast-growing queue. Well, this isn't an uncommon practice in over-touristy places where repeated visitors ain't that crucial for a business. 
READ: 9 ways to save money when travelling in Osaka
Other food stalls in Dotonbori probably serve decent food. But we had lost our confidence and decided to have our dinner at a proper Japanese restaurant.
Sadly, restaurants we'd shortlisted (with good online reviews) had long queues even on a Monday late night (9.30pm)! Thanks to the Takoyaki that we just had, our stomachs weren't growling anymore and we decided to explore more attractions around Dotonbori before dinner.
Perhaps, the restaurants would be less crowded by the time we conclude our mini DIY tour of Dotonbori? We kept our fingers crossed! 
---
Tourists Attractions in Dotonbori (Other Than Food)
Other than food, Dotonbori also has a number of attractions to entertain the tourists. We began our tour at the Ebisu Bridge, where we took in the sight of a river that ran parallel to Dotobori street. This river was flanked on both sides by bars, cafes and restaurants.
Here, you can take a Dotonbori River Cruise which is free of charge if you own the Osaka Amazing Pass. We didn't because we were here too late and probably witnessed the last boat cruised by. LOL!
TIP: The Osaka Amazing Pass offers exceptional value, giving you admission to over 50 tourist attractions in Osaka, such as Umeda Sky Observatory, Dotonbori River Cruise, HEP Five Ferris Wheel and Osaka Castle. Not only that, you get free unlimited ride on the subway. Check it out!
Another thing to do here is to take a photo with The Glico Man Sign, which is really just a neon signboard featuring a retro-looking sports man.
This man fronted an advertisement of a popular Japanese snack that dates back to 1920s. A neon sign was then set up at Ebisu Bridge in 1935. However, the sign that we see today is not the original sign – it's the 6th installed in 2014.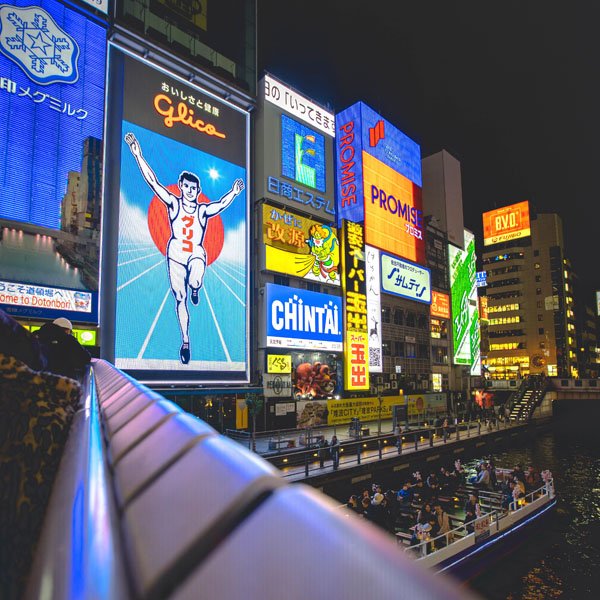 Soon, we found ourselves doing a Tombori River Walk, passing by Al Fresco bars and casual food stores until we reached another bridge – a wooden one known as Tazaemon-bashi bridge. This bridge is less crowded than Ebisu Bridge as it's further away from the action (and/or Glico Man).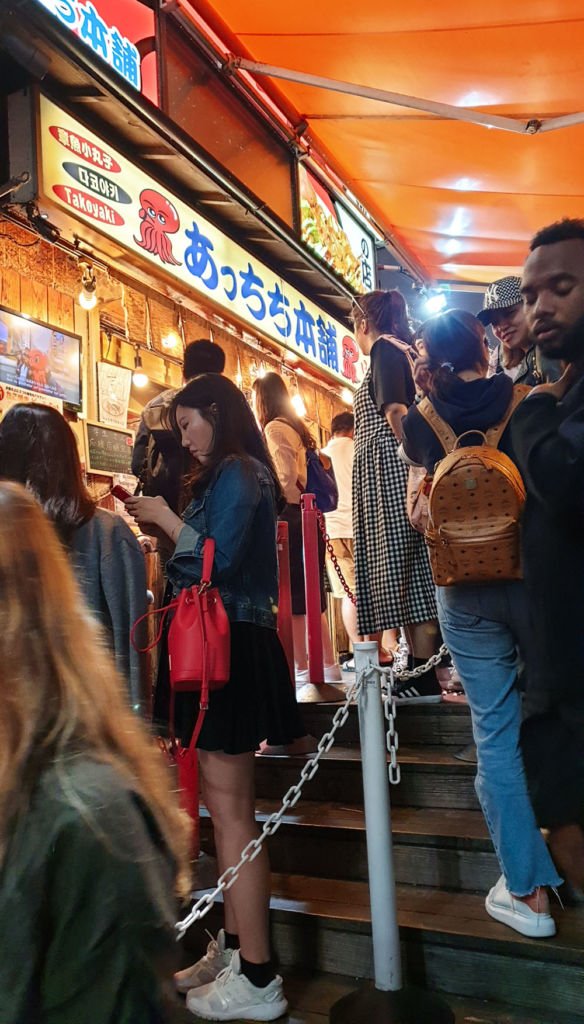 On the bridge, you can also see a colorful 3D signage of a cheeky-looking man surrounded by circular LED lights. On closer examination, these circular structures were the gondolas of Ebisu Tower Ferris Wheel – the world's first oblong ferris wheel by the way.
Did you know? The grinning man is Ebisu God, a Japanese God of luck, prosperity and wealth.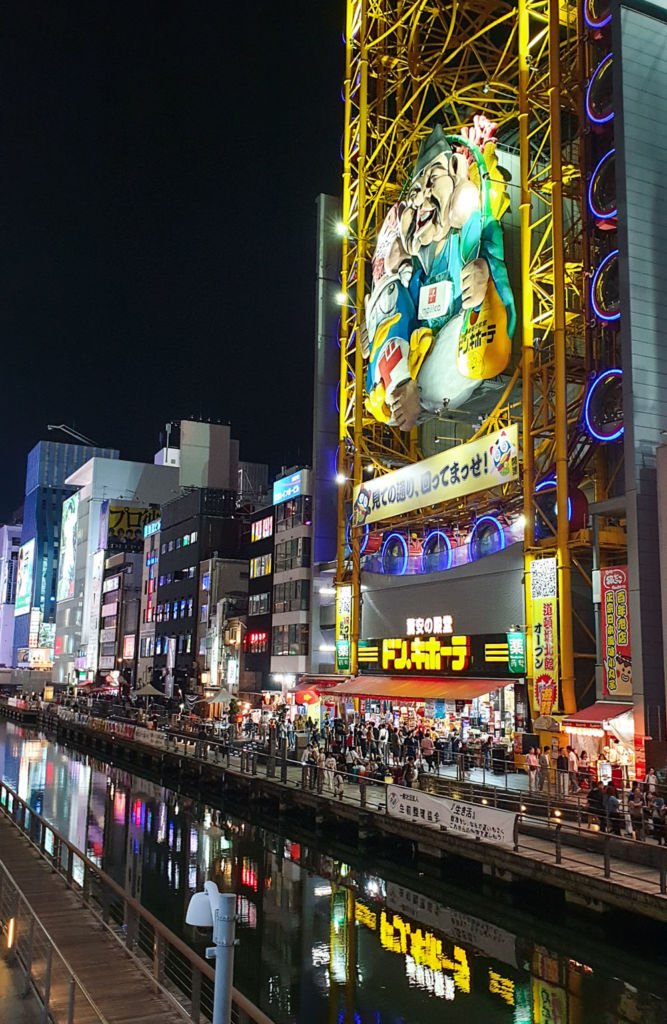 We also realized much later that Ebisu God was accompanied by Don Quijote's mascot penguin. Oh, we didn't even know we were glancing at the signage of a Don Quijote store! Great, we could shop till we drop since this place opens 24/7. 
TIP: You can access Ebisu Tower Ferris Wheel from the third floor of Don Quijote store. It's 600 yen per ride and opens 11am till 11pm. More info here.
Nearing the end of the walk, we found ourselves back at Dotonbori food street facing a large Asahi Beer billboard. Seems like we were back to where we started, at the "crab place". :)
Okay, time to look for dinner (again)! But look at the crowd….now at 10pm. Hmm, what's plan B? 
Map Locations of Dotonbori Attractions:
---
Our First Japanese Dinner in Osaka, at Dotonbori
(10pm)
To avoid the crowd, we walked to a quieter street just a short walk from Dotonbori main street and stopped at a Japanese seafood restaurant. 
The Chirashi menu at the entrance looked appealing and reminded us of the great seafood we had at Otaru, Hokkaido. Maybe we could relive the experience. Okay, let's give this restaurant a try (see location). 
We entered the cosy-looking restaurant with high hopes because the few patrons there appeared like locals. 
Here's our orders – mine was a bowl of rice topped with sea urchin, sashimi and Ikura. And his was a bowl with fish, scallop, unagi and aburi (Total Price: ¥3000). 
The verdict? Food was average. The sea urchin wasn't super fresh as there was some foul taste just like those we have in Singapore. And the sea urchin was too soft and soggy.
Sigh, I really miss the super-fresh and creamy sea urchin bowl I'd at Kouri Island. I've included the photo below. Can you see how different they are? 
On hind sight, we should have gone to Ichiran Ramen which is located just two doors away (see location).
---
Ending our first night in Osaka 
Done with our first tour of Osaka, we started making our way back to Ookini Ota-Road Apartment. Along the way, this Tobacco vending machine caught my attention. I think this goes to show how popular smoking is in Japan.
But I'm glad to read that things have improved as smoking rate among men has dropped from 50% in 2001 to around 25% in 2018. For benchmark reference, the smoking rate in US and Singapore is 14% and 12% respectively. 
I also walked past a Family Mart which is a common convenience store in Japan that also has wide presence in Taiwan. There, I bought a Cream Cheese Tea Latte, a beverage I've yet to see in Singapore.
The tea was was more diluted than what I was expecting a cheese tea to be like. And honestly, I couldn't figure out what taste it was as it didn't taste like cheese to me. The man said it tasted like caramel (which I disagree). LOL! 
---
Conclusion: Is Dotonbori Worth a Visit? 
Despite the less than satisfactory meal experience, I think Dotonbori deserves a spot in your Osaka must-visit list. 
Immerse and indulge yourself in the sights and sounds of the happening street. Enjoy a river cruise and take a slow stroll by the river. If you have enough time, you can even continue your walk to Shinsaibashi-Suji Shopping Street and do some serious shopping.
READ: 25 Things to buy in Japan that are affordable and loved by locals
So yes, Dotonbori is definitely worth a visit! And hopefully, you would find better food than we did. And don't forget to book your Osaka Amazing Pass online before your trip. 
That's all I have for you. Stay tuned to the next post as I'll show you our full day Osaka City Tour on Day 2. You can click the button below to subscribe to our newly-published honest reviews. As a subscriber, you'll also get access to free and exclusive stuff. Talk to you in a bit.
SUBSCRIBE
Essential Info:
---
Related Posts:
Pin This! 
(Visited 287 time, 1 visit today)