It's Day 2 in Osaka and we would dedicate the whole day to an Osaka City Tour. Specifically, we would visit places that are reachable via the subway. The morning started with a visit to Namba Yasaka Shrine which happens to be the cutest shrine I've been to in Japan.
We would then make our way to what turned out to be the best sushi meal we've had in our 15 days Osaka trip.
Yes, we are talking about the highly-raved Endo Sushi, a small and old sushi restaurant located rather out of the way, near a fishing port. 
For a better story flow, check out what we did on Day 1 in Osaka if you haven't done so. 
Otherwise, let's jump right into Part 1 of our Osaka City Tour.
---
DIY Osaka City Tour using Unlimited Subway Pass
We intentionally woke up early to optimize use of the Unlimited 1 Day Subway Pass that came bundled with the YOKOSO Ticket. If you haven't read through my review of the YOKOSO ticket, check it out as this pass helped us save lots of money off transportation within Osaka city.
Prior to using the subway pass, let us get to a place that can be reached by foot from our hotel in Osaka. On the way to Namba Yasaka Shrine, we couldn't help doing what many would be tempted to do in Japan, i.e. to get a can coffee from a street-side vending machine. 
MUST-READ: 11 things I love about Japan and I know you would too!
We also had the chance to observe the morning rush hours of human traffic. Many Japanese cycled in their working attires and zipped past the crowd skillfully. Too skillful in fact as I had a few scares when many came a little too close.
We also caught sight of working ladies making a quick run, apparently trying to avoid being late for work. I hardly see Singaporeans running in working attire. Being late is not as uncommon in Singapore as compared to Japan, I supposed. 
Namba Yasaka Shrine – Cutest Shrine visited in Osaka
(8.30am)
Finally, we reached Namba Yasaka Shrine, a shrine that is shaped like a lion's head. I thought it looked more like a dragon or a mystical creature. What do you think?
Despite its menacing expression and huge sharp teeth, the creature is actually quite adorable-looking. See how the bronze teeth didn't manage to scare off the little girl.
Need some good luck boost? The lion's mouth is believed to swallow evil spirits and bring good luck to those seeking success in study or business matters.
We took a few quick photos and quickly made our way to Osaka-Namba station, where we would take a train ride to Endo Sushi.
Attraction Info: 
Opening Hours: 6.30am to 5pm
Entrance Fee: $0
Location: View map
Irresistible Breads & Pastries in Osaka
(9am)
When walking towards Osaka-Namba station, the man got distracted by delicious-looking breads from a random bakery store in the underground mall.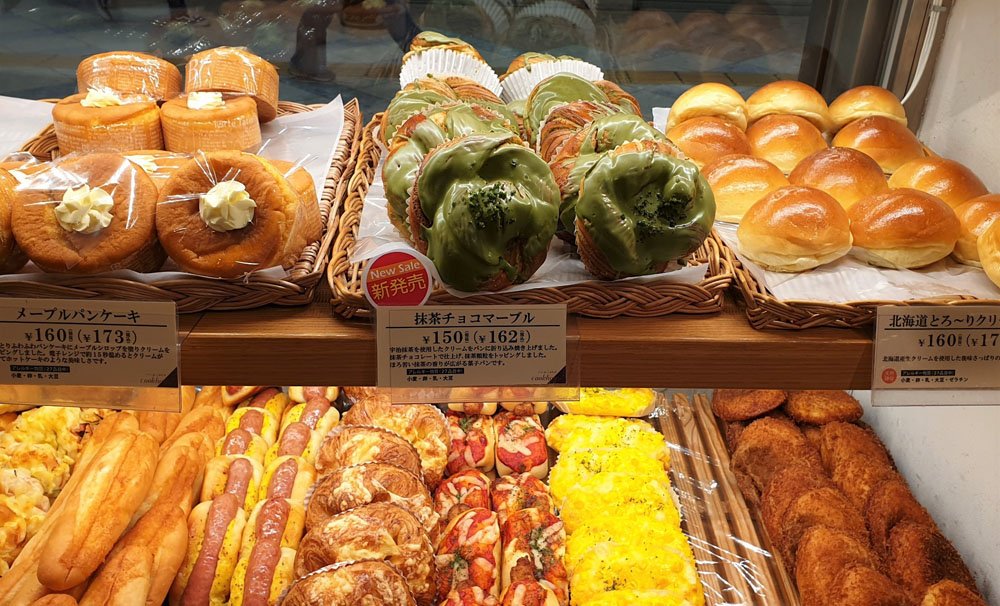 Apparently, my man wasn't the only one who was drawn by the exquisite-looking breads as we saw many people checking them out. There were even seats within the store for a quick munch.
MUST-READ: 25 things to buy in Japan that are affordable and loved by locals 
Okay, how do we decide which one to get since all were labeled in Japanese? Let's tikam! :)
We bought two and both were not bad. In fact, the one from the black metal plate (see photo below) was cheesy and very addictive. Still, we didn't know what we'd eaten. LOL! 
---
Endo Sushi – Best Sushi of our Osaka Trip
(9.20am)
The man couldn't stop raving about Endo Sushi even when he was back in Singapore (after many months). Let's see how to get to this not-too-accessible, but oh-so-good sushi restaurant in Osaka. 
From Osaka-Namba Station, we took a train on the pink line and alighted at Tamagawa Station (S12).
TIP: Get a subway map from the train station.
Then, we walked southwards for 10 minutes towards Aji River. After seeing Koban Police Station, we made a right turn towards what looked like a fishing port or warehouse area.
Finally, we arrived at the back of Endo Sushi restaurant.
I wouldn't categorize the walk as being a comfortable or interesting one as I recalled crossing some major roads when we were near the destination.
TIP: Endo Sushi opens early and closes early too, from 6am to 1.30pm. That's why we scheduled it for breakfast although we would have preferred to have sushi later in the day.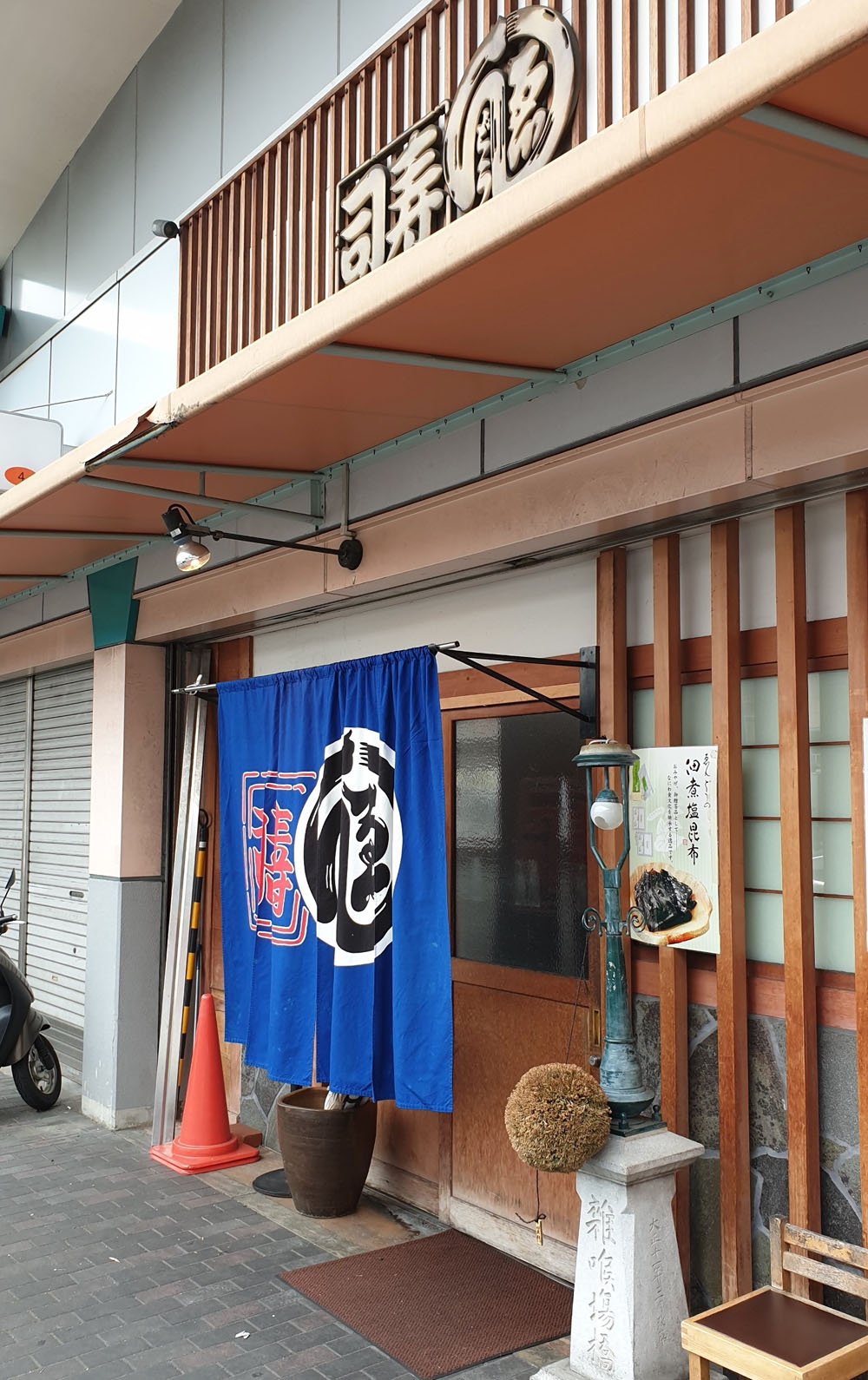 Endo Sushi Menu & Price
If you thought Endo Sushi is a fine restaurant, it's not. Remember, it's a restaurant located near or at the fishing port. 
Small and cosy, Endo Sushi's menu is also very casual and simple. There were only four sets of sushi plates to choose from, with each containing five sushi and priced at ¥1150+. 
As the price isn't cheap as compared to what we can get elsewhere of similar setting, we ordered only three plates initially. Eventually, we ordered a fourth plate because the sushi proved to be worthy! And the total bill came up to about ¥5000 nett for two pax. 
The price should be slightly higher now as GST in Japan has increased to 10% with effect from 1 Oct 2019. 
TIP: You can swap one sushi (except Toro) per plate. Please finish up everything that you have ordered. Otherwise, you won't be able to order more (and it's also not polite).
Why is Endo Sushi Good?
The fish slices were very fresh and tender. They didn't taste like they have ever been frozen before and were served at room temperature.
On top of that, the meat-to-rice ratio was generous. 
RELATED: Unforgettable Sea Urchin rice bowl in Okinawa
One thing that surprised us was when a group of customers came in and started speaking in Singlish. Another group at the counter was also not conversing in Japanese. They were likely from Hong Kong.
Apparently, it appeared like there were more tourists than locals dining at the restaurant and that got me worried. Because so far, most touristy places we've been to served unimpressive food.
RELATED: Dotonbori on a weekday night was no less happening
Luckily, Endo Sushi seemed to have maintained the quality despite its popularity. Hope they would keep it this way. I would definitely patronize this restaurant if I ever visit Osaka again. 
Endo Sushi Restaurant Info: 
Opening Hours: 6am to 1.30pm
Price: Est'd ¥2500 per pax  
Location: View map (10+ minutes walk from Awaza Station or Tamagawa Station) 
---
A Walk by Aji River in Osaka
Stomach filled and happy, we made our way to the train station. This time, we chose to walk to Awaza Station instead as it's better connected to our next destination.
The walk to Awaza station was more scenic as it led us through a few connecting bridges that stretches over the Aji River. Not that the river or the bridges were super pretty, but they did make the walk more interesting. 
Okay, I'm done with Part 1 of Osaka City Tour. The next post will bring you to more attractions within Osaka City Centre, such as Tempozan Giant Ferris Wheel, Osaka Castle and Harukas 300. Stay tuned!
Quick Glance: Can't wait? Here's a quick summary of our 15-Day Osaka Itinerary (Part 1  |  Part 2  |  Part 3)
Don't forget to click the button below to subscribe to our newly-published honest reviews. As a subscriber, you'll also get access to free and exclusive stuff. See you soon!
SUBSCRIBE
Related Posts:
Pin This!
(Visited 186 time, 1 visit today)