Today, I'm going to show you my favorite snorkeling spot in Okinawa. If you have read my Okinawa 9 Days Itinerary, you would know I'm referring to the Kouri Island. This place that we snorkeled in was off the tourist map and so rich in marine life. Other than offering a great snorkeling experience, we also enjoyed our best lunch on this island.
Imagine a bowl of rice fully-covered with fresh and creamy uni (sea urchin)? OMG! That was PURE HEAVEN! Before I salivate further, let me walk you through my day at Kouri Island (Day 6).
---
Driving to Kouri Island: Our View from The Kouri Bridge
(10am)
Getting to Kouri Island is easy as this small and circular island is connected to Okinawa Main Island by a 2 km-long Kouri Bridge. You can either self-drive here via a rental car or make use of the Okinawa Main Island Route Bus Pass.
We already knew from yesterday's Route 58 drive that the water off Kouri Island was amazing and hence were expecting the actual drive along the Kouri Bridge to be even more captivating. Sadly, it wasn't the case.
When you are in a sitting/driving position, your view of the water would be partially blocked by the road railings. Ah…what a waste!
Therefore, if you want to admire Kouri Island's emerald water, I'll suggest that you consider the Route 58 drive or get a bird's eye view from the Kouri Ocean Tower. This Okinawa Main Island Pass can help you shave some money off overall admission fees in Okinawa. 
---
Kouri Island – Our Best Snorkeling Experience in Okinawa
(10.30am)
The drive along the Kouri Bridge took 4 full minutes to complete. Most tourists would hang around at the other end of the bridge, i.e. the southern part of Kouri Island where the popular Kouri Beach and Kouri Ocean Tower are located. Not us though as we wanted to explore a lesser-known beach.
And so we continued our drive till we reach the northern part of the island. See our snorkeling spot for the day? Isn't it amazing how you can start snorkeling just by taking a few steps into the water?
The Kouri Beach that is off the Tourists' Map
To access this more remote part of the island, you'll need a rental car or a chartered driver. Here's where this snorkeling spot is located (see map location).
I used to see a Japanese name of this beach on Google map, including reviews, photos and all. Not sure why they are all gone. Anyway, for our ease of reference, let's give it a name – how about we call it the "Kouri Snorkeling Bay"?
TIP: If you prefer more touristy beaches, there are two on the Kouri Island – the Tinu Beach (Heart Rock) and the Kouri Beach.
Where can you Park for Free in Kouri Island?
You won't have trouble finding carparks here at Kouri Island. However, if you want to find a free one, then check out this parking space (see map location).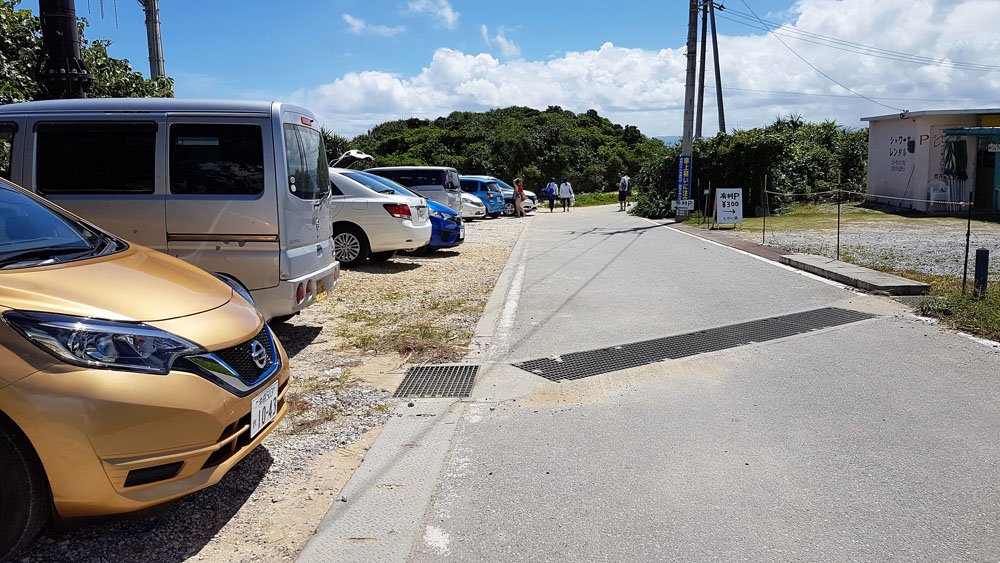 Do note that the number of parking lots here were limited. You may have to come early to secure one. We were glad we managed to grab the last lot at around 10am.
TIP: In case you can't find a free parking lot near 'Kouri Snorkeling Bay', here are two paid ones – see CP 1 and CP 2. 
How about We Start the Day with a Lovely Picnic by Kouri Beach 
A short stroll from the parking lot brought us to 'Kouri Snorkeling Bay'. There, we took out our freshly-microwaved Yakiniku Rice Burgers and started our romantic picnic by the beach.
Er…actually it was too hot to feel the romance lah! Ha ha!
But I'm glad that the rice burger which we got from MaxValu the night before was delicious! It didn't taste like frozen food at all! In fact, I think it can pass off as one of those sold at MOS Burger. Here's the packaging of the Rice Burger for your reference.
---
3 Reasons Why Kouri Island is our Favorite Snorkeling Spot in Okinawa
1. Huge Variety of Beautiful Marine Life
One reason why we were so drawn to Kouri Beach was because of its rich underwater world. We were so in awe and surprised that a beach as shallow as this can offer so many fishes for us to play with. :)
Some of the fishes were iridescent while others were neon blue or striped…and the list goes on. They also come in different sizes – from super tiny (smaller than my pinkie nail) to medium-sized.
Nope, we didn't see any large mammals here. Don't worry! This beach is too shallow to accommodate huge fishes. :)
Pardon the blurry video. I couldn't get the resolution to work, but you get the idea, i.e. lots of fishes. :) Anyway, what you need to know is that when you snorkel, you'll have a clear underwater vision because it won't get affected by know-how in resolution setting :P.
> RELATED: How to snorkel at Cape Maeda without joining a tour?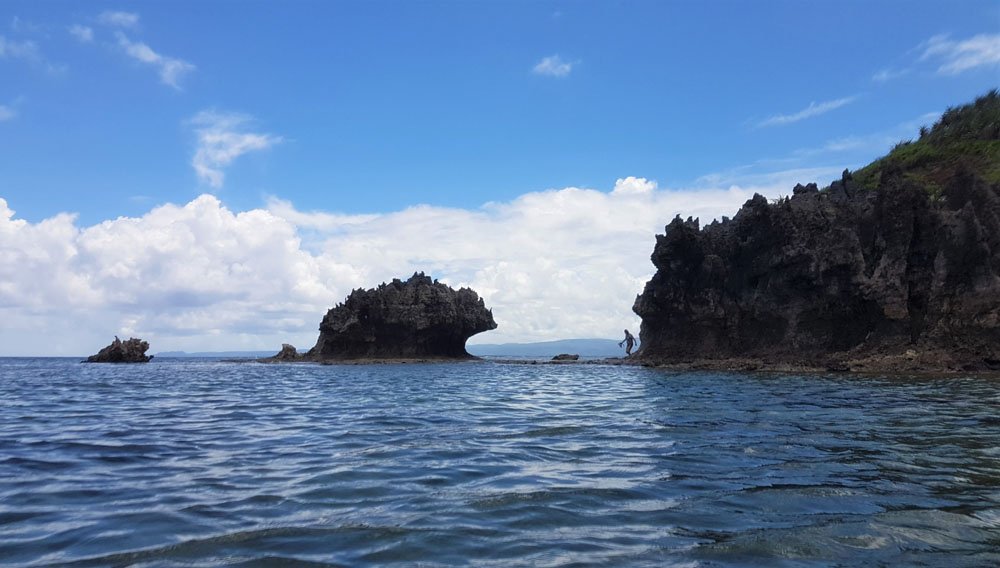 2. Easily Accessible with a Rental Car
I think Kouri Island must be one of the easiest snorkeling site to get to because you don't need to take a boat out to the open sea, join a day tour or fly to another island to enjoy the underwater world.
Even the corals over here were so much healthier than what we saw at Odo Beach (in South Okinawa). Maybe that explains the abundance of fishes that decided to make this place their home.
3. It's Sea Urchin's Playground here!
If you want to see sea urchins in their natural habitat, Kouri Island is the place to be. You don't need to search for them as they are everywhere. Just be careful and wear aqua shoes because you don't want to be stepping on these prickly creatures.
Another observation – the marine life here seemed comfortable with humans – they didn't shy away. We had so much fun interacting with them and ended up overstaying. By the time we got out of the water, two hours were gone.
TIP: Please be careful with your swim strokes as it's easy to get cut by the corals in such shallow water. I got a small cut on my finger while my partner was cut on his knee. Limit your swim strokes! :)
Attraction Info: Kouri Beach "Snorkeling Bay"
---
Tokei Beach & A Giant Kettle Rock
(12.30pm)
When we were making our way back to the carpark, we saw another beach. This beach known as Tokei Beach is located on the right of the 'Kouri Snorkeling Bay', separated by a big rock. It seemed less inviting and I doubt anybody snorkels here. But I'm glad the photos turned out great – a little rugged and mysterious in a way.
If time is on your side, you can just pop by to take some quick photos or admire a rock formation known as the Giant Kettle.
This rock with a circular cavity in the middle is not as popular as the Heart Rock, but at least you don't have to fight with other tourists to get some decent photos.
How Shallow is Tokei Beach? 
Look at the photo below. Can you see how far those divers had walked out into the sea, and yet their hips were still above the water?
When would they get fully submerged? How far must they continue walking in the water?
I never got to find out the answers because we were running late.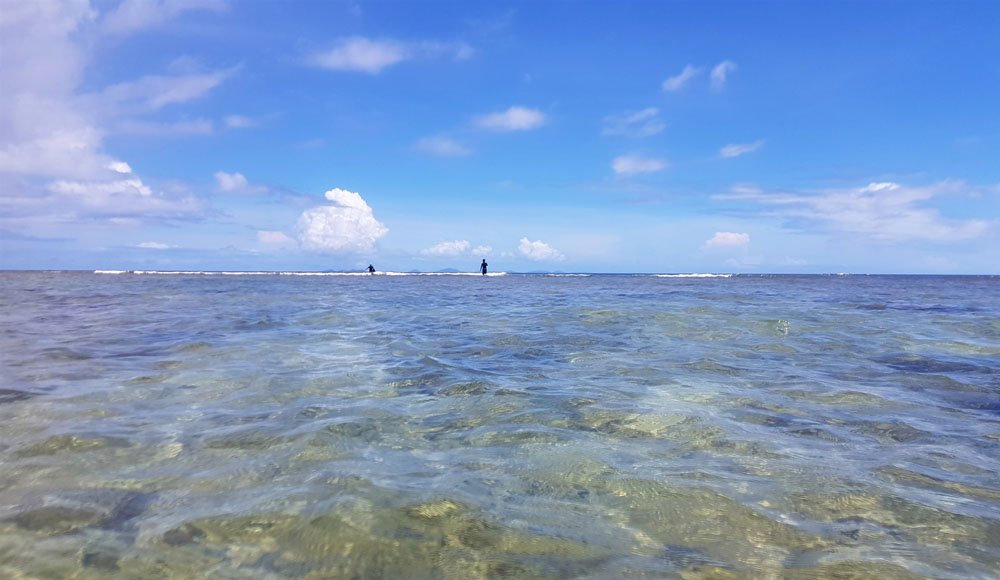 ---
Check out Our Best Lunch in Okinawa | Sea Urchin Rice Bowl
(1.15pm)
Our stomach were growling angrily after an extended snorkeling session. We got back to our car, dried ourselves and intended to drive off quickly. But we got distracted by…
This pair of roaming goats walked towards us and found their lunch right behind our car, forcing us to spend more time checking them out. LOL!
After spending a few minutes speaking to the goats in English, assuming they understood the language, we waved goodbye and made our way to a highly-raved seafood restaurant on the island.
At Shirasa Shokudo Restaurant (しらさ食堂), you can order your food via a DIY kiosk located outside the restaurant. We went for one of their priciest menu item because that was what we came here for – to savor the famous Sea Urchin Bowl Set.
Due to the relatively steeper price (¥2,500), I pondered for a while wondering if it's worth splurging at this casual-looking and non-air conditioned restaurant. I'm glad I did as the sea urchin was so creamy and ultra-fresh. There wasn't any bit of foul taste unlike those we get in Singapore.
Menu Difference: Are you wondering what's the difference between the ¥2,500 and ¥2,800 menu items? The more expensive one includes sea grapes, a popular dish in Okinawa.
You would also be wowed by their generosity with the sea urchins as it was one mouthful of creaminess after another. Come to think of it, this rice bowl is actually very cheap because a similar one like this in Singapore could easily cost thrice as much (or more).
Sadly, I'd to gobble up this Uni set within 10 minutes because we were running late for our next activity.
Hira Falls being an extremely remote waterfall is best visited as early as possible before nightfall.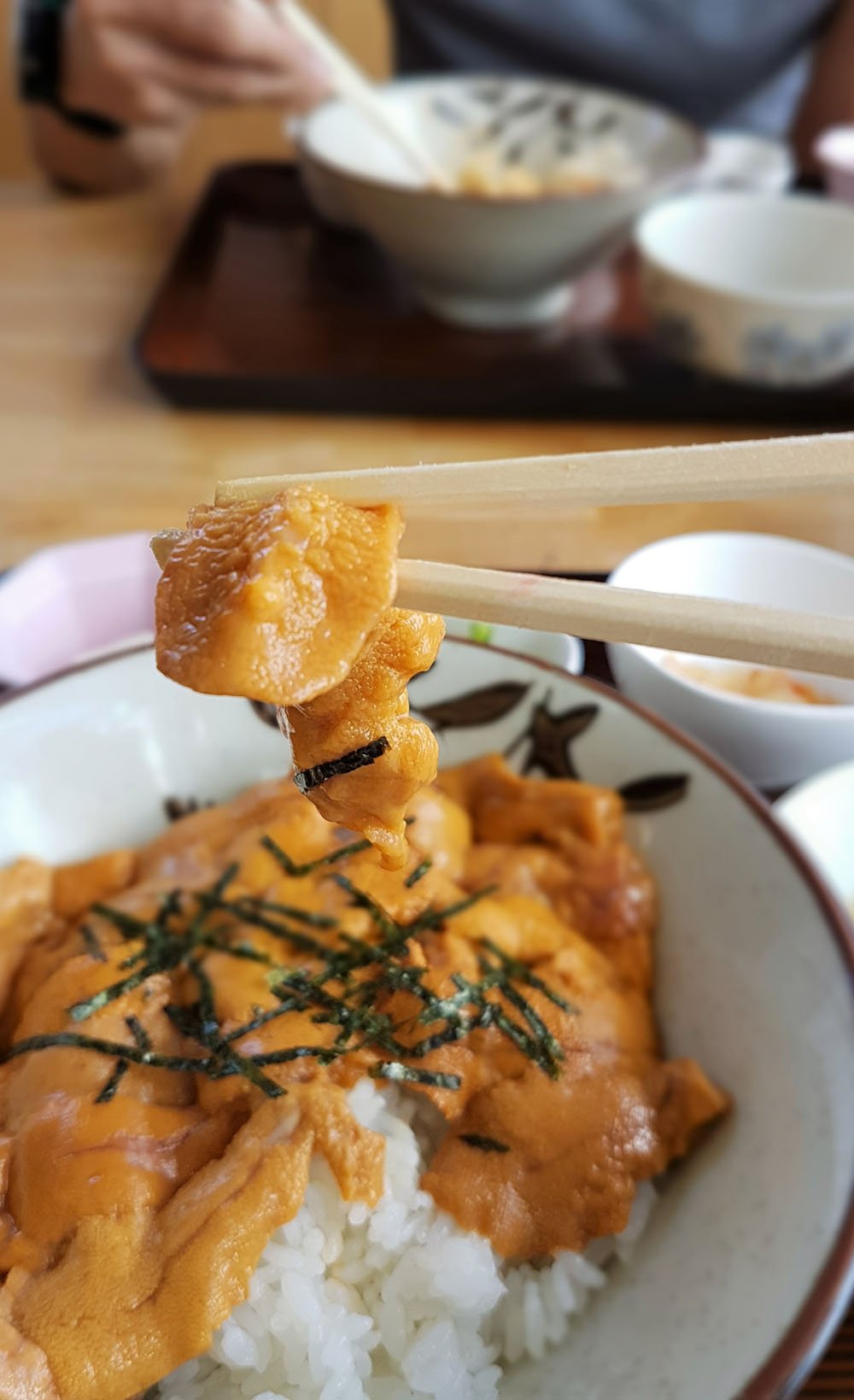 Attraction Info: Shirasa Shokudo Restaurant
Opening Hours: 11am to 6pm
---
What Else can you do on the Kouri Island?
The most popular place to visit on Kouri Island must be the Kouri Ocean Tower. If you have the time, this is a good place to take in the view of the Kouri Bridge and the turquoise water.
Too bad no one told us about this Okinawa Main Island Pass that provides admission to 12 attractions, including the Kouri Ocean Tower. Otherwise, we would definitely have included it into our itinerary.
That's all to Part 1 of Day 6's Okinawa Itinerary. Stayed tuned to the next post as I'll share our arduous and adventurous journey to Hira Falls.
You can get new-post alert by clicking the button below to subscribe. As a subscriber, you'll get access to free and exclusive stuff. See you!
This post may contain affiliate links, meaning I earn a commission if you make a purchase, at no cost to you. Read my full disclosure for more info.
SUBSCRIBE
---
Related Posts:
Pin This!
(Visited 1,876 time, 1 visit today)