Hi all, ready to see the 16 Best Beauty Products & Services reviewed in the whole of 2019? These top reviews have received a rating of at least 4.5 out of a 5-star rating.
I think these make for great Christmas gifts for your loved ones. Check them out!
---
Best Beauty Products of 2019
The Best Beauty Products of 2019 are listed based on chronological order of when the reviews were first published, with the most recent ones being on top. I've included links to the full reviews so that you can find out who the product is recommended for. 
Without any further ado, let's get the list rolling! 
1. Salon De Pro Hair Mascara 
Need a hair makeup to cover your newly-grown gray hair? Salon De Pro Hair Mascara, with its' nicely-curved brush applicator, works easily to cover random cluster of white hair.
It's a great interim solution for use in between full-scale hair colouring jobs. I think this would make a suitable gift for someone who have just started to spot white hair (view latest price). 
READ: SALON De PRO Hair Mascara Is Not Just Great At Covering Gray Hair Roots Easily
2. Innisfree Nail Remover
Don't mind an acetone-based nail polish remover that smells like your favorite citrusy fruit? Innisfree Nail Remover removes nail polish quickly, is affordable and smells like mandarin orange. 
While this may not make a good Christmas gift on its own, you can consider bundling this up with other K-beauty products for your girlfriends who are fanatic fans of Korean culture. 
READ: 5 Things About Innisfree Nail Remover You'll Love
3. Meiji Amino Collagen
While Meiji Amino Collagen did not a score a minimum score of 4.5 star rating, I've included it here because it qualifies as my holy grail collagen powder at this moment. 
I've already purchased 6 packets (4 regulars and 2 premium) in the second half of 2019. You can read more about my review of the powder (view latest price). 
READ: Meiji Collagen Review: Does Collagen Powder Really Work?
4. Kanebo Media Shiny Essence Lip
Kanebo Media Shiny Essence Lip is the best lipstick among the few I've hauled back from Osaka. It's hydrating, lasting and offers a soft crystal shine that's not too over-the-top. 
This affordable lipstick comes in a slender and presentable casing and would make great gifts for any ladies. 
READ: Love Shiny Plump Lips? Check out Kanebo Media Shiny Essence Lip
5. The Ordinary Marula Oil
While The Ordinary Marula Oil can be used on both face and hair, I like it more as a nourishing hair oil. My dry and damaged hair was able to regain a healthy sheen without feeling overly-greasy. 
If you know of anyone who takes special care of her hair, consider gifting this to her (view latest price).
READ: Review Of Ordinary Marula Oil: Great For Hair, Average On Face
6. L'Oreal Micellar Water (Moisturizing)
The more I use L'Oreal Micellar Water, the more I love it. It's refreshing, cleans well and doesn't contain questionable ingredients, making it great for those with dry and/or sensitive skin. 
My only gripe is the need to use cotton pad as compared to a cleansing oil. But my love for the product is so great that I think I'll learn to adapt (view latest price).
READ: Does L'Oreal Micellar Water clean better than a cleansing oil?
7. Clinique Take the Day Off Makeup Remover for Lids, Lashes & Lips
I love Clinique's Eye Makeup Remover that I am willing to repurchase it. It removes stubborn eye makeup quickly and effectively, and doesn't irritate the eyes. 
Another thing I like about this eye makeup remover is its packaging. The colour of lavender exudes a womanly, delicate and relaxing feel. Here's the latest price. 
READ: Review of Clinique Take the Day Off Makeup Remover for Lids, Lashes & Lips
8. Purito Centella Buffet Serum
Before every jog, I would wash my face to make sure it's clear of dirt and sebum. However, this would leave my face tight and uncomfortable. Applying my regular moisturizer may be too rich prior to a jog especially when I reside in a hot and humid country. 
I'm glad to have discovered Purito Centella Buffet Serum, which has been my go-to serum before every jog. I love how it moisturizes and protects my face from the element without feeling heavy on the skin. It's also safe on my pimple-prone skin.
If you know someone who suffers from Rosacea or dislike rich moisturizer, consider gifting this lightweight and soothing serum (view latest price). 
READ: PURITO Centella Buffet Serum protects and nourishes your skin
9. Integrate Gracy White Liquid Foundation
I'm a sheer makeup lover. Therefore, most of my foundations are not able to hide my facial flaws completely. Integrate Gracy White Liquid Foundation is an exception as it provides a reasonable coverage while allowing me to maintain a natural and radiant look.
Integrate Gracy foundation is a great option for those with dry skin as it contains moisturizing ingredients such as Hyaluronic Acid, Tocopherol and Glycerin. You can consider getting this for mom, aunties or middle-aged lady friends (view latest price).
READ: Hide Imperfections Naturally with Integrate Gracy White Liquid Foundation
10. Suncut Super Waterproof UV Protect Gel
Whenever I travel overseas, I would bring along Suncut Super Waterproof UV Protect Gel. Just one bottle of this can replace multiple products and lighten my luggage. For instance, I can apply this to my face, body and also use it for sweaty and even water activities. 
Suncut UV Gel would be a suitable gift for those who love the outdoors and prefer lightweight and quick-absorbing sunscreen (view latest price). 
READ: Is Suncut Super Waterproof UV Protect Gel Really Waterproof?
11. Youngblood Mineral Creme Lipstick
Youngblood Mineral Creme Lipstick is one of the best moisturizing lipsticks I've discovered in 2019. It nourishes my dry and sensitive lips and is long-lasting.
What's more, this lipstick is free of paraben and harsh chemicals – view latest price. 
READ: Dry lips no more with Youngblood Mineral Creme Lipstick
12. Dermalogica Travel Sizes
I hardly review samples but had the chance to use Dermalogica's deluxe samples exclusively in a trip to Taiwan, and was impressed with a few products. These include Dermalogica Intensive Moisture Balance and Multi-Active Toner. 
READ: These 5 Dermalogica products perfectly nourished my face in cold Taiwan
---
Best Beauty Services of 2019 (Singapore)
Do you reside in Singapore? If yes, read on as I'll be sharing the Best Health & Beauty Services I've received in 2019. 
13. Mammogram by Singapore Polyclinics
I didn't know having a mammogram screening is that easy and affordable in Singapore. If you are above the age of 40, read through my quick and pain-free experience having mammogram at a Singapore Polyclinic. 
READ: I did my first Mammogram Screening in Singapore. Here's what to expect!
14. Ultherapy by Cutis Medical Laser Clinics
So far, I've been dependent on botox to slow down the signs of aging. In 2019, I had the chance to try out Ultherapy at Cutis Medical Laser Clinics and found it effective in firming up the skin without having to deal with any downtime.
I definitely look more youthful after 2 months.  Check out my Ultherapy experience.
15. C-Curl Rebonding by Kimage Parkway Parade 
I've been straightening my thick hair ever since I was a teenager and didn't know a rebonded hair can look stylish. Thomas from Kimage Parkway Parade gave me a silky-soft hair that curls inwards towards the end.
I really love this long bob, which is the shortest hairstyle I've had in decades. If you want to look good for the festive seasons, book your appointment early because the price always goes up just before Chinese New Year. 
READ: How Kimage Parkway Parade turned my thick hair into a stylish bob (C-Curl Rebonding Review)
16. Hair Colouring by Kimage
Kimage gave me the best hair colouring job I've had in many years. I'd walked into the salon (then Katong, now Parkway Parade) totally clueless about what I wanted and was glad to have received expert advice from Thomas.
Based on my profile, he gave me a stylish sun-kissed balayage that's stylish and yet professional-looking. Oh, I've just found out that Kimage sells gift card online, which can be gifted to friends who love style and fashion. 
READ: This Kimage Hair Colouring Service Made Me Stylish Overnight And Earned Me Many Compliments
---
Need More Beauty Gift Ideas?
Of course, 16 beauty products and services would not be enough to fill up your gift cart. Here are more beauty gift ideas from our archives.
To find out the best of the best, check out these two lists:
---
Bonus List: Gift Ideas other than Beauty
In 2019, I've also published a few articles highlighting products that I love. These may not be related to beauty, but I thought you would find it useful when buying gifts for non-beauty lovers.
Here are the articles, each of which contains a list of highly-recommended products.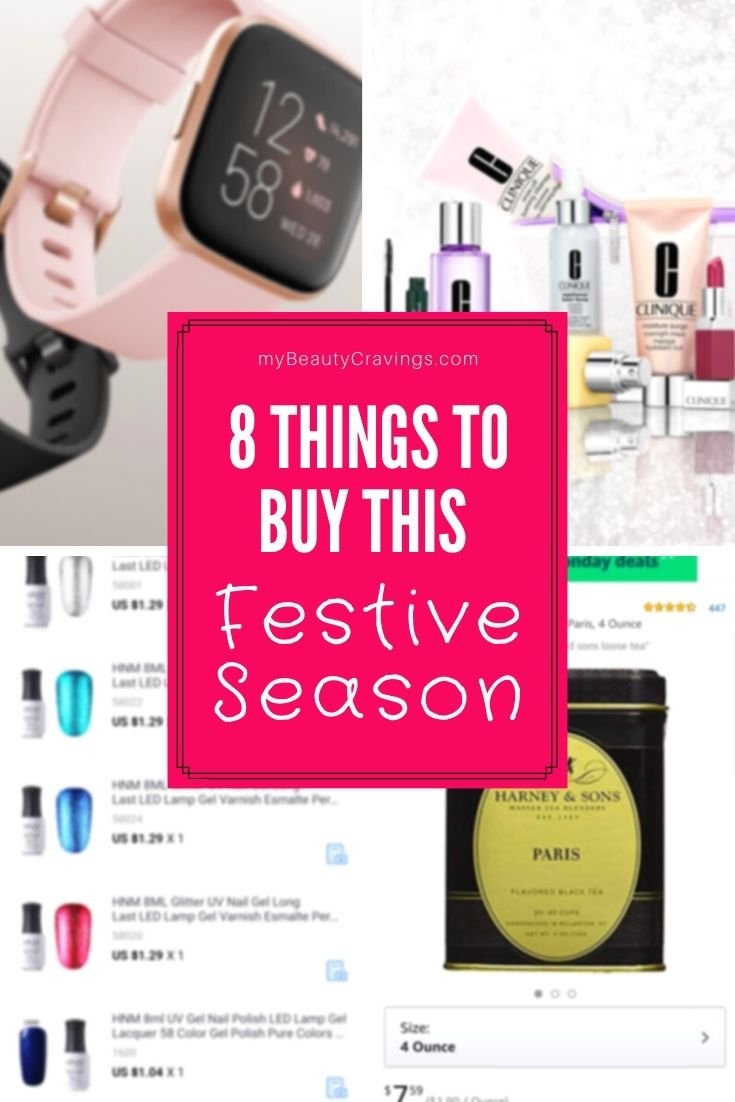 ---
That's all I have for you. Hope this Best Beauty Product & Services List (plus all the bonus lists) can help you with your Christmas shopping. If you've found this list useful, would you consider sharing this with your friends and family members? My motivation needs a quick boost. :) Thank you!
Come back soon as I'll be publishing another list of Beauty Empties soon. To get notified of newly-published posts, just click the button below to subscribe.
See you real soon!
This post may contain affiliate links, meaning I earn a commission if you make a purchase, at no cost to you. Read my full disclosure for more info.
SUBSCRIBE
Pin This!
(Visited 649 time, 1 visit today)