Where's a good place for dinner in Okinawa, Nago City? How about Hamazushi, a restaurant where you can indulge in a wide-ranging selection of delectable and affordable sushi?
Read on as I'll share our dining experience at Hamazushi, Nago and show you why I highly recommend this chained conveyor belt sushi restaurant (回転寿司) in Japan.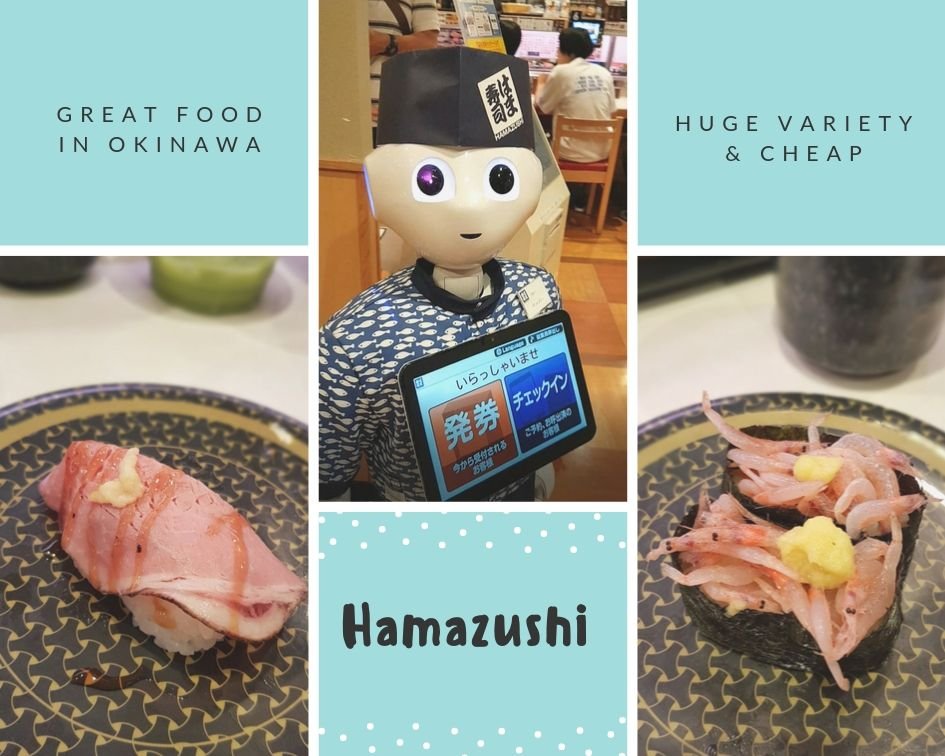 ---
Why We had Late Dinner in Okinawa
Remember how we explored Bise Fukugi Tree Road and Okinawa Aquarium till the sun was down?
Yup, we had loads of fun but was also famished by the time the activities ended. Wanting to get our food quickly, we drove to a town near the aquarium, at Motobu. 
Sadly, we were not fated to eat at Motobu town. Among the restaurants we had shortlisted, one was closed for the day, another couldn't be found (even though we were standing right there based on Google Map) and the last few were popular Izakayas (informal pubs) that we hesitated in entering.
Izakayas & Smoking Culture in Japan
As you see, we were standing at the doorway of the packed Izakayas and caught a glimpse of diners smoking at the table. Tourists who smoke would find Izakayas convenient for a puff while having their meals. But for non-smokers like us, we prefer to eat without having to restrain our breathe.
With a growling stomach, we reluctantly made the decision to take a 30-minute drive back to Nago, our base in north Okinawa.
The empty stomachs didn't suffer in vain, as we found a great and affordable place to dine with the locals. Yes!!!
---
Hamazushi Nago – A Sushi Train Restaurant in North Okinawa (Nago City)
(9.45pm)
We were clueless about where to dine in Nago city, especially this late at night. But we did recall seeing a crowd queuing outside a Japanese restaurant the day before. And so, we decided to follow the herd and headed to Hamazushi Nago Restaurant.
I'm so glad we did! Because the customers we saw dining in Hamazushi restaurant were mostly locals, unlike our previous day's experience at a Yakiniku (BBQ) restaurant.
"If locals are willing to queue, the food must be darn nice!" We'd thought. 
Greeted by a Robot at a Japanese Restaurant
Once we entered Hamazushi sushi restaurant, a cute robot greeted us with puppy eyes. Too bad, we didn't understand what he was saying.
After "playing" with the Kawaii "chef" for a while, a staff came out to assist us. She didn't speak English either, but through gesturing gave us a queue number and guided us to a waiting area.
Since the queue numbers were called out in Japanese language, we kind of wore a puzzled look all the time. The staff was nice as she remembered our number and came out to bring us to the table. 
Sushi Varieties & Price at Hamazushi
Seated comfortably by the sushi conveyor belt, we brewed ourselves a cup of hot matcha tea (complimentary by the way).
While the man was studying the sushi menu (both hardcopy and digital versions), I drooled at the parading sushi on the conveyor belt.
"Pick me! Pick me!"  The sushi were beckoning to me.
"Sure, babes!" :)
The pocket-friendly prices at Hamazushi made food-ordering an easy affair – just order anything you like! At just ¥100 per plate for most sushi and ¥150 for the premium ones, we over-indulged and ordered more than what we normally do. 
Other than picking up fancy sushi from the conveyor belt, we also made orders through the digital device. But our manual orders never seemed to arrive, or so we'd thought.
It was only after speaking with the staff that we learnt what is needed to truly enjoy Hamazushi's 100% automated system. 
How to Place Manual Orders at Hamazushi?
The system at Hamazushi worked somewhat like Genki Sushi in Singapore, except that your manual orders would not stop at the conveyor belt for you.
Instead, the screen would remind you in Japanese that your order is coming and you'll have to look out for it. They'll stand out on a raised platform.
A thought then came to our mind. Did we unknowingly collect other people's manual order before we were taught how to use the system?
TIP: Do not pick up sushi plates on raised platforms, unless you have ordered them and received a screen reminder to do so. 
Cheap but Good Sushi at Hamazushi Nago
Though cheap, the sushi at Hamazushi, Nago City was generous in toppings! Look at this very common Ebiko (prawn roe) sushi.
I was impressed at the almost-overflowing "caviar". 
Not only was it fresh, it was "crunchy" too as I heard every single one of them popping in my mouth. 
I really love the large varieties of sushi they have, most of which you won't see in Singapore. That was what made us over-ordered as we just had to try everything (that we fancied).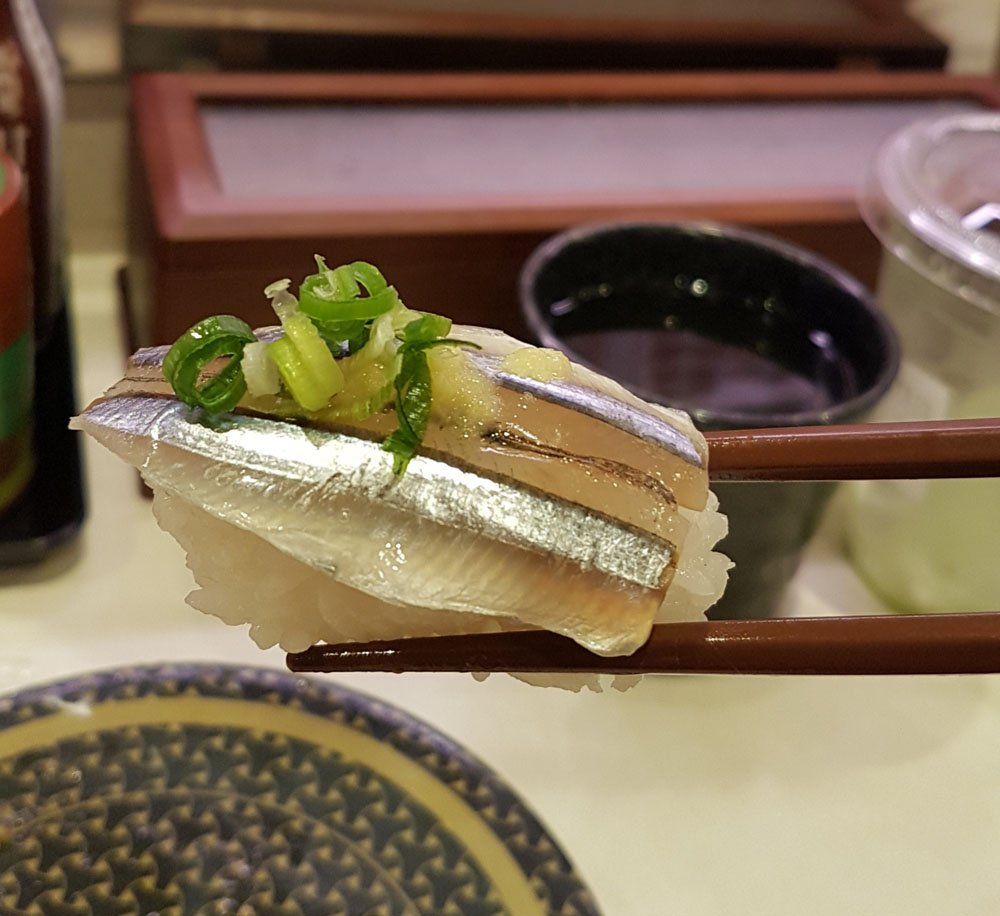 Our bill came up to just 2,600 yen even after over-ordering. 
Other than sushi, you can also order noodle, soup, dessert and drinks such as a matcha latte.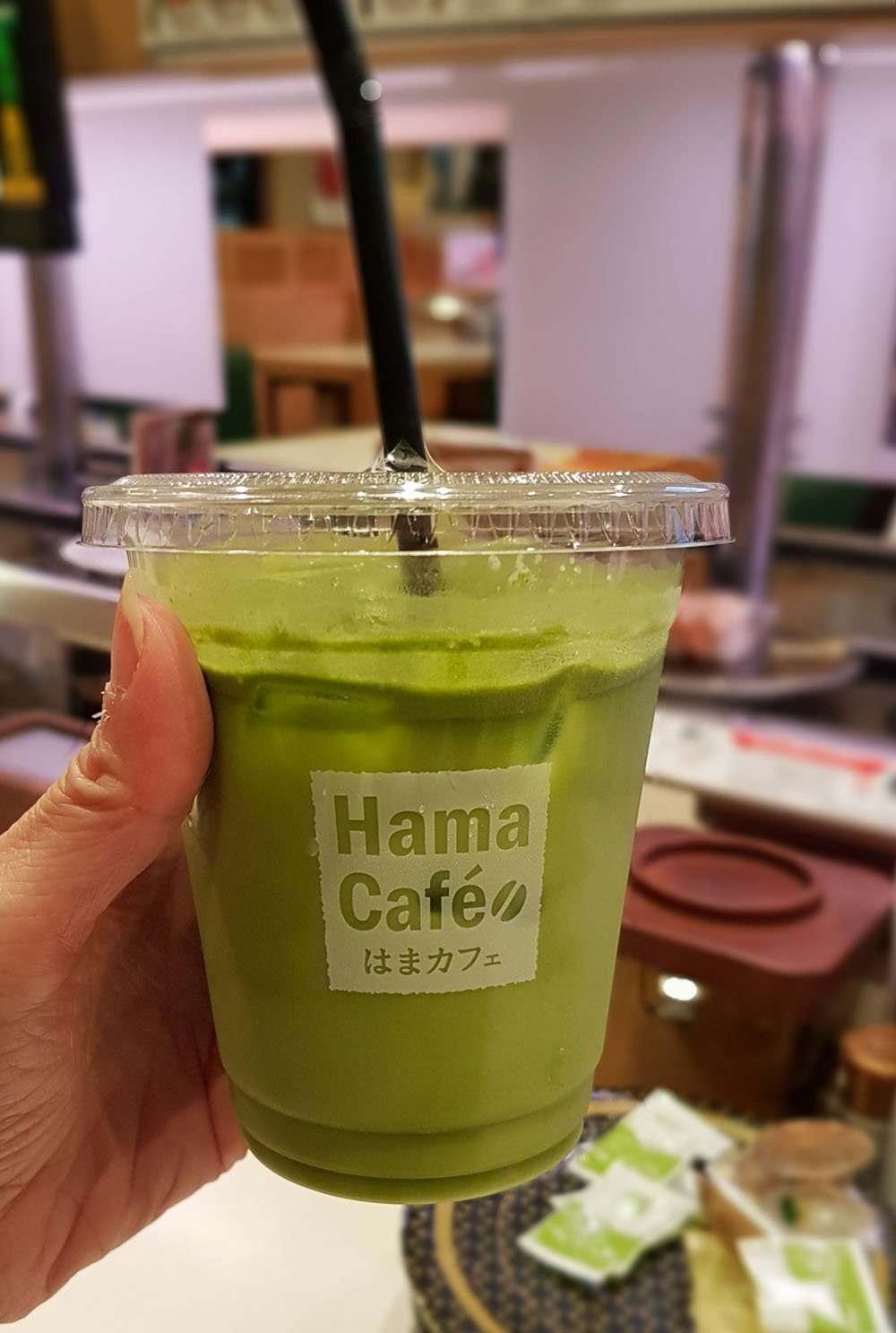 So many types of Soya Sauce to choose from
One thing that amazed and puzzled us was the variety of soya sauce on the table. Since they were in Japanese, we couldn't quite figure out how different they were. 
My poor palate didn't help either. So we just dip our sushi in random soy sauce. And this concludes our lovely dinner at Hamazushi in Nago City.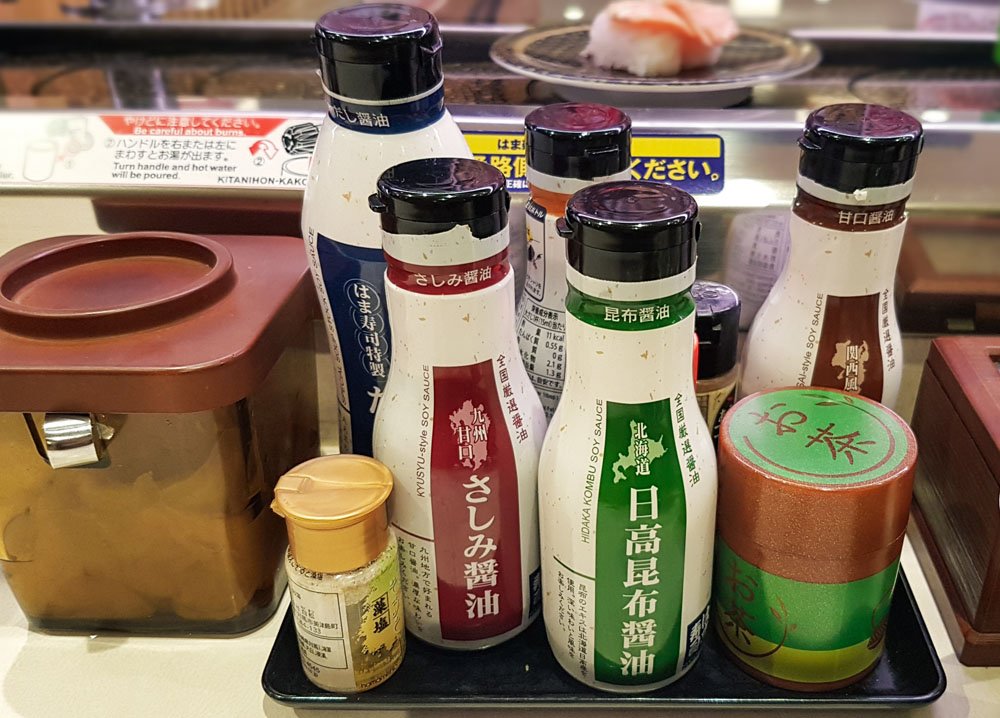 Restaurant Info: Hamazushi Nago Shop
Free parking
Opening Hours: 11am to 11pm
---
Recommended Food To Try in Okinawa Nago City
I thought I'll make a quick list of the food we've enjoyed during our 5D4N stay in Nago, north Okinawa.
Only three restaurants made the list as I'm only recommending the very good stuff (click to read our experience):
Hamazushi Sushi Restaurant
---
Shopping in San A Nago Departmental Store
(10.30pm)
We concluded Day 7 of our Okinawa trip with a shopping spree at San-A, a slightly dated departmental store in Nago. Over here, only things in the drug-store section are tax-free (subject to minimum purchase of ¥5000).
> RELATED: 20 Things to do in North Okinawa
Once again, I was literally stuck at the drugstore section loading up on my Japanese beauty purchases. I kind of envied my partner who didn't come with a "beauty burden". 
He could enjoy his carefree moments, exploring all sections of the store including luggage, apparels, shoes and even a 100-yen shop (Daiso) at the basement. There's also a supermarket within this mall. 
Shop Info: San A Nago Departmental Store
Free parking
Opening Hours: 9am to 11pm
---
Day 7 ended on a windy note (with slight drizzle). If you've read this post on our Japan typhoon experience, you would know that we'd been warned by our Airbnb host of an impending typhoon which would make official landfall in Okinawa tomorrow, on Day 8.
That's the day when we would be out on the road, making a long-distance drive from Nago to Naha, Okinawa. What great coincidence!
Stay tuned and I'll share what we did on a typhoon day in Okinawa in detail. Don't forget to click the button below to subscribe to newly-published honest reviews. As a subscriber, you'll get access to free and exclusive stuff. See you soon!
SUBSCRIBE
---
Related Posts:
Pin This!
(Visited 502 time, 1 visit today)