Just a few more posts before we end our Okinawa travelogue. Today, I'll share how we made our way from Nago to Naha city on a typhoon day. 
This post continues from Day 8 (Part 1) where we spent the morning at Katsuren Castle. From there, we drove southwards for half an hour and revisited Aeon Mall Okinawa Rycom. We assumed that a big multi-storey building like this can offer more shopping options and protection from the typhoon (predicted to arrive in the noon), as compared to street-side shops in Naha.
It also allowed us to keep our luggage at a very low fee – FOC. :) Yah, we left it in the sheltered carpark. 
If you prefer proper storage, Aeon Rycom's storage facility is cheap. I've written more info on the lockers in this post.
---
How Aeon Rycom was like hours before Typhoon hit Okinawa
(10.30am)
Entering Aeon Rycom this time around was a vastly different experience as compared to our last visit a few days ago. I was surprised to see all the shops in the mall closed.
Look at the makeshift sign below, pasted on a white fabric that blocked the passage to all the shops. The sign says that due to impending typhoon, all specialty shops were closed. Only Aeon Departmental Store was opened. 
Sigh! Even the food court was not operating. This left us feeling disappointed as one main reason why we revisited Aeon Rycom was to savor the delicious beef bowl we had on Day 3. Here's a photo of the beef bowl to help you recap our experience. 
At this point, we were wondering how to settle lunch for the day. But since it was still early, let me get one thing crossed off my to-do list, that is, to finalize my beauty purchase. :) Fortunately, I could get my beauty shopping done at Aeon departmental store.
Why not buy at Naha city?
Caught in a typhoon situation, I wasn't hopeful that the shops in Naha city would be opened especially since most were exposed to the elements. Another motivation for me to get my stuff at Aeon was the discount coupon collected at the airport.
It's a 5% discount, on top of the 8% tax free refund.
TIP: Goods and services tax in Japan has been raised from 8% to 10% in Oct 2019.
Final Beauty Haul at Aeon Rycom
As usual, I spent a few hours stuck at the beauty section of Aeon store loading up on my third and final purchase of Japanese beauty products. This was despite having done prior research on Day 3, noting down the things to get, right down to the color details (e.g. of foundation, lipstick, eyeshadow). 
Related:
I think a lot of time was wasted due to language barrier. Most, if not all of the products, were labelled in Japanese descriptions, making it hard for me to understand how one product differed from another of the same brand. For instance, which of the moisturizer was meant for dry skin? What's the difference between the five types of sunscreen from Suncut or the five types of toner from SANA Nameraka?  
On hind sight, I should have signed up for a WiFi plan that would allow me to do live Google Translation using image scan. Well, I learnt my lesson and booked a WiFi plan when I revisited Japan (see 15 Days Osaka trip).
TIP: I recommend that you equip yourself with WiFi data when touring in Japan. It will save you time and money (from buying wrong products), and enable you to research on-the-go. Here's a Japan 4G SIM Card you can pre-book online. You can also consider a Japanese Pocket WiFi, which may be cheaper if you are travelling in a group.  
What Japanese products did I get from Aeon Rycom? 
Aeon Rycom offered a wide range of beauty brands and products. To help me stay focused, I zoomed into a few brands that I'd yet to try, such as Cezanne and Chifure. These are very affordable cosmetic brands in Japan.
I also loaded up on a few pieces of my favorite lip balm. On hindsight, I should have bought my DHC Lip Cream in Naha city as they were later found to be 40% cheaper.
Loading up on Japanese Snacks & Grocery
Once I settled my beauty purchase, the next "task" was to load up on Japanese snacks and seasoning items from Aeon Supermarket. 
Surprisingly, the supermarket was crowded. In fact, it was busy since morning. When we first stepped into the mall at 10.30am, we already saw the cashier busy with queues. Perhaps, the locals were stocking up on food supplies before the typhoon arrived. 
Since time wasn't on our side, we brisk-walked through the supermarket aisles and picked up a few packets of our favorite mixed-nuts, dashi seasoning and random snacks that looked interesting. Here's a bird eye's view of some of the things I've picked up.
For a more complete list, please check out this post – 25 things to buy in Japan that are affordable and loved by locals
Famished! What to eat when all restaurants were closed? 
(2pm)
It was time for lunch and our stomachs were growling. With no proper food option in Aeon Rycom on this typhoon day, we were glad to see Aeon supermarket filled with a good variety of ready-to-eat food.
I ordered a Bara Chirashi Don (¥400+), fried fish and tempura chicken, plus a bottle of Ito En green tea. Can you see how big the ¥200 fish patties were?
Food was decent and we regretted not buying the sea urchin platter. At that time, we thought it wouldn't match up to the freshness of the sea urchin bowl we had at Kouri Island.
It probably wouldn't, but should be good enough as compared to sea urchin available elsewhere such as the mediocre one I had in Dotonbori, Osaka. 
Okay, stomach filled. Time to be on the road again. 
TIP: If you happened to be in Okinawa, don't forget to try sea urchins.
Aeon Rycom Mall Info: 
---
Final Drive to Naha City
(2.40pm)
Back on the road, this would be our final drive before returning our rental car in Naha city.
Half-way through the hour-long journey, we passed by Urasoe Castle Ruins, a castle I'd shortlisted and wanted to visit. This place served as the inspiration behind the movie "Hacksaw Ridge" which I'd watched and loved.
Imagine a weaponless medic saving 75 men who used to shame and abuse him? What an inspiring heroic story based on a real-life event!
Anyway, we decided to top up our petrol before visiting the castle (yes, need to fill tank before returning rental car, don't forget!). After stopping our car for the first time in the last one hour or so, we realized how strong the wind was. The car was vibrating non-stop!
Imagine the wind was strong enough to shake heavy metal?!?
Being responsible son/daughter/adults (LOL!), we decided that we should put aside any recreational thoughts and just head straight to our hotel in Naha city. Sigh! 
TIP: All in all, we spent about ¥7500 on petrol costs over 8 days of car usage. If we add in all car-related expenses such as parking and rental fee, it works out to S$14 per day per person (split between two). If you travel as a family, the cost would go down even further.

That's why renting a car in Okinawa is practical and highly-recommended. Take a look at this highly-raved car rental option.
Attraction Info of Urasoe Castle:
---
Hello, Naha (again)!
Yes! We were finally back at Naha, the city that we stayed in for the first three nights when we explored southern- and western Okinawa. What were different this time around was the weather.
RELATED READINGS:
Typhoon had not arrived, but there were strong gusts of wind and momentary light rain. Pedestrians were seen struggling with their umbrella. But the shops were still opened and everything seemed as per normal unlike our experience at Aeon Rycom.
Great, this meant that we could still do some shopping later. 
RELATED: How Japan Typhoon disrupted my travel plans
Our Well-Located Hotel in Naha, Okinawa 
(3.45pm)
Soon, we arrived at GRG Naha Higashimachi Hotel, our base in Naha city. As parking in Naha was expensive (not free even for hotel guests in most instances), we decided to stop by the roadside while I carried our belongings to the hotel lobby. My partner then drove off to return the rental car at OTS (Akamine Branch).
Bye bye, our golden sedan. You've made our trip so much more fruitful and memorable!
INFO: You can read about our OTS car rental experience here. 
Why we chose GRG Naha Higashimachi Hotel?
The reason why we chose GRG Naha Higashimachi Hotel was because of its great location. 2 minutes was all it takes to walk to the nearest train station. That would make it easy for us to make our way to the airport tomorrow.
In fact, we could also walk to the popular Kokusai Dori Shopping street in about 15-20 minutes (or two train stations away).
One thing to note though, the room is small, but not unlike a typical hotel in Japan. And hey, GRG Naha Higashimachi Hotel came with a super-cool massage chair in the room, plus a free breakfast to boot.
The room was also clean and the staff were friendly, efficient and conversant in English. A good hotel option if you are looking for a base in Naha city.
---
No Typhoon? So we shopped at Kokusai Dori Street
(6pm)
We waited in the room till evening and yet there was still no sign of typhoon except for some drizzle and occasional strong wind. Didn't the weather forecast say the typhoon would arrive in the afternoon?
Feeling bored and a little cheated (my Urasoe Castle! Urgh!), we decided to walk to Kokusai Dori for dinner and shopping.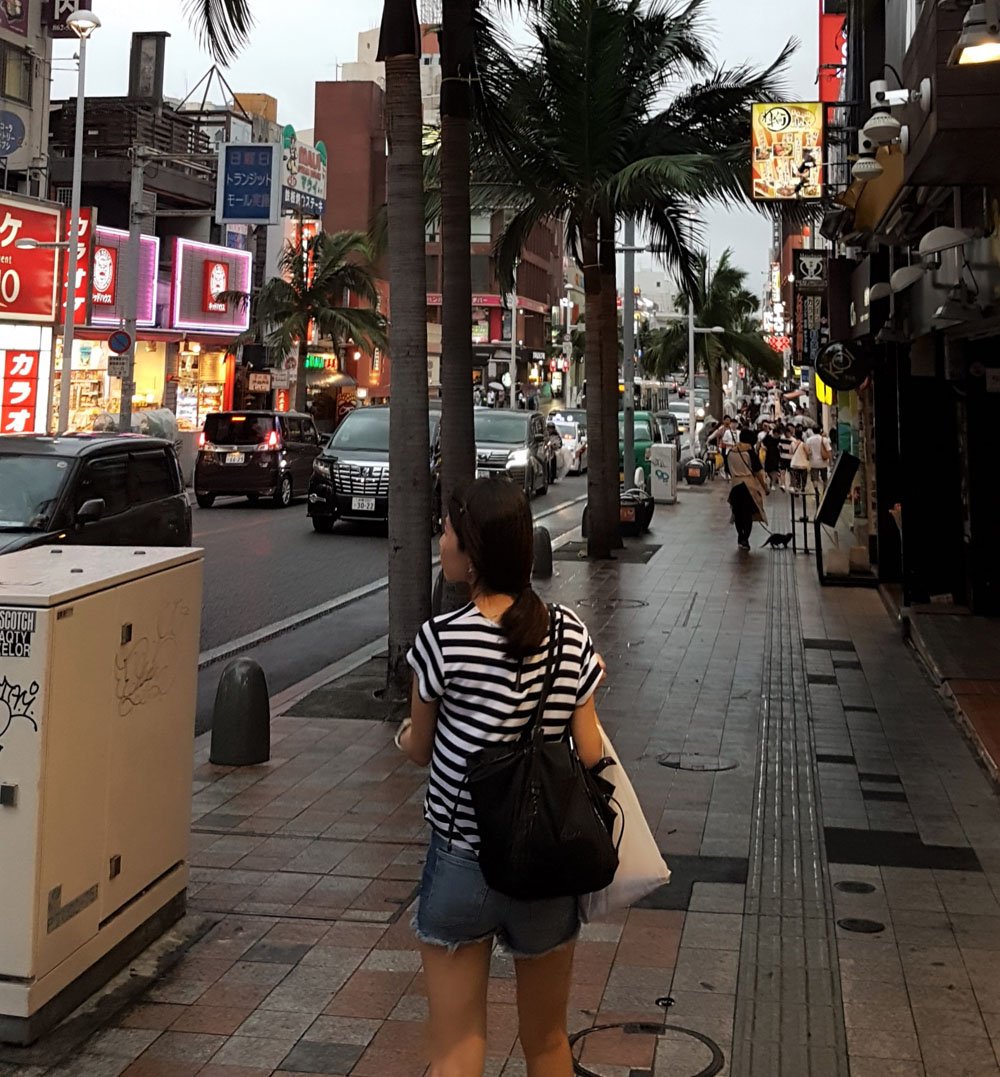 I'll come back with the next post to share with you what we did in Naha City. In case you wonder, typhoon did arrive! LOL! Stay tuned to read more about how we came face to face with Typhoon Prapiroon. 
Don't forget to click the button below to subscribe to newly-published honest reviews. As a subscriber, you'll get access to free and exclusive stuff. See you soon!
SUBSCRIBE
---
Related Posts:
Pin This!
(Visited 246 time, 1 visit today)