Hey, I'm going to show you another castle in Okinawa. It's Katsuren Castle Ruins, a UNESCO World Heritage Site located right between Nago and Naha cities.
We visited the castle on Day 8 of our Okinawa summer itinerary, which if you recall is the day Typhoon Prapiroon was expected to hit Okinawa. Yes, unfortunately, the typhoon would make a landfall on the day of our roadtrip back to Naha.
This made us a little nervous as we had never come face to face with a typhoon and didn't know what to expect. "Would our car fly off the highway?"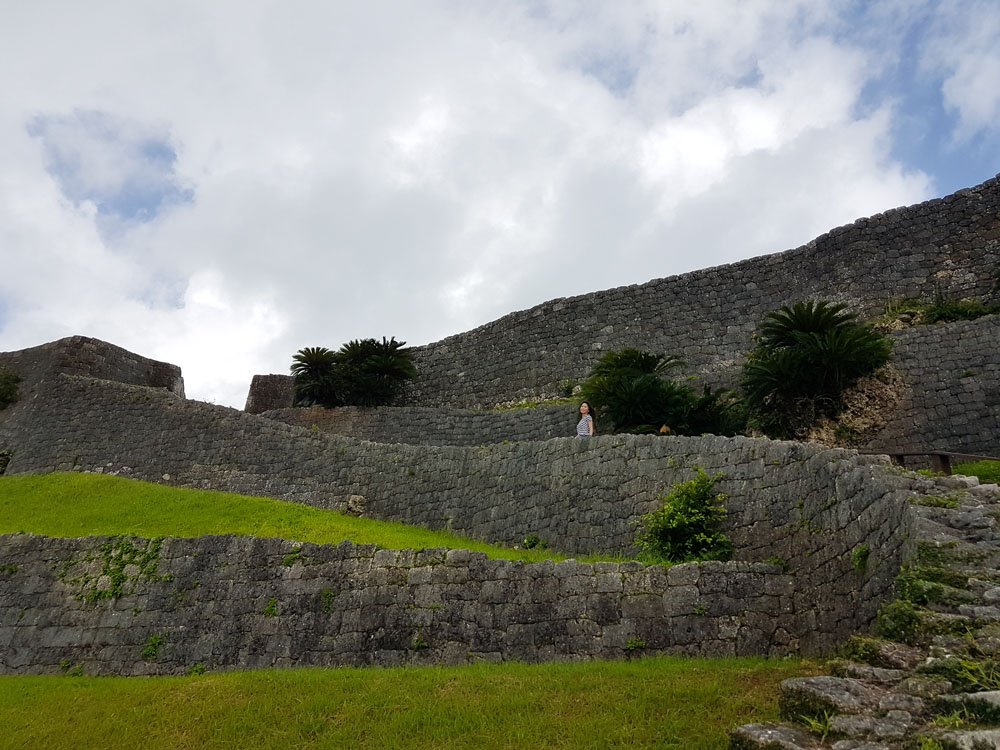 Check out how we coped and planned our itinerary around the impending typhoon. For a better story flow, you may want to check out these two summary posts to give you an overall picture of where we are in the 9 Days Okinawa Trip: 
Done reading? Let's begin our journey on Day 8. 
---
A Hurried Drive towards Naha City, Okinawa
(7.40am)
This must be one of the earliest check-outs we have made in our travel, and it's not by choice. Our Airbnb host advised us to leave Nago early as typhoon was predicted to hit Okinawa by noon. 
Fighting against time, we made a quick drive to MaxValu supermarket, packed some ready-to-eat food and ate them in the car while making a south-bound drive.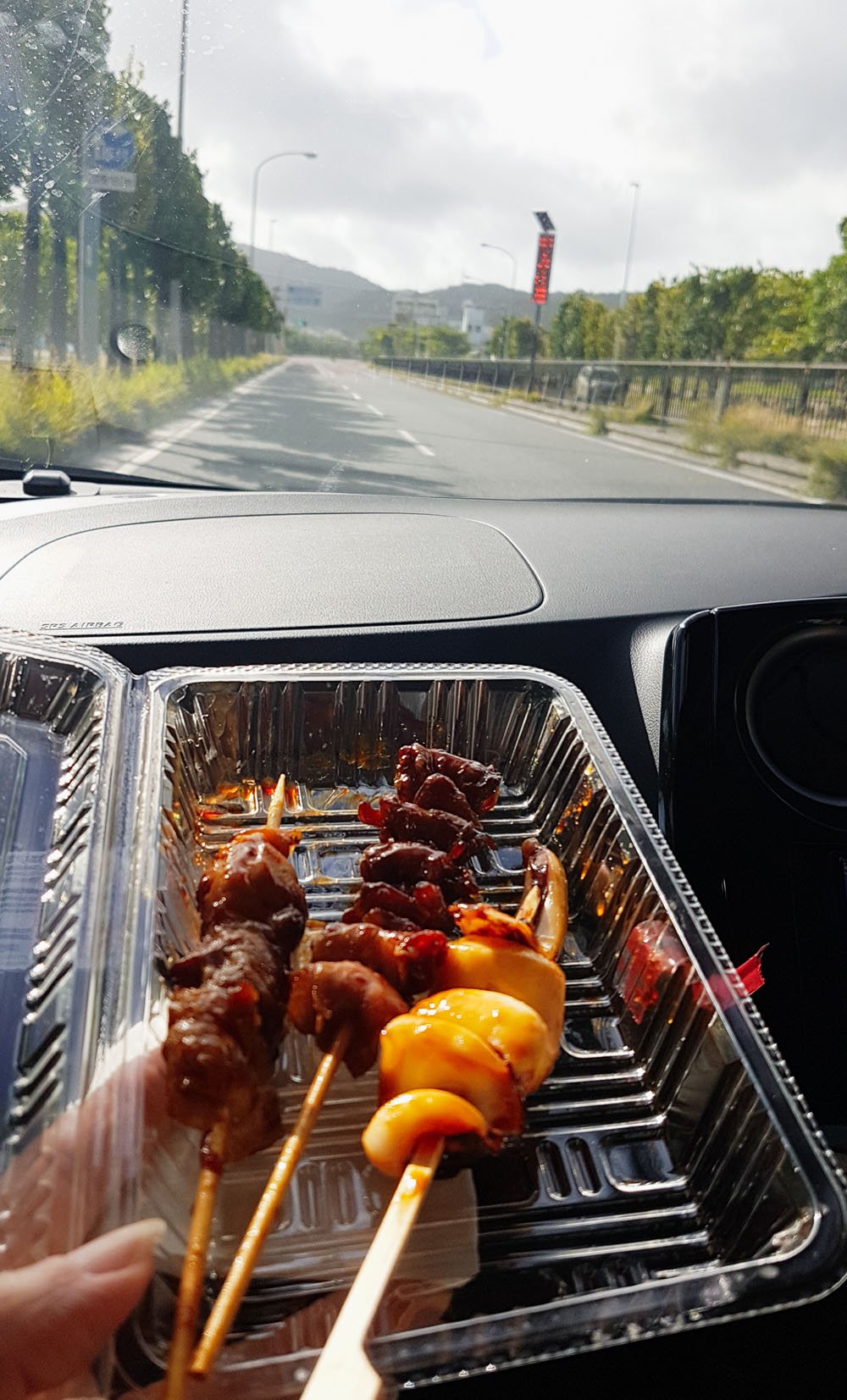 We also had to scrap our planned visit to Cape Manzamo which was a pity because it's one of the places that I'd really wanted to go. Having visited many capes in Okinawa, I really like to know how this compares with the rest. Next time, maybe. 
The consolation was perhaps being able to fit Katsuren Castle Ruins into our itinerary. The weather seemed okay when we reached central Okinawa after a 1.5 hours drive. The car and driver needed a break and we thought the best place to have it was at Katsuren Castle. 
INFO: We paid a road toll of 630 yen when we drove from Nago city to Katsuren Castle via the highway.
---
Katsuren Castle Ruins in Okinawa
(9.10am)
We arrived at Katsuren Castle Rest Area, a sheltered building located opposite the castle ruin and separated by a road. This is the place to park your car if you drive (view location). 
TIP: Driving is, what I believe, the best and most economical way to explore Okinawa. Here's a highly raved car rental option.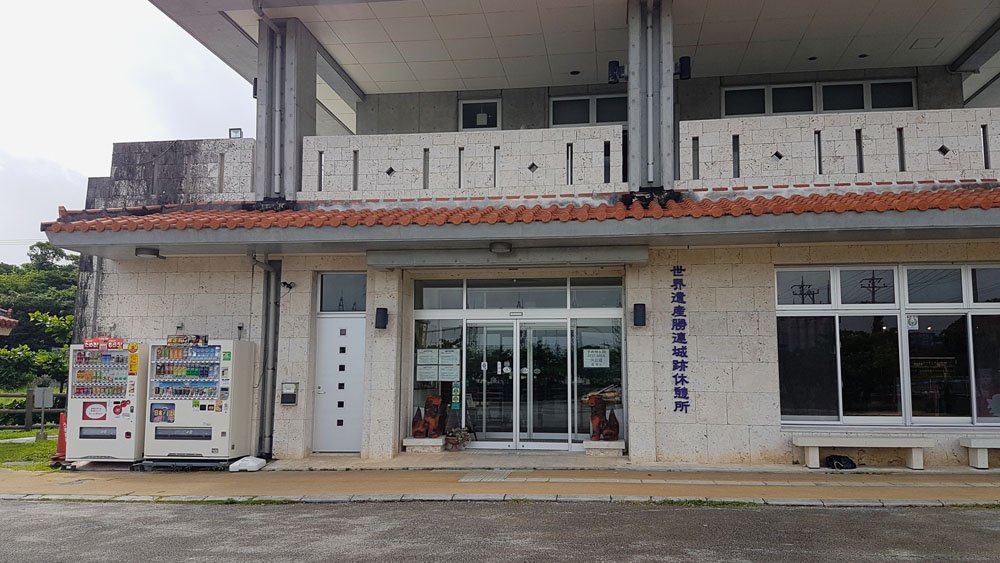 As it was drizzling, we decide to check out what's within Katsuren Castle Rest Area.
This cosy rest area seemed to be a souvenir shop, museum, cafe and apparel shop all merged into one. There's also a proper seating area (Japanese style) for you to take a well-needed rest on the floor. 
We didn't stay here for long, all thanks to the short-lived drizzle. Once the weather was clear, we crossed a small road and headed towards Katsuren Castle.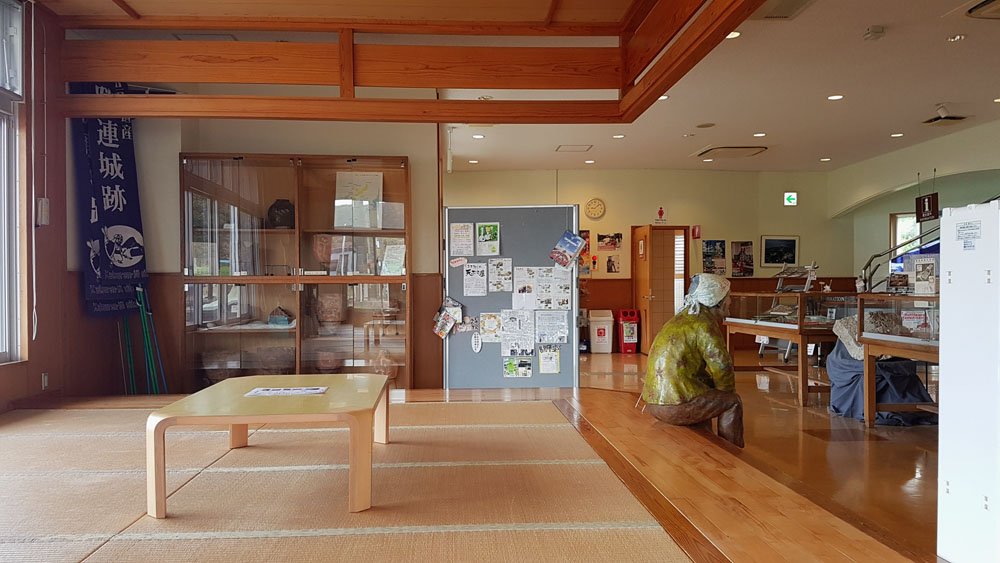 First Impression of Katsuren Castle – "Authentic & Historical"
I liked Katsuren Castle Ruin. It felt like an authentic castle that hadn't gone through excessive restoration work (view castle location).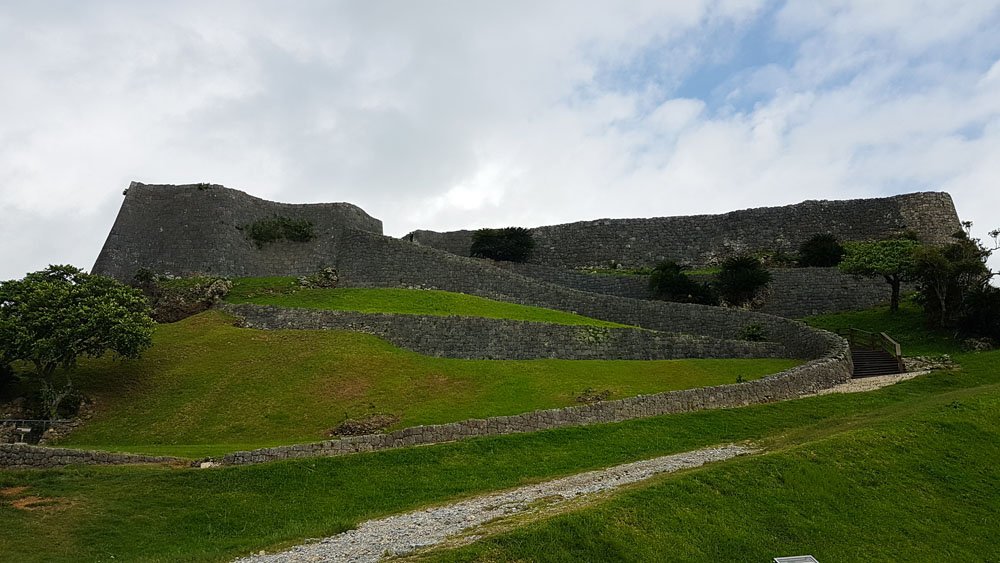 You'll feel like you have stepped back in time when you climb up the heavily-eroded stone-carved stairway.
Some parts of the staircase were even more eroded than what you see here. But luckily, they have wooden stairway built along parts of the castle to ease your climb. Still, I think this place may not be suitable for the elderly or wheelchair users.
And no heels, please! 
A Pre-Typhoon Visit to Katsuren Castle – Very Windy!
We braced ourselves against the strong wind and made our way to the highest point of the castle. It was probably four storey tall? 
The panoramic view of ocean, islands and the city was amazing and comparable to what we saw at Zakimi Castle – another highly-recommended castle in Okinawa. The only difference was the weather today – it was extremely windy and cloudy.
I played it safe by not standing too close to the edge of the castle (I sat), because the wind was strong enough to make me sway a bit, as you can tell from the video below.
*Warning: Video is noisy due to the wind.
I'm not sure if weather was a reason, as we didn't see many people at Katsuren Castle. In fact, we only saw one other couple. 
Climbing Down Katsuren Castle
On the way down, there were "holes" or sunk-in walls for us to take temporary cover from the gusty winds. How thoughtful! :)
Back to Katsuren Resting Area for Coffee
After we were done with the castle, we returned to the resting area to have my morning Japanese coffee. How can anyone do without caffeine? That's one of life's greatest enjoyments and inventions. Agree?  
I also finished up my bento takeaway that I got from the supermarket in Nago.  
Katsuren Castle Entrance Fee 
So how much does it cost to enter Katsuren Castle Ruins? Good news, folks! Katsuren Castle is free to enter. 
Yup, admission fee for this UNESCO World Heritage site is FOC. Wonderful! :) 
Attraction Info: Katsuren Castle
---
Wrapping it up
That's all to Part 1 of my Day 8 Okinawa Itinerary. To recap, here's a list of castles in Okinawa that we have visited. I've listed them in ascending order of preference:
Katsuren Castle (this post)
Next, we'll continue our drive to Naha and spend our last day loading up on beauty and souvenir purchases. You'll also see us coming face to face with Typhoon Prapiroon. Stay tuned!
Don't forget to click the button below to subscribe to newly-published honest reviews. As a subscriber, you'll get access to free and exclusive stuff. See you soon!
SUBSCRIBE
---
Related Posts:
Pin This!
(Visited 484 time, 1 visit today)