Most tourists to Okinawa would pay Okinawa Churaumi Aquarium a visit. When you are there and have some time to spare, consider adding Bise Fukugi Tree Road to your itinerary. This quaint seaside town offers great photo opportunity and is just 10 minutes walk from the aquarium.
Over at Bise district (字備瀬), you can stroll through tree-lined alleys, capture some amazing photos, ride a buffalo or do some snorkeling. 
If this sounds like something you may be interested in, read on as I'll share our Day 7 Okinawa itinerary (Part 1) which included a visit to JA Farmers Market Yanbaru and a stroll through Bise Village.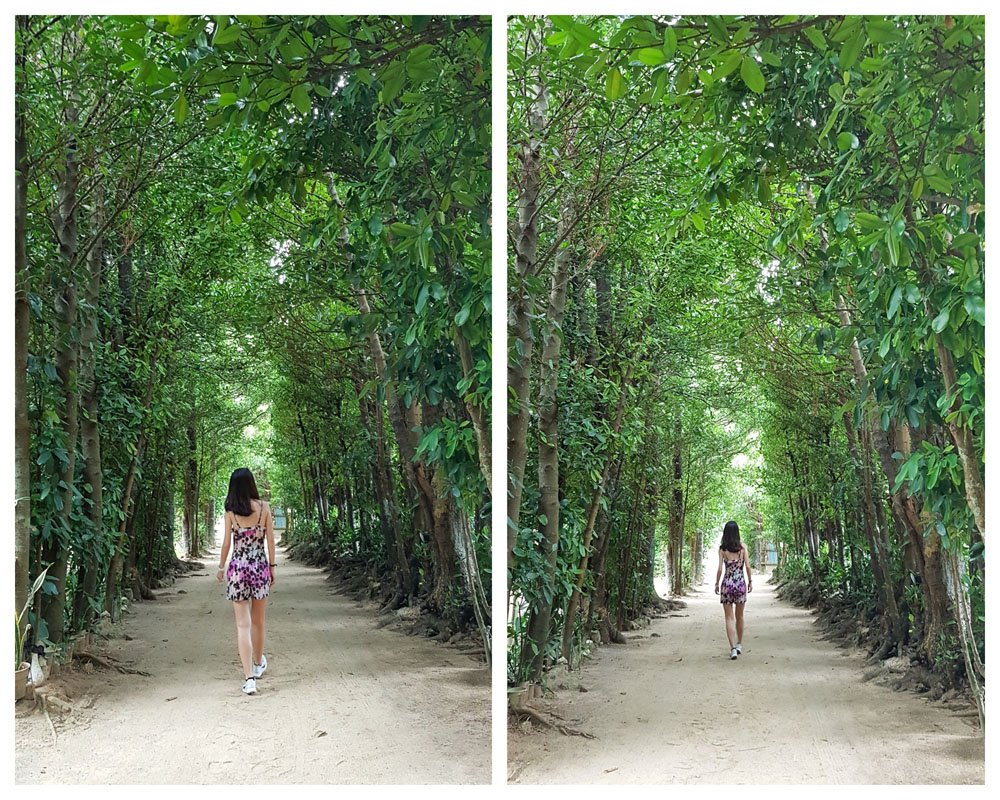 ---
A Relaxing Airbnb Indulgence in Nago, Okinawa
(10am)
As you may have read from our Day 6 itinerary, we had a physically-demanding day yesterday snorkeling, hiking waterfall and climbing a mountain. This explains why we felt a little lazy today and wanted to just take things slow and easy.
The first thing we did was to cancel our morning hike to Fukagawa Falls, and replace that with something equally worthy of our time, i.e. to enjoy a relaxing home-made breakfast within our lovely Nago apartment.
By the term 'home-made breakfast', I was referring to heating the frozen pack Gyoza and Dim sum using a microwave; and pouring boiling water into our cup noodles.
That's a shame because this apartment came with a well-equipped kitchen, with stove, large fridge, cooking utensils and all.  But, too bad, we didn't have eggs and breakfast supplies since it was a last minute decision to stay in. 
Anyway, once the 'cooking' was done, we brought the freshly-heated breakfast outdoor and savored it in our private gazebo garden. What a great indulgence to just relax and do nothing during a trip. I'll have to make a mental note to make sure future trips also come with "time-off moments" like this…um…provided the accommodation is equally good. :)
The Lovely Apartment that We Stayed in Nago
I'm glad we made time to enjoy our Nago accommodation as this was the most luxurious stay we've had in Japan, in terms of spaciousness.
That's 250 m² of space, large enough for 7 pax to sleep in and comes with a large balcony and garden. As a couple, we kind of underutilized the house and didn't even touch the other bedroom. 
> MUST-READ: 11 Tips you need to know when choosing a hotel in Okinawa
Great Value for the Space Given: Seven Residence Yabu
When I saw Seven Residence Yabu listed on hotel portals at S$160 per night, I confirmed the booking quickly without any hesitation. In fact, we even extended our stay in Nago, from two to four nights so that we could have more time to enjoy the big house. :) On hindsight, it was a great decision because there are so many things to do in Nago. 
> MUST-READ: 20 Things to do in Northern Okinawa 
Although this Nago apartment was the priciest as compared to two other hotels we've stayed in Okinawa, it turned out to be the cheapest on a per square metre basis. I must have been really lucky to spot the "new-listing promo" as the price has since gone up. But, it remains good value especially if you are travelling as a family or in group.
For info, the other two accommodations that we've stayed in Okinawa are:
---
Let's Shop at JA Farmers Market in Nago
(2pm)
We enjoyed the slow pace of life so much that we also skipped Nakijin Castle Ruins and idled in our Nago apartment till our stomach started growling. 
TIP: The reason why we were fine skipping Nakijin Castle Ruins was because we had already visited quite a few castles in Okinawa. With the help of a rental car, the castles we'd visited were free to enter, unlike those located near tourist belts. View latest car rental rate.
Scanning through Google Map for lunch ideas, we saw a place where we could dine with the locals.
Come, let's visit JA Farmers Market Yanbaru. According to scant online reviews, this place comes with its own food court.
Fresh Fruits & Vegetables at JA Farmers Market Yanbaru
Before heading to the food court section, we made a quick tour to see what JA Farmers Market Yanbaru offered.
Just like other local markets in Okinawa (e.g. the one in Itoman), JA Farmers Market in Nago has the setting of a supermarket, albeit a small one. As compared to established supermarkets such as Aeon, the selections at JA Farmers Market were also limited, with a focus on vegetables and fruits. 
One thing you can pick up is Goya (bitter gourd), which is commonly served in an Okinawan cuisine. Of course, that's provided you can cook and have access to kitchen. Otherwise, you may like to browse through the fruits section and boost your vitamin and fibre intake when holidaying.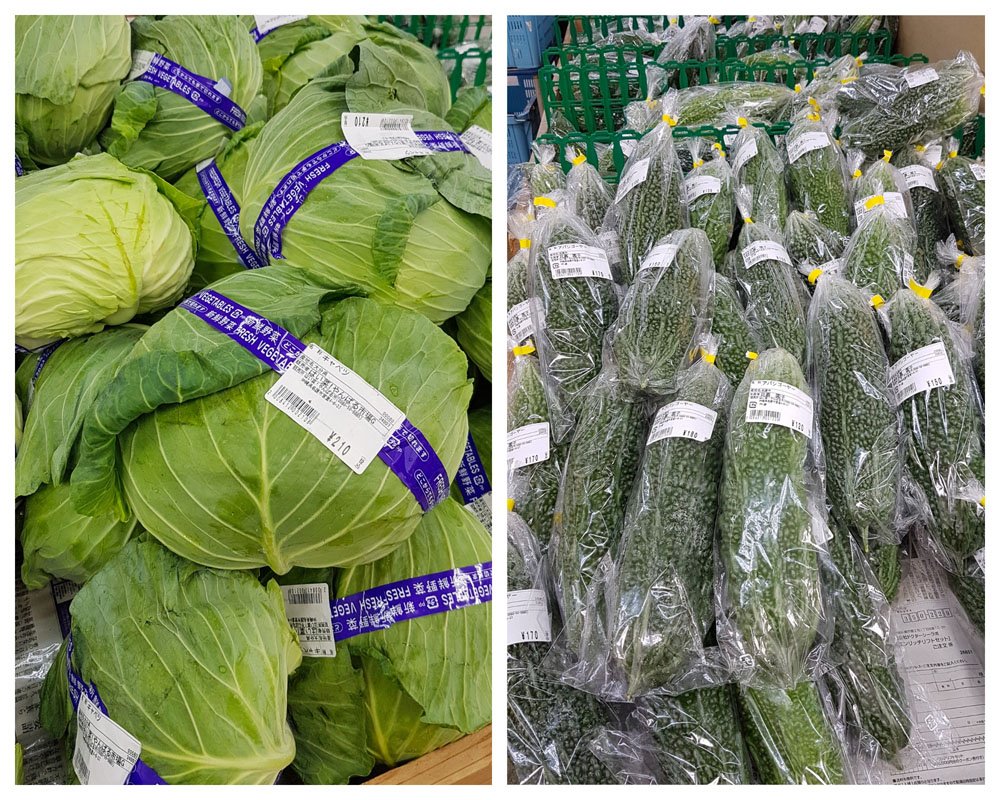 Locals have mentioned that the fresh produce at JA Farmers Market were cheap and they may be right in local context. But as South East Asian folks, we found the fruits and veggies a tad pricey. A S$25 watermelon would take some time for us to get used to. :)
We left empty-handed and proceeded to the food court next door for our lunch. 
Homely Food Court at JA Farmers Market Yanbaru
Fresh flowers and plants decorated the brightly-lit and airy food court at JA Farmers Market Yanbaru. Unfortunately, food options there were limited. The few stalls that were opened sold mainly desserts such as ice cream.
Aargh, sweet things weren't what we were looking for – we wanted savory mains! As time was running out for us, we made our way back to JA Farmers Market to see if we could get some Bento Set meals instead.
We were thankful that most supermarkets in Japan offered microwave (after cashier) which allowed us to have a decent hot meal. 
> RELATED: 18 Important Things to know before visiting Okinawa
Here's what we got for lunch – a pack of fried Shishamo (¥300), Spring Onion Cake (¥150) and 2 X Bento Set Meal (about ¥350 each).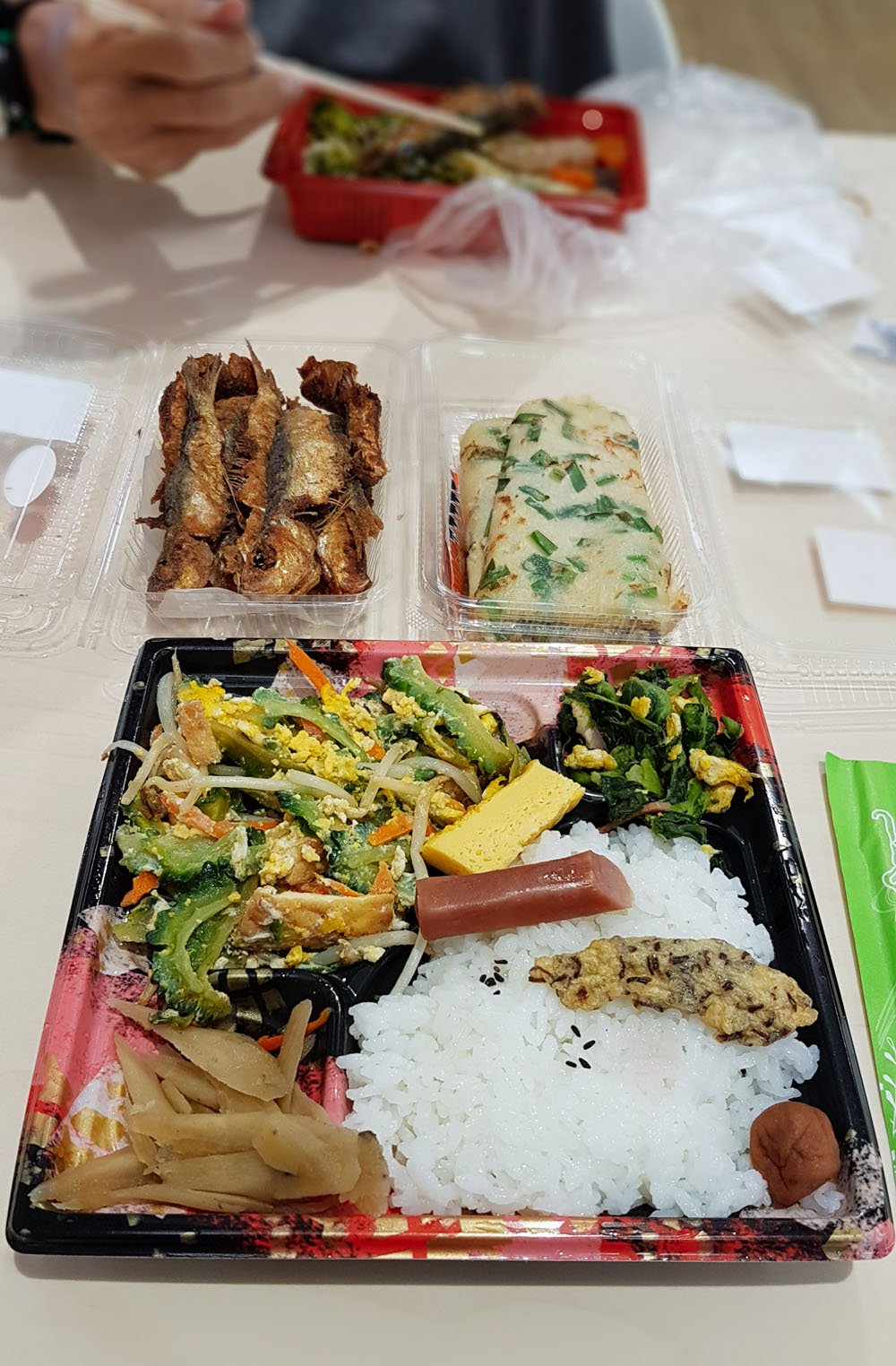 My favorite was the stir-fried bitter gourd with eggs. Finally, I got to sample this important Okinawan dish – Goya! It was good!
Feeling fully-energized after the simple lunch, our next activity was to get some instagram-worthy photos at Bise Fukugi Tree Road. Let's go!
Attraction Info: JA Farmers Market Yanbaru
---
Bise Fukugi Tree Road: An Instagrammable Spot Near Okinawa Aquarium
(3.15pm)
Bise Fukugi Tree Street is located just 10 minutes' walk from Okinawa Aquarium. You could consider walking over if you have some spare time after your aquarium visit. Since we have a rental car, we decided to drive to Bise first before visiting the aquarium.
Great Savings: This Main Island Okinawa Enjoy Pass gives you access to 12 popular attractions, including Churaumi Aquarium. You can use it at a relaxing pace over 5 days. 
Here's the official carpark in Bise that also comes with a shower facility (see location). There's another carpark located further north of Bise (see location), but it costs ¥500 and would be useful only if you intend to snorkel at Bise.
As for us, we parked at a quiet street for free which is close to the 'action'. Don't think it's responsible of me to reveal the location, as it may cause road obstruction if too many of you read this post. :) 
Mozzies Alert: Bring your insect-repellent to Bise
As soon as I stepped out of the car, I received a few kisses from the mosquitoes. Please bring along insect repellent if you like to take photos without any itchy distractions. 
Bise Fuguki Trees laid out in Grid Format
Bise Fukugi Tree Road is not just some trees planted along a single street. These trees lined every intersection and alleys, most of which are the back of houses.
Due to such intersections and grid-like format, I recommend walking over cycling. But if you prefer the latter, there are bicycle rental shops around, such as this one (see map) that charged around ¥300 per bike. 
Ride on a Buffalo Carriage along Bise Fukugi Tree Road
Other than walking and cycling, you can also explore Bise town by riding a buffalo-drawn carriage. It cost ¥2000 for 4 pax and would suit those travelling with kids and/or elderly. :)
Seek Happiness at "Married Fukugi Trees" 
We also walked past a Married Fukugi Tree, which were basically two giant trees that were joined together. This popular spot isn't very photogenic, but is said to bring happiness.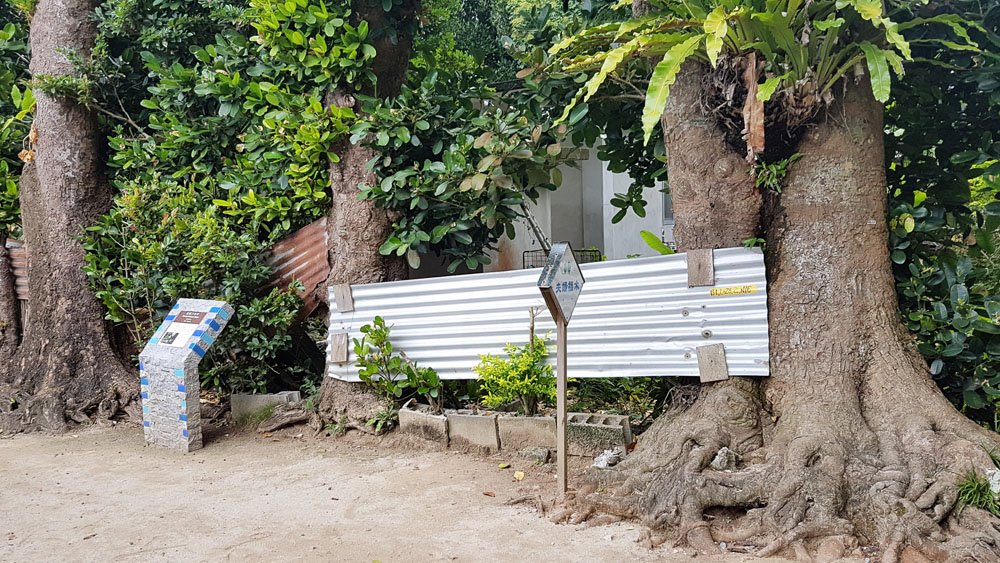 Enjoy Island Views at Cape Bise
Continue your stroll right to the northern tip of Bise and you'll get to see the small Island of Miugan on your right and Le Island (伊江村) on the left. You may also catch some fishermen at work. 
The beach nearby offers snorkeling opportunity that's close to the shore, just like the one we enjoyed at Kouri Island (see location).  
> RELATED: Kouri Island offer us the Best Snorkeling Experience in Okinawa
Attractions Info: Bise Fukugi Tree Road
And that's all I have for you today. Join me in my next post and I'll share what we did for the rest of Day 7, including a discounted visit to Okinawa Aquarium.
Stay tuned! Don't forget to click the button below to subscribe to newly-published honest reviews. As a subscriber, you'll get access to free and exclusive stuff. See you soon!
SUBSCRIBE
---
Related Posts:
Pin This!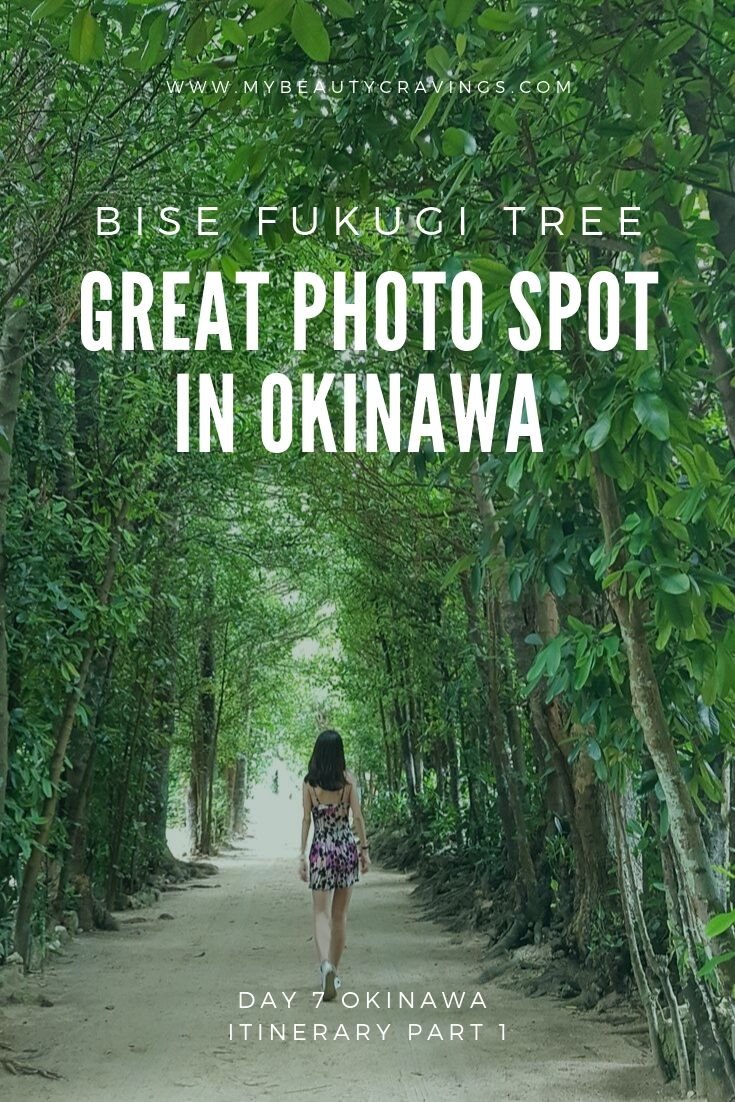 (Visited 1,131 time, 1 visit today)