Looking to do some real hiking in Okinawa? How about Mount Katsuudake, a mountain that takes just 30 minutes to get to the summit.
Psst, this place offers one of the most breathtaking views I've ever seen. You'll be blown away by the 360-degree sweeping view of Nago city! 
Update (Jun 2022): This post was first published in Sep 2019, before Covid-19. I'm republishing this post because this mountain offered one of the best mountain views. Also, I am deeply missing Japan and hope DIY travelling can begin soon. I promise I'll be one of their first visitors when that happens. :)
It's almost unfair to think that one can enjoy such a spectacular view without spending much time or effort. This is definitely good news for time-strapped tourists or those who prefer a short hike in Okinawa.
Check out how we got to the top of Mount Katsuudake on Day 6 of our Okinawa travel. By the way, this is Part 3 of our Okinawa Day 6 travelogue. Below are links to the earlier itinerary of the day:
---
Hiking in Okinawa: Location of Mount Katsuudake
Mount Katsuudake, a 452-metre tall mountain is located in Nago, the northern city of Okinawa. Unlike Hira Falls, this low mountain is close to most amenities and tourist attractions such as Okinawa Churaumi Aquarium, Nago Pineapple Park and Neo Park.
In fact, Mount Katsuudake was so near our Nago accommodation that we kept it as a loose activity that could be "activated" anytime when we had small pocket of free time. That happened to be on Day 6 of our Okinawa Trip, after a snorkeling session at Kouri Island and a hike to Hira Watefall.
TIP: Check out Okinawa Main Island Pass that offers superb value to many popular and family-friendly attractions in Nago, Okinawa.
How to Get to Mount Katsuudake?
Despite Mount Katsuudake's central location in Nago city, you do need a car to get to it, just like many attractions in Okinawa.
I've said this a couple of times, and I'll say it again – the best way to explore Okinawa is by a rental car. You'll get to see more things and incur lower transport costs. Check out this highly-raved car rental option.
INFO: For those who aren't comfortable driving on foreign lands, take a look at this popular transport option – Hip Hop Bus One-Day Tour. This tour will bring you to popular and touristy places in Okinawa. Mount Katsuudake is not one of them though. 
Trail Entrance & Carpark: Mount Katsuudake
We took just 10 minutes to get to Mount Katsuudake's car park from our accommodation in Nago. There, we saw a small toilet with the trail entrance located to its right (view location). 
TIP: Apply insect repellent as there were mosquitoes at the base of Mount Katsuudake. We were bitten when doing our business in the toilet. :)
Surprisingly, we were the only hikers/car at Mount Katsuudake. Good to know that we have found a non-touristy hiking trail. However, we better hurry up since it's getting late and it seemed like we would have no one to approach for help in case we needed one. 
---
Hiking up Mount Katsuudake in Okinawa
(5.40pm)
Ideally, we shouldn't hike up a mountain this late, at 5.40pm especially when it's one that we were unfamiliar with (and so deserted).
We did it anyway knowing we are relatively fast hikers. Also, the sun sets late in Okinawa during June/July, at around 7.20pm. So, that should give us ample time to get through the 1-hour return hike.
Still, I would suggest that you begin your hike earlier for a safer and more relaxing climb. We kind of rushed our way up to give ourselves sufficient buffer, in case we get lost or meet with any unexpected incidents.
A Steep Climb over Rocky Terrain
Although this trail would take just 30 minutes to get to the top of Mount Katsuudake, I wouldn't categorize it as a relaxing hike.
The trail was steep right from the beginning, and made mostly over rocky terrains. You may even find yourself on all four at times. 
Due to the limited daylight hours, we rushed through the almost-vertical climb and was panting hard. Luckily, we didn't have to worry about navigation as the direction signage was clearly displayed. In fact, there's only one obvious path up the mountain. :)
TIP: Please wear proper footwear. The rocky terrain may become slippery on rainy days.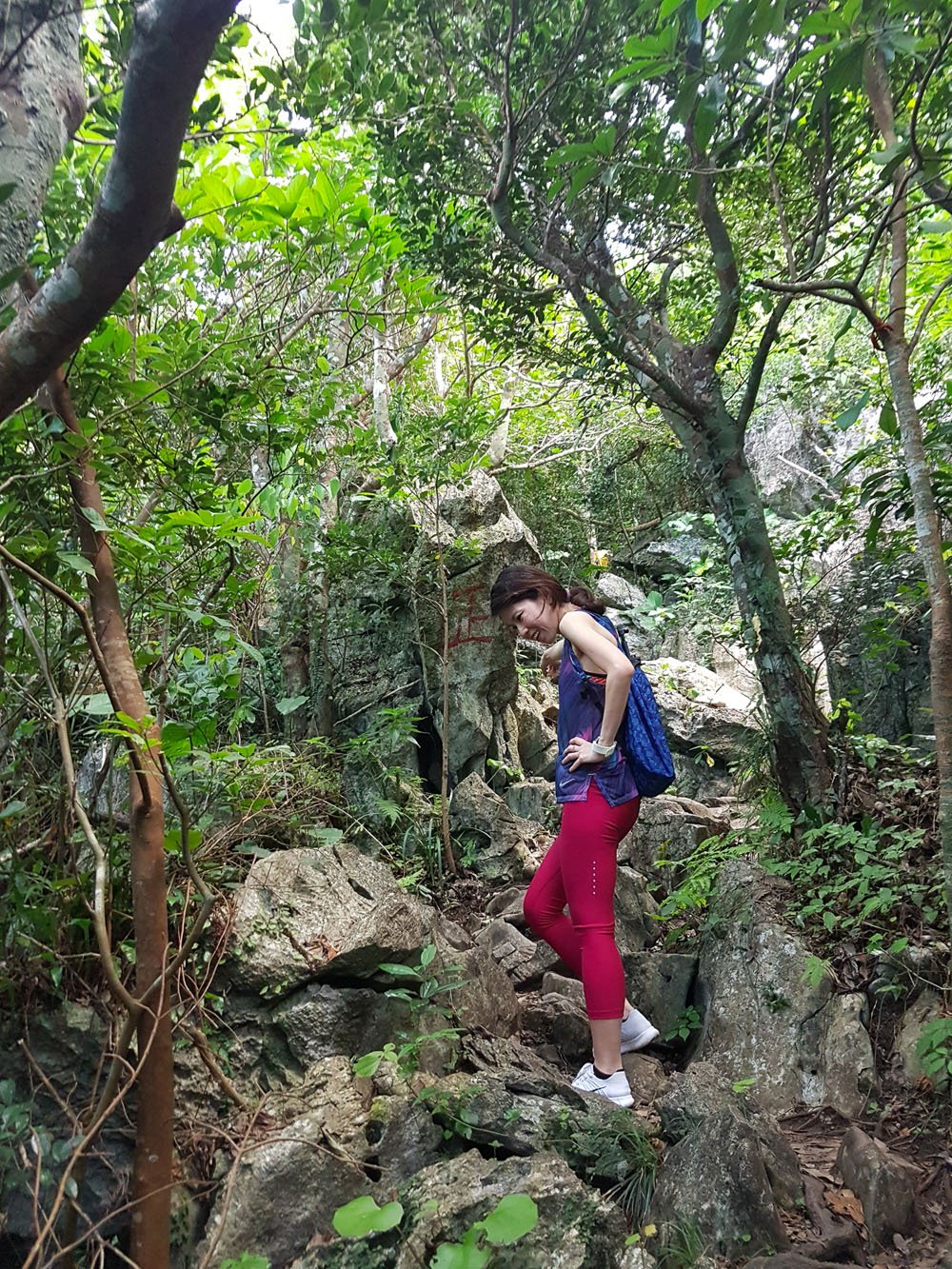 Frozen for what felt like Forever Near the Top
Very quickly, we were near the top of Mount Katsuudake. Although the climb was steep, we never felt our lives were in danger until we came to the last part of the hike – probably about 10 steps from the top. 
I literally froze in my footstep, in an awkward one-leg-up-another-leg-down stance. There I was at the edge of the mountain, stuck mid-way at the narrow and rocky path and consumed by fear. I couldn't move up, neither could I descend.
Less than a meter away was the edge of the mountain where I could see how high a position we were. A slip of foot and we would be gone. But logically, one wouldn't lose his balance if he knows how to climb a ladder. I was just suffering from height phobia then.
My partner who was a few steps above me stretched out his hand and offered to assist me with the last few steps. But I couldn't move. Yeah, I didn't even want to grab his hand. That's how insecure I felt. The video below show you the path we took to get to the summit (turn on volume).
After what seemed like forever (probably just 3 minutes in real time), I forced myself to move. That was possible only because I'd intentionally limited my peripheral vision and only glanced at the rocky path beneath my feet. 
Yes, I did it. I was at the top.
Darn, I've climbed so many mountains, most of them many times taller than Mount Katsuudake, but have never felt such paralyzing fear. This was a totally unexpected heart-pounding hiking session. 
---
Summit of Mount Katsuudake: Hiking in Okinawa
(6.05pm)
I was blown away by the breathtaking view on the summit of Mount Katsudaake. It is the best mountain views I've seen in a while. Standing at a narrow and highest point, you get to enjoy an expansive 360-degree view of Nago city.
The photo below looks gorgeous, isn't it? However, this is just a fraction of the view angle I'd enjoyed in real life. 
When I first attempted a summit photo, I couldn't let go my hug of the wooden pole because the spot I was standing at was narrow and rocky. Hence, do be careful when taking photos at Mount Katsuudake. 
Our Private Moment at Mount Katsuudake Summit
Since there was no one at Mount Katsuudake, we had the whole summit to ourselves.
We set up our tripod and took lots of amazing shots, some of them too comical and embarrassing to publish here. :)  All in all, we spent a good 30 minutes at our "private" mountain summit. 
Hiking in Okinawa: Descending Mount Katsuudake
(6.30pm)
It was only when we were midway down Mount Katsuudake that we saw two Caucasian hikers, who were also on their first hike up the mountain. 
"How far are we from the summit?" the two chaps asked us. It was probably another 20 minutes to go and we told them to hurry up as the sun was setting.
TIP: Although going down a mountain is less strenuous, it may be more prone to slip and fall, especially for steep mountains like Katsuudake. I suggest that you skip the twilight moment and make your way down before it gets dark.
Attraction Info: Mount Katsuudake, Okinawa
Mountain Location | Carpark & Trail Entrance Location HERE
Difficulty: 3/5
Hike Duration: 30 minutes one-way
Recommended total duration: 1.5 hours
---
Popular BBQ Buffet Dinner in Nago, Okinawa
(7.45pm)
We've had a very active day and deserved a good meal. How does a BBQ buffet sound? Yummy, I hope! :) 
And so we arrived at a restaurant in Nago, known as 焼肉乃我那覇新館 (see location). It doesn't seem to have an English name, so perhaps we'll call it a Nago Yakiniku Buffet Restaurant?
Did you know? Yakiniku means "BBQ" or grilled meat in Japanese
After making payment at the counter, we were given a queue ticket and proceeded to the waiting area. It was only during the 30-minute wait that we noticed that most patrons were tourists, and they sounded like they were from Taiwan.
Our guess is that this restaurant must have been featured in one of Taiwan's food documentary shows. And so our hope was high. We thought we might have accidentally stumbled upon a great find.
Buffet Price of Yakiniku Buffet (焼肉乃我那覇新館)
Lady: ¥2700 (tax included)
Man: ¥3240 (tax included)
Top up ¥300+ for free-flow soft drinks
Dining Experience at Nago Yakiniku Restaurant
The options were great as Nago Yakiniku Restaurant came with different cuts of beef, chicken, pork and lamb. However, we found the meat quality to be sub-par and got sick of them quickly. 
When I saw a chap carrying a plate overflowing with meat, I immediately realized that this place probably appeals to people who care more about quantity than quality. 
Disappointed with the meat offered at the Nago BBQ restaurant (焼肉乃我那覇新館), we moved on to salad and dessert earlier than usual. Those were okay as it's hard to go wrong with salad.
For info, I'm not a foodie and have a high tolerance for average food.
In this instance, I think the food is edible, but it's not worth the price tag unless you stuff yourself like the man did. I would rather pay the same price for a small slab of good-quality beef, like the delicious steak I had on Day 5 or the one I enjoyed in Kobe during a separate trip. 
Updated in Jun 2022: According to Google, this buffet restaurant is permanently closed. Another victim of the pandemic? 
---
How We Ended Day 6 in Okinawa
(10pm)
Although it was already late by the time we ended our dinner, we could still do some shopping in Nago, Okinawa. That's the great thing about Japan because there are many supermarkets or outlets that opens till late at night or not closed at all. 
We shopped at San-A departmental store (see location) which has a Daiso located at the basement. After San-A closed at 11pm, we moved on to MaxValu Nago (see location) to get our breakfast for the next day.
Received Japan Typhoon Alert 
On our way back, it felt exceptionally cold and windy. This was the first time I actually felt the need to put on my cardigan in the scorching-hot Okinawa island. 
And then we received a message alert from our airbnb host. He warned us that a typhoon would make a landfall in two days' time, which happened to be the day when we would leave Nago and make a roadtrip back to Naha city.
"Great!". :(
I wondered how it would be like to drive on the day when typhoon was slated to hit the island.
> MUST-READ: How Japan Typhoon Disrupted my Travel Plan (And Lessons Learnt) 
Ok, folks. This concludes Okinawa Day 6. I'll be back to share with you what we did on Day 7 in Nago city. Stay tuned!
To get notification whenever a post is published, click the button below to subscribe. As a subscriber, you'll also get access to free and exclusive stuff. See you!
(This post was first published in Sep 2019. Kindly take note that information has not been updated with this 2022 republishing.)
Related Posts:
Pin This!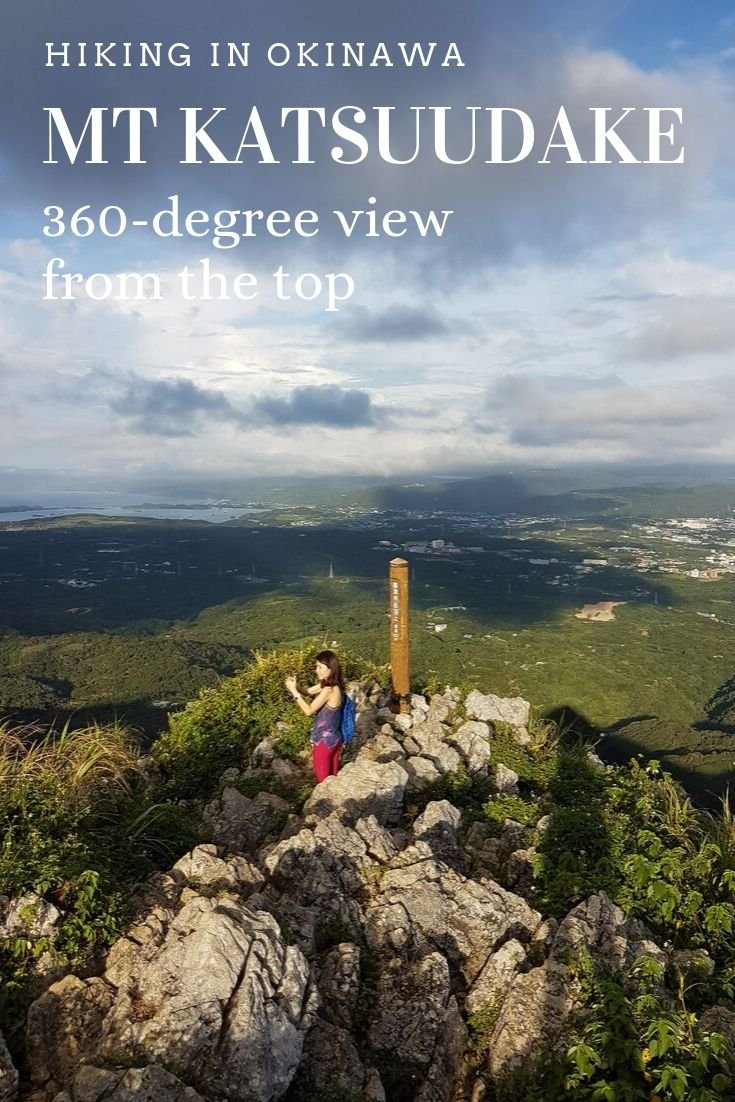 This post may contain affiliate links, meaning I earn a commission if you make a purchase, at no cost to you. Read my full disclosure for more info.
(Visited 1,211 time, 1 visit today)