It's Day 5 in Okinawa. Join us as we drive to the most-northern tip of Okinawa and enjoy three attractions there – Cape Hedo, Daisekirinzan Park and a Gigantic Bird towering a few times over my height.
You'll also read about the difference between various capes in Okinawa and see which is the best. Let's start off with our scenic drive along Route 58 in North Okinawa.
---
What came out from Staying in a Lovely Airbnb 
The great thing about staying in a nice and well-equipped accommodation was how we didn't have to travel out for breakfast. The large fridge, microwave, stove and proper dining areas were enough to let us dine in comfortably. A day before, we'd already loaded up on some convenient food.
Let's take a look at what today's breakfast would be.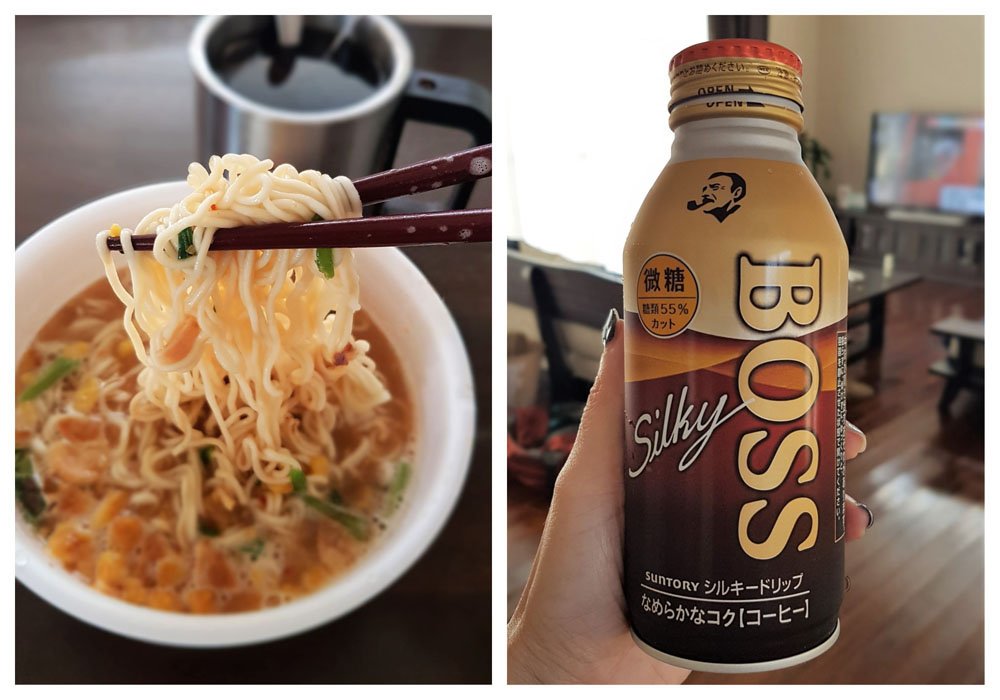 Ta-da! Japan Instant Noodle and Japan Silky Coffee – ha ha! If this is not pure laziness to the max, I do not know what is. Can "home-cooked" breakfast get any more convenient than this? We totally underused the facilities that came with the Airbnb unit. LOL!
Never mind. We still have a few more nights here. We may just cooked up a storm – stay tuned. Heh!
---
Route 58 – The Scenic Drive in Okinawa that No One Talks About
(9.30am)
Even before we could reach the first destination of the day, we were already presented with a sight that can qualify as a worthy attraction in Okinawa.
In Australia, we get the Great Ocean Road. What do you get in Nago, Okinawa? Let's call this the 'Kouri Route 58 Drive'? Please note that this is not an official name, okay?
Take a look at the turquoise blue sea. A portion of the water was yellow in tone and reminded me of Yin Yang Sea in north Taiwan. From here, you can see Kouri Island and Kouri Bridge.
TIP: Self-driving is the best way to explore Okinawa. Take a look at this highly-raved car rental option. If you prefer not to drive, take a look at the Okinawa Hip Hop Bus.
Throughout the drive, you get to enjoy ocean view on the left and forested mountains on the right. Unfortunately, the video above doesn't do it justice – the sight was so much more charming in real life when our eyes were not limited by the frame of the camera.
The beautiful scenery just went on and on, disrupting my plan to catch a quick nap in the car. If you look at the map, the entire route 58 runs beside the ocean for close to an hour.
Attraction Info: Scenic Drive in Nago
---
Cape Hedo – The Northernmost-Cape in Okinawa
After an hour's drive, we passed by and stopped at Kayauchi Banta Viewpoint. The view from here was not bad. However, it was partially blocked by trees. No worries, we'll have more good stuff coming up in just a bit. Cape Hedo was just another 10 minutes' drive away.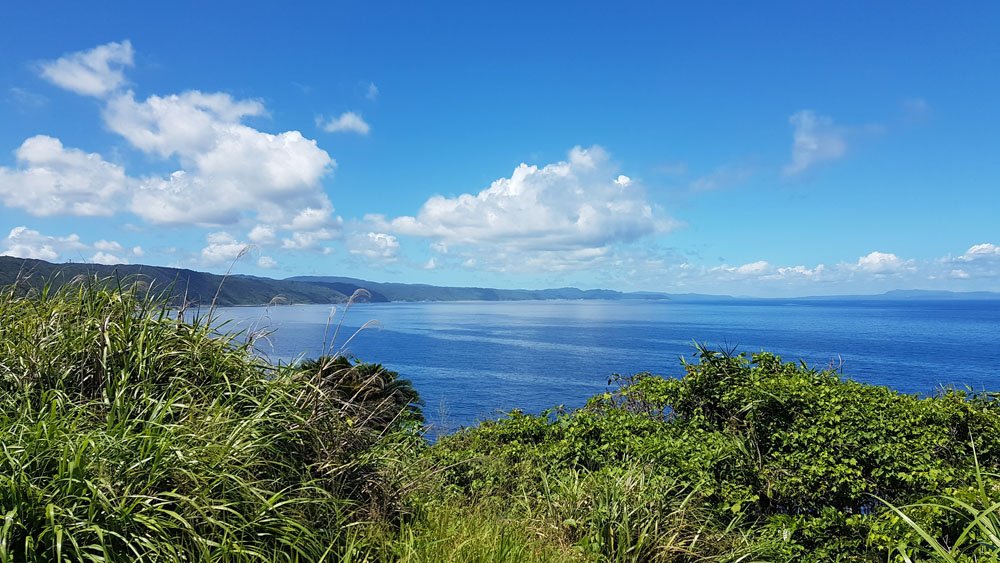 When we got out of the car at Cape Hedo, the heat was so punishing we were forced to take shelter immediately at a nearby toilet. There, we slathered on thick layers of sunscreen before making our way to the tip of the cape.
The walk towards Cape Hedo was quite a sight and ALL photos turned out pretty (yes, it made it so hard to shortlist photos for this post). Just look at the green foliage and clear blue sky.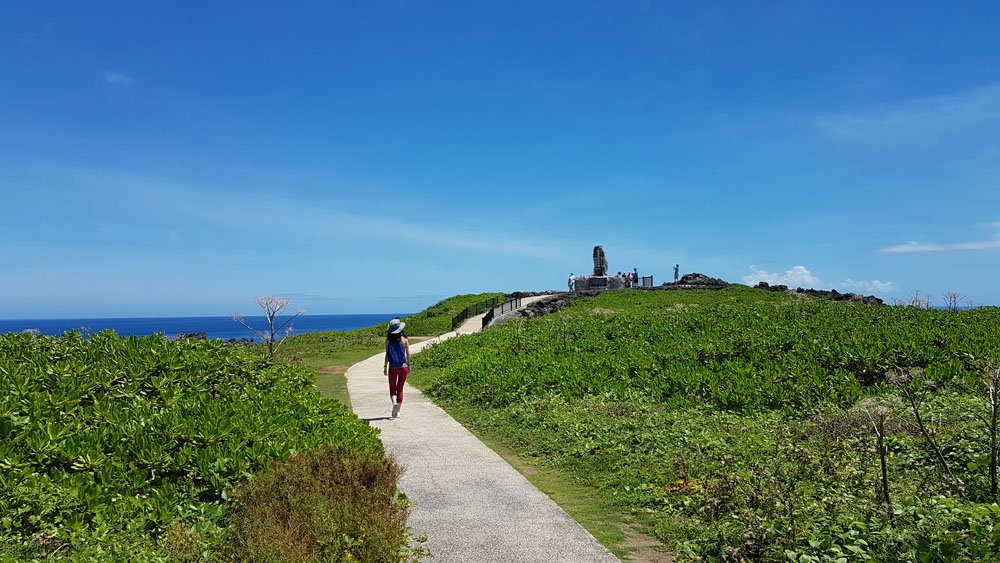 Soon, the deep blue ocean was right before our eyes – two oceans by the way (South China Sea on the left and Pacific Ocean on the right).
That's a truly unforgettable sight! The water was so translucent you can see the rocks beneath. You'll see multi-tones of blue, turquoise and yellow all nicely-merged together. We enjoyed Cape Hedo so much we overstayed and risked getting burnt by the sun. :)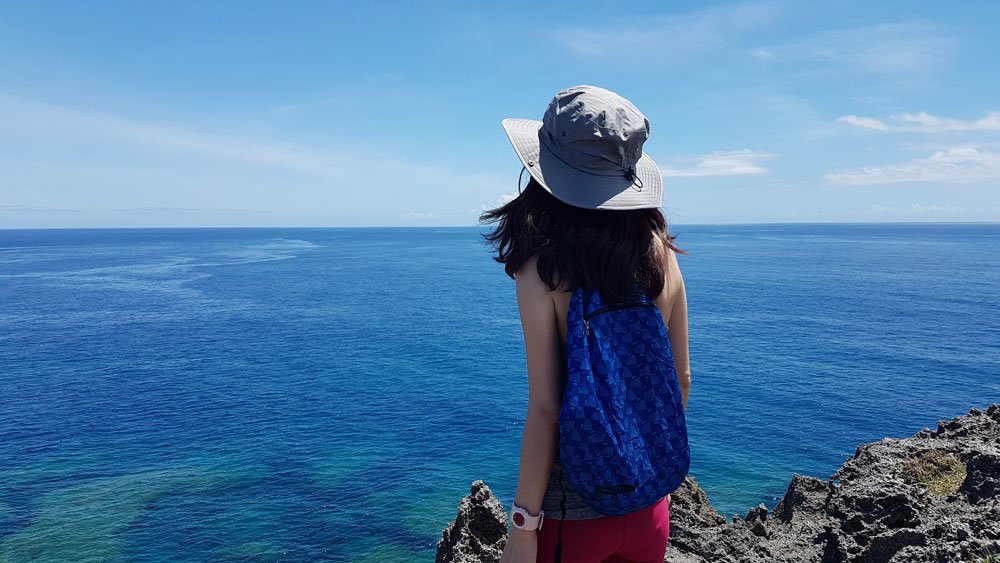 ---
How does Cape Hedo compare with Other Capes in Okinawa? 
Cape Hedo vs Cape Chinen 
Based on the capes I've visited, I would rank Cape Hedo and Cape Chinen as the Top Two Capes in Okinawa. Both are beautiful but in a different way.
Cape Hedo is rugged, wild and ancient-looking. Over here, you'll see cliffs, rock formations, swirling waves and ground that seems to form as a result of tectonic movement.
Cape Chinen, on the other hand, can be better described as being alluring and charming – the landscaping around it appeared more man-made.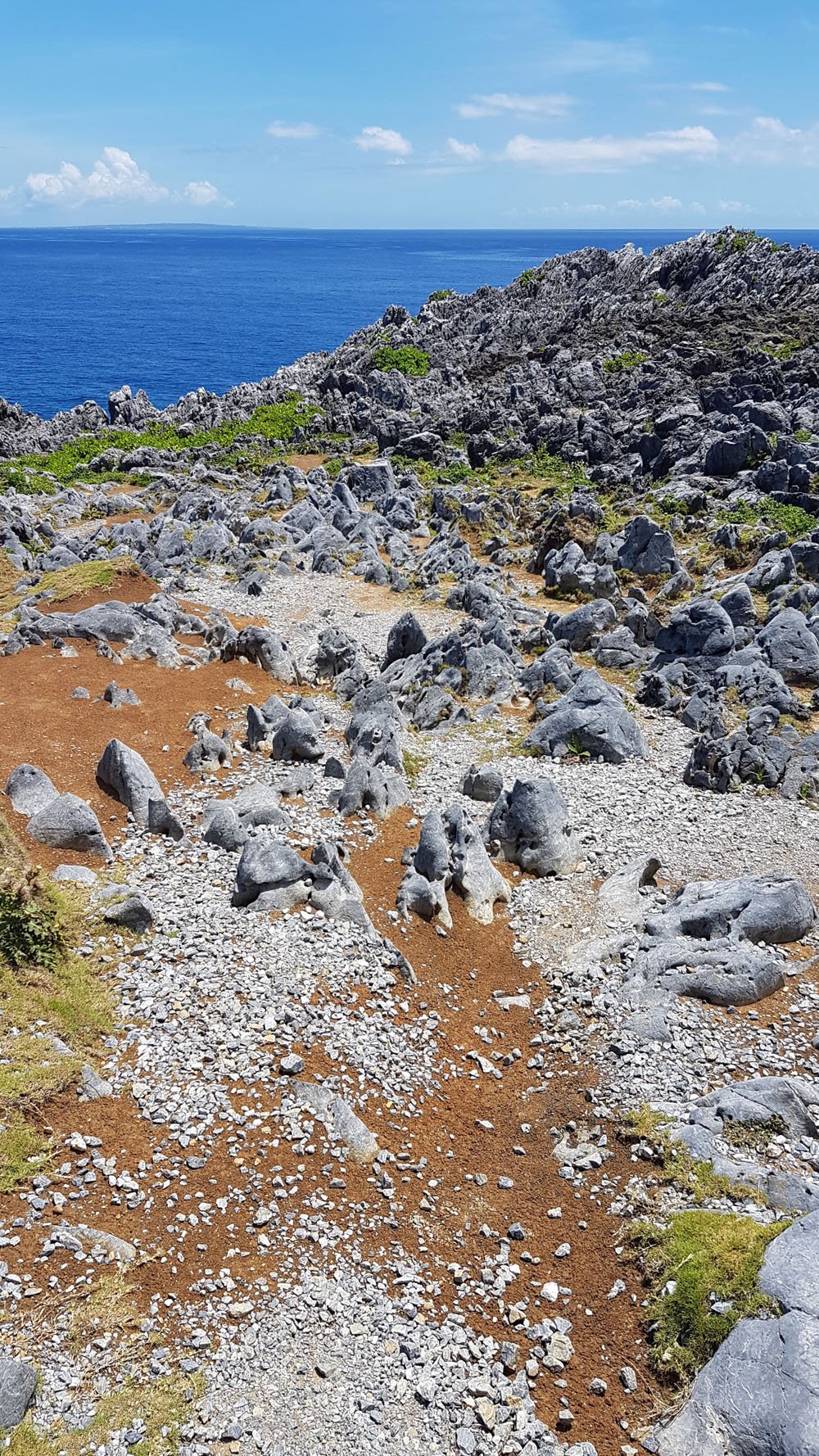 Cape Hedo vs Cape Zanpa 
How about Cape Zanpa? If you can recall, I've described Cape Zanpa as rugged too. The difference is how Cape Zanpa has less greenery near the cape-front. The ocean view while offering a decent sight, was also less captivating than Cape Hedo. Water was less translucent.
At Cape Hedo, we got to view the ocean from different vantage points. There's also a well-paved trail where you can admire the various sculptures and monuments.
Cape Hedo vs Cape Maeda
Comparing Cape Hedo and Cape Maeda is like comparing apple to orange. I would categorize Cape Maeda as a place for snorkeling or diving or a meeting point to get to the Blue Cave.
The view from Cape Maeda isn't something worth screaming about especially when compared to Cape Hedo. :)
---
Daisekirinzan Park – A Place that Reminds You of Dinosaurs
(11.30am)
If you are already driving to the northern tip of Okinawa, don't waste your transport cost and time by just visiting one place. We combined Cape Hedo with a few others. The next is a place I highly recommend – Daisekirinzan Park (大石林山).
Daisekirinzan Park is unlike other national parks I've been to. This is one that would bring you back in time and arouse your imagination on how the earth was like millions of years ago. It is also said to be the oldest part of the Okinawa island.
This place comprises four trails including a short wheelchair-friendly path. Let me bring you through one by one.
How to get to Daisekirinzan Park?
Of course, a rental car is the best option to get to Daisekirinzan Park or anywhere in Okinawa. However, what I wanted to address here is something else – the actual logistics of getting into the pre-historic park, assuming you are self-driving.
You'll first arrived at the carpark located somewhere here. There, you'll enter an air-conditioned low-rise building where you can buy your admission tickets (¥1200). We used the discount voucher we'd picked up at the airport to enjoy a 10% off. However, there's an even better deal that wasn't available during the time of our travel. See tip below.
TIP: Look through this Eight Okinawa Attractions Pass and see if most of the attractions interest you. This pass gives you access to 8 attractions over 3 days and helps you save on admission fees and skip the queue.
Next, Get On a Shuttle Bus
Once you've gotten your ticket, you can wait for the next shuttle bus to arrive. You can either rest at the waiting benches or gain knowledge at the cozy exhibition area.
There, you get to view geological artifacts such as fossils and millions-year-old limestone. That should keep you entertained till the next bus arrives. Alternatively, you can also proceed to the second floor to get some food.
After a short wait, the shuttle bus arrived. The journey took only a few minutes to reach Energy Cabin (see #3 in the map above). The driver guided us to the starting point and we were ready to explore trail #1 – Wonder of Rocks Trail.
Daisekirinzan Trail #1- Wonder of Rocks Trail 
At Wonder of Rocks Trail, you will be viewing lots of rock formations, each with their own unique name. The brochure given was useful as it was nicely numbered, and allowed us to self-tour easily while learning about the name and origin of each rock.
Along the 1km route, maps and description boards were well-placed to give further insights.
My favorite rock formation has to be the "Monkey King" rock. Yes, they are referring to the main character "Sun Wukong" in the Chinese classical novel, Journey to the West.
I'm not sure if Wukong did reside here, but thought this rock with wild shrubs shooting out, seemingly at the right spots, was one of a kind. It brought me back in time and I was almost waiting for pterosaurs to zip through the sky.
Daisekirinzan Trail #2 – Churaumi Ocean View Trail
Where the 'Rock' trail ends, another begins. We continued along the Churaumi Ocean View Trail (700m) and was rewarded by this panoramic view of the ocean. Yes, you can see Cape Hedo from here.
The trail was short and we quickly moved on to the third, that would bring us back to the starting point.
Daisekirinzan Trail #3 – Wheel-Chair Accessible Trail 
This wheel-chair accessible trail in Daisekirinzan is suitable for all ages – young and old. Along this short 600m boardwalk, you'll see a small pond (Nabe-Ike) and another of my favorite rocks – Eboshi-Iwa.
Don't underestimate this rock. Eboshi-Iwa rock has been around for 200 millions years. Look at the jagged rocks jutting out from the ground and the pineapple-like shrubs growing out of it. I hardly describe rocks as being an extraordinary sight. This is one of the rare few.
So that's the end? Trail #3 is typically the final trail for most people as this is where they complete the loop and return to the energy cabin. There, visitors can grab a simple bite and take a shuttle bus back to the admission area.
Being avid hikers, we grabbed any chance to continue trekking and found ourselves exploring trail #4.
Daisekirinzan Trail #4 – Subtropical Forest Trail 
This is as its name suggests, a forest trail. You'll enter the 1km Subtropical Forest Trail by entering a gate located along the boardwalk (at #3).
The biggest attraction along this trail are the gigantic Chinese Banyan trees. You can find the largest one in Japan here. They said a forest elf – Kijimuna – is often witnessed here.
Well, I didn't see him. Wonder if he's as charming as Legolas.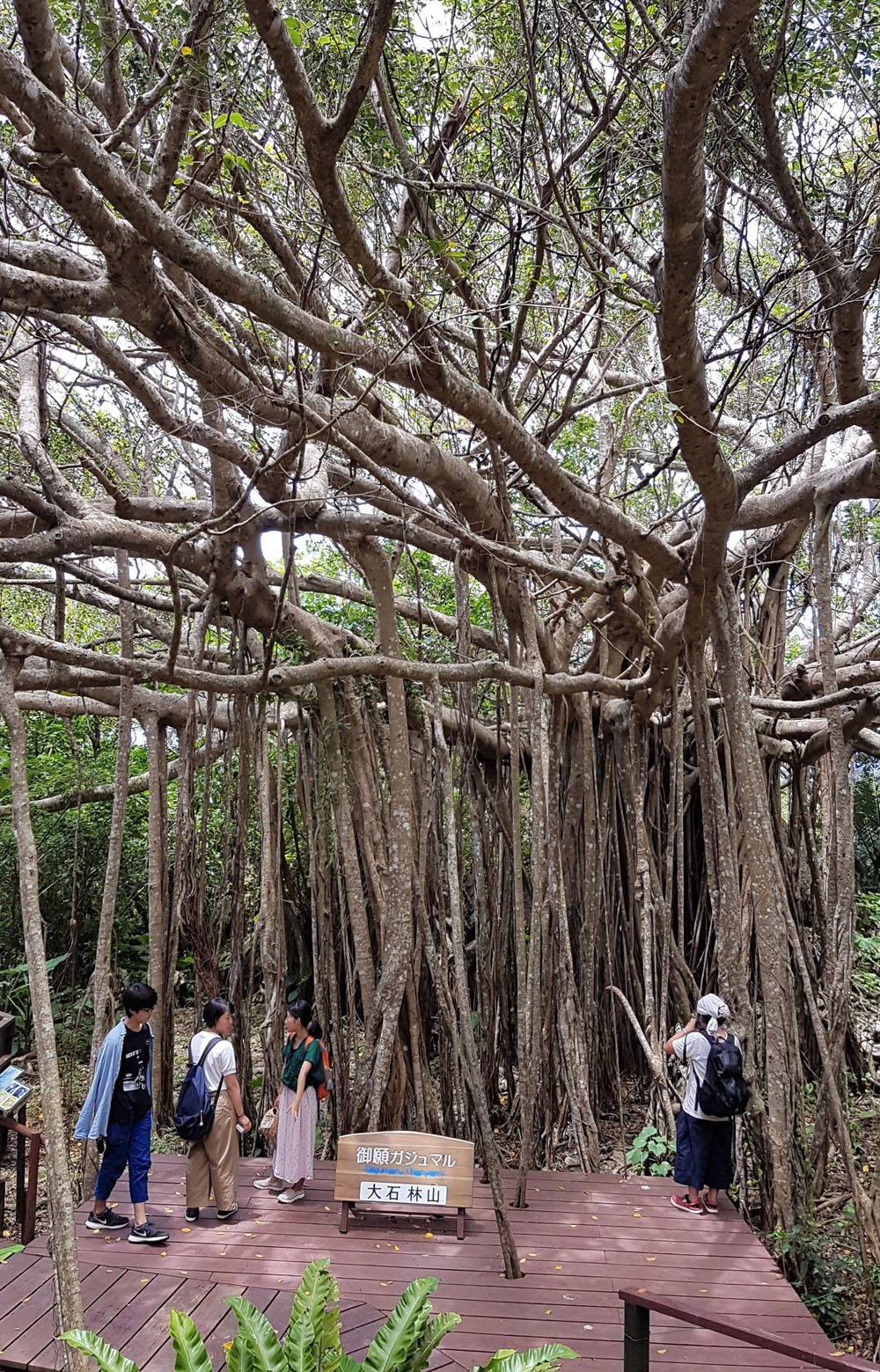 Err…I googled and found out how Kijimuna looked like. Quite cute, but not my type! :)
All in all, we spent about 1.5 hours at Daisekirinzan Park. I highly recommend Trail 1 to 3 to all. For No. 4, do it only if you love hiking and have time to kill or want to meet an elf.
Attraction Info: Daisekirinzan Park
---
Giant Bird – Okinawa Rail Observation Deck
(1.30pm)
The third attraction we visited in north Okinawa was the Okinawa Rail Observation Deck. You can literally climb into the belly of this giant bird sculpture.
How huge is this big bird? Below shows my view when I was standing beneath it.
Getting there was a little eerie though because you'll have to drive past a cemetery and then up a steep and narrow road. The interior of the bird's belly also looked like a forsaken place, badly in need of a good paint job. It reminded me of an abandoned prison, with all the vertical window bars and all.
I recommend that you go during the day if you know what I mean. Heh!
Other than the bird statue, you can also catch an ocean view at an outdoor viewing platform. The vantage point is lower but offers better view than from within the bird. Here, your vision or camera lens are not blocked by the 'prison' bars.
Attraction Info: Okinawa Rail Observation Deck
Essential Info:
Accommodation:  Seven Residence Yabu 
Month of Travel: June/July
Itinerary for the Day (part of): Route 58 Scenic Drive > Daisekirinzan Park > Okinawa Rail Observation Deck 
Transport: Rental Car
Free Okinawa Pocket Itinerary: Download
It's a long read, isn't it? Well, as always! LOL! I'll be back with the rest of the activities we did on Day 5 which include trekking up Taa Taki Falls, savoring one of the best dinners in Okinawa and more. Stay tuned.
Don't forget to click the button below to subscribe to newly-published honest reviews. As a subscriber, you'll get access to free and exclusive stuff. See you soon!
This post may contain affiliate links, meaning I earn a commission if you make a purchase, at no cost to you. Read my full disclosure for more info.
---
Related Posts:
Pin This!
(Visited 1,931 time, 1 visit today)