What're the first few things to do after arriving in Okinawa? How about visiting places that can provide insights into Okinawa's history and learn how the island was tragically impacted during WWII?
On Day 1 (Part 2), we would visit Himeyuri Peace Museum, Former Japanese Navy Underground Headquarters and Tsuboya Pottery Street. We'll round up this post with lighter contents towards the end by sharing food, food and more food at Kokusai Dori Street aka "The Tourist Street". Psst, this post continues from Day 1 (Part 1). So, if you like a better story flow, go read that post first, okay?
---
Himeyuri Peace Museum | Okinawa History Lesson #1
(12pm)
It was a hot day. The intense heat and burning rays didn't deter people from crowding around a big gaping hole in the ground. That visually-impactful and disturbing hole was located near the entrance to Himeyuri Peace Museum. It looked like the top part of an underground cave was blasted open by bombs.
At this point, we were not aware of the significance or tragic impact of this 'hole' on the lives of hundreds of schoolgirls in Okinawa, during WWII.
Well Laid-Out Museum with Great Depiction of Events – Okinawa History 
The comfortably-cooled reception welcomed us as we entered Himeyuri Peace Museum. It was a great respite from the unbearable heat of Okinawa Island.
After paying the admission fees, we spent one hour moving from chamber to chamber to learn about the tragic events in Okinawa. The chambers and paths were laid out according to the chronological flow of events and made the "history lessons" easy to follow.
Even though the information was mostly acquired through reading, it wasn't too heavy as just enough details were provided. There were also personal artifacts of the students being displayed, giving us a more intimate glimpse of what it was like living in Okinawa 80 years ago.
Great Savings: This Main Island Okinawa Enjoy Pass gives you access to 12 popular attractions over 5 days. 
The descriptions in Himeyuri Peace Museum were written in good English and was objectively-presented so as not to favor any parties that were involved in the war. That is, it didn't try to invoke sympathy by making Japan sound like a victim or making others sound like villains.
Towards the end of the visit, you will also see a life-sized cave within the museum. It is the same cave (I think) that we'd witnessed at the external compound, except that we are now at eye level with the bottom of the hole.
A Recommended Place to learn about the History of Okinawa
Other than learning about the lives of innocent school girls who were made to serve as nurses during WWII (and who mostly perished), you'll also get general information of where and when the war started and how it progressed geographically through Okinawa.
> MUST-READ: 18 Important Things To Know Before Visiting Okinawa
It's sad that Okinawa, being located in Southern Japan, was 'sacrificed' to bear the brunt of the War as compared to other parts of Japan. It's even sadder that the then-propaganda promoted suicide as the best way out for Japanese civilians and soldiers. "If you don't commit suicide, you will be raped or killed by the enemies!"
I learned a lot through this one-hour self-paced tour and highly recommend Himeyuri Peace Museum as one of the places to catch up on the history of Okinawa. It's not overwhelmingly big and provided you with just enough to make sense of Okinawa's past. I don't have any photos of the museum interior because photography isn't allowed. But this place is definitely worth a visit.
Attraction Info: Himeyuri Peace Museum
Admission Charges: ¥310 per pax
Opening Hours: 9am to 5.30pm
View Location
* Info correct as at time of author's visit
---
Former Japanese Navy Underground Headquarters | Okinawa History Lesson #2
(1.30pm)
About 30 minutes' drive away was Former Japanese Navy Underground Headquarters. This place that used to serve as a navy headquarter would provide us with a visual education of Okinawa's past.
Surprisingly, the entire tour took just 30 minutes to complete despite our best efforts to slow down and re-tour. Here's what happened. After paying the admission, the staff pointed us to a small museum which I would prefer to describe as a room.
We were supposed to go through the information exhibited in this room before entering the underground areas. Unfortunately, the "room" was hot. Being located near the external wall of the building, the temperature within the 'museum' was not much different from that of the external environment. Maybe 31 degrees? I've no idea why there was no aircon.
In any case, we could only stay long enough to read up on one panel of information. Luckily, we had visited Himeyuri Peace Museum first and were equipped with basic war information in Okinawa.
No Excess Emotions Evoked
We walked down a flight of stairs and entered the 300 meters underground tunnel. There was no one else within the tunnel when we were there.
I was expecting this to be an emotional tour since Japanese Soldiers had committed mass suicide within the tunnel, but it turned out to be a peaceful one. It wasn't eerie, spooky or thought-provoking as many had experienced. But it could be a different story if I was to tour this place alone like what I did in Benshan 5th Tunnel.
There were several chambers carved out from the cave including a Chief Commander's Room, Petty Officers Room and Medical Room. The Staff Room was more talked about because of the shrapnel marks left on the wall. They were caused by grenades during mass suicides.
Seeing the shrapnel marks still failed to stir up any emotions in us. And I think I know why. There was a lack of descriptions to what we saw within the tunnels.
The Tour ended faster than we'd catered for
Touring the underground tunnel requires climbing up and down several flights of short and shallow stairways. The cave was damp and leaking on some parts. But don't worry, you won't get drenched.
Seeing how fast we'd reached the end of the tour, we reversed and combed through the tunnel one more time, just to make sure we didn't miss out anything. Still, it'd taken us less than 30 minutes, including the time we'd spent on parking. :)
Taking Refuge at the Souvenir Shop
(2pm)
We saw a tiny souvenir shop after exiting the tunnel. Since it was still too early for us to check into our hotel and the weather was crazily-hot (34 degrees), we decided to take refuge at the air-conditioned shop.
INFO: Here's another popular attraction around the area – Glass Bottom Boat Tour. You can get a glimpse of the underwater world in their natural habitat without getting wet.
I ordered a cup of dispensed coffee and sat by the ledge. The view at this non-scenic attraction was surprisingly quite rewarding. And the coffee was good considering it's far from being gourmet. By the way, I still can't believe how cheap the coffee was, at ¥100 for a beverage sold at a tourist spot. Wow! *Thumbs up*
In the photo above, you see me taking notes of my travel experience on my mobile diary. That's what I refer to when typing post like this. See, I'm always working on this blog even when travelling. A pat on the back for me? :)
Anyway, we stayed in the souvenir shop for half an hour, which was the same duration as what we'd spent touring the underground tunnel.
Attractions Info: Former Japanese Navy Headquarters
Admission Charges: ¥220 per pax
Opening Hours: 8.30am – 5pm
View Location
* Info correct as at time of author's visit
---
Checking into our First Hotel in Okinawa
(3.30pm)
It took us about half an hour to check into our first hotel in Okinawa. Mr Kinjo in Mihara is located at Naha and is primarily a hotel targeted at Japanese.
> MUST-READ: 11 Tips You Need To Know When Choosing A Hotel In Okinawa
It was fate that brought us here because we were supposed to stay in Chatan until the new Japan Airbnb Ruling forced our Airbnb host to cancel our reservation at the very last minute. Mr Kinjo in Mihara was the few hotels that were available at a good price because it was too new. You can read more about my review of Mr Kinjo in Mihara.
In case you wonder, I highly recommend Mr Kinjo in Mihara. But you need to read the review in order not to face difficulty when checking-in.
A Badly-Needed Freshening-up Session
Okinawa was really too hot for us to acclimatize to. The immediate thing to do after checking into the hotel was to take a cool and refreshing bath. We also made sure we were scantily dressed in as little fabric as possible before we made our way out.
Our evening would be spent wandering at Kokusai Dori (International Street).
TIP: If you are dressed in cold-resistant wear during an overnight flight (e.g. long pants), please change out of it and get into comfortable summer wear, right at the airport. I didn't and suffered a bit. Ha Ha.
---
Tsuboya Pottery Street | Okinawa History Lesson #3
(5.40pm)
The great thing about staying at Mr Kinjo in Mihara was how it required us to stroll through a picturesque stone-paved street in order to get to Kokusai Dori Street "International Street".
After 10 minutes of walk, we reached Tsuboya Pottery Street. It is a 300-meter long quaint street that is lined with traditional Japanese shops selling pottery. The pottery can take any form and shape, from teapot to Shisa.
Shisa are statues or figurines of guardian lions that are often seen in Okinawa. It is said to be a cross between a lion and dog and are believed to provide protection.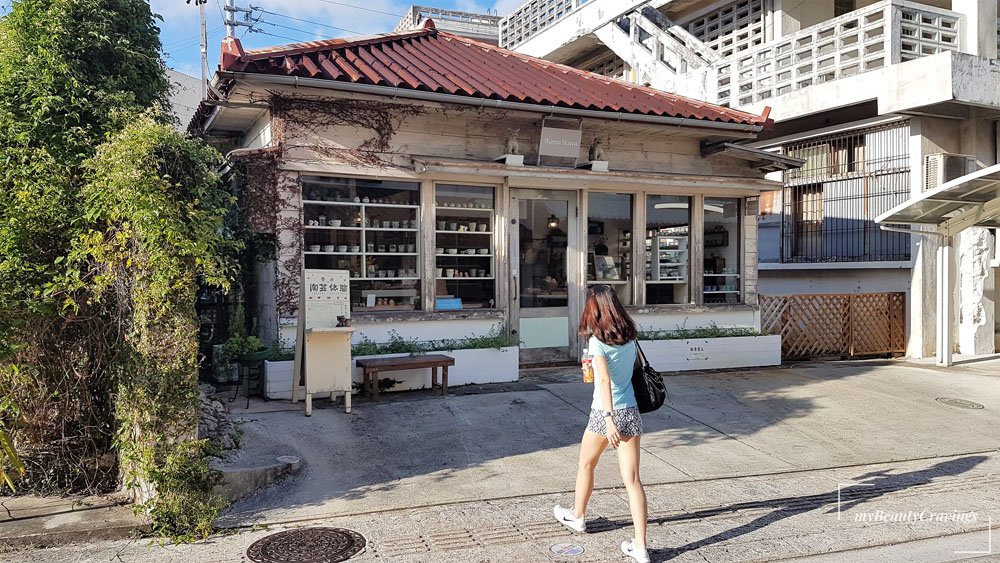 We are not into pottery or arts and hence didn't hang around for too long. The stroll through Tsoboya Pottery Street itself was pretty enjoyable and we felt like we were transported into the past. If I'm dressed up in traditional Kimono, I wouldn't look out of place here (view location). 
TIP: You can rent Kimono or Yukata for a day and stroll along such traditional streets or take lots of photos at Okinawa's numerous castles. This rental even includes hair-styling and is highly-raved online.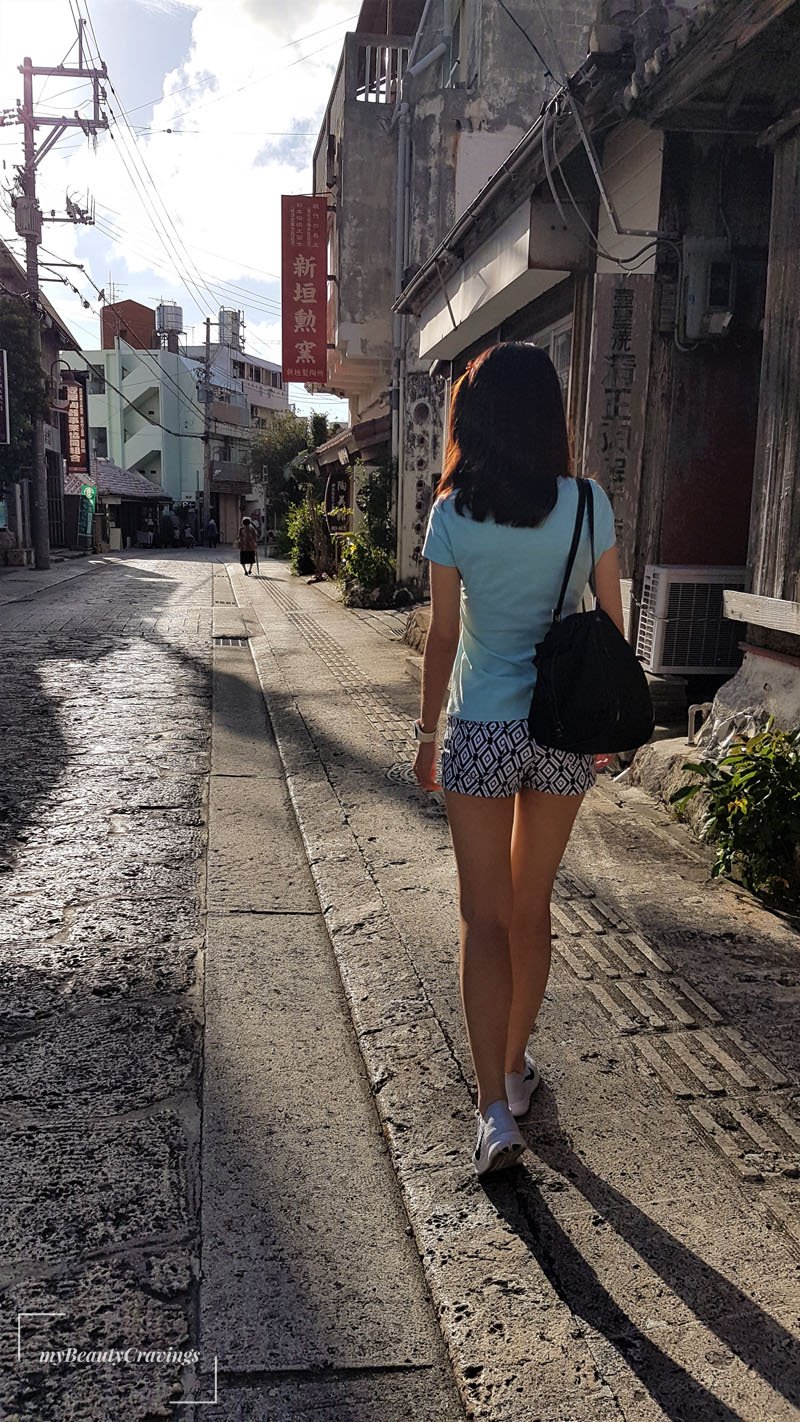 ---
First Impression of Kokusai Dori Street in Okinawa
Kokusai Dori Street was undoubtedly the "tourist street" of Okinawa. Everyone seems to congregate along this street which is lined with rows and rows of souvenir shops, drugstores and restaurants (view location).
For a moment, we thought the main road was closed to traffic and started posing for the camera while standing boldly in the middle of the road.
Alas, that 'road closure' only lasted for a short while. I'm still wondering what'd caused the temporary road closure. Anyone knows? Eh…maybe it was just the traffic light turning red. LOL!
First Makishi Public Market | Very Touristy!
(6pm)
Our first destination was to visit First Makishi Public Market. It was a sheltered market that offered very random offerings such as cosmetics, local pastry, clothes and souvenirs. You can also find casual eateries there.
The door leading to the Fresh Seafood section was locked and we couldn't get access to fresh seafood that everyone was talking about. I wonder if it was because we were here too late. In any case, I wasn't that disappointed as there were quite a number of negative reviews on this touristy fish market in Okinawa (view location).
Stone-grilled Beef for Dinner
Okinawa is a great place to savor meat. My first dinner was a 200g tenderloin (¥1680) served on a hot stone. It came with free flow of salad, soup and rice.
We ordered our meal using an automated kiosk located by the entrance of the restaurant. After that, we were led to our seats within the seemingly popular and crowded restaurant.
Each of us was given a paper bib so that the sizzling meat wouldn't dirty our clothes. The experience was quite fun as we'd to cook the meat using the stone-grill, which by the way remained hot for a very long time. It's surprising how well beef goes with the special wasabi sauce.
The meal was not bad. No regrets as it was a lot of beef for a very decent price (See restaurant location).
My partner who was crazy enough to order 400g of beef suffered a diminishing rate of return as it was just too much meat to handle. He had ordered a different type of meat (think lean beef?) and it didn't taste as good as my tenderloin. 
INFO: Love to try a pufferfish? It's a Japanese delicacy and can be poisonous if not prepared well. Guenpin Fugu restaurant, a #1 pufferfish restaurant chain in Japan is conveniently located near Don Quijote in Naha. Try the deadly fish if you are game enough – you can make online reservation.
Unforgettable Blue Seal Ice Cream Cone
Everywhere you go, you'll see Blue Seal Ice Cream. Initially, I'd thought Blue Seal Ice Cream was a chain restaurant brand. It was much later that I saw everyone selling Blue Seal Ice Cream, including Aeon Supermarkets. And they were from independent operators.
It's just like everyone can sell Haagen dazs ice cream in Singapore, but for some reason, instead of using their unique branding as shopfront logo, they use "Haagen Dazs". Get what I mean hor?
Our first experience of Blue Seal Ice Cream was at a random store (see map location). I ordered an ice cream cone and chose the "Okinawa Cheesecake" flavor (¥340). It turned out to be so addictive! The cone wasn't hollow all the way. Some cheesecake was stuffed at the bottom of the cone and made me craved for more as I took my last bite.
I almost bought another one, which was not typical of someone who doesn't have a sweet tooth. My partner had to pull me away. Ha Ha.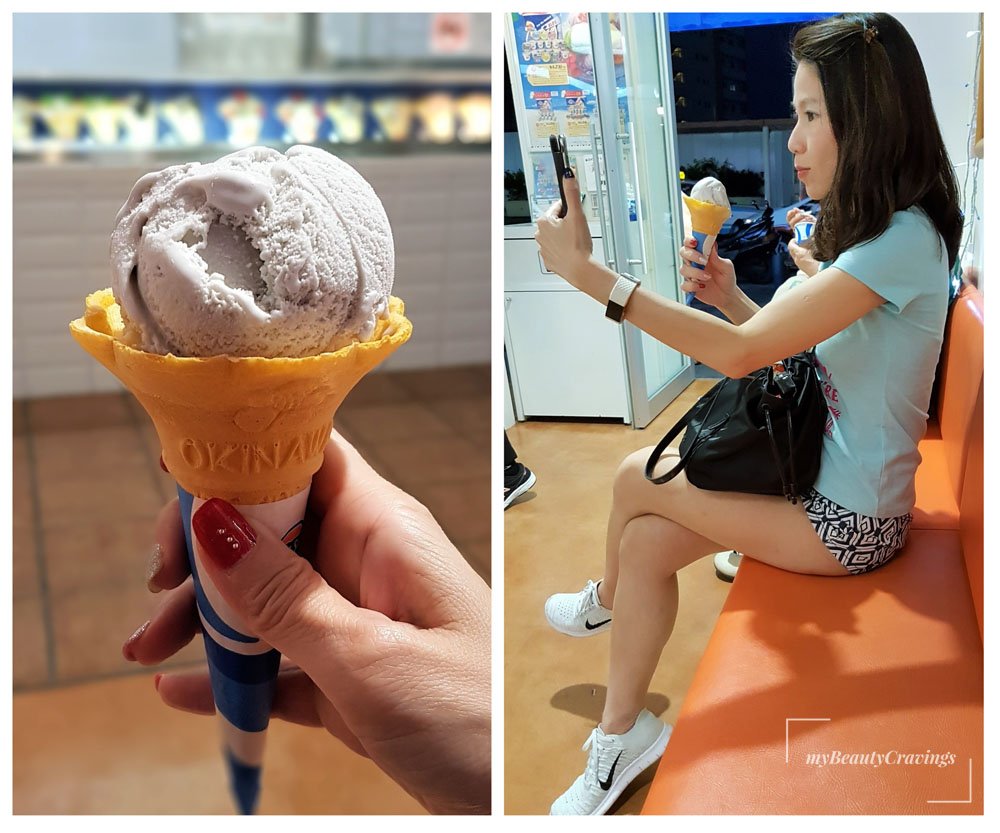 More Dessert at Pablo, Okinawa
What'd dissuaded me from ordering another Blue Seal Ice Cream was the motivation to sample different things in Okinawa.
We continued our walk along Kokusai Dori (International Street) and were immediately drawn to a very prominent-looking Pablo Store. It's actually located within Don Quijote International Street (view location). What flavor to order for the cheese tart? Of course, it had to be the Okinawan-limited "Sweet Potato" flavor, right (¥250)?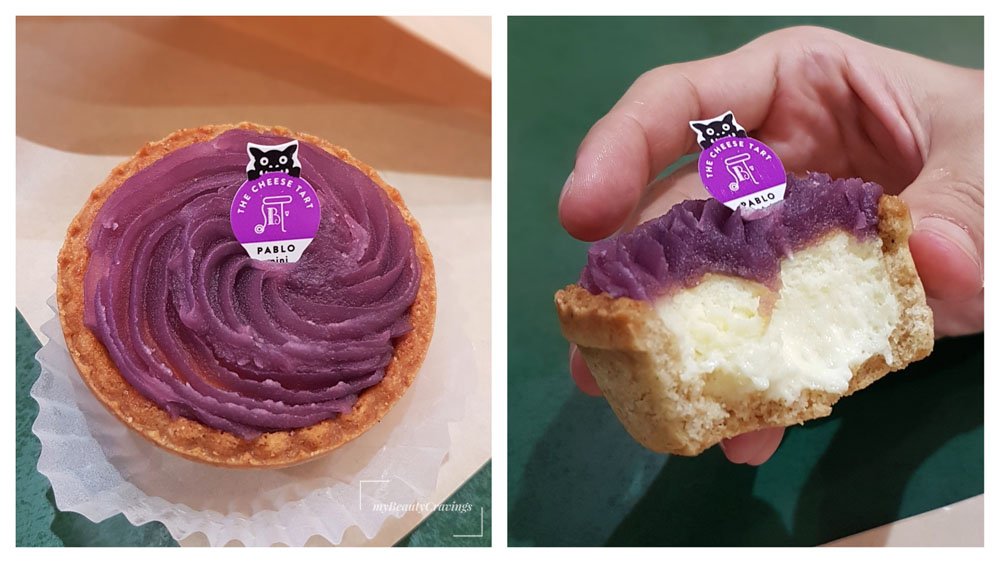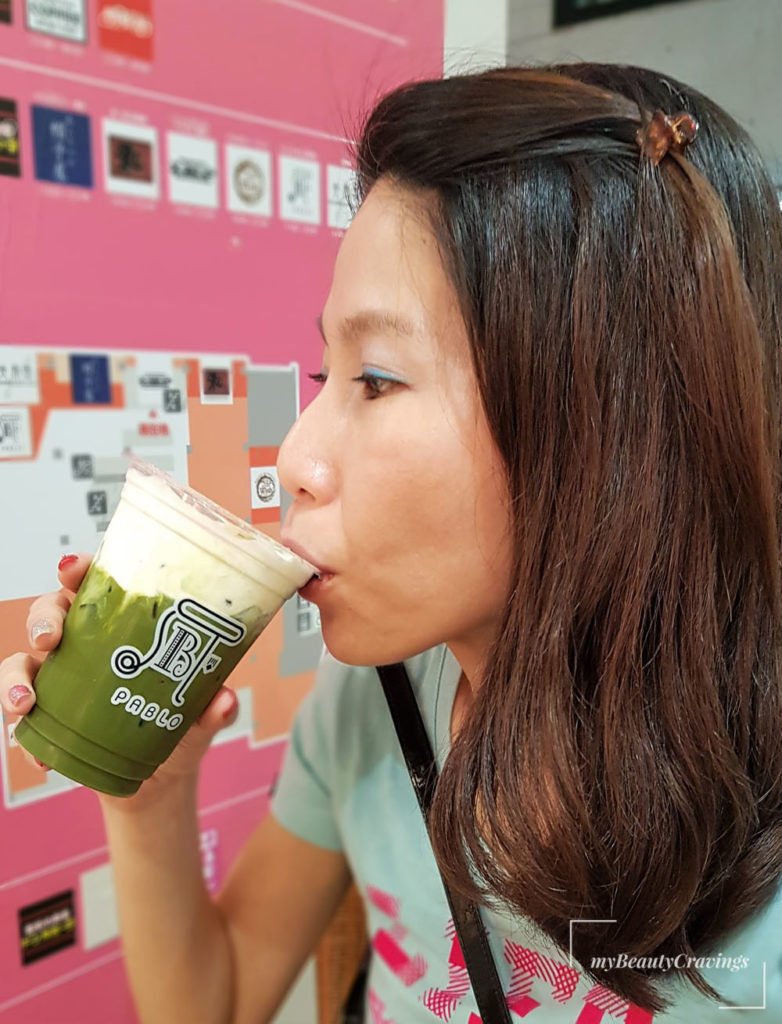 The cheesecake was paired with a Cheese Foam Matcha Tea (¥450). Looks nice from the photo, doesn't it? Well, both were quite ordinary. No addiction here. I should have ordered a second Blue Seal Ice Cream instead. Haiz!
Alright. We've come to the end of Day 1. Stay tuned to Day 2 of my Okinawa travel. Did you enjoy the story? Share this with your friends if you do – that'll motivate me to write faster. :P
Love what you've read? If you like to get notified of newly-published beauty reviews and travel stories, just click the button below to subscribe. I'll even give you some free and exclusive stuff. See you there!
SUBSCRIBE
---
Related Posts:
Pin This!
This post may contain affiliate links, meaning I earn a commission if you make a purchase, at no cost to you. Read my full disclosure for more info.
(Visited 1,841 time, 1 visit today)